With so many lovely tile patterns out there, where do you start with choosing the right design for your space? Hello! Right here. We have pulled together all our fave tile patterns as well as plenty of practical advice so you can make the right decision for your space.
The first step to patterned tile success is to figure out what type of tiles you need – floor or wall – then you need to choose the style you want. Whether you're recreating an authentic, Victorian-inspired look or aiming for something more contemporary, there's something to suit every style of interior in our gallery of vibrant tile designs below.
And, if you're specifically looking for kitchen ideas and how to work tiles into your kitchen space, you can check out our feature. For bathrooms, check out our bathroom ideas feature too.
1. Use patterned tiles to add interest to a neutral room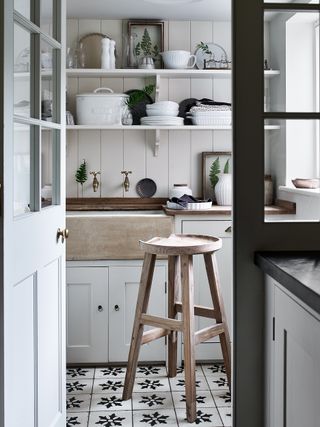 Choosing tile designs that will bring something into an otherwise pretty neutral room is really easy because you don't have an already existing colour scheme to work with. You could go for something colorful and bold or, like in the pantry above, choose something subtle that will just add a touch of interest.
Check out Topps Tiles for a similar tile design.
2. Choose classic tile designs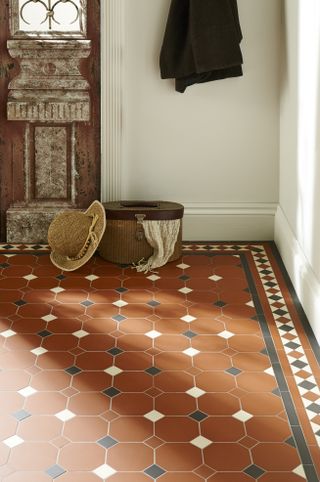 Going for a tile that will stand the test of time in both style and quality is a must when you're looking for patterned floor tiles. And really you can't go wrong with classic, terracotta tile in a traditional pattern. This tile design is a great hallway flooring option, plus it will look good in kitchens, of both modern and traditional homes too. Check out Original Style for more of this look.
3. Create a tile pattern with encaustic inspired designs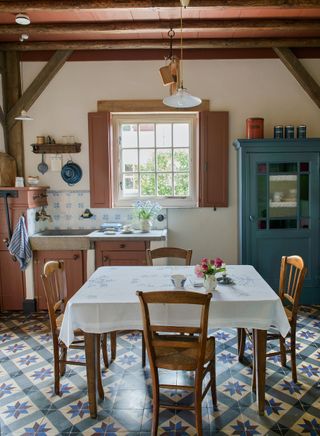 Combining the aesthetic style of Victorian inspired tile design with a nice pop of colour will look lovely in any space. It also gives you a starting point for a new colour scheme in your space. We do like this look in a kitchen though, perfect for being in a farmhouse vibe, plus a really practical choice for kitchen flooring too.
4. Cheat the worn look with 'rustic' tile designs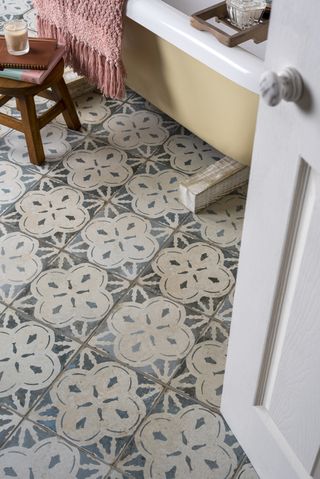 Right now, we all want tiles that look like they have been walked over for the last century, but don't worry if you don't have any original old tiles in your home, you can cheat the look. Clever tile companies have done the aging work for us and come out with tile designs that look old, when actually you ordered them online in 2020.
We love this look of these Aurora blue tiles from Walls and Floors.
5. Go for vintage-inspired tile designs in a bedroom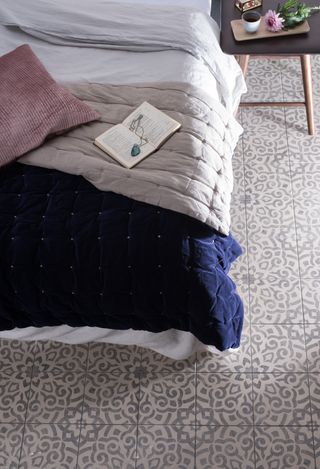 Who says tiling is just for hallways, kitchens and bathrooms. Low maintenance and elegant, tiles can work just as well in bedrooms and living rooms, particularly when paired with a cosy rug. Fusing European city chic with traditional vintage charm, these Mezzo Fantasia tiles feature a slightly aged, worn looking surface which would work beautifully in a period setting.
6. Give your bathroom a luxe update with marble tile designs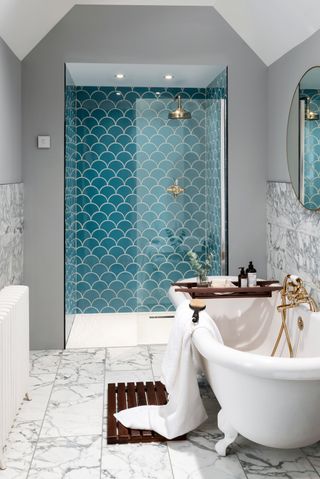 For a luxurious wet room-effect consider a floor-to-wall marble. While marble are expensive, Topps Tiles has a wide range of marble-effect tiles that are a lot more affordable while still giving the space a high-end feel. Pair with a statement shower wall to provide contrast to the space.
For more advice on how to choose bathroom tiles head over to our guide.
7. Add texture to your kitchen with complementary tile combinations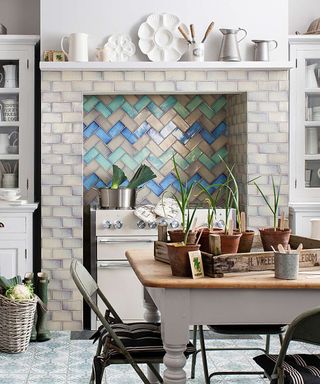 Add soft shades and interesting texture to your kitchen with decorative wall and floor tiles. With subtle and varied reactive glazes, Topps Tiles' Shibori wall tiles in cream, blue and green, £90.67 per m2, can be arranged in a variety of configurations to create a calming watery effect, while the patterned York floor tiles, £59.95 per m2, add a touch of nostalgic fun.
8. Contrast pattern floor tiles and wall tiles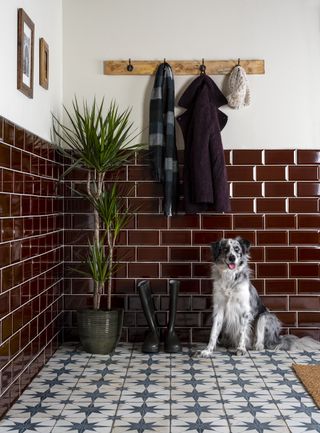 Fall in love with the glorious aged patina of Walls & Floors' Scintilla Sapphire Star Pattern Tiles. The simple pattern in exquisitely faded shades of blue will make a stunning focal point of any wall or floor. Pair with brighter metro tiles on the walls to make the whole space shine.
9. Choose a simple repeat pattern for a small space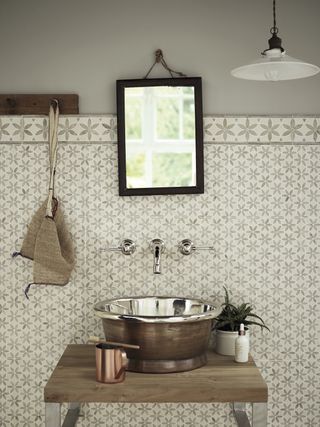 With its pretty, traditional design in contemporary neutral shades, patterned tiles with a small print are a great choice for any room of the home but add look particularly great in kitchens and bathrooms.
10. Choose geometric shapes for a Mid-century inspired look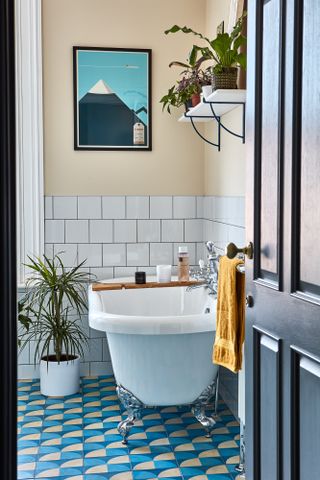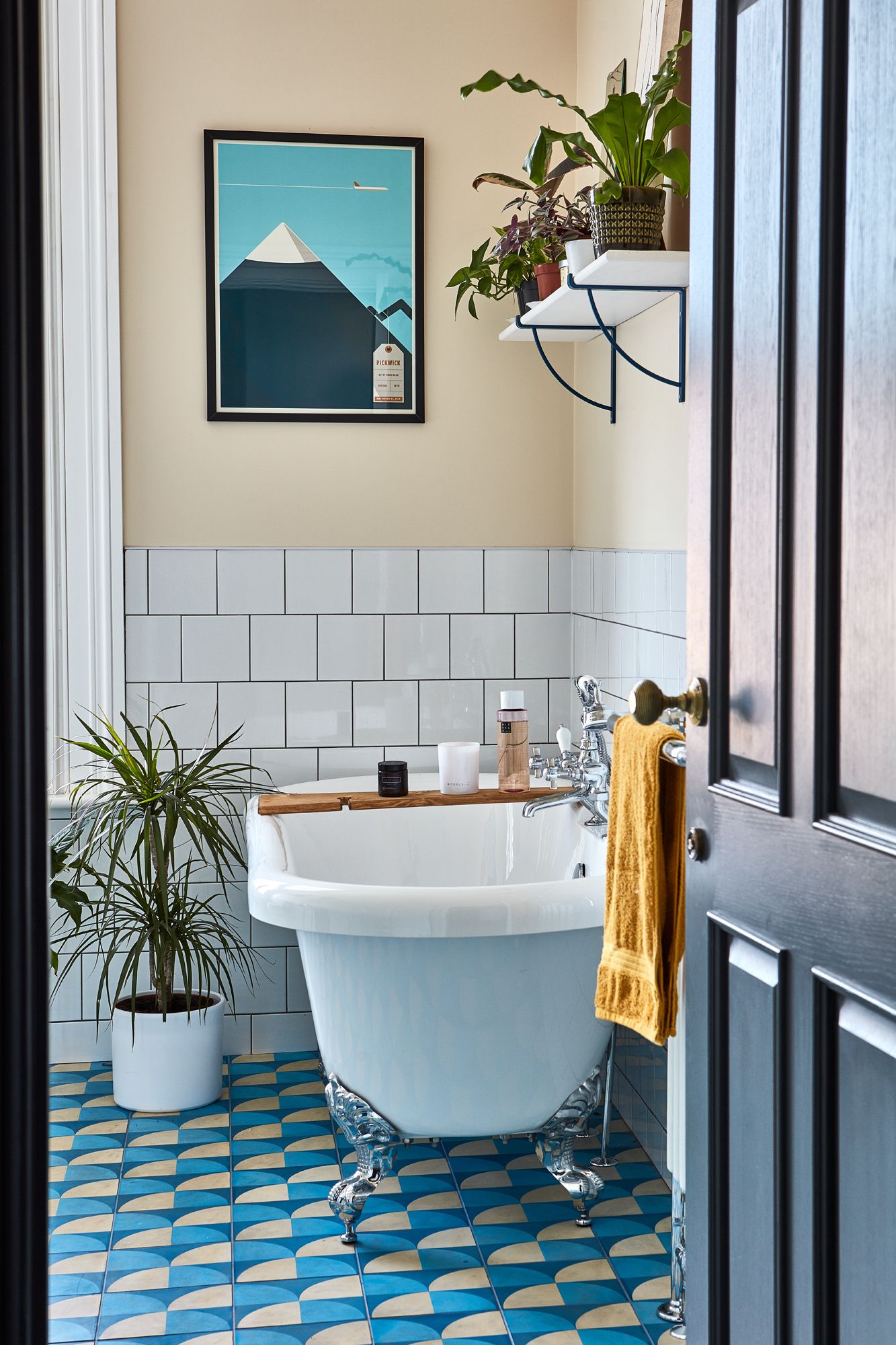 A good option for Mid-century modern interiors, geometric tile designs make a bold statement when used on kitchen or bathroom floors. We love the depth that these blue and yellow tiles from Best Tile give to the room.
11. Use the same tile designs for your floor and walls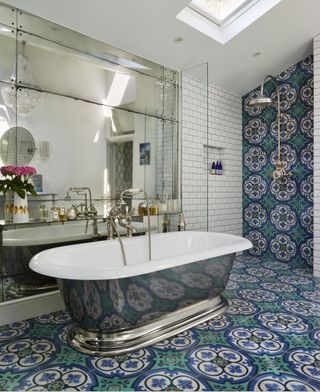 Create synergy throughout your bathroom by matching ornate floor tiles with a feature wall in a shower enclosure. The blue and green pattern of these Philadelphia tiles from Rustico Tile & Stone, add a Mediterranean flair to this high-shine bathroom.
12. Go for a classic terracotta tile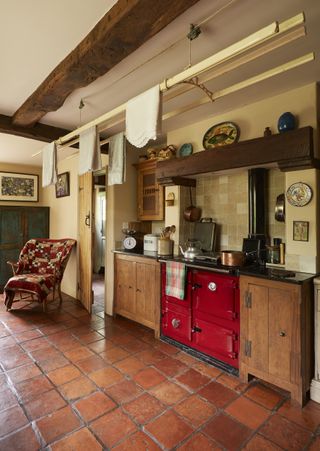 Terracotta tile designs are always going to be a classic look. Here you can see them in a traditional home, but they would work just as well in a contemporary modern space to add warmth. These tiles are originals but you can find really authentic options, just check out Topps Tiles.
13. Go for a striking checked tile patterns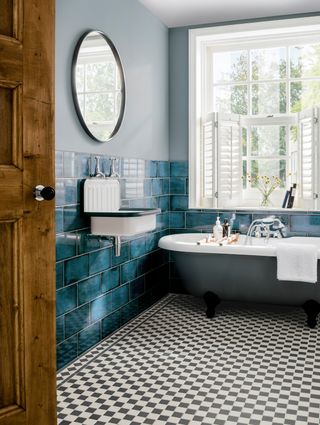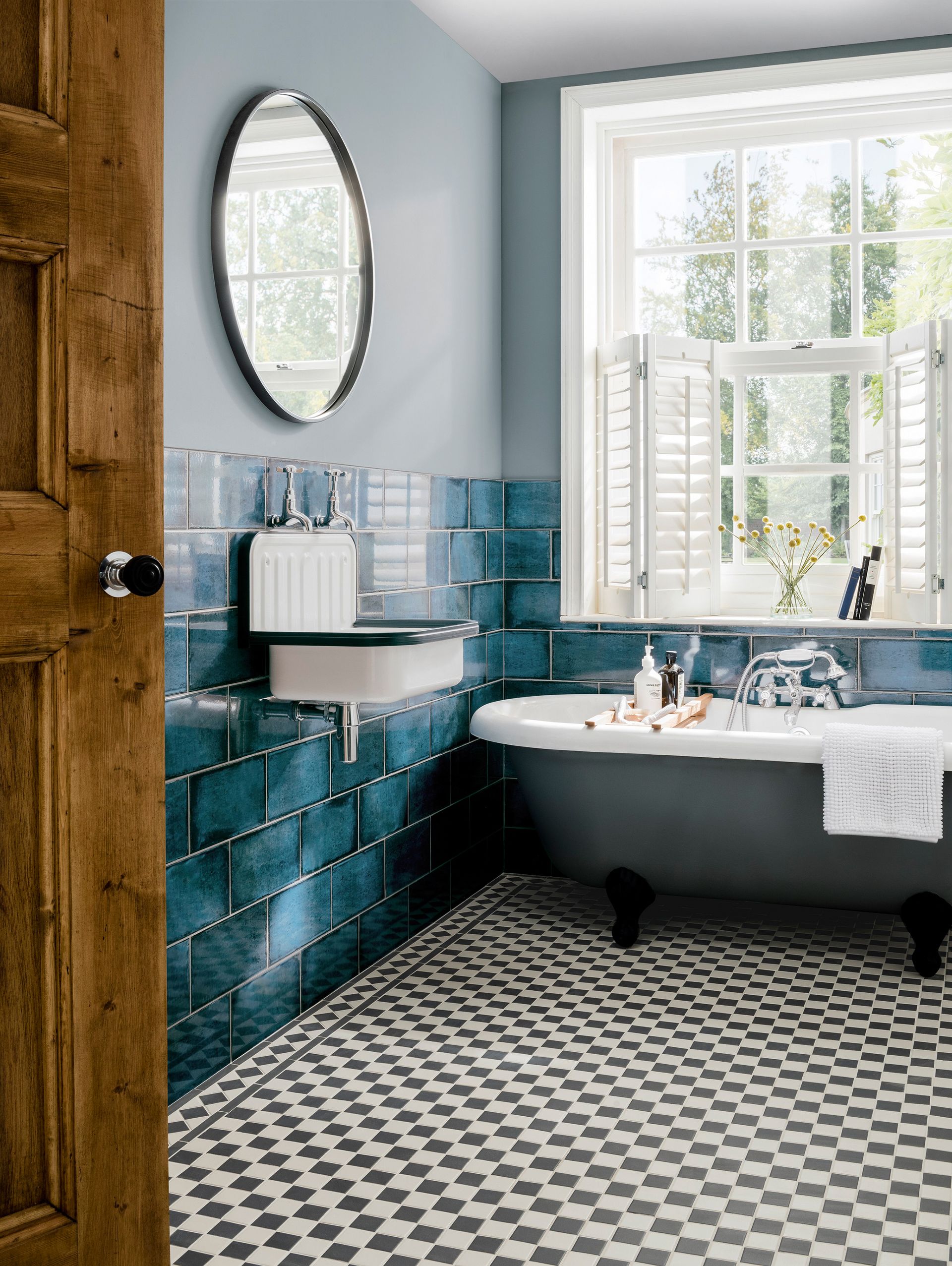 With their aged crackle effect, these rich cobalt Catania wall tiles, £2.24 each from Topps Tiles, give a vintage finish that is perfectly suited to period homes. Pair with the Victorian Black/White chequer tile, £2.24 for W28.8xL28.8cm, for a sophisticated mosaic effect that works well in a small bathroom.
14. Stencil tile designs for a budget-friendly too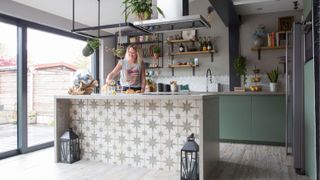 If you are after a really cheap tile design, stencils are a fabulous invention! Check out Dizzy Ducks Designs for amazing patterns that are great dupes for loads of the designs that are floating around on Instagram at the moment. They come with easy to follow instructions, but essential you stick them down and paint over them!
15. Cheat the look with stick on patterned tiles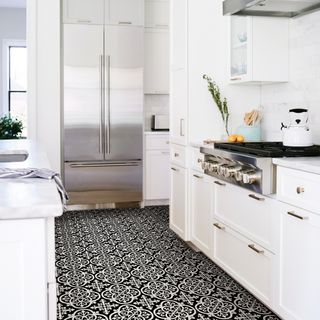 If you are looking for a really easy, more budget-friendly way to get patterned tiles into your home, let us introduce you to stick on tiles! You can get gorgeous, really realistic look tiles from Etsy, Dunelm and even Amazon. They are straightforward to put down, you just need patience, scissors and a measuring tape.
More on flooring: