Love the look of country kitchens? Then you'll love our country kitchen ideas.
Whether you're renovating a quaint Victorian home or Medieval manor, a classic country kitchen is on the wish list for many people that live in a period house (or even if you want to add charm to a modern home).
There's nothing like the appeal of being warmed by the heat of a range cooker, as well as the prospect of characterful original features and rustic ceiling beams.
Experts at Wren Kitchens (opens in new tab) explain, 'The humble country kitchen is a look many aspire to. It's a style that can be achieved in any property new or old even if you're dreaming of the country farmhouse look with stone flags and wooden beams.'
Keep scrolling to find plenty of country kitchens to get you inspired, we cover everything from practical advice to easy to copy ideas.
1. Pick the best layout for a country kitchen
Even though the expression 'work triangle' is rather dated, when it comes to the layout of country kitchens, the work triangle concept is still relevant.
It makes perfect sense to reduce your 'footprint', otherwise regular tasks turn into marathons. Keep your main prep area close to your sink, and hob and you can't go far wrong.
A central kitchen island can help create the ideal work triangle, but if poorly planned will just end up being in the way. Consider incorporating the hob or sink to make it more practical and sociable for the cook.
In the old days the kitchen table is where most of the preparation would have taken place, so design the island with this in mind.
Experts at Wren Kitchens say, 'An island adds to the feeling of grandeur in your kitchen whilst being extremely practical. It's made up of a run of cabinets introducing more storage space as well as a seating area, working area and could also house the kitchen's sink.'
'A butcher-top kitchen island is also another option and it's really pleasing to the eye especially when designed with open end storage and a mix of worktop materials creating a real focal point in your kitchen.'
2. Embrace the original features of a country kitchen
This country kitchen in a 17th-century farmer's home still boasts the original stone floor tiles and blackened wooden beams.
A practical modern range sits where the original stove would have been, and clever storage and design makes the most of the small space.
3. Make the most of a small country kitchen
This small country kitchen has cleverly used an old butcher's block as its centrepiece and kitchen island, which also serves to divide the cooking and dining areas of the room.
The decorative scheme is a pretty combination of neutrals and ditsy floral patterns.
4. Ensure original features are in the best condition possible
One of the main draws of a country kitchen are the gorgeous original features that often accompany this style of property.
You'll want to ensure that original oak beams and wood flooring are in the best condition possible so look into repairing or replacing timber beams and consider how to repair wooden floorboards, as this will form the basis for the rest of your scheme.
In terms of creating an authentic look throughout the rest of your scheme, you might consider painting the kitchen cabinets.
Pick a wall colour to tone for a restful look, and choose a cool shade to contrast with the warmth of natural wood that you often find in country kitchens old and new.
5. Pick the right cabinets for a country kitchen
Experts at Wren Kitchens say, 'Putting together a traditional kitchen begins with your choice of cabinet.'
Shaker-style kitchen cabinets are a popular choice in country kitchens. It is a timeless design that blends well into both modern and very traditional schemes, making it a good option if you are looking to invest in a kitchen that will see you through potential kitchen redesigns.
'A Shaker kitchen is also a thing of beauty and will stand the test of time. This relaxed and refined style is perfect for the country kitchen particularly when painted in a palette of chalky, vintage hues from sea foam grey to olive green and buttermilk cream,' explain the experts at Wren kitchens.
Choose solid wood, in-frame doors for a high-end finish in your country kitchen. This then gives you the option to leave the wood its natural colour, with a varnish or wax finish. Alternatively, you might want to opt for painting kitchen cabinets, choosing a heritage kitchen cabinet paint colour to match your kitchen's colour scheme. Farmhouse-style kitchens work well with this look, too, painted or unpainted.
Freestanding kitchen furniture offers flexibility, works well with irregular walls and lends itself to the look of a country kitchen, too.
Wren experts explain more, 'Mixing fitted and freestanding furniture such as solid oak dresser creates an authentic feeling for a country kitchen with timeless appeal.'
6. Make use of long kitchens with fitted cabinets
The country kitchen in this restored cob longhouse makes the best use of a long, thin space with limited natural light (as is characteristic to many country kitchens).
The soft blue colour scheme creates a complementary contrast with the warmth of the original floor tiles and carpentry, while brightening what might otherwise be a dark feeling kitchen.
7. Select the right worktops
Choosing the right kitchen worktops is vital because they are such a major element of your country kitchen's design, especially if you have a kitchen island.
Quality stone or wood worktops are the standard choice in country style kitchens. If you do go for stone, avoid anything too bold or shiny as it will not fit the rustic feel.
For example, if you do choose granite, go for natural reds, browns and cream blends rather than black.
A matt finish will add to the country appeal. Manmade composite worktops can offer a stone look with added durability, but will cost more and require specialist fitting.
Wooden worktops are probably the most common surface in a typical country kitchen.
Wood does require a little maintenance (spillages should be mopped up quickly and you will want to oil it regularly to keep it looking its best), but has the advantage of being easy to fix should you mark it. A quick sand and polish will remove everyday scratches and dents.
Try mixing materials when designing country kitchens for both style and practicality.
You could use a harder wearing material on areas that are more likely to be scorched and scratched, reserving the higher maintenance materials for a breakfast bar perhaps.
Experts at Wren Kitchens say, 'For a real stately home look, a quartz or granite worktops are the only choice. A marbling effect adds a touch of luxury which can be continued through to your splashback.'
'The cool white quartz sets off traditional colours perfectly such as navy blues and forest greens. And the natural sparkle of granite creates a real statement.'
'Don't forget to mix and match with a butcher style thick timber worktop on your island which can create a working zone area. Timber worktops can add a touch of warmth and in this type of kitchen, the chunkier the better for more appeal.'
8. Combine period features with a stylish grey colour scheme
Painted in a stylish grey and with a combination of granite and wooden worktops, this country farmhouse kitchen is given a contemporary edge, without sacrificing the rustic look entirely. It's full of charm and makes the perfect, welcoming hub for a family home.
Making the most of storage potential, a convenient crockery drying rack hangs above the double butler's sink, with cupboard free walls preventing the space from feeling boxed in.
9. Mix fitted and freestanding furniture for a more authentic feel
Mixing eclectic fitted and freestanding furniture creates an authentic feeling country kitchen with timeless appeal.
To achieve a similar look, you'll want to scour the offerings of salvage yards and antiques shops, while bearing bespoke options in mind, too.
10. Freshen up a dated period kitchen with freshly painted cabinets
Never underestimate the power of paint if you're looking for a budget friendly way to update a tired country kitchen.
Pairing a cool, duck-egg shade with a deep, navy Aga and rustic furniture for spring-inspired interior.
Painting old kitchen cabinets is easier than you might imagine in country kitchens and you can use our guide to how to paint kitchen cabinets for step-by-step instructions.
11. Go all-white (or off-white) to maximise light
If your country kitchen is lacking natural light or you're simply looking for easily achieved, space-enhancing effects, consider opting for a timeless white (or off-white) scheme.
Accessorise with natural materials – you can't go wrong with wood – and other neutral coloured features to retain the feeling of a calm environment.
12. Keep to a neutral scheme for a timeless look
In addition to making what can be a dark space feel lighter and brighter, a neutral scheme is a timeless option that promises not to date as interiors trends come and go.
White also makes the perfect canvas for a space filled with stunning original features – we can't get enough of these stand-out timber beams.
13. Achieve Cotswolds elegance with muted colours
Muted colours are another option worth considering if you're looking for country kitchen ideas.
Paired with classic touches such as brass taps and butler's sink salvaged during the renovation of the house, these muted green Shaker style kitchen cabinets have a distinct air of Cotswolds elegance about them.
Replicate this look using the shade Lichen (opens in new tab) from Farrow & Ball.
14. Incorporate interiors trends without compromising the country feel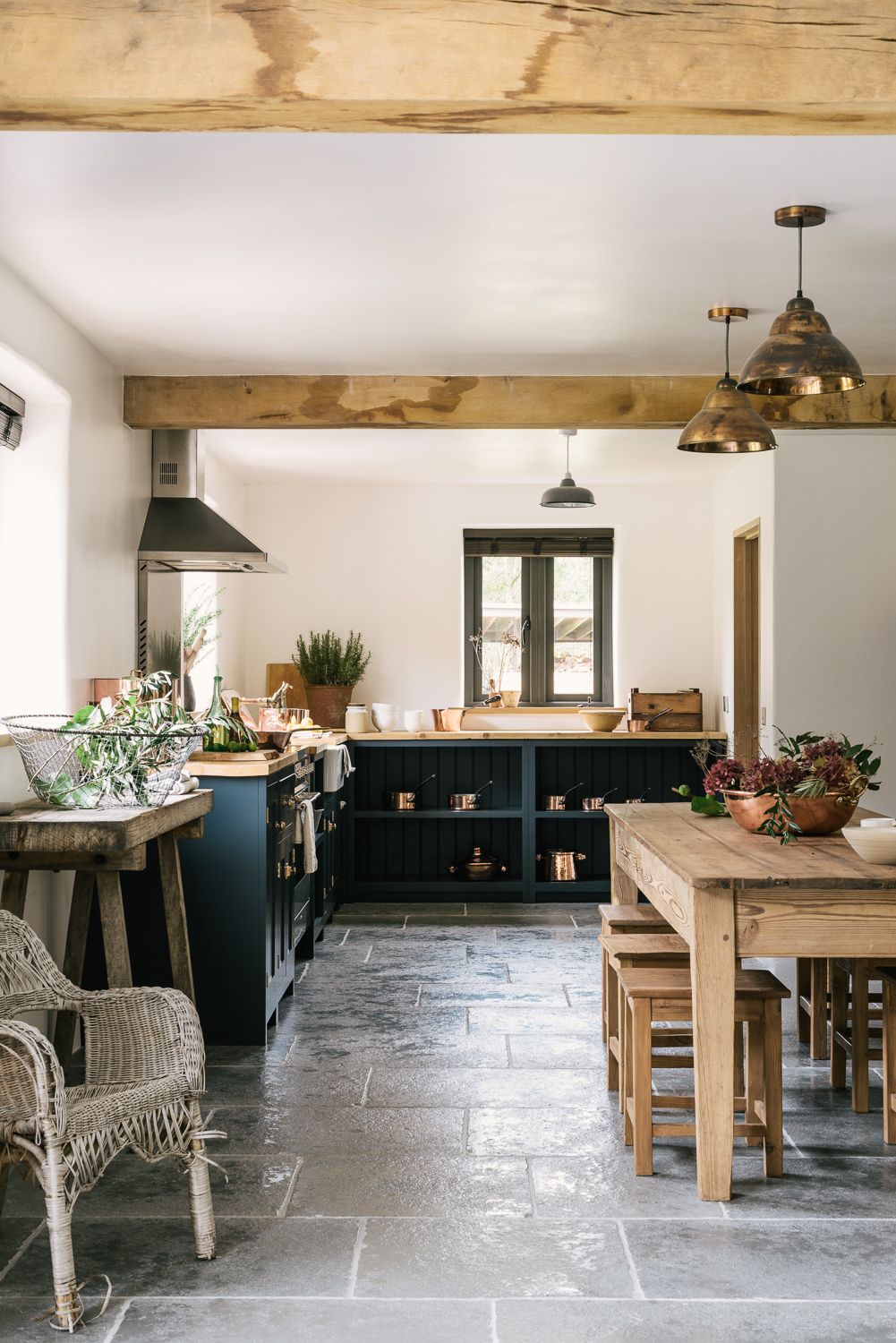 Love the fashion for dark kitchens? You needn't worry about embracing the trend in a country kitchen, but if it's low-ceilinged, be sure to pick out light, reflective colours for the rest of the room – from flooring finishes to paint to furniture and worktops.
Be inspired by these dark and dramatic kitchen design ideas.
15. Mix up cabinet finishes for an eclectic feel
The ideal way to create a laid-back look in any kitchen – country kitchens or otherwise – is to choose non-matching pieces.
Here, handmade drawers and cabinets combine with salvaged finds and open shelving for a charming, relaxed finish that's so easy to live with.
A lime-effect light blue ceiling further enhances the eclectic feel of this country kitchen.
16. Source antique and reclaimed pieces character
A country kitchen isn't complete without antique and reclaimed finds which will instantly add character to the space and give it that lived-in feel that so many of us crave in a country kitchen.
So, if your kitchen cabinetry is brand new, in fact, especially if it's brand new, add in some handpicked, pre-loved pieces to give the whole room a characterful boost.
17. Add a country kitchen sink
Nothing says country kitchen like a Belfast (or butler's sink). These are deep and well suited to everything a kitchen in a country home or farmhouse would have had to have dealt with, such as washing clothes or vegetables straight from the garden.
Most versions are ceramic but modern composite options can bring a contemporary edge to a traditional scheme. Another option is a durable stainless steel sink, mounted under the worktop, to which you can match stainless steel taps.
If you need any more tips on how to choose a kitchen sink, have a read through our guide.
18. Display utensils for a lived-in look
In a traditional country kitchen, nothing would have been neatly stashed away in cupboards and cabinets, whatever was useful would have been to hand.
If you're looking to create a space with a lived-in feel, aspire to this authentic storage system, but curate the pieces you display so that only your best utensils, pottery, pans... whatever are on show.
19. Warm a space with a cosy wood burning stove
The ultimate addition to a cosy country kitchen is a woodburning stove to warm the space.
Perfect for cold winter mornings and evenings sat sipping tea around the kitchen table, wood-burning stoves create a comforting focal point that you won't regret investing in.
20. Add a utility room to a country kitchen
A separate utility and boot room are integral parts of the country kitchen. Always try to place a bench by the back door, so there is somewhere to sit down and take off your boots and hang coats.
Have plenty of worktop space so there is room for a laundry storage, such as a basket, on top when you are loading and unloading machines. Always make sure you have as much space as possible to open an ironing board or bend down to a machine without bumping into other cupboards. If space is at a premium, consider these small laundry room ideas.
If you are designing a laundry room from scratch, we have a dedicated feature to help you get it right.