Kitchen window treatments can be overlooked when actually they offer the best opportunity to finish off your kitchen look in a very practical way.
Modern options include curtains, blinds, shades and more. And, not only will the best kitchen window treatment ideas look great but they should also help regulate light, allow you to control privacy, offer up a little insulation, handle splashes, regular cleaning and the list goes on. An essential part of all good kitchen ideas, whether yous windows are above the sink or not, they deserve your attention.
What type of window treatments are best for kitchens?
Whichever types of windows you need to dress, be them large glazed doors, small casement windows or anything in between, it's vital that kitchen window treatments are chosen with the specific zone of the room in mind. Above sinks and in close proximity to the cooking area, go for moisture-resistant kitchen blinds, or robust shutters. Further away from the working zone of the room, treatments such as Roman blinds and curtains are appealing because they'll introduce softness to a space that's filled with hard materials.
Light control's important for both comfortable preparation and dining, so where direct sunlight's an issue, adjustable Venetians and plantation shutters are practical choices.
Think privacy as well in your kitchen design, A space with a garden view may not require a window dressing that conceals all. But if you live in a city with this room in plain sight, consider the benefits of made-for-privacy blinds, panels, shutters and window film.
Harry Cole, Founder of Loom & Last says 'When looking for the right treatment for your kitchen window, a blind is your best bet.'
1. Save space in your kitchen with window film
If you are looking for a kitchen window ideas for a tight space, such as a window above a sink, or want to leave the windowsill free for better kitchen storage ideas or display, window film's a winning dressing.
For maximum privacy choose a stained glass style design, like this Palanga in Amber from Purlfrost, or go for a plain etched look to boost light coming in.
2. Play with pattern above a sink
If specific fabrics or interesting patterns are an integral part of your interior design scheme, you can get more creative with different types of roman blinds. 'The header rail allows visibility of the fabric pattern, whether the blind is up or down, while the traditional pleats are a stylish addition that make a feature out of the window.' Adds Cole. Choose something made to measure for the perfect fit.
3. Pick shutters to dress kitchen doors
Whether you have traditional French windows, contemporary bi-fold or sliding doors, once darkness descends it's cozier to be able to shut out the night.
These Warwick Silk White tracked shutters from Hillarys, suit all outward opening doors, as well as sliding versions.
4. Pick fresh kitchen window treatments for rooflights
Rooflights boost natural illumination in a kitchen, but the addition of a blind can be useful to soften the light and prevent glare as the sun moves round the house. These roller blinds from Velux are power operated and come in a choice of 15 colors.
5. Pared back Venetian blinds
When your kitchen space says so much, your window treatments can take a back seat. Venetian blinds serve purpose and a simple aluminium design won't overpower an already well thought out space.
6. Playful motifs
Keep cooking as cheerful as you can with cute motifs on your kitchen window treatments that complement the colors of your kitchen cabinets too. 'Roller blinds are a great choice if you are looking to maximize daylight and make smaller windows appear taller. Neat and tidy they roll up, taking up just a small portion of the windowpane ensuring full visibility and sunlight throughout the day.' Adds Cole.
7. Balance light and privacy in your kitchen
Looking for the softness of fabric but the adjustability of a slatted blind? This Zebra roller blind in Pale Ash with clip on matching pelmet fromBloc Blinds, is made with colored and transparent fabric bands on a loop. Via the pulling together of similar bands they allow either maximum light or maximum privacy at different times of day.
8. Choose kitchen curtains for a softer look
Take the opportunity to indulge in more opulent kitchen treatment ideas and add softness with curtains as well as Roman blinds. Here Kensington Dijon curtains, made-to-measure, have been teamed with Sion Mimosa Roman blinds at Style Studio, to give the windows a luxurious finish.
9. Pick a flexible kitchen window idea
To manage the problem of being overlooked when your kitchen's street facing while keeping the daylight coming, try a highly this manoeuvrable kitchen window idea.
These top-down bottom-up blinds can be adjusted upwards or downwards so you can position them at any point on the window as needed from Duette.
10. Keep the kitchen streamlined with shutters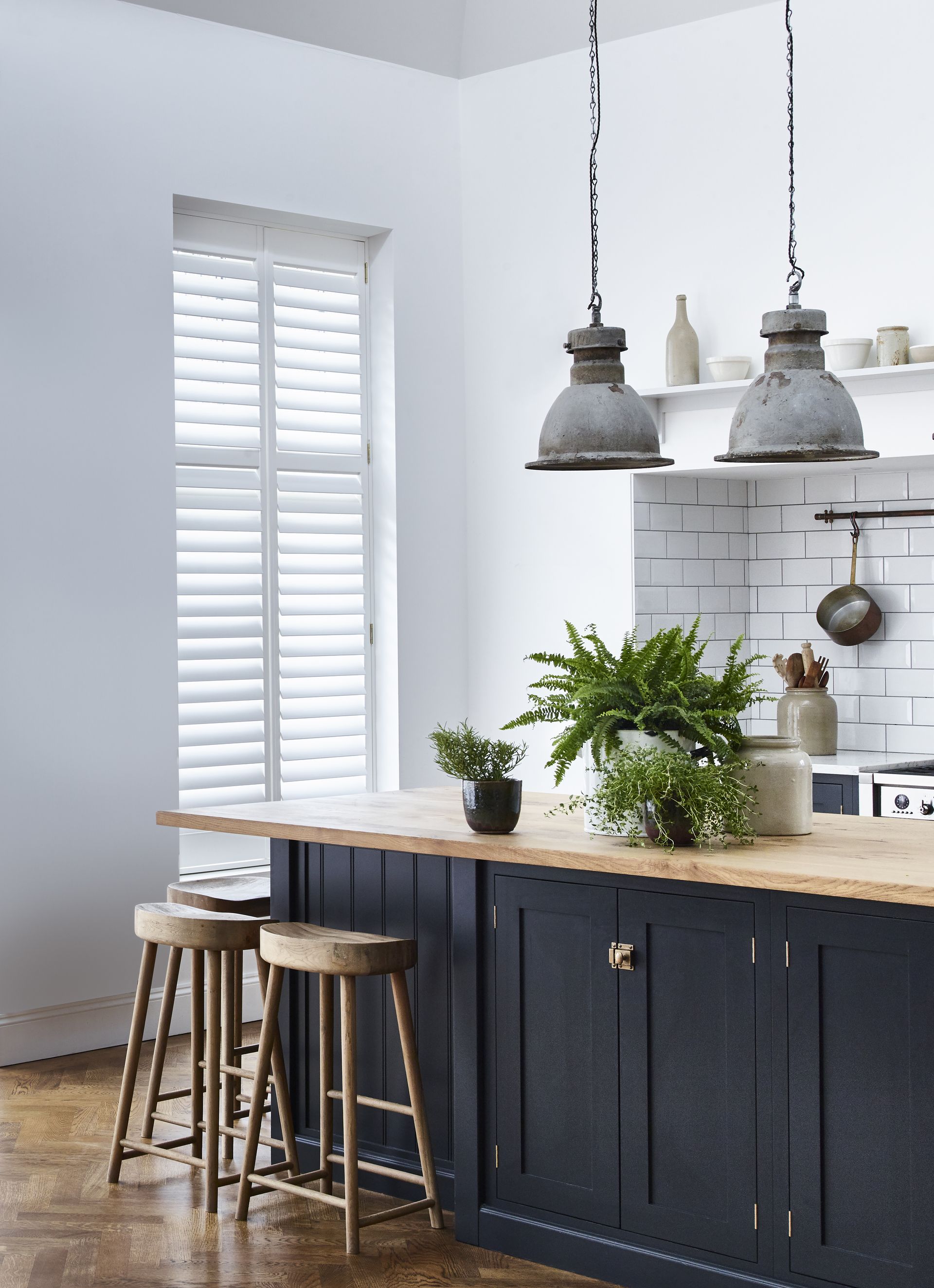 Fitted into the window recess, shutters are a neat way to dress kitchen windows without intruding into precious work space. Easy to clean, they can be fitted in hard-working areas – a wipe down will have them pristine once more. Louvered shutters, from Shutterly Fabulous.
11. Inject color with Venetian kitchen blinds
If you've picked cream or white kitchen units for their space-stretching qualities, why not use your choice of window treatment to add an accent shade that can be repeated in other kitchen accessories?
There are so many great Venetian blinds out there and this pink Venetian blind, from Apollo Blinds, adds energy to the scheme as well as regulating light.
12. Add heigh with your kitchen window treatments
Vertical blinds can help draw attention to the grand scale of large windows and patio doors, or make a small window feel taller by drawing the eye upwards – ideal in a small kitchen design. In this kitchen, made-to-measure vertical blinds by English Blinds enhance light and space.
13. Keep insects out of the kitchen with a screen
If it's a barrier to stop small creatures finding their way into your kitchen you need at patio doors or kitchen windows, take a look at this S2 screen from Centor. It can be fixed to the interior or exterior of French, sliding or single patio doors, as well as wood, aluminium or uPVC windows, and paired with new glazing or retro-fitted.
14. Leave the windows undressed
If your windows are double-glazed, if the view of your garden, both in daytime and lit at night, is fantastic, and if you're not overlooked, why not leave your kitchen windows undressed? In a period room with lots of decorative detail you can easily get away with this. In a contemporary room with lots of hard surfaces, beware of the echo and consider adding a rug and some soft furnishings to absorb sound.
15. Add a monochrome blind for a streamlined look
Of course, many kitchens look just fine without any window treatments, and you may well want to make the most of a nice large window and the light it brings in. But what if your kitchen faces a busy road – or, conversely, a dull fence you don't fancy looking at? That's where a smart blind comes in handy.
Take inspiration from this graphic monochrome blind that works brilliantly with the black-and-white design scheme or even full on white kitchen ideas. Look created by Humphrey Munson.