We are big fans of quick and easy kitchen decor ideas, hence why we like to keep you updated on all the new hacks, looks and styles we have been seeing recently. So here you will find some super easy ways to update your kitchen and give it a fresh new look in just a weekend!
Make sure you check out our kitchen ideas pages too, there are plenty of quick kitchen makeover hacks over there too, as well as advice if you are starting a bigger project. 
1. Put up some quick peel and stick on wallpaper 
We knew removable wallpaper was a thing, but it's only recently we have fully appreciated just how great it is. It's so easy to put up (and take down), it comes in so many gorgeous designs, and it's a renter's dream because it's landlord friendly! Etsy is our go-to place for removable wallpaper, loads of cute prints to suit all styles and budgets. 
For more kitchen wallpaper ideas head to our feature. 
2. Throw down a kitchen rug
Kitchen floors looking tired? A  rug can cover many a sticky lino sin. And before you go thinking rugs aren't practical in a kitchen, they can be, you just have to choose the right fabric, colour and pattern. Top choice for us would be a hardwearing jute rug that will hide scuffs and stains. You could also go for a rug that's already 'worn' – you know the ones that already look they have been in someon's home for decades. Check out Wayfair for loads of affordable options. 
3. Put up prints for a quick kitchen makeover 
Even the small things can make a big difference. Hanging up some prints in your kitchen will bring in colour and pattern plus fill a blank space that's just going unused. Depending on your space you could have just one large prints – this always looks very cool in a small kitchen when you don't want too much fuss – or you could create a gallery wall.
How you curate your prints is totally down to personal style, but if you're not quite sure where to start check out our gallery wall ideas. 
4. Paint something in your kitchen 
A wall, four walls, a piece of furniture, all your cupboards if you like! Honestly, nothing changes a room like a lick of paint. If you want a totally new look then you could paint all your kitchen cabinets, we have a guide for you to follow, but even just one wall in a lovely new colour will make your kitchen feel like a much fresher space.
Oh and you can paint tiles too, if your splashback needs some TLC! For loads more kitchen paint ideas, head over to our gallery. 
5. Add in some open shelving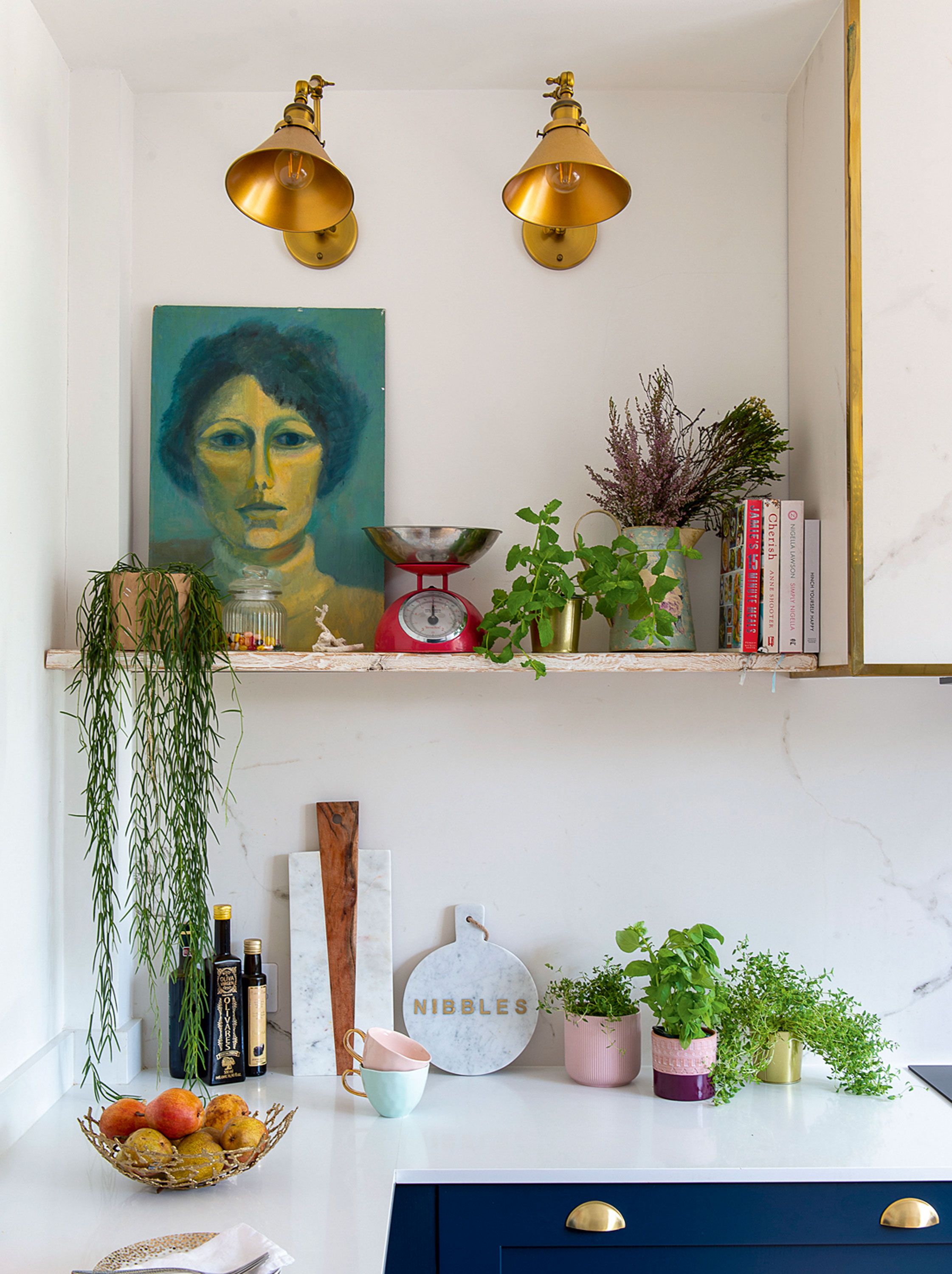 Open shelving is a really quick and easy way to add a load of interest to your kitchen. Not only is it a practical storage solution, but open shelving units look gorgeous too. Just fill them with your best crockery, lovely knick-knacks, pots, pans and everything but the kitchen sink - it will look great. 
Read more: