Designing a stylish kitchen on a budget? Painting plain kitchen cabinets is the perfect way to create a bespoke look or, if you like the structure of existing kitchen cabinets but not their finish, to refresh a tired kitchen without spending a fortune.
Whether classic and muted, or bright and fresh, the colour in which units are painted completely dictates the look and feel of the whole room. For a kitchen in an old home, painted cabinets are a signature feature of styles such as Shaker and country kitchens, too.
Solid wood doors lend themselves best to being repainted, but melamine units can also be updated. The key is to ensure the surfaces are property prepped and primed. Also check that the cabinets are in good order and not warped. Finally you need to find suitable paint – check out our best paints for kitchen cabinets before you get started.
Step-by-step: how to paint kitchen cabinets
Subscribe to Period Living magazine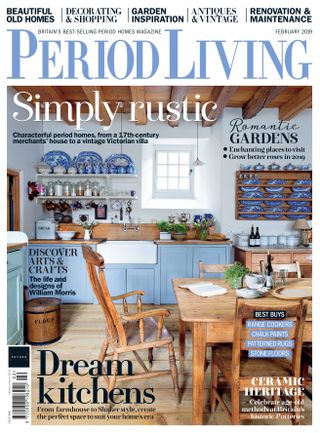 If possible, it's best to remove the door fronts and drawers.
Unscrew all ironmongery, and mask off any areas you can't remove.
Lightly sand the surfaces with fine-grade sandpaper.
Vacuum up the dust and clean surfaces with sugar spray and a damp cloth.
Once dry, use a traditional wood primer or undercoat, or a specialist melamine or universal primer.
Choose a suitable paint for kitchen cabinets; an eggshell paint finish for the doors will be hardwearing.
Use a small roller or paint brush to apply the paint in confident, long strokes.
You will need at least two coats. Allow paint to dry fully in between, as per instructions on the paint can.
Reattach ironmongery. Investing in new cabinet handles will help give the units a completely new look.
Find out more in our video, below, and read on for colour inspiration and ideas for ironmongery.
Which paint colour to choose for your kitchen cabinets?
Along with neutral shades, including black, soft blues, greens and greys are ideal for all styles of kitchens, and lend a light, elegant feel. Light pink is an on trend shade that can look contemporary matched with greys, while red has a characterful country feel.
The entire kitchen need not be colourful – a bold shade, such as red or dark blue, can be used to accent a short run of units, a kitchen island or statement dresser, with the rest of the kitchen in a neutral or natural wood finish. Check out our colourful kitchen ideas for more inspiration.
Add depth and interest by using different shades of the same colour. For example, painting the wall units a lighter colour than the base cabinets is a clever way to make the kitchen feel more spacious.
Mixing more than one complementary colour, such as teal with soft blue, gives a cottage or eclectic vintage-inspired look to your kitchen.
For more inspiration, we have put together some great kitchen paint colour ideas.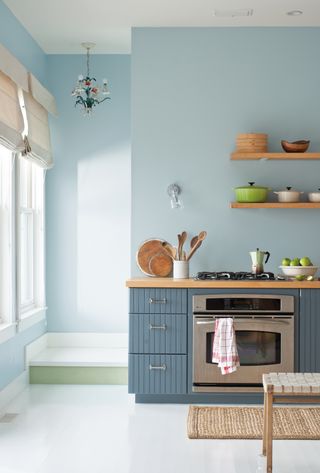 How to accessorise painted kitchen cabinets
An interesting splashback will lift the scheme, and it's a touch you can easily add yourself with our guide to how to tile a splashback.
Smaller details in a natural wood finish, including worktops, peg rails, shelving and chairs, will prevent the look from cloying.
If you are after a retro-style kitchen, choose vintage (or just vintage looking) appliances in complementary colours, in a brighter or darker tone of the main colour to finish off the look to perfection.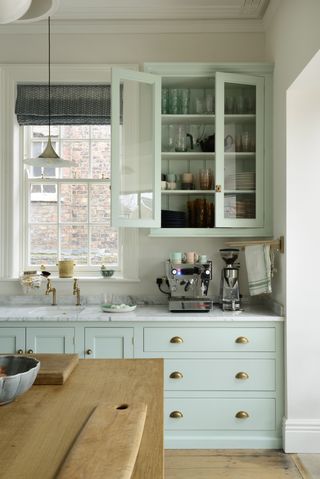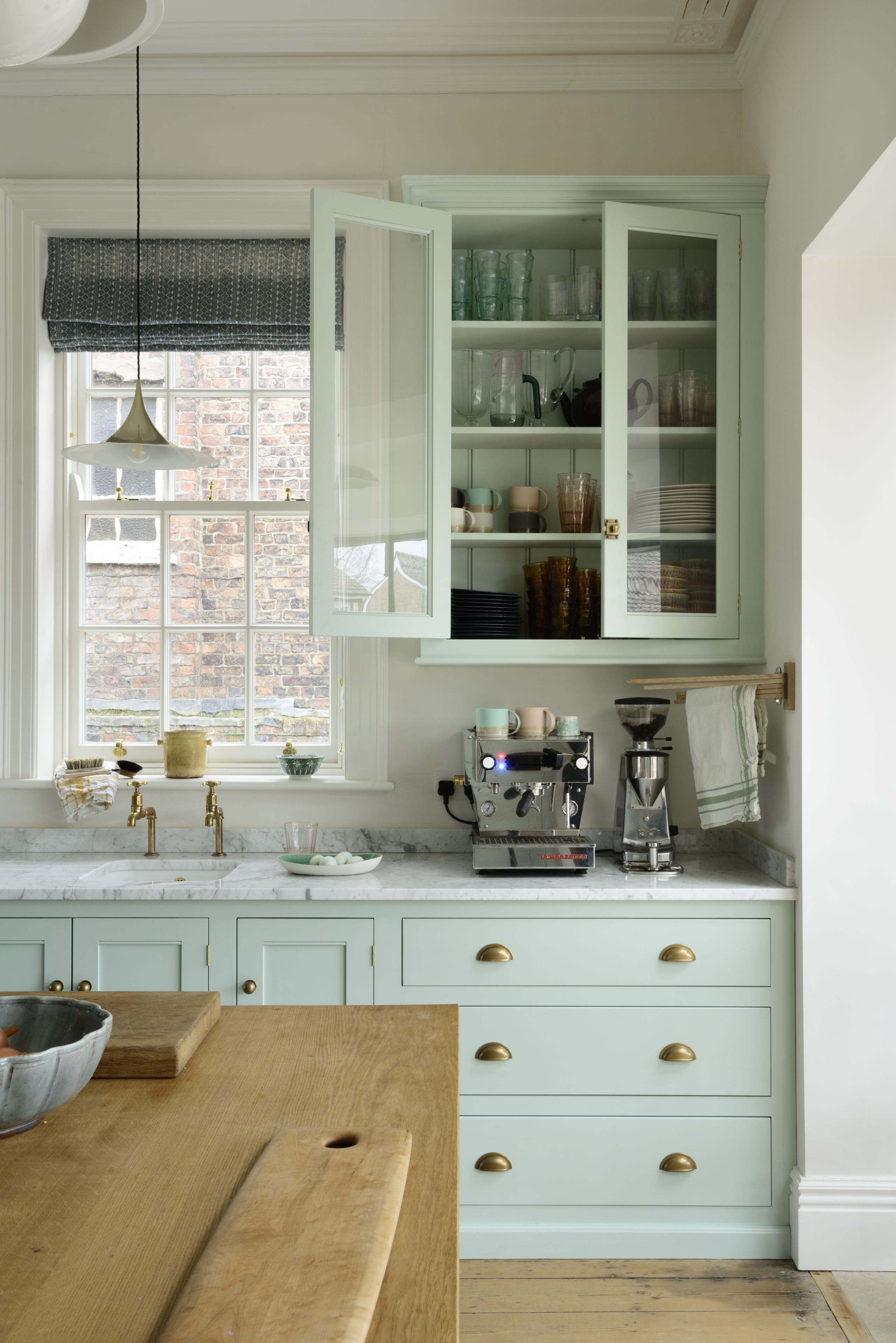 How to lift the look of a budget kitchen
Painted kitchens are often associated with higher end bespoke manufacturers of handmade solid wood units, but the beauty of painting cabinets is that the species of timber underneath doesn't have to affect the end appearance.
For example, a pine kitchen might cost less than half the price of hardwood, and still have the same finish and handcrafted quality once painted and dressed with beautiful cabinet door handles and worktops. It's a great idea for saving money on the cost of a new kitchen.
Read more: