In 2022, we're leaning towards classic natural beauty in the form of gorgeous pearlescent materials. From nightstands and storage jars to bathroom tiles, our homes are undergoing a pearly makeover.
The new year brings plenty of new home decor trends to take your pick from, and with the pearlcore trend, the world really is your oyster.
What is the pearlcore trend?
Pearlcore is about bringing in translucent, shiny pearl materials into your homeware (or wardrobe) and celebrating this hidden treasure of the sea. Filling our homes with decorative pieces inspired by these natural gemstones brings texture, interest, and a distinctly retro feel.
'In 2022, people of all ages will embrace iridescent accents in their homes, in their jewellery boxes and even as nail art,' says Pinterest's annual 'Pinterest Predicts' report. 'Pearl-themed parties will be on the rise, too, as people opt for pearly gowns and wedding décor.'
Interior designer Nicki Bamford-Bowes is ahead of the curve, having just ordered some stunning pearlescent tiles from Topps Tiles. 'I am looking at using them in a commercial job, but I think it could be a lot of fun in a kids' bathroom,' Nicki says.
'I am totally obsessed.' The designer and founder of And Then They Went Wild plans to use them alongside some matt pastel tiles.
You could also consider delicate mother-of-pearl kitchen tiles in hexagon shapes or pearlescent pendant light fittings to create a warm pink glow. Or, if you'd rather not commit to anything major, look out for pearl vases to add to your living room shelving ideas or coffee table.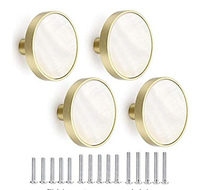 Solid brass and mother-of-pearl hardware for kitchen cabinets or wardrobe drawers, $9.99 for a pack of 4 at Amazon
Make your cabinets glint with the delicate sheen of this hardware from Amazon. These have lovely smooth brass edges and add subtle glamour to any space.
Kane Hughes is an interior design expert at MyJobQuote. 'The pearlcore trend works really well with warm neutrals such as pale pinks, clays, and mocha tones,' says Kane.
'So, you can easily introduce a few pearlescent elements to any room without overwhelming it. Think pearl and natural wood frames on mirrors and pictures in the hallway or pearl glazed plant pots and vases for the lounge.'
The interiors expert suggests tiling the sink splashback in your bathroom for a subtle change, or trying crackle-glazed pearl tiles. You can also get pearl-effect paint, at Dulux to revamp a tired wooden chest of drawers.
We'll be looking out for iridescent storage boxes, lamps, bowls and trays. There are loads of cute pearl photo frames on Etsy perfect for bringing some granny chic to your nightstand or console table.
If you're looking for living room ideas on a budget, seek out pearly trays for displaying a big vase of daffodils and any other homeware pieces you love.