Best Walmart Furniture: Quick Menu
Finding the best Walmart furniture can be a tricky task. The site and store both have so many different pieces to shop through — and while we do love having options, this can be a lot to go through when you just want to know the best pieces to shop.
You might have been through Walmart for your groceries — after all, it does have over 4,000 stores in the US alone. However, you might not have thought to visit the store for decor. That being said, the furniture at Walmart is really affordable and stylish, with it often collaborating with celebrities. This makes it a great place to shop for pieces for around the house.
This is why, as far as the best furniture stores go, Walmart is one of our top picks. Looking through the site and aren't sure where to start? We've done the hard work for you and found pieces that are highly rated and that shoppers have written rave reviews about. For those looking to grab a bargain, Cyber Monday home deals are in full swing at Walmart — so we've also rounded up the best furniture deals available.
Top Walmart Cyber Monday furniture deals
As one of the best online stores for home decor, Walmart has already so many Cyber Monday home deals. We've rounded up pieces with the best deals — including ones that are already in this guide. Keep an eye on this page as we update it with more deals.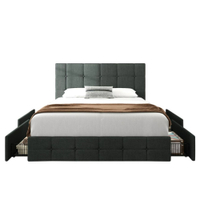 1. Amolife Queen Size Platform Bed | Was $399.98 Now $235.59 (save $164.39) at Walmart
Looking for a bed that's comfortable and practical? As well as having a soft headboard to lounge back on, this has four storage drawers, so you can stash away any seasonal clothes or bedtime essentials. Reviewers say it's easy to put together, spacious and has high-quality materials.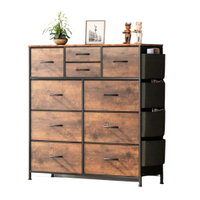 2. GIKPAL Chest of Drawers for Bedroom | Was $189.99 Now $85.99 (save $104) at Walmart
Buying a versatile set of drawers is a great idea, as you can keep it and use it in whatever room is required, no matter where you end up moving to. There are ten drawers — six large ones and four smaller ones — so you can store all sorts of items in here. So many shoppers love how simple it is to put together.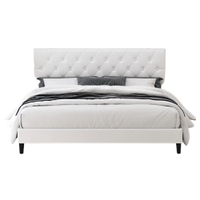 3. Homfa Faux Leather Upholstered Bed | Was $379.99 Now $154.26 (save $225.73) at Walmart
Bring a touch of luxury into your bedroom with this hotel-style bed, which has a plush faux leather material and a tufted-button headboard. It's also a really clean and contemporary design, making it a great choice for numerous bedroom styles. It also has over 1,000 five-star ratings.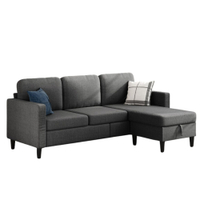 4. MUZZ Sectional Sofa with Movable Ottoman | Was $590 Now $265.99 (save $324.01) at Walmart
L-shaped couches are the best for smaller living rooms, as they're great for dividing up the space. This one is made from a washable linen fabric, making it easy to maintain. The ottoman is also adjustable, so you can move it to wherever works in your home. Shoppers raved about the price before the discount, and now it's an even better bargain.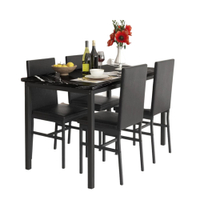 5. Segmart 5 Piece Dining Table Set | Was $399.99 Now $169.99 (save $230) at Walmart
Add a touch of modernity to your dining area with this sleek set, which looks so much more expensive than it is. The seats are all padded with PU leather, ensuring sturdiness and durability, while the faux marble top polishes off the sophisticated style. It would fit perfectly in a small to medium-sized space.
The best Walmart furniture buys, as rated by shoppers
Why you can trust Real Homes Our expert reviewers spend hours testing and comparing products and services so you can choose the best for you. Find out more about how we test.
Ready to get started? If you're looking for places to buy furniture, look no further than these affordable and chic Walmart furniture pieces. We've rounded up 12 buys for various rooms of the house, so no matter what room you want to re-vamp, you can browse with ease.
The prices below were correct at the time of publishing this article.
The best Walmart living room furniture
These chic living room furniture buys will add serious style to your small space.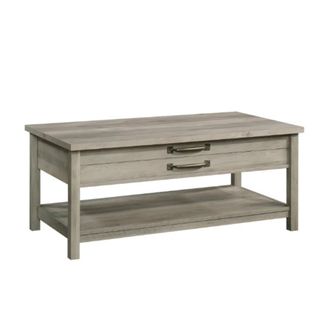 Stash in style
1. Better Homes & Gardens Farmhouse Coffee Table
Size (in.): H18.07 x W23.47 x L43.15
Made from: Wood
Price: Was $139 Now $122 (save $17) at Walmart
When living in spaces such as apartments, choosing multifunctional furniture is the best way to make the most of what you have. This is a lift-top coffee table, so you can store all your blankets and TV remotes away neatly. It also has two drawers and a lower-tier shelf, so you won't be short on storage space.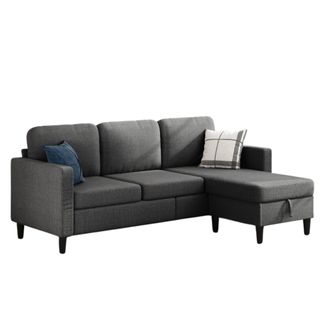 Timeless
2. MUZZ Sectional Sofa with Movable Ottoman
Size (in.): H32 x W76 x D27.5
Made from: Linen and wood
Price: Was $590 Now $265.99 (save $324.01) at Walmart
Sectional couches like this one are especially great for small spaces, as you can tuck them into corners or use them to zone out the living area. This has three seats, plus room to put your feet up. If that wasn't enough for you, the extra legroom also doubles as a handy storage ottoman.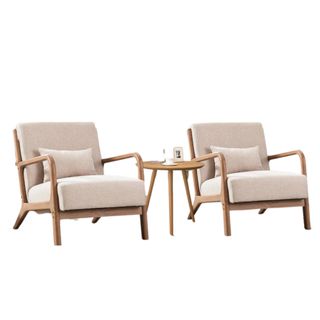 Boho
3. Bonzy Home Mid-Century Modern Accent Chairs
Size (in.): H29 x W26 x L32
Made from: Linen and wood
Price: Was $399.99 Now $299.99 (save $100) at Walmart
Add a touch of Scandi style to your small living room with these cozy chairs, which look perfect for curling up with a hot drink. Walmart reviewers say that they're easy to assemble, look great, and are sturdy. This comes in a set of two, but you can buy the chairs individually if you just want an accent chair.
The best Walmart bedroom furniture
These furniture buys will make your bedroom the dreamiest place to hang out in.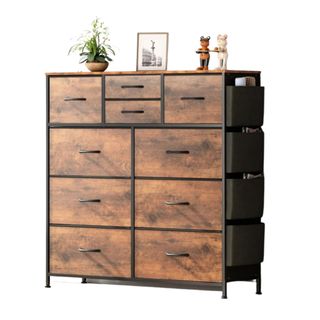 Industrial chic
4. GIKPAL Chest of Drawers for Bedroom
Size (in.): H39.4 x W11.8 x D38.9
Made from: Wood
Price: Was $189.99 Now $74.99 (save $115) at Walmart
Don't have room for a whole wardrobe? This bedroom furniture piece has ten drawers, as well as pockets on the side for any extra nighttime essentials. If you're sharing with a partner, you can also easily and evenly split your sides. The brown color is timeless, but the black, gray, and white variations are all chic, too.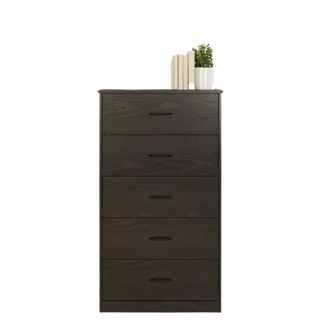 Space saving
5. Mainstays Classic 5 Drawer Dresser
Size (in.): H49.37 x W27.72 x D15.67
Made from: Wood
Price: Was $139 Now $68 (save $71) at Walmart
Vertical storage solutions are the way to go in small spaces, as they don't take up as much square footage. This dresser would suit smaller apartments, as well as working as dorm furniture. It also comes with a wall anchor kit, so if your landlord won't mind, you can secure it completely and prevent any accidents.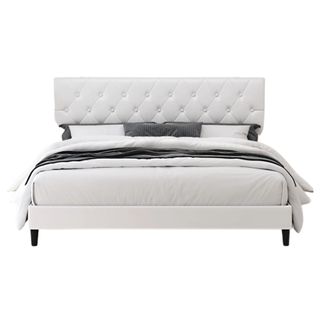 Luxe for less
6. Homfa Faux Leather Upholstered Bed
Size (in.): H45.3 x W62.2 x L81.1
Made from: Faux leather, wood, and, steel
Price: Was $379.99 Now $154.26 (save $225.73) at Walmart
If you've got your eye on the famous TikTok cloud bed but don't want to fork out for it, this luxe-looking bed is a great alternative. It's such a versatile design, meaning it will work in all different styles of bedrooms. We've listed the size and price for the queen bed, but it also comes in full and king.
The best Walmart kitchen furniture
Adding furniture to your kitchen will make the space more useful and usable.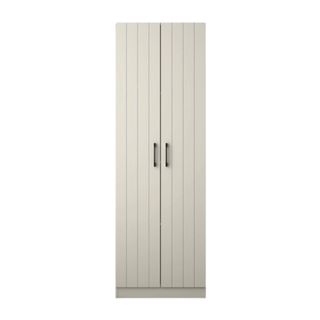 Additional storage
7. Woven Paths Lancaster Wood Kitchen Pantry
Size (in.): H71 x W23.5 x D16.25
Made from: Wood
Price: Was $349 Now $129.59 (save $219.41) at Walmart
It can be such a pain moving into a rental, and quickly realizing that you don't have enough kitchen cabinet space for all your different boxes, jars, and tins. This cabinet solves that issue and will add a quiet luxury finish to your kitchen too. It has four large shelves, which are ideal for placing kitchen storage baskets and organizing everything aesthetically.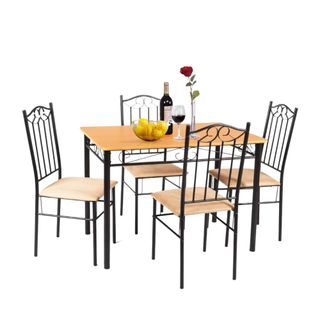 French-style dining set
8. Costway Wooden and Metal Dining Set
Size (in.): H30 x W27.5 x L42
Made from: Wood and metal
Price: Was $279 Now $149.98 (save $129.02) at Walmart
It can be so easy to just eat dinner in front of the TV — but having a proper dining table will make meals feel more of an occasion, and is more suitable for guests, too. This is an incredible price for a whole dining set, and is such a classic style, so you can take it wherever you might move to next.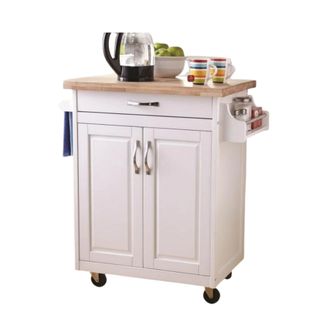 Wheelable design
9. Mainstays Kitchen Island Cart
Size (in.): H35.5 x W19 x L32
Made from: Wood
Price: Was $165 Now $148 (save $17) at Walmart
Keep the good times rolling in your kitchen with this kitchen island, which will add an extra worktop for cooking and displaying foods. It has a drawer and a cabinet, as well as a small shelf on the side. This could be used for things you often need to quickly grab, such as air fresheners or tea towels.
The best Walmart bathroom furniture
You might think that your bathroom already has everything you need — but these might just change your mind.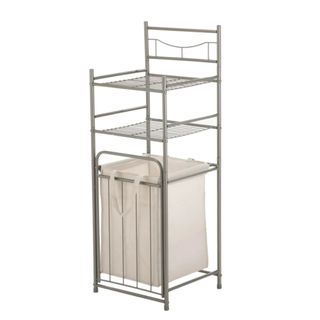 Practical
10. Mainstays Storage Shelf Unit with Hamper
Size (in.): H41.3 x W14 x L15
Made from: Steel
Price: $29.98 at Walmart
Having your laundry hamper in your bathroom will make it easier to put clothes in the wash, as you can just put them in before you head in the bath or shower. The laundry section has an openable gate and the laundry bag has handles, so you can carry it in between rooms, as well as to your washer.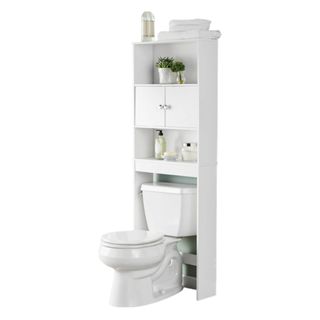 Smart
11. Mainstays Over-the-Toilet Space Saver Cabinet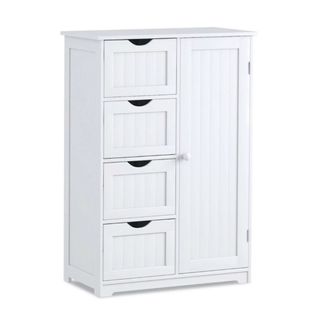 Water-resistant
12. Costway Wooden Bathroom Storage Cupboard
Size (in.): H32 x W12 x L22
Made from: MDF
Price: Was $179 Now $63.99 (save $115.01) at Walmart
Having a smaller cabinet in your bathroom will create so much space for your toiletries. This has a cabinet and four drawers, which you could separate out per person in the household or with different kinds of products (such as shampoo, shower gel, or even hair tools). Shoppers say it works well in small places and looks super cute.
The best Walmart outdoor furniture
From smaller patio sets to larger dining sets, there's plenty of outdoor furniture on offer. If you do want to grab one, be sure to add a protective cover set from Walmart to your order, so it doesn't get damaged by the weather.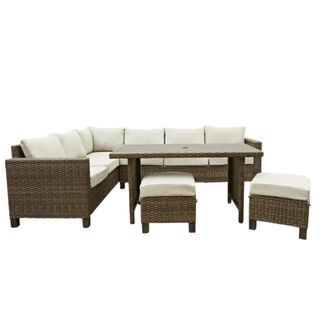 Top rated
13. Better Homes & Gardens Sectional Dining Set
Size (in.): H29.3 x W74.4 x L28.3
Made from: Steel, wicker
Price: Was $897 Now $597 (save $300) at Walmart
With over 1,000 five-star reviews, this is the most highly-rated outdoor furniture set at Walmart. Shoppers say it's great value for the price, is the right height to eat from, and that it is very sturdy, too. This is a slightly pricier set, but it will make your outdoor area look so luxe, and it has more than enough room for lounging and entertaining.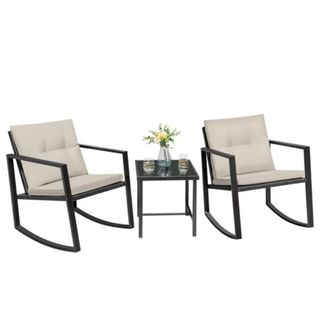 Anti-rust
14. Devoko Patio Bistro Furniture Set
Size (in.): H23.5 x W28.7 x L35
Made from: Steel, rattan
Price: Was $229.99 Now $129.99 (save $100) at Walmart
I love how effortlessly stylish this set is, with its monochrome color and plush seating. Walmart reviewers say that it's easy to put together, is super comfortable, and that it suits both front yards and backyards. Imagine sitting on this out front and people-watching with a coffee in hand — dreamy, right?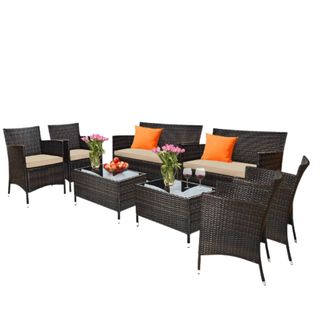 Very spacious
15. Gymax Patio Outdoor Furniture Set
Size (in.): H32.5 x W22.5 x L23
Made from: Steel, rattan
Price: Was $559.99 Now $409.99 (save $150) at Walmart
Do you have a larger outdoor area or know you'll regularly have people to entertain? This set has eight seats for people to relax on, as well as two coffee tables to rest nibbles and drinks on. It comes in numerous cushion color options, from neutral beige and gray to bright red and purple.
How to choose the best Walmart furniture for you
Want to browse the site yourself for furniture? Here are four things to look out for:
Check the materials: Most Walmart furniture materials are either listed in the product titles or in the descriptions. Durable materials to look out for include metal, wood, and linen fabric.
Check the size: It's important to make sure the furniture will actually fit in your home before buying it. Measure the space that you're planning on putting it, and cross-check with the measurements in the product description.
Read the reviews: Walmart's reviews are split out between positive reviews and negative reviews, which make it easy to see any information that you should be aware of before purchasing.
Look at the star ratings: On the Walmart site when you have searched a particular product, you can filter the products by customer rating by clicking 'customer rating' in the navigation menu, and then filtering by 'four stars and up.'
How we chose these Walmart furniture buys
We can't fit the whole of Walmart's furniture catalogue into our rentals and apartments, so instead we have spent hours looking through thousands of products on the Walmart site. In this guide, we have only selected products with ratings of four stars and up, that have plenty of glowing reviews from real-life shoppers.
FAQs
Is Walmart a good place to shop for furniture during Cyber Monday?
Walmart is a great place to shop during Black Friday, both in person and online. The site has a dedicated Cyber Monday page, which already has thousands of deals live. We'll be regularly checking the furniture sets on sale and curating the best deals and discounts on this page.
Why is Walmart a great place to shop for furniture?
Walmart has a variety of different furniture pieces for every room in the house, from the living room to the bedroom. It also regularly does furniture collaborations with popular brands such as Better Homes and Gardens and celebrities like Drew Barrymore.
What is the best Walmart furniture brand?
The best Walmart furniture brand is Mainstays, as this is its in-house brand. The pieces are simple, timeless, and are an affordable price.
---
No matter which room in the house you're shopping for, it's also a good idea to make sure the Walmart furniture that you pick matches your home's style. This is the best way to ensure that even if your place has furniture from lots of different places, it still looks stylish and cohesive.
Shopped Walmart's best furniture pieces, and wondering what other stores do useful and stylish furniture? We've also rounded up the best Target furniture, which also has beautiful and budget-friendly pieces.