Choosing the best types of flooring for each area in your home is no easy feat. There is a lot to weigh up, whether you're considering hardwood flooring, tile, vinyl or a classic stone floor... It depends on the room itself, your household needs and your budget.
You'll find that the more durable, beautiful and resilient the type of floor material, the more expensive it becomes – naturally. But, in saying that, there are now less costly alternatives available for the bathroom, kitchen, living room and beyond. It's all about being clever in your choices. Mixing and matching different types of flooring across your home can make for a streamlined look – without a big spend. All while you meet every room's needs in terms of style, resistance to humidity, the weight of furniture and of foot traffic, of course.
1. Hardwood flooring types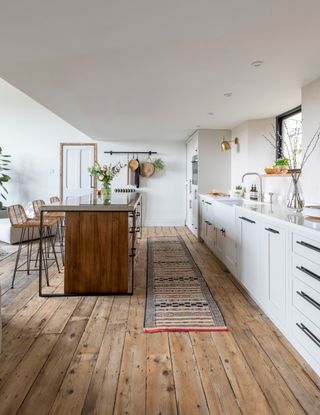 Super popular in homes everywhere not only because wooden flooring like timber is gorgeous and suits many a different interior design scheme – be that more polished and contemporary or rustic farmhouse – with varying grains, tones and finishes, but also because hardwood is very durable and resilient when treated and cared for properly. Timber is usually lacquered or oiled, depending on the look you prefer.
Advantages: Hardwood flooring is versatile in its look and can complement all types of interiors. It's long-lasting and will withstand up to five refinishes to remove surface scratches. Andrew Barker, Founder & CEO of HomeownerCosts adds that Real estate experts say that hardwood flooring could increase the resale value of your home as it's such a sought-after feature for many.
Leslie Saul of Leslie Saul & Associates, Inc. agrees that engineered or natural plank wooden floors can be used everywhere in the home when properly finished. 'It adds natural warmth to a space, is available in many species and many widths and lengths.' Saul also notes how wooden types of flooring can be laid in many patterns to add more style impact to a room. You can also paint or stain wood flooring to upgrade the look of yours over time. Cleaning is easy too. Leslie recommends a Swiffer wetjet for a job made easy.
Disadvantages: It's the cost and the upkeep that comes with hardwood flooring which can put it at a disadvantage as you will usually need a professional's help to get a good finish, unless you're up for some fairly expert DIY. Prices vary according to the thickness of the decorative wood veneer and quality of the core. Barker notes also that 'When exposed to moisture for a long time it can warp making them not fit for bathrooms or laundry rooms.' So you may not be able to install hardwood flooring everywhere, especially not in a shower...
You should also be wary of how long your hardwood floors may be exposed to UV rays throughout the day, and try to minimize this to stop them fading as some timber flooring is more prone to UV bleaching than others. Area rugs, blinds and other window coverings can help with this also. It is also wise to check how scratch-resistant it is before you think about using a vacuum to pick up dust or dragging furniture across it.
Top tips: When choosing timber flooring, look out for a Forest Stewardship Council (FSC, fsc.org) mark which ensures the sustainability of the source forests but also environmentally responsible practices in production. And, a lacquered timber is more durable – but if it gets scratched, a large area of flooring will need to be sanded and re-lacquered. Refinishing a more localized area is easier done with an oiled floor.
2. Engineered wood flooring types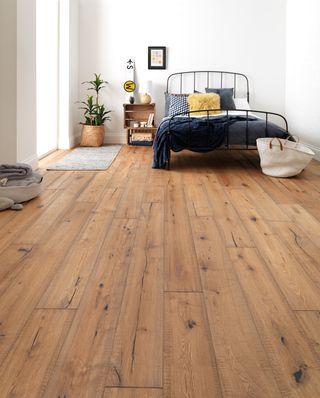 Engineered wood floors feature a real wood veneer over a middle core of heat-formed wood and a base-supporting layer (used where shrinkage might be a problem). The stability of engineered flooring makes it a perfect choice over underfloor heating if the guidelines are followed, plus it is easier to lay than solid wood flooring.
Advantages: Because of how they are made, engineered wood planks are usually more dimensionally stable and less likely to expand or contract with temperature changes or fluctuations in humidity.
Disadvantages: Unlike hardwood, it won't take to refinishing so well because of the thinner top layer.
Top tip: Treat it with a high-quality coating as you would with hardwood to preserve its quality.
3. Laminate flooring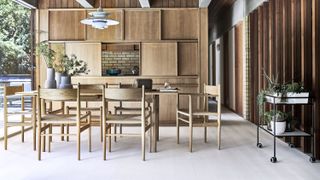 Laminate flooring is made from layers of high density fiberboard with a photographic image (of timber, tile etc) laminated to the surface below a tough, wear-resistant coating.
Advantages: Its advantages are its price, anti-scratching properties and ease of installation. Laminate is a great choice for a busy household in all areas that are not exposed to heavy moisture (so avoid using in a bathroom).
Disadvantages: It depends on the manufacturer but laminate flooring types can feel cold and hard underfoot. If laid badly, it may also be noisy and clunky.
Top tips: Saul notes that you should avoid really cheap faux wood laminate flooring as this will only be reflected in the quality. Generally speaking however, 'it is easy to maintain and it is durable.' Saul also recommends laminate flooring for basement locations.
4. Real stone flooring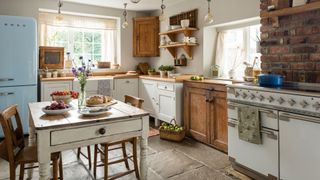 Real stone flooring types offer a stylish and really practical long-term flooring solution, especially in kitchens and bathrooms.
When it comes to types of stone flooring, options include limestone, slate, marble and terracotta tiles, each of which bring character and warmth to a kitchen, bathroom or hallway and can look very elegant in a living room.
Advantages: As long as stone flooring is laid correctly, it should last forever and is often perceived to add value to a property – but ensure that it is installed on a sturdy and sound sub-floor as any movement will cause cracks.
As natural stone is a porous material, it must be adequately sealed when it's first laid and re-sealed at least every six months thereafter. It is the porosity that allows the stone to take on the ambient temperature of a room, so it never feels as cold or hard underfoot as ceramic tiles.
Additionally, stone flooring won't harbour dust mites or pet hair so is a great option for allergy sufferers.
'Stone can be used everywhere in the home, but due to its expense and permanence, it generally is used primarily in spaces for cooking, eating and bathing in climates that are not hot year round.' Adds Leslie.
Disadvantages: Aside from added costs and the possibility of cracking/chipping if not well laid, there aren't many cons to stone flooring – it's a solid investment.
Top tips: Really consider the room, and if there are little ones around, ensure some area rugs are around for protection to little knees.
5. Tile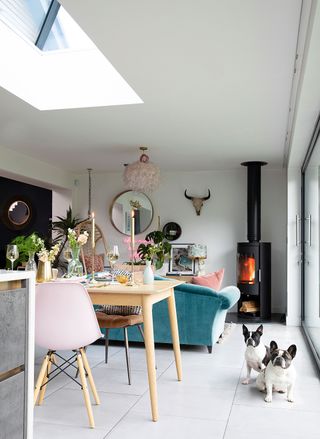 Our love of tile is never-ending and it's one of the most durable, stylish and contemporary types of floorings for kitchens, bathrooms and hallways.
Advantages: The world of decor is your oyster with tile as the different patterns, finishes and colors available are endless. It takes a lot of thought also as the right style, shape, size and even how you install tiles can enhance a small space, add warmth and so much character too if done correctly. 'Tile has so many options, both in quality, texture, pattern, and color that it can require an interior designer or architect to figure it out! Tile can add the punch to a design that is hard to get in other ways. It is super easy to clean, can withstand standing water without buckling like wood, and wears really well. In high traffic areas, like a mudroom, be sure to use tiles that will hold up to the grit that can destroy the finish.' Says Leslie.
'Ceramic tiles are resistant to scratches, dents, and moisture.' Adds Barker. Making it a low maintenance flooring that is easy to clean.
Disadvantages: The tile market is big and it can get expensive. Our advice is to shop around for last season's designs which could add a welcomed eclectic feature to your home, without the big cost.
'Our clients in hot climates love the cool feel of tile under foot. Unfortunately, tile is permanent, so it is expensive to change as your taste or your future buyer's taste changes.' Adds Leslie.
Top tips: 'Consider the room in which you're laying the tiles and choose the surface finish carefully as highly polished stone can be very slippery when it's wet, while matt finishes attract dirt more easily. In very wet areas, such as showers, be sure to use smaller scale tiles to be less slippery. In cold climates, under floor heating can be added.' Says Leslie.
6. Resin or concrete flooring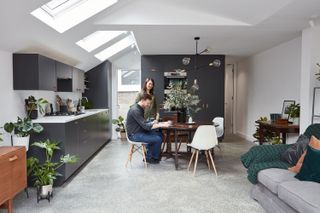 Concrete floor types needn't be reserved for the garage and make a great addition to open plan kitchens, patios, even living rooms. Resin makes the perfect addition to a bathroom, kitchen, conservatory, utility area or contemporary living room also and is available in any RAL color, with some designs incorporating stone or glitter. In fact, anything you can think of captured within the resin to add interest.
Advantages: A design-led solution, poured resin or concrete flooring types offer a smooth, seamless, noise-absorbing, hypoallergenic and waterproof surface that is hardwearing and easy to clean. They each give a super modern finish to all spaces and actually age very well also. Team with underfloor heating, pour it from wall-to-wall, go matt or with a glossy finish for a bit of glamour – it's totally up to you. Note that resin tends to be stronger material.
Disadvantages: Money, of course. The overall cost will depend on the case but concrete is usually said to be cheaper cheaper. Poured resin can be used on most sub-floors and takes between two to five days to install. It's not a budget option at £120 per m² in the UK, but a great choice for a busy family home – try flooredgenius.com.
Top tips: If you're concerned about surface scratches, a sealant can be applied every now and then for added protection.
7. Vinyl floors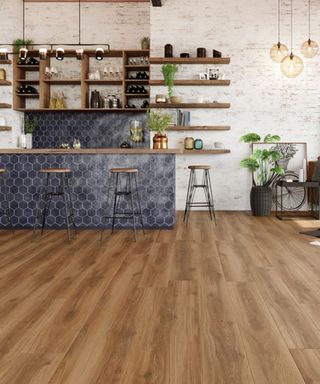 Vinyl flooring is made up of a combination of polyvinyl chloride and plasticisers, with added color pigments. Available in either sheet, tile or plank form, vinyl is a very useful flooring for a kitchen or bathroom as it is non-poros, but has an element of resilience which makes it comfortable to walk on. This makes a quick fix to a room if you're on a tight budget and in a hurry. But, not the finest type of flooring in a forever home.
Advantages: Vinyl is a versatile material, and can be used to replicate timber, tiles, glass and stone. Prices vary from the inexpensive (as little as a few pounds per m²) to almost the same cost as some solid wood flooring. Barker adds, 'It can stand moisture and heavy foot traffic. Because of the material used, it is comfortable to walk on and warmer on bare feet than tile. Another great thing about this type of flooring is it is inexpensive yet durable. Experts say that a good-quality vinyl floor can last up to 20 years...'
Disadvantages: Although you can find brilliant wood imitations, vinyl sadly will never be as resilient as real wood flooring nor can it be repaired easily. Many are often concerned with the VOCs (volatile organic compounds) it can emit also so this isn't the option for you if you like to live more organically especially as it is not easily recyclable. As it's less hardy, vinyl has a short lifespan and it's also not the simplest to remove either.
'It gives off a fake look and there are limited choices on designs and patterns. Also because of the material, it is prone to scratching and gouging than harder types of flooring. Once it is worn out, there's no way to refinish it unlike other types of flooring and a complete replacement would be needed.' Adds Barker.
Top tips: 'Vinyl floors are now available phalate-free, but they are not a sustainable or green choice. They are chosen primarily for price and practicality.' Adds Leslie.
8. Luxury vinyl tiles or plank (LVP)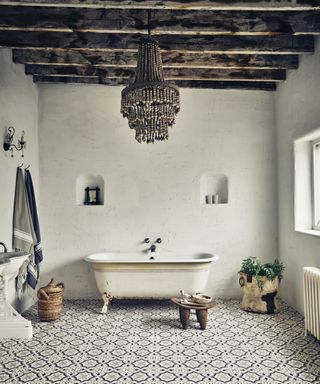 If you want the benefits of vinyl without the worry of it looking cheap or not lasting very long, there's always the luxury vinyl option. 'When luxury vinyl flooring options entered the picture it was a game changer. Homeowners got the beauty of hardwoods without the upkeep. LVP is not your grandmother's vinyl flooring – you know the flooring that yellows over time and feels like plastic? LVP rather than coming in sheets, comes in planks.' Says Leigh Spicher, National Director of Design Studios at Ashton Woods Homes.
Advantages: 'These interlocking planks are engineered to include the look and feel of hardwoods in a material that is much more durable. LVP is typically more cost effective than hardwood and can be used throughout the home – including in those wet areas as many LVP brands are waterproof.' Making it a possibility for bathrooms and kitchen flooring options too. Look out for luxury vinyl tiles too like the above from carpetright.
Disadvantages: It's a little more expensive and not the real deal.
Top tips: Keep your flooring clean and free from debris to help it last longer.
9. Carpet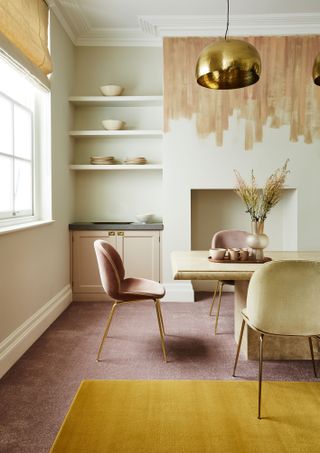 Available in either synthetic fibres, pure wool, or a mix of both, carpets come in a vast array of colors and budgets to suit every room (although they're best avoided in a kitchen or bathroom. But, we didn't need to tell you that!
Advantages: 'Carpet (wall-to-wall) is a great option for quiet and barefoot spaces, like bedrooms, closets, and office areas. I've been asked many times whether carpet is even being done today. The answer is yes! Wall-to-wall installation can make small spaces seem bigger. The maintenance of carpet is well-known, and generally carpet gets replaced every five to ten years.. It is generally affordable if in nylon, soft underfoot, and warm. Newer commercial type carpet squares are more appropriate for playrooms and home gyms, due to their lower pile height and stain resistant treatments. Almost all carpet is recyclable, but few carpet manufacturers make this easy. Wool has the best characteristics of all types, since the natural lanolin in wool is stain resistant, and it is naturally resilient, meaning it crushes less underfoot. In general, carpet that is a plush cut pile will crush more than carpet that is looped.' Says Saul.
Disadvantages: Some aren't into carpet because of the dirt and grime they accumulate but it's nothing that the best vacuum cleaner or steam cleaner can't help with. It's also a tricky one for those with pets because a loose weave can easily be destroyed by tiny claws. Just be sure to choose density wisely, especially for use in high traffic areas.
Top tips: Choose 80 per cent wool and 20 per cent synthetic carpet for the best combination of wear, thermal insulation and comfort. A new underlay can prolong the life of a carpet by up to 40 per cent, so bear this in mind when you're buying carpet.
Little ones (who love spilling) running round? Consider patterned options, just in case you can't lift a stain as they are always trending and more forgiving.
When using carpet in a stairwell, Saul adds to 'Check a carpet over a bend before using it on a stair. You are looking for a high density (more stitches per inch) for stairs, because a loose weave will crush and if you have a cat or dog, their claws can get caught in the loops.'
10. Rubber flooring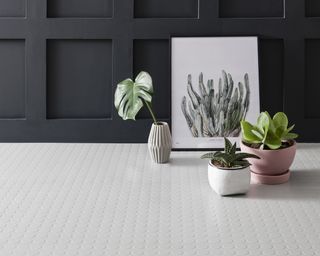 Highly resilient, rubber flooring is becoming an increasingly popular option for homes as it's so inexpensive and can make a cool practical addition to play spaces and more.
Advantages: Available in stunning bright shades, it makes a fun, welcome addition to play areas, wet rooms and modern living spaces. With entire rubber sheet prices starting at $15-$20 per square foot, it's a way cheaper alternative to tile or stone flooring options.
Disadvantages: It's important to be cautious using rubber flooring in areas likely to attract staining from oils and fats. So keep it out of the kitchen.
Top tips: While rubber flooring is often made synthetically, natural and sustainable options can be found. It requires a plywood sub-floor but is easy for DIY installation thereafter. Once installed, it will need a polished finish every six months.
11. Cork
Cork gives an unusual finish in homes but works well in lofts or kids spaces. 'Cork was used extensively in mid-twentieth century modern homes, so it's a great choice for modern design.' Adds Leslie.
Advantages: 'Cork flooring is resilient and quiet under foot, adds amazing visual warmth to a space, and can be used in most dry areas. It requires maintenance, a lot for the natural finish, less for the cork with a top coat of sealer. Cork is a natural, renewable material. Although area rugs can be used on top, it is warm underfoot and can be vacuumed like carpet, or swiffered like wood and vinyl floors.' Adds Leslie.
Disadvantages: 'Unfortunately, like carpet, heavy items will leave an impression on the cork floor.' Adds Leslie.
Top tips: 'Resilient flooring, such as linoleum, luxury vinyl tile, and cork, are great options for most areas of the home, except in a shower. The linoleum/LVT options are many, and they are easy to maintain, are quieter under foot than wood or tile, and they can take being temporarily wet, they are more slippery than a small scale tile.' Continues Leslie.
What is the least expensive flooring?
If your main priority is finding the cheapest types of flooring for your home, look into vinyl. We'd recommend checking the prices of any luxury vinyl options and maybe mixing and matching to help add more style but stay on budget too.
Saying that, it's always worth looking out for any last season sections at stone or tile manufacturers like Fireclay tile or Tilebar to see if you can save on a type of floor that will stand the test of time and be worth your investment in the long run. Likewise, consider picking up some reclaimed wood to fit out your own hardwood floor if you're up for a challenge. You'll often find planks for 50% cheaper than brand new hardwood flooring...