It's the burning question that every interior lover is asking themselves – is gray paint still in style? Should you still be painting your rooms gray? What colors should you be pairing gray with? Are there any new gray paint trends you should be following? We know you are all dying to know.
Satirical tone aside, gray paint is where a lot of us start when it comes to redecorating a room. For decades now, it's been the most popular neutral and you still can't scroll through Pinterest or Instagram without seeing an abundance of gray walls – either matching with one of the best sofas in a living room, or in a modern and neutral kitchen.
BUT are they still actually on trend for 2022, or should we be leaving our love of this cool neutral back in 2021?
Well, we've called in the experts at Farrow & Ball, Valspar, Benjamin Moore, Sherwin-Williams and more to find out...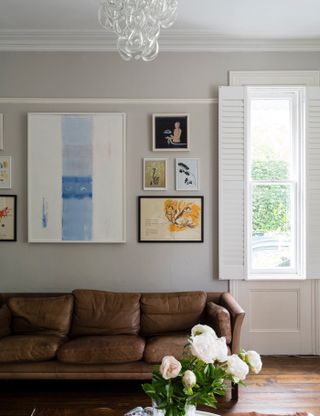 Is gray paint going out of style in 2022?
All you have to do is look the Colors of the Year for 2020 and 2021 to see we are definitely moving away from our love of cool neutrals. Instead, paint companies are encouraging us to be bolder in our decor.
While Pantone chose the pale Ultimate Gray as one of its 2021 Colors of the Year, it's second color, the bold yellow Illuminating, is as far from gray as you can get. Aegean Teal by Benjamin Moore is bright and uplifting, while Behr chose a color-trend palette full of warm white, terracotta, and saffron. British paint brand Dulux went with the pale taupe shade of Brave Ground. And finally, Sherwin-Williams went bold in a less colorful way with (our personal fave) the very dark and dramatic Urban Bronze.
But are these colors actually replacing gray? Or are they just bringing something new to the table, to sit alongside everyone's fave color? We personally think that's what's happening here – gray isn't becoming any less stylish, it's just shifting from its very classic, very natural, very clean, classic look.
'Gray provides a blank slate for homeowners to put their personal touches on a space with artwork and décor,' says Sue Wadden, director of color marketing at Sherwin-Williams.
'Now more than ever, homeowners are thinking about ways to make their spaces more versatile. For example, a living room may also have to serve as a home office and kids' playroom, and using gray paint as a backdrop can allow a space to serve a variety of purposes – professional or playful!'
'I think gray will always be an important neutral and a popular color for DIYers and designers alike, just like white has always been. However, over the past few years we've noticed people craving color in their homes, which I think is a direct response to how pervasive Scandinavian minimalism was in the previous decade. This doesn't mean we're eschewing gray, more so that we're looking for different versions of it.'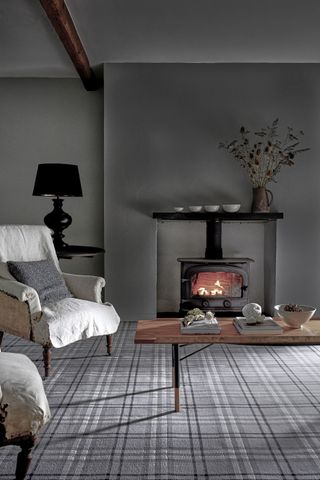 Sue Kim, Color Marketing Manager for Valspar agrees; 'Shades of gray are fantastic foundational colors to bring into your home! It can be the puzzle piece that brings all the colors in your home together. With so many gray options available from light gray to dark charcoal, there really is a place that can fit any home and any style.'
'Grey, like white, will always have a place in interior decoration. Especially at the paler end of the palette where grey appears as a neutral, such as the gentle Ammonite,' explains Patrick O'Donnell, Farrow & Ball Brand Ambassador.
'However, we are now seeing is a subtle shift to warmer neutrals such as Jitney, as we consider comforting tones for restfulness and calm.'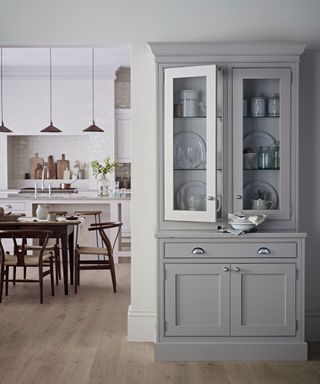 What shades of paint should you be using in 2022?
Phew, so the consensus is that gray is still in style. But before you go go painting every wall in your home in this long-loved versatile color, what types of grey should you be going for this year?
According to experts, the feeling is that very cool-toned, quite flat mid grays are out, and more soft, warmer grays are in. The latter kinds of gray are perfect for any room, of any size that gets any amount of natural light, and will always bring warmth and coziness into the space.
Tash from Lick agrees: 'Cold, flat greys are out and rich, warm greys are in! The trend for a grey with warm or rich undertones changes the way we feel about them. Having a grey with a green undertone (like our Grey 07) makes you feel stable and brings energy to the room. Whilst Grey 03/04 which have a lavender undertone makes this neutral feel warm and full of life.'
We would always say, to stop these greys becoming too unrefined and relaxed, contrast them with a very bright white – say on the woodwork and the ceiling – and add in some dark colors like black and charcoal through your soft furnishings.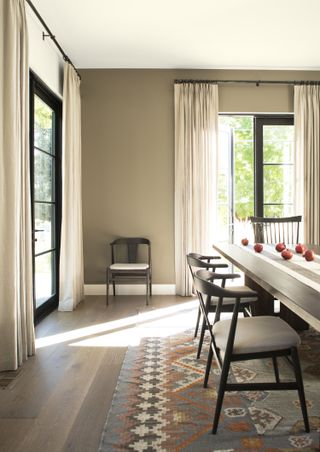 It goes without saying that this shift towards warmer, softer, cozier tones is linked to the fact that most of us have spent the last year years largely at home. We were forced to embrace the Hygge movement we'd raved about in years past and hunker down at home (minus the gorgeous Scandinavian backdrop).
'As we spend more time at home, consumers are looking for ways to make their homes cozier and more welcoming,' says Helen Shaw, Benjamin Moore UK Director.
'Over the recent years, gray has been our go-to for all rooms, whether that's a gray accent wall, gray accessories or gray flooring – there's no escaping the popularity of the cool hue. We expect that gray will not to be going anywhere anytime soon, however, more recently, we're seeing an uplift in sales of warmer gray shades, aptly referred to as "greige" colors.'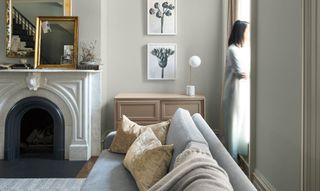 'We're seeing warmer greiges and beiges increase in popularity,' continues Sue Wadden director of color marketing at Sherwin-Williams.
'While we were noticing a shift toward warmer colors before COVID-19, with everyone spending so much time at home, we expect this trend to continue. These warm, earthy tones create a sense of calm and cultivate the feeling of wellness in the home, which is exactly what homeowners need right now.'
Alongside these warmer grays, there's also a trend to go bolder with our neutrals, switching out the barely-there light grays for braver, more dramatic charcoal shades.
'Light shades of gray have always been popular because they feel light and airy, but they have begun to shift from cool to warm shades,' explains Sue Kim, Color Marketing Manager for Valspar.
'Consumers are becoming more daring with neutral colors, introducing deep and dark shades that feel very comfortable – with that deep shades of charcoal are being embraced to create a cozy retreat.'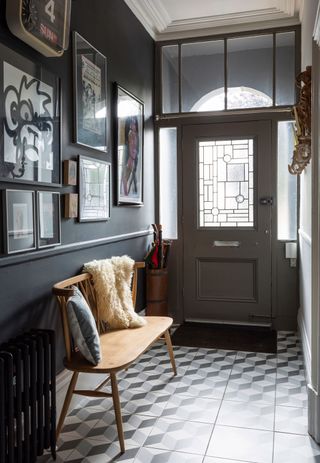 Our fave greige paints for 2022? So glad you asked. We love Farrow & Ball's Elephant's Breath Benjamin Moore's Stone Hearth and Lick's Gray 2.
What is the best gray paint?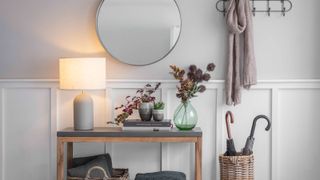 Now, this depends on your space – how big it is, how much light it gets, what vibe you are going for. The most popular gray paints tend to be the most versatile and so will work in the majority of spaces. The best place to start looking is on paint companies best seller's lists. We have pulled together the best sellers from our fave brands, plus what rooms they would work best in:
The most popular gray paint from Farrow & Ball (and one we have all used a lot) is Elephant's Breath. This is one of those warn greige paints everyone has been talking about. It's perfect for rooms that lack natural light or are north-facing where it becomes almost like a soft lilac. What we love so much about this color is that it evolves throughout the day: it's cooler in the morning and gets deeper and moodier in the evenings.
Benjamin Moore's top gray is Coventry Gray a mid-toned color that has lots of depth. The undertones are on the green/blue side but it warms up in soft lights. Perfect for any room of any size, but this is a gray that can look so different in different light so be sure to order a sample first.
Valspar's Gravity is one of the most popular grays because of its versatility. The shade is light and airy so ideal for creating a clean modern look; but the neutrality of the shade means it will work with any warm or cool tones you might already have going on in your home.
Agreeable Gray is Sherwin-Williams most popular option right now. Again, it's on the much warmer side and is perfect for creating those cozy, welcoming spaces we all want in our homes right now. You could put this on the walls of any room, but it will look cleaner in naturally light-filled rooms and in darker rooms more of that brown undertone will come out.
Which colors go best with gray paint?
As we have reiterated, gray is such a versatile color it can be paired with almost every color under the sun, but what combos are on trend for this year?
'You'll definitely want to look at the undertones in your gray paint color before deciding what to pair with it,' says Sue Wadden director of color marketing at Sherwin-Williams. 'But I love the combination of gray paint on the walls and white trim.'
'Agreeable Gray SW 7029 looks so crisp with the trim painted Pure White SW 7005. I also love how Modern Gray SW 7632 pairs with our 2021 Color of the Year, Urbane Bronze SW 7048. Urbane Bronze is such a rich, beautiful color and pairing it with a contrasting shade like Modern Gray helps balance it out.'
According to Lick Home's color specialist Tash, 'Gray plays as a beautiful neutral to an earthy scheme. So it's perfectly paired with dusky pinks and rich greens. Gray is also the perfect backdrop for stronger colors, like rich yellow and blues, helping to balance the scheme.'
'These hues are favored towards beige and oatmeal tones that work with both warm and cool schemes. The timeless, new neutral shades will work with a number of colors, from rich terracotta tones for an earthy look or soft sage hues to create a restorative sanctuary feel.' says Helen Shaw, Benjamin Moore UK Director.
So, there you go. We can all rest easy in the knowledge that gray paint is most definitely still in style and can continue to decorate with it with aplomb!
What walls will you be painting first...?