When choosing living room furniture, there are few things more pleasurable than the first time you fall into the soft, plump cushions of a brand new sofa or armchair (we're mostly mentioning sofas, but the rules are the same). But it can be a bit of a journey to finally get there. How do you know if the sofa or chair is going to be the right fit? The right fit for your living room, the right fit for your life, the right fit for your front door. To help you along with the (often stressful) sofa-buying experience, we've put together some guidelines for what you should consider before choosing a new sofa or armchair.
Once you're ready to shop, you'll find a round-up of the Real Homes team's tried and tested favourites in our guide to the best sofas - an edit that tracks down the sofas that combine style, comfort, and affordability in one.
How will you use your sofa or armchair?
Sofas see all kinds of use and abuse and are often subjected to much more than just being sat on. So when choosing a sofa first ask yourself: what are the main purposes of your sofa? How many people do you need to seat? Do you have pets to consider? If so, you will need to choose your fabric carefully (more on that later.) Does your living room turn into a hotel at the weekends? Maybe you need to consider one of the best sofa beds in our round-up instead. Want to curl up with a book? A cosy armchair might suit. Does the sofa host a lot of movie marathons? Then you will want to think about a recliner sofa with just the right filling. Want to create a focal point? Maybe you need a statement armchair. Make sure you weigh up all your sofa's different uses accordingly when making your decisions.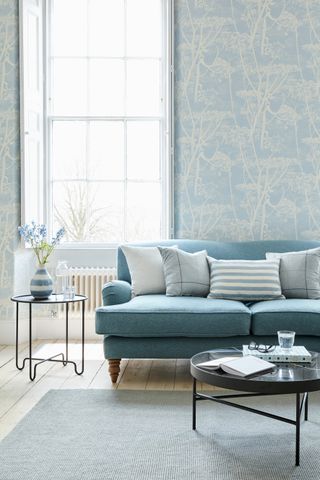 Plan the layout of your living room
Before you buy, check how different sofas or chairs will fit in your living room layout by creating cutouts on the floor with masking tape or newspapers. Allow for the full footprint of the sofa, including the space taken by the slight lean of the back of the chair. You will need even more room for a recliner or a sofa bed, and remember: you don't want to press any furniture up against the walls – allow your furniture to breathe.
If you are working with a small living room pushing furniture right back against the wall is only going to make a room feel smaller, even if it does mean you gain some floor space. A low, contemporary design with narrow arms can help keep the look spacious in a small room, and sofas and chairs with legs can also make a room feel bigger, as the floor can be seen beneath.
You'll find plenty more styling inspiration for the most important room in the house in our living room ideas pages.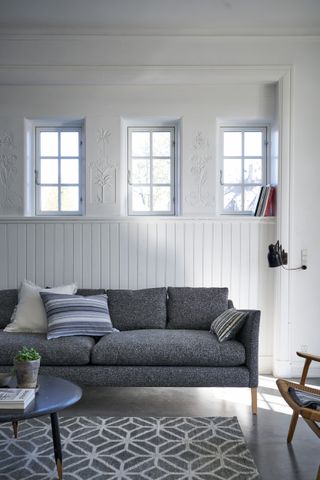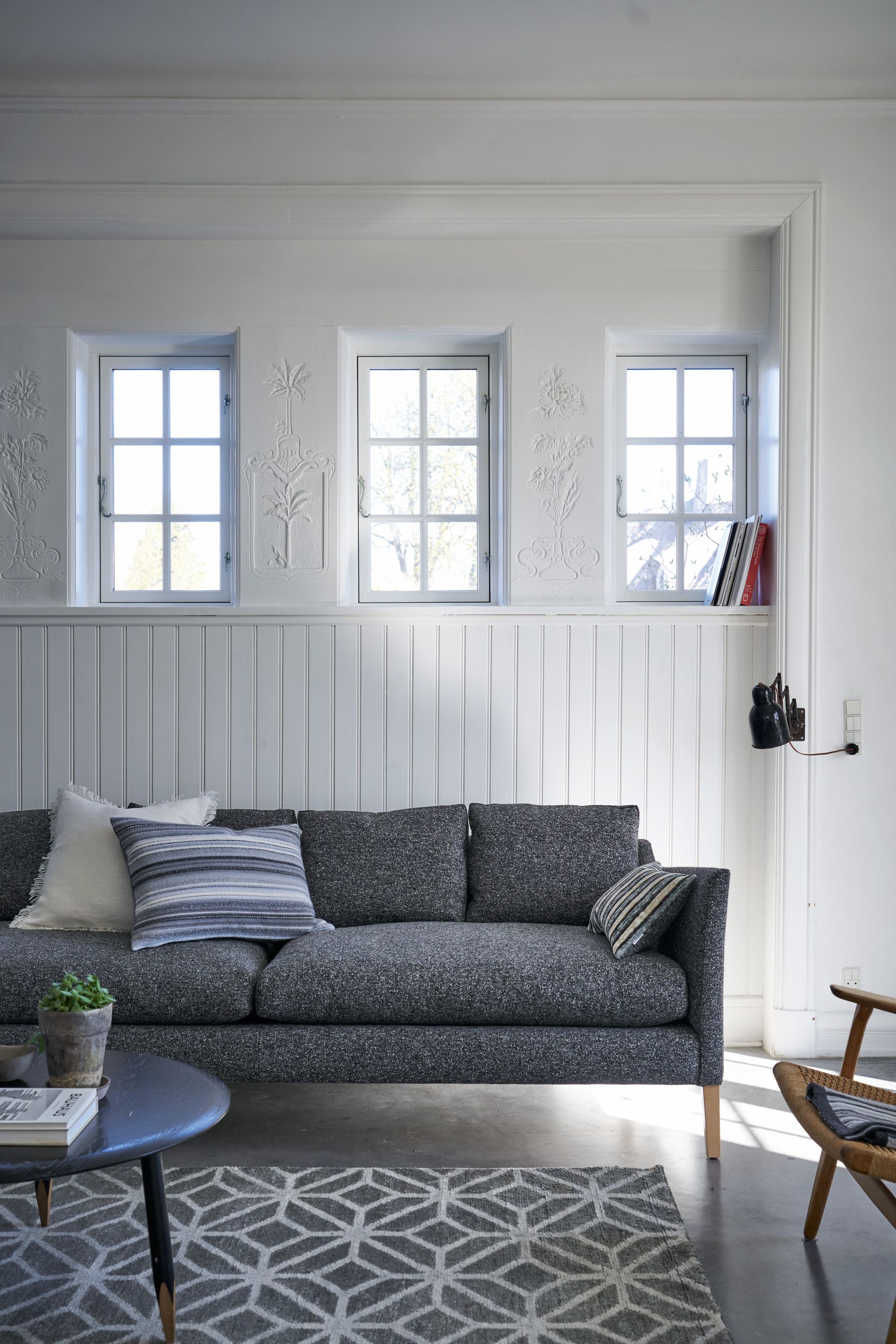 Check your sofa will fit through the door
Measure the depth of your potential new sofa against the width of your front and living room doors and check the back is not too high to get through them either. Where you know you will have to go through hallways, up stairs and around corners, check the length isn't going to be an issue. If access is a problem, choose a design that can be assembled inside.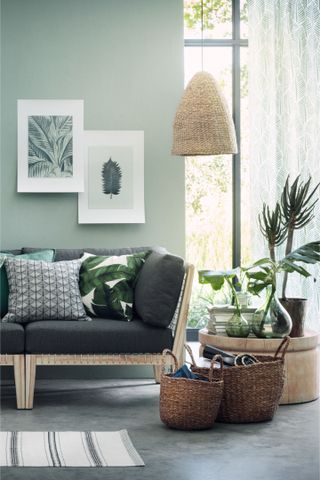 Choose the right upholstery fabric
To choose the upholstery, first order fabric swatches to check the feel, and to also help you see the colour in situ against existing décor. Many companies will send you swatches free of charge, so go crazy and order the top contenders. Place the swatches somewhere in your current living room and live with it for a while, to see if you still feel the same love after a few days.
Consider how the fabric will wear and if it will really suit your lifestyle. You might love the luxury of a velvet sofa, but it's a high-maintenance fabric that will frequently need brushing down to avoid dirt and dust become ingrained – perhaps not a great option if you have kids or pets unless you choose a stain resistant option. Leather sofas, on the other hand, are pretty durable, and if you opt for aniline leather, they are only going to look better the more worn they get. A semi-aniline leather will give your sofa a good grain surface, improving its robustness and light-fastness.
Find out more about choosing upholstery and cleaning upholstery in our guides.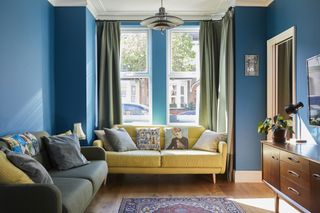 If the piece is for a family space, you should probably opt for a tough and tightly woven design. Think, too, about whether to choose fixed covers, which are generally cheaper, or removable styles that can be washed or dry-cleaned. Many fabrics can be given protective treatments and insured when you buy.
Looking to spot clean your sofa after the kids have eaten ice cream on it? Get equipped with the best upholstery cleaners when you buy.
Find out more in great detail about upholstery fabrics in our guide. Looking for quick tips? Read our speedy expert tips to choosing the best sofa fabric instead.
Consider the sofa or armchair's filling
Sofas and the best armchairs are made with different fillings, and your choice will depend on your priorities. Foam is firm and will retain its shape, while fibre is softer, but still hardwearing. More expensive feather fillings are softer still, but you will need to keep plumping the cushions. However, they can trigger allergies, so you might prefer a hypoallergenic synthetic fibre, such as a mono-polymer filling.
If you go for a synthetic material, expect to pay more for a sofa that will last well without losing its shape. A combination of fillings is often used, such as seat cushions in a high-density foam with a fibre wrap, which creates comfort and durability. Occasional turning is all the maintenance required.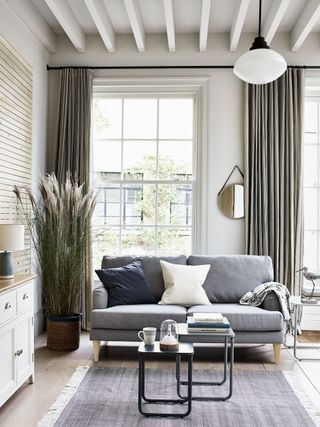 Opt for a solid frame sofa or armchair
If your sofa or chair is going to be used daily, pay close attention to the frame, and ask the supplier what the frame is made from. Load-bearing parts should be made from a hardwood, such as oak, beech or ash. Softwoods like pine are more affordable, but do not have the longevity or resistance to warping of pricier hardwoods.
To check the stability of a frame, lift the front right leg six inches off the floor. The front left leg should follow – if not the frame may be flimsy and prone to bending. Look, too, for legs that are part of the frame, or screwed on or attached with dowels.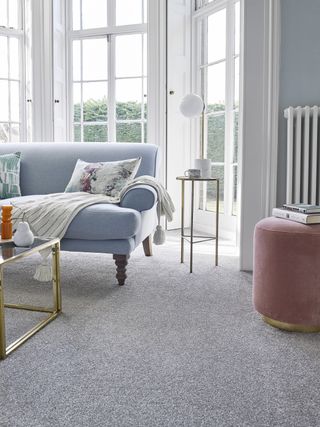 Which style sofa will suit your home?
In modern living rooms with open-plan spaces, corner sofas are a good choice. They offer flexible seating for larger areas, and tend to seat more people on a smaller footprint than a suite combining armchairs and loveseats. Mid-century style sofas with exposed legs also look great in modern homes, but can also be used sympathetically in a traditional living room, just use cushions and throws to work them in to your scheme.
High-backed or low-backed? It will depend on how you like to lounge – and we strongly suggest trying before buying – but on a looks-only judgement, high-backed sofas and armchairs tend to look more formal and traditional, while low-backed ones more contemporary and laid-back.
For traditional living rooms, a Chesterfield would be a perfect fit. Or, for even more period charm, opt for an elegant camel-back sofa.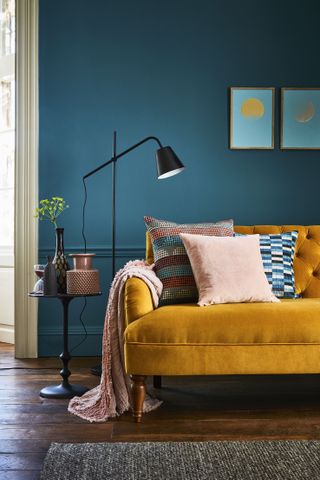 How much does a new sofa or armchair cost?
For both, you can expect to pay from around £100 to £150 for a foam-filled, compact design and upwards of £1,000 to £2,000 for large designs, feather-fillings and hardwood frames.