Nothing beats sitting in front of a fire or log burner during the colder months. Warm and welcoming, the most stylish living room fireplace ideas will add a focal point to your space not to mention tons of design interest.
So how do you choose which style will work best for your space? These days it's a total myth that you can't mix styles. Because you can – very successfully. A farmhouse living room can look great with current fireplace ideas, and vice versa in a more contemporary setting. It's all about the placement and getting those finer decorative details right for a balanced finish.
Living room fireplace ideas
Enhancing your existing decor has never been easier done than with a fireplace. Sure to give your living room space no matter how big or small, the perfect glow all year round. From cozy in the winter to cool and stylish looks in the summer.
1. Keep it low key if you're partial to black and white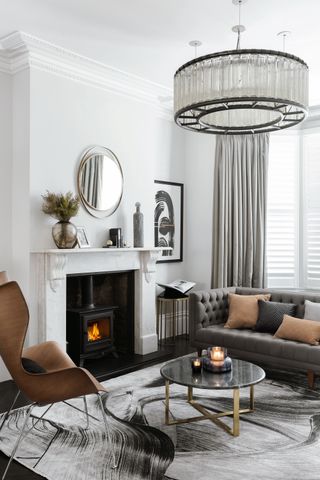 A fireplace doesn't always need to stand out, in this case, it's a welcome addition to an essentially monochromatic scheme that has some warming tones of ochre and mushroom.
The marble style surround is elegant yet unobtrusive which is why it works so well in this scheme that has modern elements.
2. A modern fireplace in a classic living room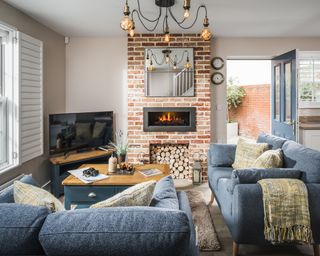 You can mix and match styles and this living room is the perfect example of how to make modern fireplace ideas work with more trad decor.
A small modern fireplace set into the brickwork above where the fire would have been gives this room a stylish feel. The logs are stored in the original setting and add a decorative element. A mirror is placed above and is high enough to reflect the chandelier and staircase.
3. Keep it simple with a large mirror on the mantel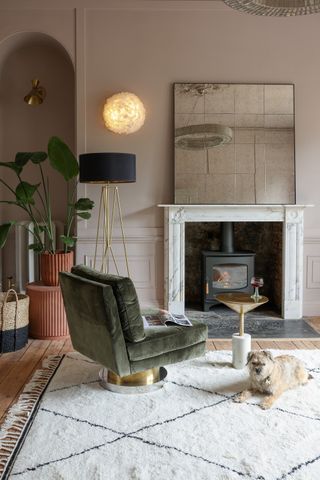 When the fire surround is beautiful like in this design, you don't need to distract from it by going overboard with your mantel decor.
This oversized mirror sits on the marble fire surround and the antique nature of the glass adds texture. Mirrors this size are ideal for smaller spaces as they will bounce light around and help to disperse the glow from the log burner.
4. Add seating to the surround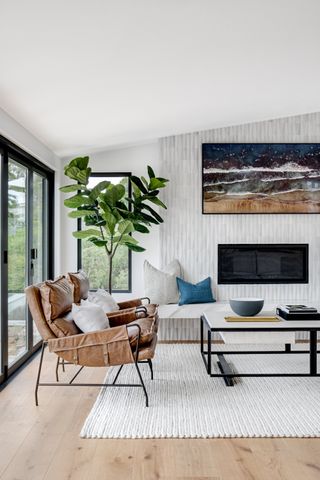 'Within this Mid-Century meets California space, the fireplace is a focal piece in the room. Furniture is placed inward to create a cozy ambience for togetherness. With the fireplace built to extend out to make for a seating area, this fireplace elevates the room in a subtle way,' says California based designer Lindye Galloway, owner and creative director of the Lindye Galloway Design Studio and Shop.
5. Small yet perfectly formed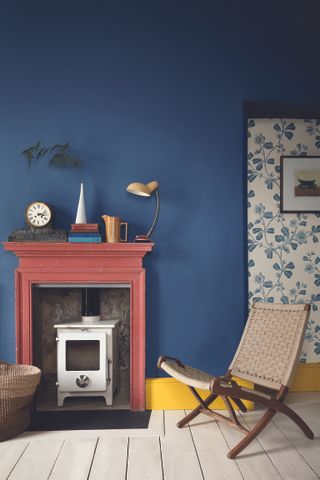 Fireplaces are not always a grand affair with marble and ornate detailing, sometimes they're simple and full of authenticity.
This charming fireplace is still large enough to hold this mini log burner which will keep you warm and cozy still. Ditch the trad black finish and give it a lick of paint instead so that it stands out. Ideal to enhance small living rooms and bigger spaces alike.
6. Farmhouse style for the ultimate cozy feel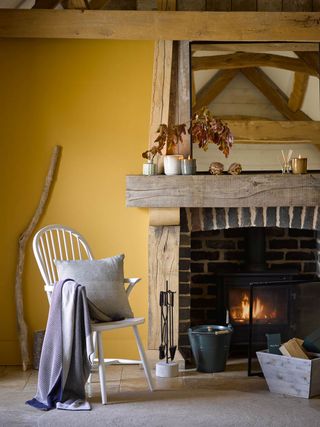 Nothing beats a large farmhouse style fireplace, beautiful brickwork and charming thick beams are the elements we all dream of.
This delightful living room fireplace ticks all of those boxes and even has a mirror built in. Use the mantel beam for small vases, candles and foraged finds like pine cones, chestnuts and ferns.
7. Create a gallery wall around your fireplace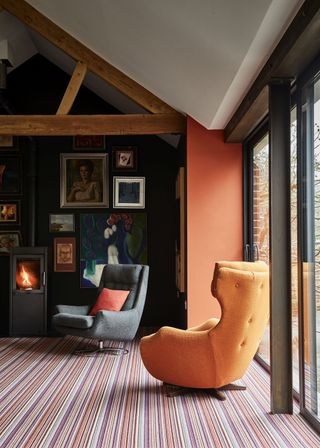 A modern home has its pros and cons, lovely straight walls and clean lines, but is often missing the character of a more historic property. Here, you get a mixture of both as the beams sit across the room, but the wall behind the log burner is plain, so creating a dramatic gallery wall display on a black painted wall is a great idea.
The artwork frames the log burner perfectly and creates a really interesting view from the armchairs.
8. Let it zone an open plan space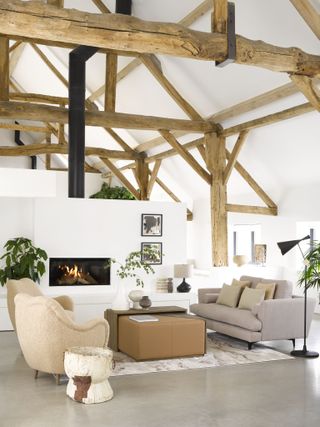 This ingenious idea mixes both modern and contemporary elements together perfectly.
The black contemporary fireplace is chic and stylish and we love the ledge in front of it that provides space for displaying vases and a table lamp. The furniture is placed for maximum effect and the neutral colors allow the fireplace to take pride of place.
9. Love a dark and dramatic feel? Paint it black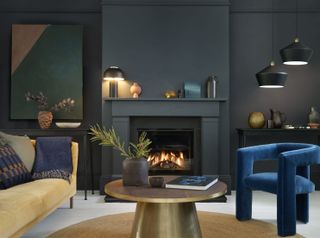 Dark colors push original features to the background, so if you want them to blend in visually then paint your fireplace and walls the same dark and dramatic color.
Then, place a few key items on your mantel that will act as subtle accents that will link to colors used elsewhere in the room. A table lamp on the mantel is a great idea, and we love the glow it creates against the black wall.
10. Go bold and colorful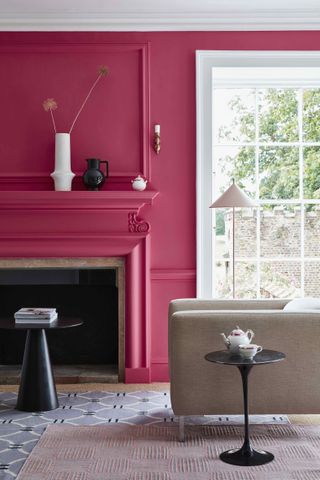 This stunning pink room really brings out the detailing in the fireplace and the paneling, highlighting the gorgeous curves of the molding. The white ceiling and woodwork stop this look from feeling too much.
Place white, black or brightly colored vases, trinkets and more on the mantel for impact but keep the rest of the scheme neutral for balance.
11. A contemporary fireplace needs contemporary styling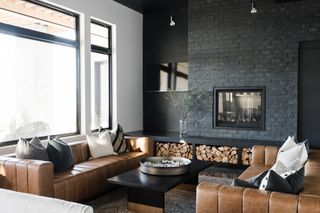 'We wanted this space to have a really edgy and cool vibe for our clients to entertain in,' says Kirsten Krason, co-owner and principal designer at Utah based House of Jade Interiors.
'We added drama with black paint on the walls and ceilings. In the rec room we flanked two leather sofas in a soft caramel brown. They are deep enough to allow for lounging.'
12. Have your fireplace encased in a shiplap wall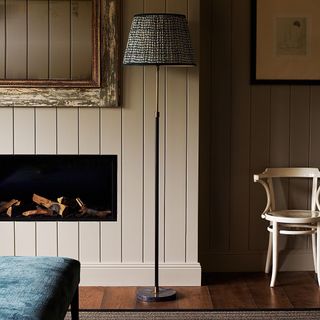 Often fireplaces have a standout feature – they might have exposed brick, you might have a tiled fireplace or a big beam mantel. In this case, the fireplace is within a shiplap wall that covers not only the fireplace, but the walls to each side too.
The result is a cohesive and subtle look. The central placement of the fireplace also means that it fits in seamlessly with the living room. A beautiful vintage mirror suits above it and creates a lovely tactile element.
How should I arrange living room furniture around a fireplace?
The fireplace will naturally be the focal point of your space so when it comes to your living room layout, arrange furniture in a way that looks decorative but that also caters to the flow of people moving around the space. You need ease of movement – so you can actually get to the fireplace without bumping into chairs and coffee tables – but you also need to keep furniture at a safe and comfortable distance from your fireplace. This will largely depend on the design, whether it's covered or open.
A layout of one sofa and two armchairs works well, or you could have two sofas depending on how much lounging space you want. A coffee table in the middle is a great option, often round or oval are good choices so you don't catch your leg on the corners.
TVs and fireplaces can be tricky and you can mount them above the fire. If you have alcoves each side of the fireplace then a smaller TV can go there and you'll need to pull out your seating to allow for another space so that you can see it and still enjoy the fire when lit.
How do I decorate a living room fireplace?
There are several ways you can jazz up your fireplace to give it a decorative touch. Firstly a mirror is a great way to add a new element – this will work particularly well in a small living room as it will help to bounce the light around. You can add plants, vases of flowers, tea lights and fairy lights to your mantel and if it's wide enough, photo frames can look great.
If you love to collect trinkets display them in groups of three, they will add character to your space. Candlesticks in beautiful holders add height and don't forget artwork, a stunning piece of art will look eye-catching and highlight your fireplace perfectly.