Simple living room ideas are having a bit of a moment right now aren't they? Pared-back style and minimalist (but still rustic) spaces are all over our Instagram and we are so here for it! So we have rounded up our favorite living room styles that fit with that whole simplistic vibe.
Keep scrolling to get inspired and for more living room ideas head over to our full feature.
1. Layer up the textures
This beautiful simple living room is quite minimal and clutter-free, but it's full of texture which is why it works. It's also welcoming – that sofa looks so comfy right? Let's get back to the texture because they are the integral part of this living room, the tongue and groove paneling creates interest, the sofa is velvet, and the rug looks cozy underfoot. The round marble coffee table adds a decorative aspect and ties in visually with the round side table. If one of them had been square or rectangular, it would have created a different feel - two circular pieces work well together.
2. Go for neutral tones with touches of greenery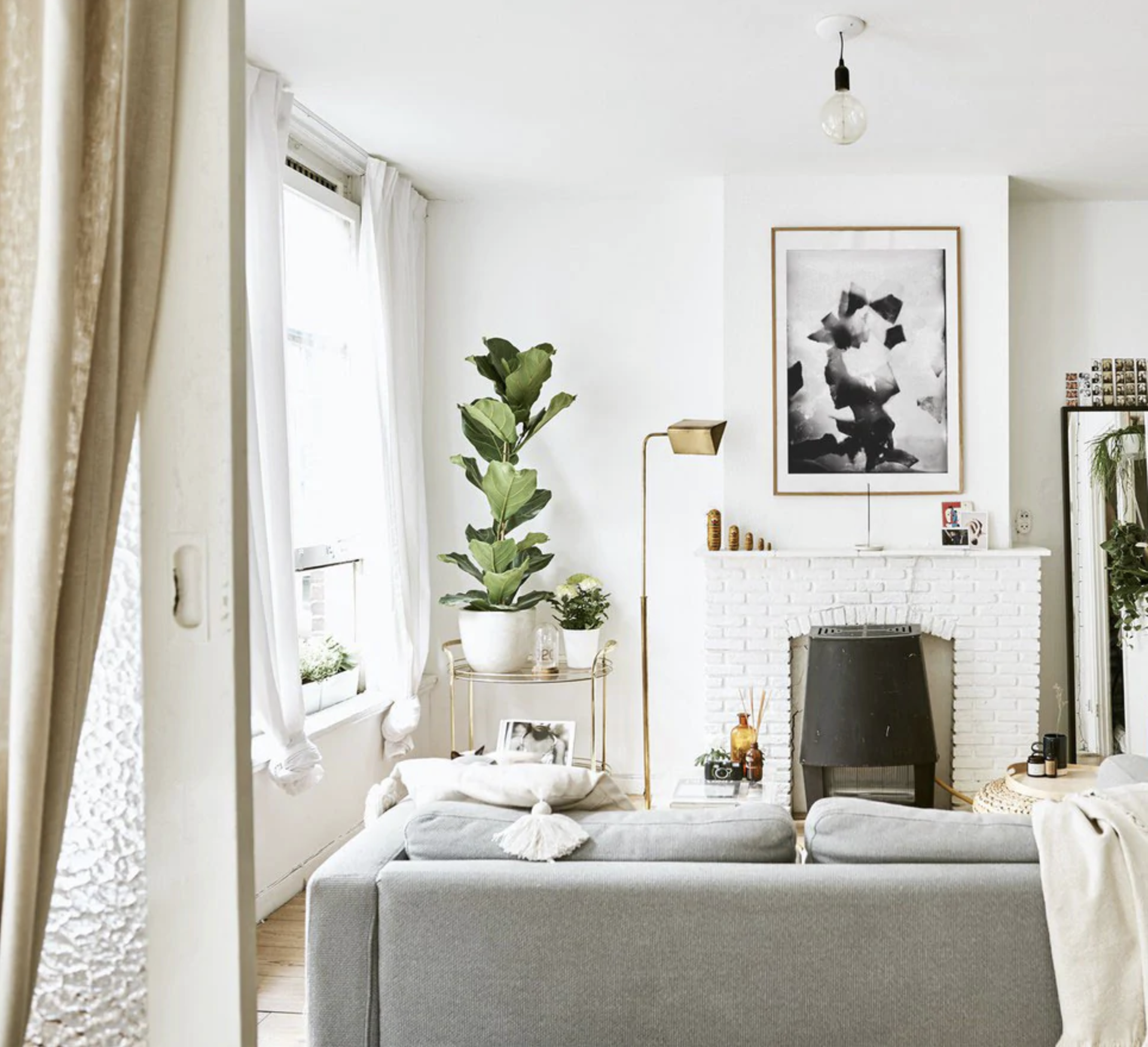 Neutrals are easy on the eye and calming to boot, it's a scheme that makes it easy to add in more color as and when you like too. Plants are a big trend at the moment, they literally add life to a room and their various shapes and sizes can create focal points. And we know that they make the air we breathe healthier for us. This look is wholesome and rustic - source old pieces to use from antiques markets and car boots - an old bench can double as a coffee table and a shelf can be made from an old plank and some heavy duty string.
3. Keep to a simple colour scheme
Choosing two main colours is all you need to a simple living room. This bottle green shade is painted all over – from picture rail to floor – including all the woodwork. This gives the room a contemporary feel even though it's a period property. The furniture is predominantly grey and the only decorative aspect is the single cushion and the grey patterned rug. The white coffee table, globe floor light and vase add balance.
For more green living room ideas head over to our feature.
4. Opt for clean simple designs
Simplicity tends to go hand in hand in with modern spaces and the furniture shapes you choose are important. Fussy and fancy designs will not create a simple feel so opt for pieces that have clean lines and are contemporary. This sofa is spot on – it is sleek and stylish, and the button back and seat add a great detail. The shelving is minimal with a few well placed accessories and the only decoration is the cushion and rug.
5. Give a simple living room a focal point
In a simple living room it's a good idea to have a focal point, in this case, it's this fabulous sunshine yellow sofa. Then, you can design the rest of your look around this key piece. The accessories and rug nearly all have a decorative aspect and are monochromatic which makes the look feel fun and quirky – the pendant light is unusual too which we love! Being clutter free is the main goal with this look so ditch what you don't use and keep your favorites.
Read more: