We all love a grey living room right? And these grey and white living room ideas are just as classic, just as stylish and just as easy to work into your home. This ever-popular combo suits all styles, from super modern to more traditional, and there are loads of different options to create different vibes. Think super dark charcoals combined with crisp clean whites, slubby beige greys with warmer toned whites or cool-toned greys with equally frosty whites. We could go on, but essentially there is a combination to suit any living room.
Just keep on scrolling for tons of ways to style everyone's favorite neutrals and be inspired to go for a new color scheme in your space.
1. How do you choose the right grey and white shades?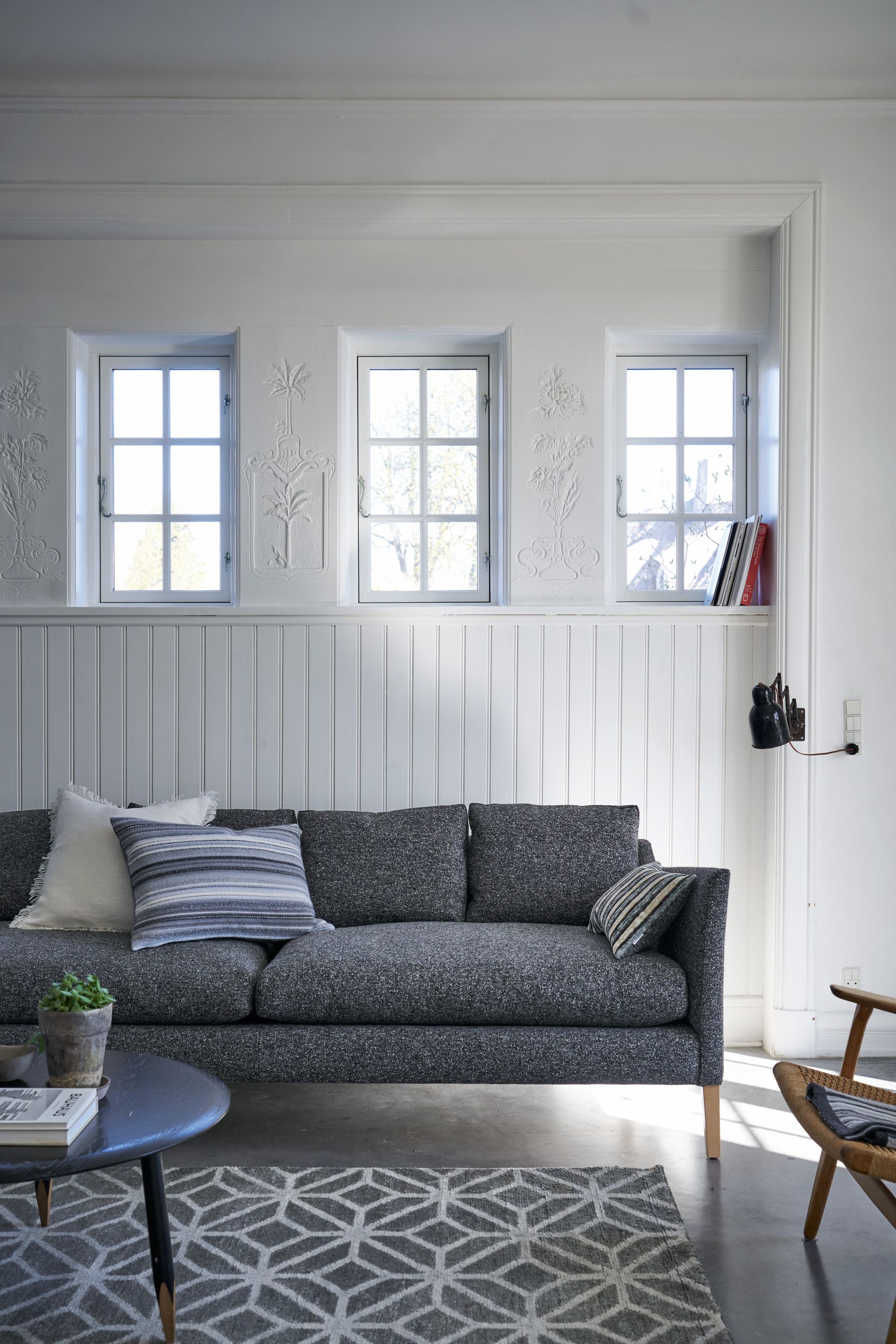 Grey and white may seem like the simplest colors to work with. How can you go wrong? But actually, you do need to think about what shades are going to work best in your space. You don't want a north-facing living room to end up feeling even colder or to combine a creamy white with a grey that just doesn't work.
If you have ever experience the minefield that is buying white paint, you'll know there's not just one white. 'The way we interpret whites now is very different from the idea of pure white.' says Patrick O'Donnell of Farrow & Ball. 'They can vary from chalky to cool, icy blue right through to sludgy but wonderful green/ greys whites. The best way to select your white is by finding the undertone that best suits your style and home, and most importantly, the light aspect of your living room.'
'Choosing the right shade of white for your aspect will be beneficial to the overall effect. Soft, yellow-based whites will lift a north-facing room such as White Tie, whereas cooler-based whites are ideal for east-facing rooms with either a blue or green undertone such as Cabbage White or James White.'
And choosing a grey tone for your living room takes just as much consideration. 'Most of us would assume that grey means cool but fear not if chosen judiciously, grey can add warmth. You will need to consider greys with a brown or green note rather than blue as they will feel less clinical and enhance the limitations of a north-facing room, i.e. the lack of daylight. Consider also erring on the darker side that will 'cocoon' space and envelop you, making your room feel more inviting and intimate, perfect for those cold, winter nights.' advises Patrick.
We'd always recommend ordering swatches or samples of your colors, see how they look in your space and see how they look together too. As a general rule, cool-toned greys work with more true whites and warmer greys with warmer whites, but as you'll see in this gallery there are many, many exceptions to that rule.
2. Pair pale greys and crisp whites for an airy look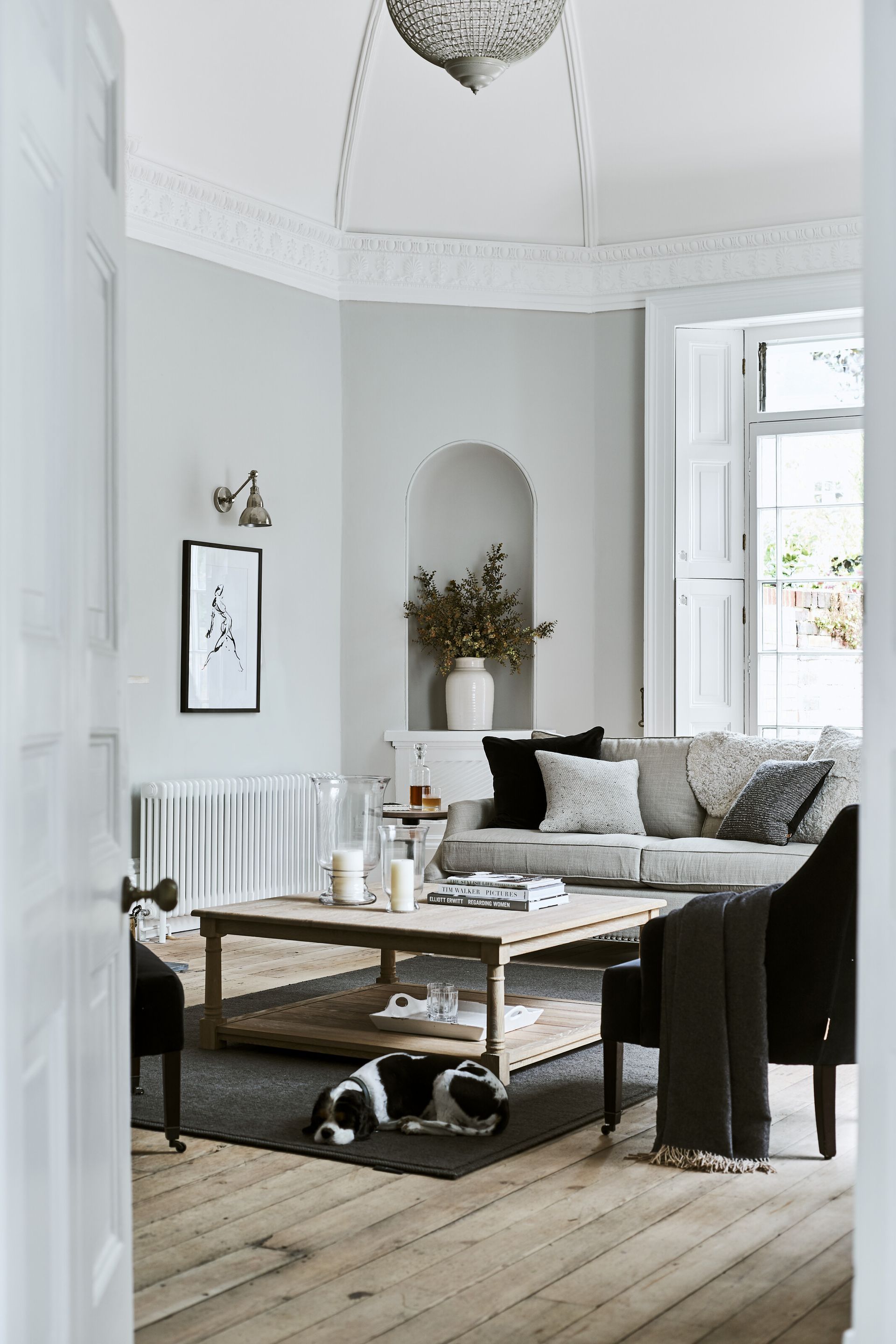 This is exactly what we meant by combining cool-toned greys with a brilliant white, the result feels so crisp and fresh and sophisticated. There's a very lofty, airy feel to this living room but those darker greys in the carpet and cushions really ground the room and give it some more clear contrast. Also, note how even the cooler wood still works to slightly warm up the space and make it feel less cold.
3. Fill a small grey and white living room with texture
Grey and white are the ideal combo for smaller living rooms because we all know lighter colors make a space feel bigger. So go light on the walls and bring in those layers of grey in your soft furnishings. Embrace the small proportions by really enhancing that cocooning feel and add plenty of textures with throws and pillows.
Adding a large mural too is a great way to add even more texture to a living room with a limited color palette. The use of a mural also expands the space as it stops a sea of white wall making a room feel boxy.
4. Layer up grey tones for a modern rustic feel
Another lovely example of how you can add interest to a grey and white living room with our having to compromise on your color palette. Using just one shade of grey and one shade of white can leave your room feeling flat and dull so it's important to layer the shades, one on top of the other.
Start with a base layer, say your wall color or sofa color, that you really love and then add different shades through furniture, soft furnishings and accessories. In this living room some warmer beige tones have been added too, as well as more pure whites, proving our cool tones with cool tones theory a bit wrong, but it totally works.
5. Bring in some warmer tones
Brown isn't a color you see that you used to see very often as part of a living room color scheme, but it's creeping back in and is the perfect hue to warm up a grey and white space. Mixing in some browns and tans in the form of leather furniture or even smaller accessories cancels out any of that coldness you can get from grey walls and instantly makes a space feel cozier and more inviting.
6. Tone down the contrast with natural materials
If you like a more laid-back, boho vibe in your living room, you are going to want to soften the contrast between any darker greys and the lightest shade in your room. A simple way to do this is to introduce some mid-shades and plenty of natural materials.
'I love the using cool and warm tones of the same hue in one room.' says designer Kathy Kuo. 'For example, having a room with a lower third wainscot in warm grey, and the upper 2/3 in cool grey, punctuated by chair railing or architectural trim detailing in warm whites can be so sophisticated and elevated. I love extending that color palette of warm and cool greys throughout the room through materials like natural stone, marble and ceramics to add dimension and texture to the room.'
7. Or up the contrast dark greys and crisp white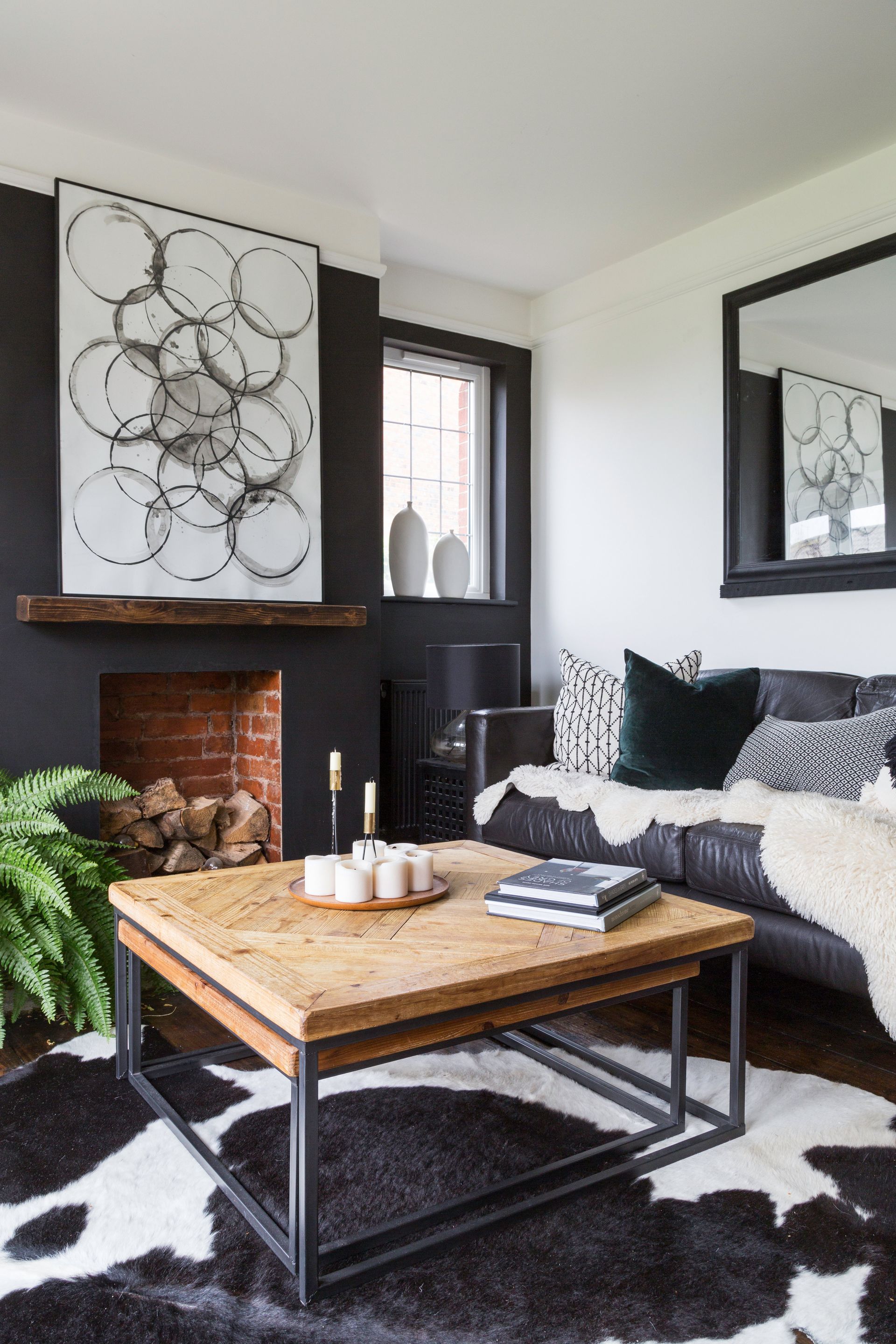 But of course you might like the drama of that very stark contrast of a dark grey and white. If you opt for a darker, charcoal grey on your walls yet don't want the living room to feel all doom and gloom, lighten the space by using white-based artwork. Include more white through your soft furnishings and make the most of that cocooning atmosphere created by the dark walls and add layers of sheepskins for warmth and texture.
8. Add pattern with grey and white wallpaper
Wallpaper is a simple way to start off your grey and white scheme. Pick a print your love and let that dictate the rest of the living room decor, using it to tie together all the other tones going on in your space. We love how this more traditional floral print has been given a modern twist with the all grey color palette, plus all those different tones give you ample opportunity to bring any grey shades you fancy.
When picking a grey wallpaper, or any wallpaper for that matter, always be sure to order a sample and stick it up in your room. Note how the grey tones change throughout the day and see how it looks against any of your existing furniture before you make your decision.
9. Curate a gallery wall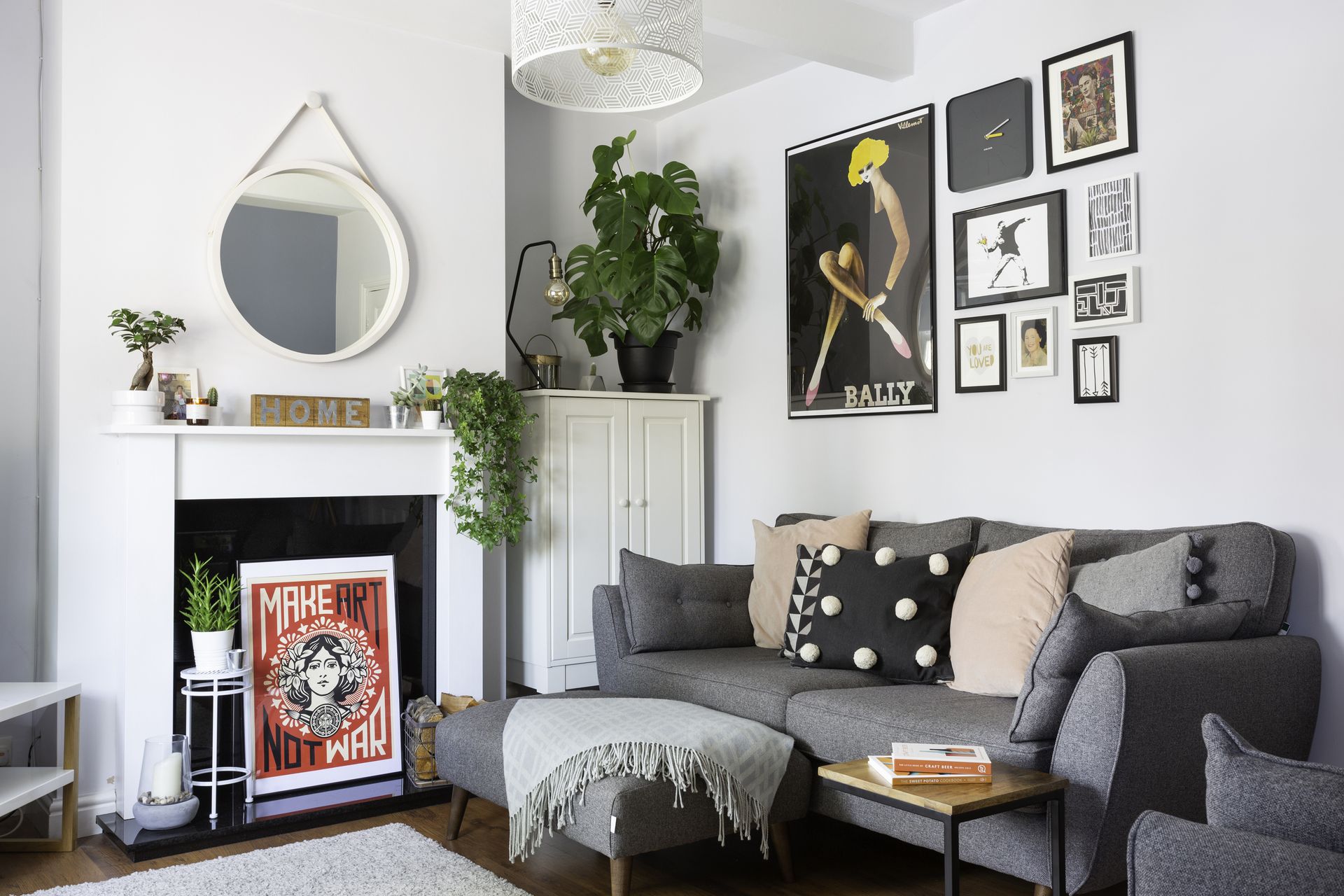 We love gallery walls for adding instant interest and personality to even the simplest of spaces. For a grey and white space, choose artwork that you love but also has tones that are going to pull the scheme together. If you want to add in any subtle pops of color too, now is the time to do so.
10. Decorate with dark wood
There's something so sophisticated about darker woods, but since they can look sometimes look a bit imposing pairing them with a light, neutral color palette is a great way to let those wooden accents be the focus without overpowering the room. This space might have been blessed with gorgeous beams to tie the wooden accessories in the room together, but you could get a similar effect with a wooden coffee table as the focus instead.
11. Layer up grey and white rugs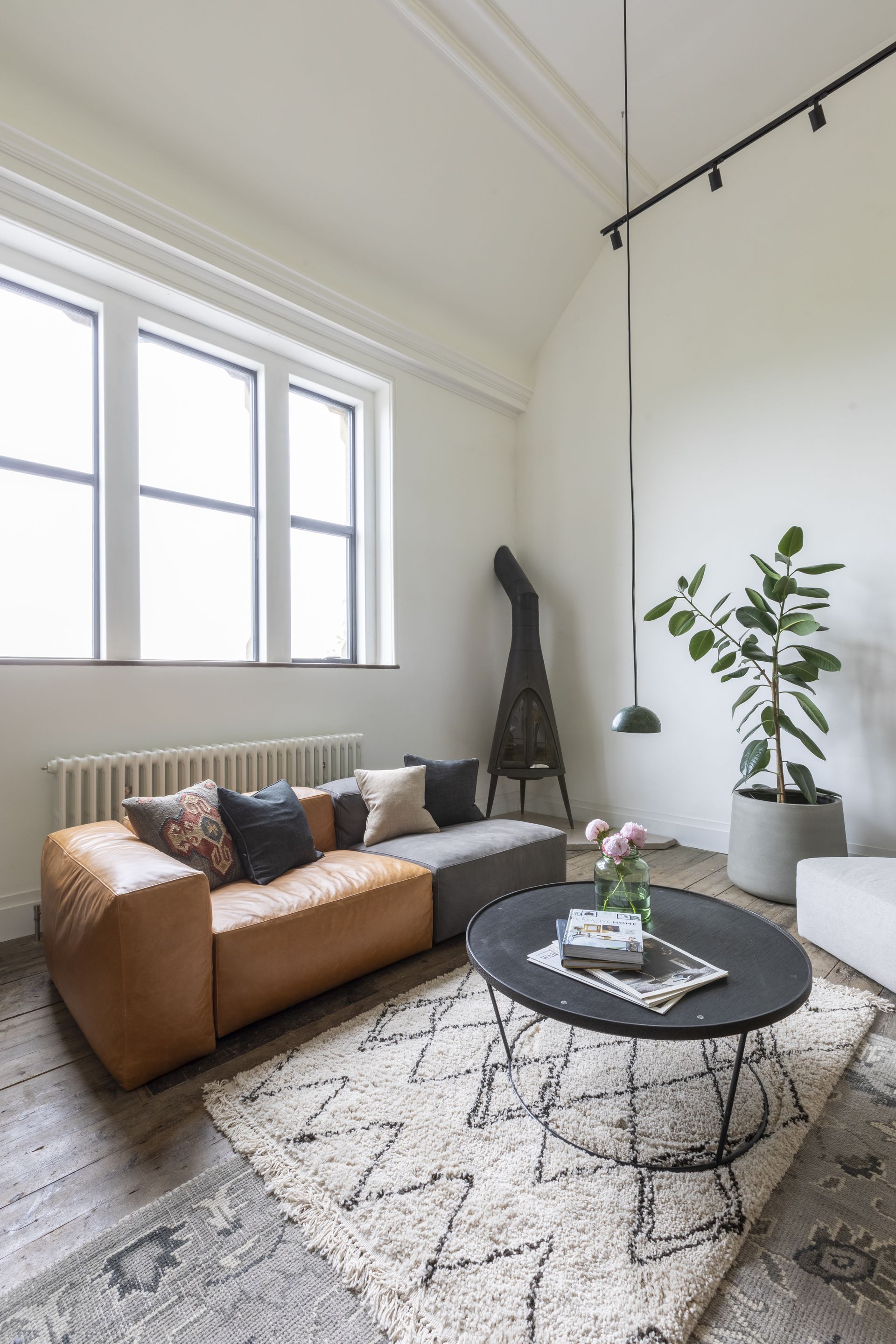 If you are after some really easy grey and white living room ideas that won't involve totally starting from scratch in your living room, rugs are the way to go. Throw down a couple, because no one just has one rug anymore, and mix all those lovely grey and white tones on the floor. We love the mix of patterns here too, and the combination of the short pile and long pile, the perfect way to add in some easy texture.
12. Go bolder with your pattern combinations
The great thing about a simple living room color scheme is that you can really go to town with the patterns. Don't be afraid to mix contrasting prints, if you stick to similar colors it won't look too overwhelming. See how in this living room the wallpaper, the lampshade and the rug all bring in a different pattern but because they are tied together with the minimal colors it totally works.
13. Decorate your walls with paneling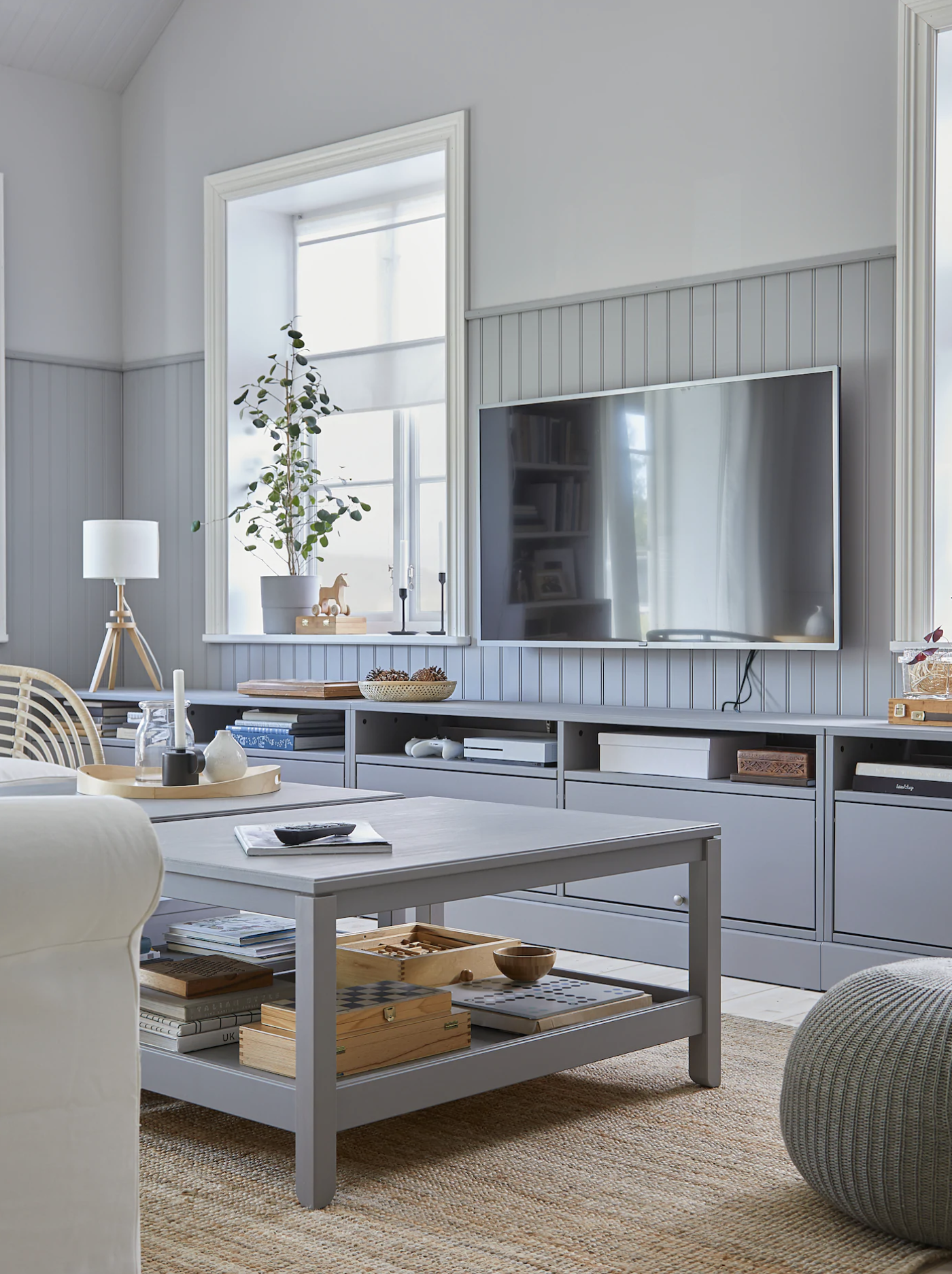 Paneling is everywhere at the moment, and it's had a modern, beachy update. No longer only used in more traditional living rooms, shiplap paneling has a more contemporary feel to it and is actually a look you can DIY too just with boards and nails.
Here it's been taken halfway up the walls in a very cool, blue-toned grey, which as a four-wall color might have looked too cold. Adding in the white above just gives the room a lift, making it feel brighter and more welcoming.
14. Mix color into a grey and white living room
Grey and white can be the ideal blank canvas to add in some color too. Really there are very few colors that wouldn't go with this combo, but we are particularly drawn to the orange and peachy additions in this living room. The rich tones and the velvet finish add some warmth and softness to the scheme. By choosing cushions as the way to bring in an accent color you can easily switch up your palette by just changing out what's on your sofa too.
What colors go with grey and white?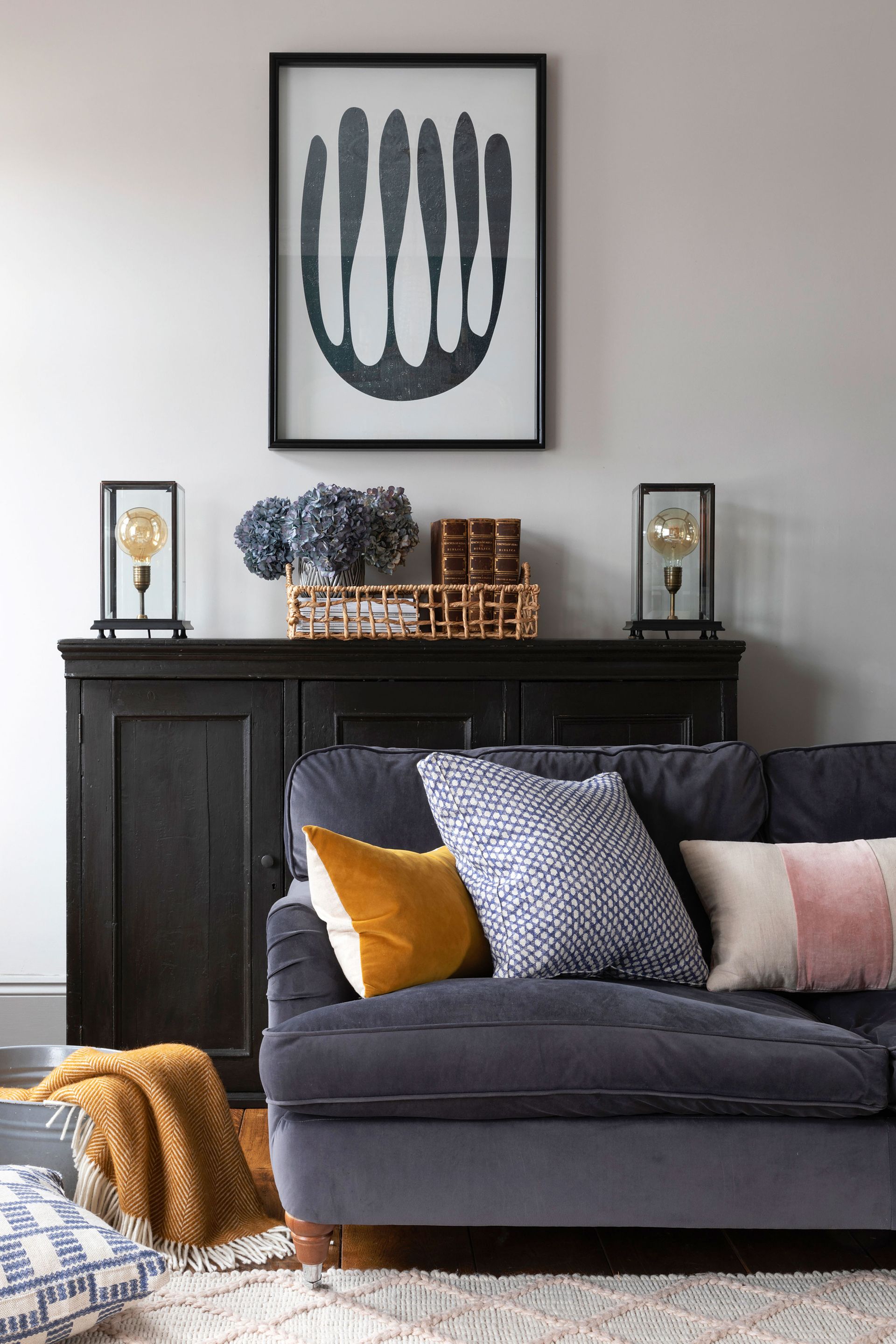 As we just said there are very few colors that wouldn't go in a white and grey living room. It totally depends on the vibe you are going for. If the greys you have chosen are very cool-toned you could either enhance that by adding blues and greens or contrast it and bring in some warmth with oranges and terracottas. Just be sure to always order testers and swatches so you can see how the colors work together in your space.