Looking for some easy paint ideas that you can use to transform your space this weekend? Well we have you covered with this cool paint hack. We have been noticing a growing trend (when we say 'noticing' we mean we have seen it on Instagram) for bare plaster walls, you know walls that look like you ripped all the wallpaper off, barely sanded it down and just left it to do its thing, but in a good way.
Since for most of us trying to get back to that bare plaster would be a massive job and probably leave our rooms looking like a not very cool disused warehouse, we thought we would try and fake the look using paint...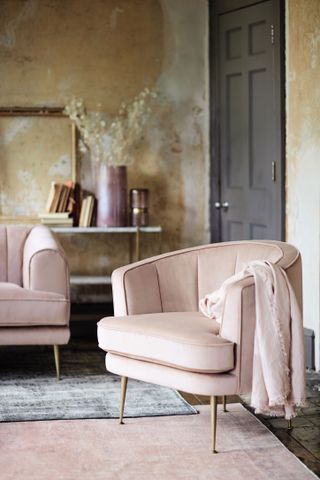 You will need:
Chalk paint: you will want a couple of shades of the colour you are going for, a darker one and a lighter one
Old rags
Rubber gloves
Step one: choose the right paint
For a really authentic look, you will need to choose a few different shades of paint. Pick at least two shades of the overall colour you want your wall to be; so say you wanted your wall to be mainly pink, just pick a few pink colours from the same paint card – at least a darker one and a lighter one.
In terms of the finish of the paint, chalk paint would be best as it's only going to encourage that rustic, unfinished vibe.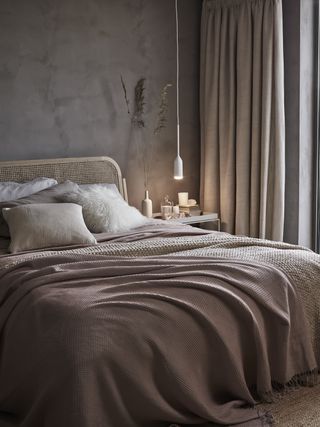 Step two: Paint your first coat
Now this can get messy, so make sure you wear gloves and move or cover any furniture in the room.
Start with your darker shade, pop in it a tray and use a roller, getting rid of as much paint as possible so the coat is thin and unfinished looking. It doesn't matter if there are gaps, the rougher the better really. While the coat is still wet, take a material rag or a sponge and rub at the paint, add more paint to get more of a swirling 'plaster' pattern going. Leave this to dry.
Step three: paint the second coat
Once the darker coat is dry, get a larger sponge, something really textured like a sea sponge would work best and go in with the lighter colour over the top, making sure you leave sections where you can see the darker colour underneath.
You can interchange between using the sponge and a rag to create more texture, even turn to the darker paint again to add more depth. Really there are no rules, just keep working on it until you are happy with the result.
Let it dry and there you go; a rustic 'plaster' wall in just three easy steps.
Read more: