A good shower tile idea can transform a very functional space into something special. Whether you want a look that adds extra zing to your wake-up routine, or a calming look to help you unwind after a long day, it can be achieved with tiles.
From intricate mosaic designs to large-scale shower panels, tiles can take many forms and do many jobs, making them a key decision when settling on a walk-in shower idea or wet room look. They can bring texture and interest to a neutral room, make the shower area a stand-out feature, or bring a much needed shot of color.
But what's on trend for shower tiles right now?
Steph Harris, product manager at Showerwall says: 'In the past year, we've seen a big interest in bold statement feature walls, particularly in the shower enclosure, behind a bathtub or behind the basin. Popular styles include delicate scallop details and bold botanical designs, as well as gold slate with metallic detailing for a timeless, luxury finish.'
Then – of course – there are more classic looks. Such as the ever-popular metro tile, patterned encaustics and large-format stone effects. We don't envy you having to choose!
Shower tile ideas that add color and texture
1. Have fun with pink hues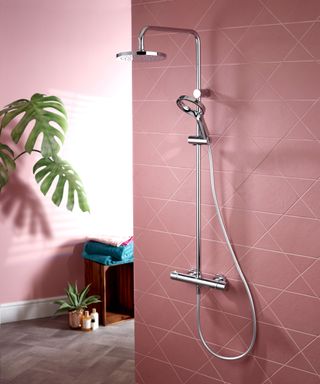 Glamorous and feminin, pink is a fabulous and fun color for wet room bathroom designs and cubicle shower tile ideas and is more versatile than you might have thought.
Combine with an accent color such as gold to create an Art Deco aesthetic. Or incorporated in a green bathroom idea, it can establish a modern bathroom idea that when paired with palm plants and flowers is bang on the biophilic trend.
Martin Walker, CEO of Methven, says: 'This is being achieved by creating walk-in showers with natural effect tiles, such as wood, while combining with striking showers and taps. The addition of highlight colors, such as pastel pink sinks or baths, is also creating a real distinction between botanical influenced tiles and wallpaper.'
2. Toughen up your space with concrete shower tiles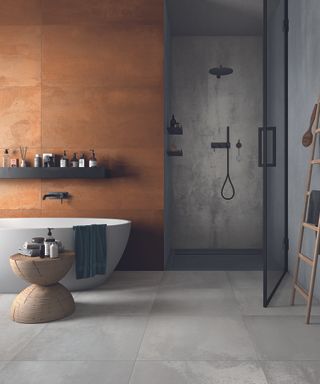 Designed to mimic the effect of tarnished, weather-beaten and corroded concrete panels, this large-format bathroom tile idea is great for instilling a timeworn aesthetic.
Combined with exposed pipes and brickwork, you can create an effortless, pared-back bathroom scheme if you tile a shower with this material finish. For maximum impact, pair with a muted floor design to create visual intrigue within your bathroom and allow this shower tile idea to really shine.
Colin Lincoln-Evans, Buyer at Tile Mountain says: 'While originally associated with city loft conversions, industrial style has grown in popularity over the years with the trend now being clearly seen in bathrooms. This increase we believe is possibly because of the rise in popularity of grey and matt-black decorating schemes which fit perfectly alongside industrial elements.'
'If you're looking to create an industrial style bathroom then consider the addition of large format wall and floor tiles, these are available in a wide variety of finishes such as weathered concrete which not only add textural effect but work particularly well when combined with matt black brassware and accessories.'
'The look can be completed with the addition of more natural elements such as rough sawn wood and metal pendant lights, although as with any lighting you should check that the IP rating is suitable for bathroom use.'
3. Create a jungle-inspired bathroom with palm print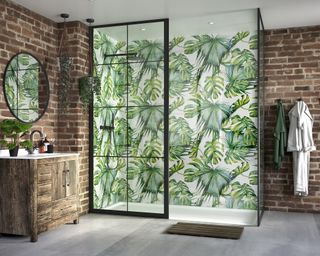 Shower panels are a fast and hassle-free alternative to a traditional shower tile idea in the bathroom walls in the bathroom.
Saving time, money and stress, these waterproof panels can be fitted to a clean plastered wall or over existing tiles. So why monkey about with cutting and grouting?
Combined with a wooden bathroom storage idea an exposed brick wall decor idea, it's a concrete jungle where dreams are made of, and a fun idea to coerce young children (and teenagers) into the shower.
4. Mix and match styles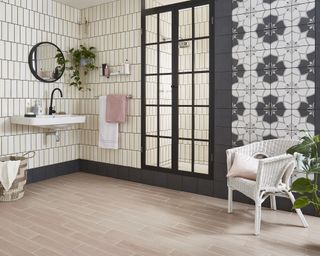 Contrary to what you might think, white bathroom ideas aren't exclusively made up of glossy white porcelain or marble designs.
To make the room look bigger, vertically-placed white metro tiles have been used on the walls and as a shower tile idea to trick the eye into thinking there is more space.
Adding to this bright and light Scandi scheme, wood-effect floor tiles have been used to create a feel of airiness in this monochrome scheme. The black and white floral motif tiles add interest while also zoning the room with the accompanying seating idea.
5. Create a luxury look with monochrome marble tiles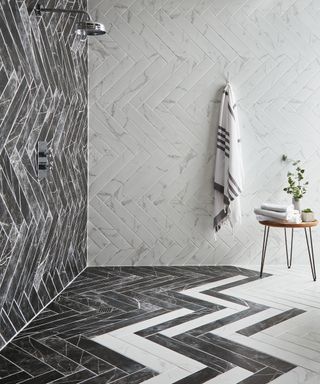 When looking to make your bathroom look more expensive, marble is a material that pays dividends. However, not many of us can afford this material. And for those who can, they risk a luxury bathroom design that looks the same as everyone else's - no matter how decadent the decor.
When designing bathroom on a budget, diagonally-placed, marble-effect shower tiles can add instant impact.
While different colored marbled has been used in silo on the respective adjacent walls, a playful abstract design has been created on the floor of this shower tile idea.
Darker colored marble should be used on the back wall of the shower to disguise any stray hair and soapsud residue after showering. However, one way to maintain the upkeep of these tiles is to know how to clean grouting effectively.
6. Go for an all-over design for an immersive experience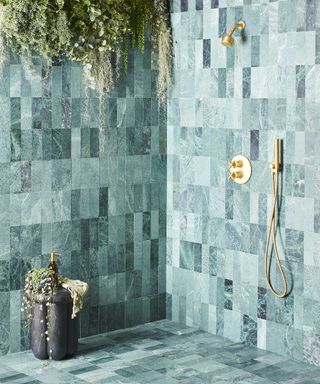 This immersive shower design is made up of fennel green marble shower tiles and creates an enchanting environment to transport you to a calming destination.
'We have an affinity for colors, patterns and textures grounded in nature – which is well known for its positive effect on our mood and wellbeing.' says Lee Thornley, founder of Bert & May. 'The naturally occurring, stunning swirling colored patterns of pistachio, fennel and teal tones evoke a sense of nature and wild, plush foliage, which will help to create a soothing environment in which to relax and reset.
'Pair with chalky stone and calming colors to really enhance lush green and bring a sense of calm sophistication.'
Simple, yet effective the gold shower fixtures and brown glass soap dispenser add a layer of opulence to this look. Pair with a living wall or a few potted plants for a biophilic-inspired bathroom.
7. Go dramatic with a dark grey shower tile design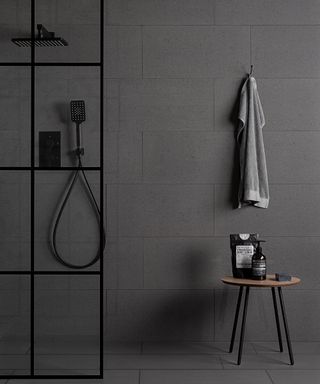 Grey bathroom ideas are a popular choice for celebrity influencers and amateur renovators alike. Its classic tone means that it can be incorporated into the latest bathroom designs and trends including a Scandinavian chic scheme.

However, while many of us opt for a light grey bathroom, few consider an incredibly underrated dark bathroom idea.
This minimalist design grey and black bathroom idea is centered around bare space and simple shower fixtures and accessories. Take for example this black framed shower screen and modern shower head. However, this stripped back design takes discipline and restraint to not over-complicate it.
8. Use different shades of the same color shower tile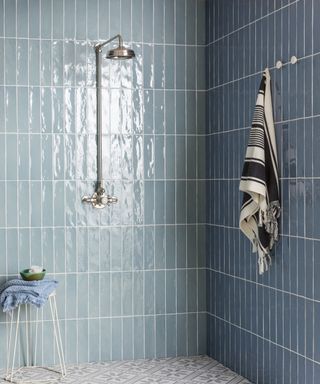 A trusty bathroom color for many homes, blue is a classic hue for creating a traditional shower tile design that oozes charm and character.
But rather than sticking to the familiar territory of a country or nautical theme, play with different shades of this color for a water-inspired blue bathroom idea that's akin to a Mediterranean seascape.
Keep things simple with a row of white pegs to hook towels and use a similarly-colored stool to display your bathing products.
9. Go for contrasting patterns in a monochrome scheme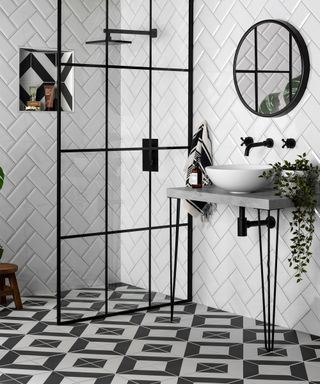 If there's anyway to zhush up a monochrome bathroom idea, it's with pattern!
To recreate this look, combine white metro tiles in a basket weave design as shown. Then, contrast with a bold black and white floor motif. The star of the show in this idea however, is the shower tile idea within the cubby.
By using the same pattern as the flooring, you can create a one-of-a-kind level of co-ordination. Notice how fixtures and fittings are pared back to give this tile design a center stage space.
We particularly love the hairpin legs on this washbasin idea and simple black faucet features.
10. Make a statement with your shower floor tiles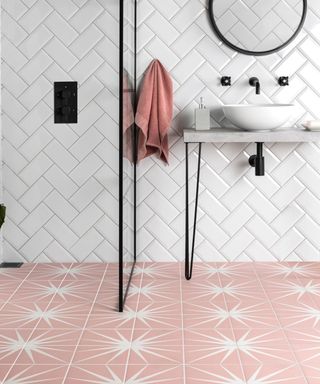 We've focused most of our attention on walls in this article, but it's time to give some love to shower tile ideas for your floor too.
Matching your flooring color and design to your walls is a great small bathroom tile idea to create an illusion of seamlessness and space.
But if square footage is on your side, then a statement shower floor will add fun and impact to your self-care scheme. We love this pastel pink lily design by Walls and Floors which can be used on your walls too.
To really make this shower tile design idea pop, add similarly-colored accessories or a contrasting hue to make the scheme stand out. And, to make this elevate this idea and make it uber-luxurious, consider underfloor heating too.
If you don't decide on a monochrome bathroom design like this one, then gold or brass fixtures will contribute to a swoon-worthy and Instagrammable scheme, inspired by the Art Deco era.
11. Turn to nature with a neutral shower tile idea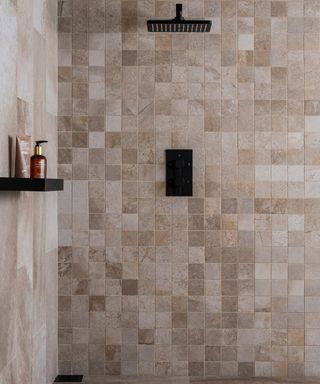 Bathrooms can be heavy-duty rooms when it comes to looking after yourself, so it's important to factor in a durable shower tile idea.
One way to do this is to turn to nature for inspiration. This shower tile design idea pays homage to the Welsh Nantlle Valley to bring the beauty of its landscape to your bathroom.
Using the same slate tile in two different sizes, you can recreate a natural, organic spa-like feel to your bathroom.
Speaking about the tiles, Rob Maltman, tile expert at Walls and Floors says: 'They've all got that Matt surface that is slightly textured so it looks and feels like that Nantlle valley slate and stone.
'They are all patterned randomly to give you that look of natural slate.'
12. Use a different pattern in a shower cubby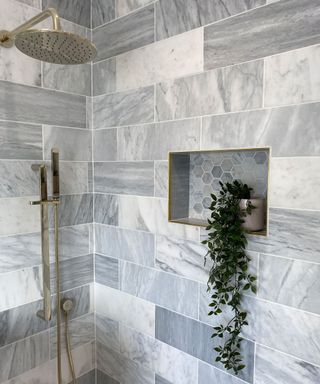 Bathroom decorating can be costly. So if you don't want to venture to far from a traditional shower tile idea, you shouldn't feel obliged to do so.
Once you tally up the cost of raw materials, labor and maintenance, a simple bathroom idea can be more expensive than you first assumed.

So, as shown in this shower tiling idea, why not opt for the same texture and color tile with a different pattern? This hexagonal marble design looks like a sweet honeycomb motif for your shower cubby.
The gold framing works cleverly with the shower fixtures to bring the scheme together nicely.
13. Go for a multicolored mosaic tile design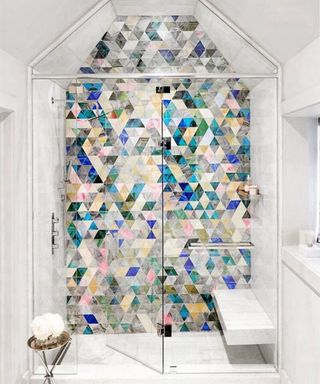 Using all the colors of the rainbow in your home shouldn't just be reserved for a kids room idea or to celebrate Pride month.
If you're looking to inject interest into your shower, why not use a multitude of different glass shower tile ideas?
Mixing up a cocktail of grey and colored triangular tiles you can create a similar scheme that will impress family members and guests alike. The floating shower bench is the cherry on top this luxury bathroom idea.
14. Create a pretty motif using tile sheets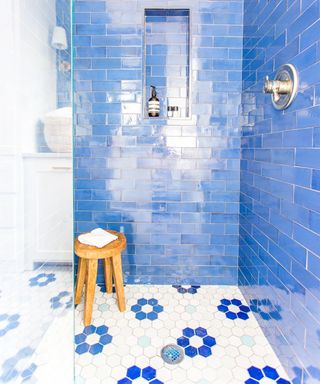 If you want to create an unfussy and non-fiddly shower tile design - it's time to turn to tile sheets.
A little different from the large-scale panels we referenced earlier, these geometric ceramic flower pattern tiles from Minnesota-based Mercury Mosaics can be arranged in an assortment of ways.
Create a truly unique retro or Victorian look using handmade hexagon tiles in this stylish pattern. This blue bathroom idea is perfect for period bathrooms, but looks equally as elegant in a new-build home.
15. Go rustic with a wooden-effect shower tiling idea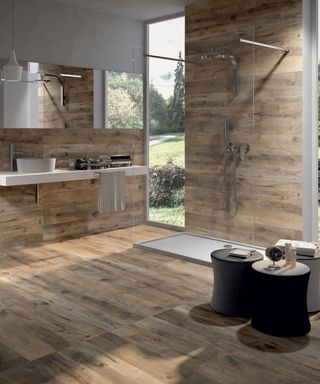 Fake it 'til you make it goes the saying. But, when we think of shower tile ideas, wood doesn't spring to mind. So how do you incorporate tiles in rustic bathroom decorating ideas?
Simple! The Dakota collection by Real Stone and Tile is the perfect porcelain tile that mimics a worn wood-effect.
Its color palette and sizes accurately resemble a wooden look, while maintaining characteristics that high-quality tile we're familiar with.
16. Create a luxury scheme for less using marble-effect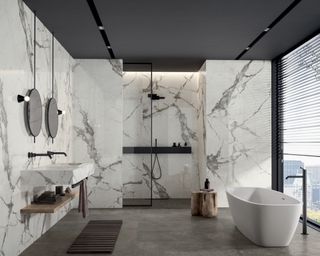 When we think of a marble bathrooms, it's assumed that they'll cost a fair buck.
Once you take into account quarrying, demand, availability and the retailer's mark up, be prepared to part with a few hundred, if not thousands of dollars.
But, as time and technology has advanced, marble-effect shower tile ideas can be a cost-effective solution.
Not just that, but the aesthetic appeal is uncanny. So save your moolah or invest it in high-ticket items such as a freestanding bath tub or washbasin instead.
17. Terrazzo deserves a turn to shine too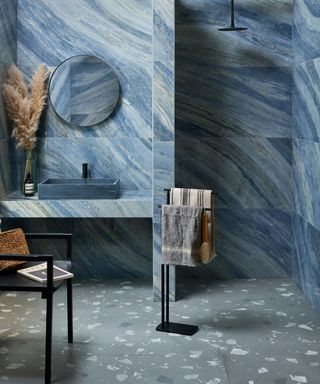 Akin to a rocky beach cove, a mix of blue marble and terrazzo is a match made in heaven. This shower tile idea is perfect for recreating a seaside holiday feel.
Add ethically-sourced real sea sponge, natural loofah and an olive oil soap for a truly Mediterranean hammam spa vibe.
18. Go oriental with an orange shower tile idea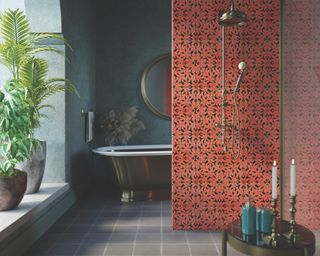 If you want to bring a touch of exotic retreat to the bathroom, then a strong, rich and earthy shower tile color is your best bet.
These hand-drawn and hand-painted tiles from Otto Tiles & Design have natural variations meaning no two are the same.
Paired with a sweet tropical shower gel, and palm plants, you won't want to step out of your shower. Just beware of that water bill!
19. Go Art Deco with scallop-shaped shower tiles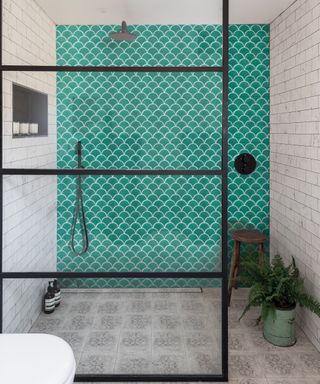 If you're fishing for a new shower tile design, then why not take a deep dive into the world of Art Deco design?
Classy, but still cute, this scalloped scale motif makes a nice change from metro or herringbone style tiles.
We'd replace the shower fittings and fixtures in this scheme with gold or brass for a quintessentially twenties feel.
What type of tile is best for shower?
While color and pattern play an important factor when shopping for a shower tile design, as a room involving lots of water and moisture, you need to consider safety and maintenance too.
One way to do this is to check the manufacturer's wear and slip ratings. Anna Marie Clementson, tile expert at Walls and Floors says: 'Porcelain or natural stone tiles are a great choice for wet rooms as they are hard-wearing, water-resistant and easy to clean.'
'There are also many anti-slip options, such as mosaic tiles which are attractive and easy to install.'
Steph Harris, product manager at Showerwall comments, 'Traditionally tiles made from porcelain or ceramic have been used in shower enclosures.
'However, the demand for wall panels, made from materials such as acrylics or high pressure laminate are becoming increasingly popular not only for the hygiene and the speed of installation benefits, but the design choices are unrivalled replicating tiles, wallpapers and natural materials such as stone and marbles.'
Which is better for shower walls – porcelain or ceramic tiles?
'While you can find comparable styles in both options, porcelain is typically more durable,' says Amber Dunford, associate art director at Overstock.com. 'Also, because porcelain is less porous than ceramic tile, it's easier to clean making it a nice option for showers.'