A sophisticated and timeless trend capable of transforming interior spaces, natural stone tiles are a popular choice for homeowners. Their versatility means they can be used on a variety of surfaces – be it walls tiles or flooring – or even as a seamless transition from room to room.
Here, leading tile specialist, Topps Tiles, has teamed up with TV property guru, Sarah Beeny, to provide some top tips on how to effectively integrate natural stone flooring into your home.
Marble is enjoying huge popularity, but what are the different looks available and what needs to be considered?
"Marble is the stone of the moment and there are many different styles, ranging from bright white Carrara™ tiles to textured greys and colourful greens. As limestone re-crystallises, it becomes much denser and over time turns into the marble we know.
"Incorporate marble in to the home with accents of gold or brass accessories for a luxe feel, or simply pair with natural woods in neutral shades for a more relaxed feel.
"Polished or honed, marble looks amazing but it can be susceptible in wet areas so it needs to be properly sealed and maintained, especially in bathrooms. Regular cleaning will also help keep marble looking as good as ever, be sure to choose a specialist cleaning product over a supermarket option as these can often be too acidic."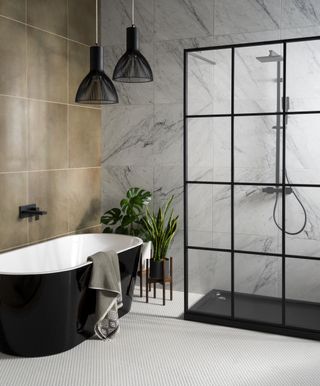 What's the difference between limestone and marble?
"Limestone is a younger version of marble, which is why you often see similar veining. Just as durable as marble, limestone traditionally has a honed and rustic finish ideal for country homes. However, Topps Tiles has launched polished and sandblasted limestone tiles, such as Varino™ Black, which provides some new, different and interesting textures for the home.
"If you're after an interior with subtle character, this tile is ideal, offering a combination of understated elegance but with added interest thanks to its rich texture.
"In terms of aftercare, limestone needs to be sealed and maintained using a neutral PH cleaner."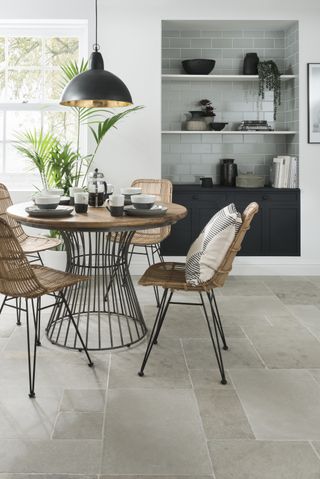 What to look for when thinking about a more rustic, less polished look
"Travertine is the most natural looking stone, with lots of pits and voids in its surface. This was caused by hot water leaking through when it was formed millions of years ago.
"You can choose different grades of quality, the most expensive being a honed finished with very few marks. Or you can opt for standard products, such as the Aurelius™ Tumbled Tile, that has more pits in the surface and has a more country and rustic feel.
"With travertine, and any natural stone, it's recommended that you dry lay your tiles before fitting them to make sure you're happy with the overall look and the variation in each tile."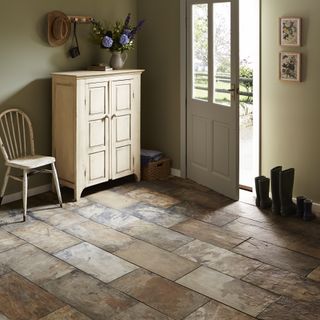 How can slate be best used to stand out with maximum effect?
"Slate is an amazing material that is cut along visible layers to create slimmer slabs. This natural stone comes in a multitude of colours, from coppery rusts to deep black, with no two pieces the same – all of which give the product its charm.
"It's hugely versatile in nature meaning you can style this tile in a rustic, traditional home with the addition of vintage inspired furniture or accessories with country cottage charm. Or, if contemporary is more your take, keep the décor clutter free and minimalist for a modern look and feel.
"Once laid, slate is extremely durable but it is important to seal and use a colour intensifier to also help protect the surface and bring the layers of colour to life."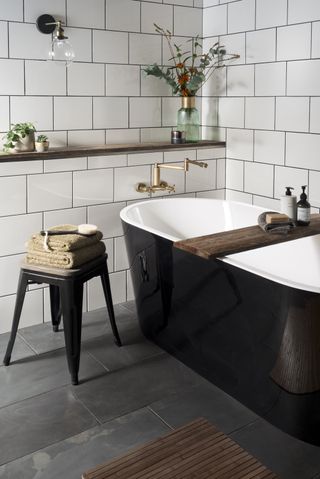 What stone is best suited to hard-working, heavy footfall areas?
"Granite is a great option for heavy footfall areas like hallways and kitchens as it's known as one of the hardest natural stones available.
"The colour of the stone is consistent but it is the composition of the minerals that gives it the stunning, finished look. Again, it is important to seal the stone to avoid any water stains or marks."
Read more: