Miles from the faux pas avocado suites your grandparents would have picked out, a green bathroom idea can be refreshing and invigorating approach for a washroom that's in need of an update.
From pastel pistachio and herbaceous sage to dramatically dark green bathroom ideas, these bathroom color ideas have the ability to promote a sense of cleanliness without being too clinical. Coincidentally, it also aligns well with the biophillic trend, owing to plants being full of rich green chlorophyll.
Be inspired by some of our favorite bathroom paint shades and furniture ideas in green and create your own soothing and serene space at home.
Green bathrooms that promote relaxation
1. Be playful with green candy striped tiles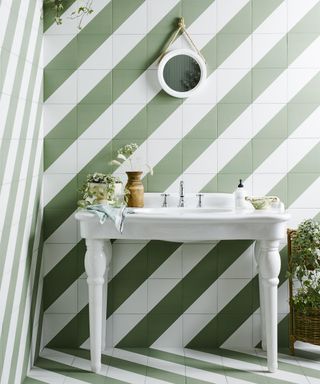 If you want to create a sweet bathroom design without the saccharine pink and pastel trend, then why not turn to a candy stripes? These gorgeous half-half tiles in natural green add a verdant feel and the versatility of the pattern means you can create a truly unique look.traditional checkered finish instead?
Fired Earth's creative director, Colin Roby-Welford says: 'Greens really come into their own in the bathroom since they're perfect for creating a fresh, clean-looking backdrop to white.
'Ocean-inspired palettes and invigorating shades of mint are ideal for getting the morning off to an energetic start, while forest hues and deep emeralds will help you unwind after a busy day.'
Shop the Bert and May X Fired Earth Green Alalpardo porcelain and ceramic tiles and get creative!
2. Make a statement with zig-zags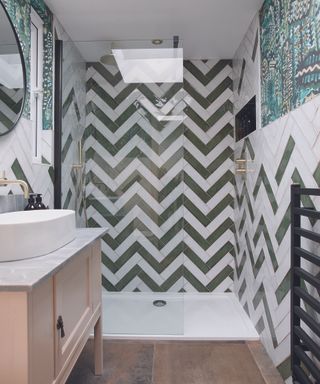 If you're not keen on your bathroom looking like a candy wrapper, then why not turn to an alternate tile design? Hypnotizing and high impact, this zig-zag green bathroom idea really zones your shower space.
Combining different textures, tones and patterns in this crazy-but-cool scheme, the adjacent wall makes use of the same tiles laid in an abstract chevron effect.
Looking for a similar wallpaper design? Shop Lucy Tiffney's Santa Fe motif.
3. Bring a forest flow with foliage tiles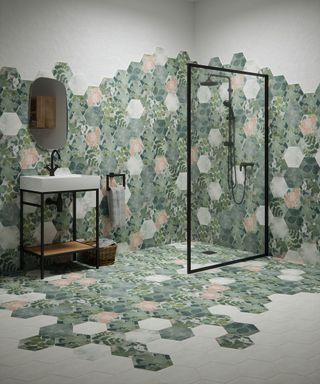 Do you try and reenact the a certain Herbal Essences ad in the shower or is it just us? Then try using tiling to mimic that 'waterfall in a forest' moment.
These Woodland Glade matt wall and floor tiles are 'inspired by the seasonal flora of the beautiful and breathtaking Winkworth Arboretum in Surrey, England.' says Hamish Smith, creative director at Ca' Pietra.
With nine different patterns and a soft, tonal nature-themed palette, each hexagon comes as part of a pre-made, mixed pattern to be used on both walls and floors.
'Green is great for interiors as it literally is the color of wellbeing and contentment. It always fills your home with feel-good vibes. If you want to add some warmth it also looks stunning with gold or brass accessories and raw timber is its natural partner.'
4. Add all-over green marble for a luxe look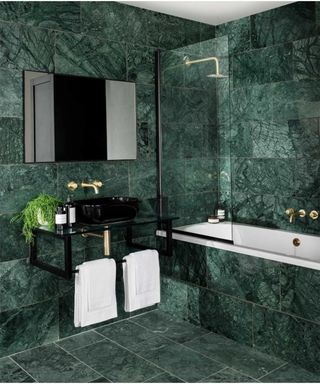 Make a bold statement in your green bathroom with a dark emerald veined marble tile, exclusively from Topps Tiles.
For a dark, luxury bathroom idea, pair these honed rectangular tiles with pale shades to help bring out their dramatic element. Why not turn up the heat by using this bathroom tile idea as part of an underfloor heating project?
5. Contrast green marble with a patterned floor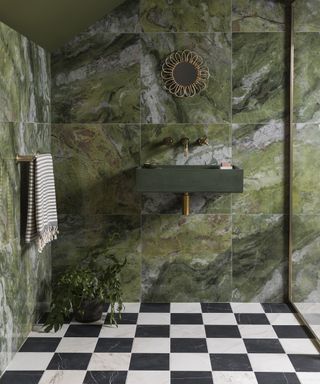 If you don't want to commit to one design for your walls and floors at the risk of feeling monotonous, then a statement floor can add a maximalist feel to your scheme.
If you look carefully, this green bathroom idea is genius in its execution. This is because the black and white checkered effect floor is actually made up of marble and its veining matches that of the large wall tiles.
For an Art Deco-inspired feel, add gold finishes like this towel rail, mirror and faucet.
6. Introduce a green bath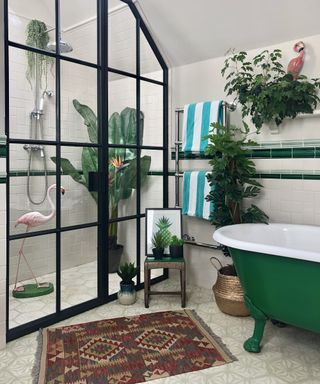 With its deep green bath, green pineapple framed print and a cheeky flamingo friend, Michelle Gordon's exotic scheme gives us all the Club Tropicana vibes.
@houseofmaram, she says: 'This is my version of a tropical bathroom. Add one faux bird of paradise plant. Sprinkle with Frank the Flamingo, who is all about having fun in the sun. And stir in plenty of greenery.'
'There's a skylight about the shower to let in sunlight. And another one just over the tub'Although I wanted to go crazy with more green, I made a decision to tone it down a little in order to give me more options on accessorizing.'
7. Smarten up your bathroom with green paneling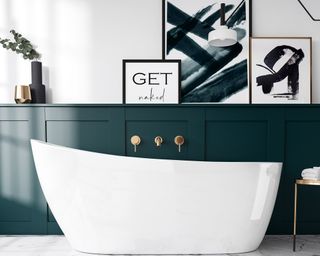 Contrary to what you might think, wall paneling isn't just for traditional bathroom ideas and conservative period designs. Nope - scrap the interiors rulebook that says so, as this chic cladding can be applied to any bathroom design.
Paired with a slipper silhouette freestanding bath, we'd imagine this is what Cinderella would choose if she could spend more time on her self-care, instead of waiting hand and foot on her spiteful step family.
Abstract art adds modern playfulness to this design which doesn't take itself too seriously. And the fashionable 'Get Naked' framed wall print adds a healthy dose of the giggles whilst we're soaking in the tub.
Again, note how a pop of gold plays a part in amplifying this washroom; this time in a dark bathroom idea.
8. Update a monochrome scheme with green wallpaper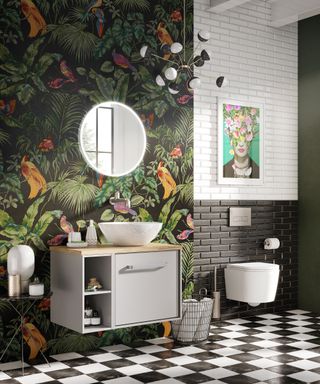 Black and white bathroom decor is a classic scheme that can stand the test of time.
But if you're finding your monochrome idea is looking a bit 'meh' then a bathroom wallpaper design can transform it into a tropical paradise.
Combining retro checkered flooring with a biophilic printed wallpaper and a colorful Frida Kahlo wall art idea, this contemporary bathroom is a melting pot of the latest interior designs. Using dark green wall bathroom wall paint also adds to this rainforest-inspired scheme.
9. Go dark and mysterious with forest green metro tiles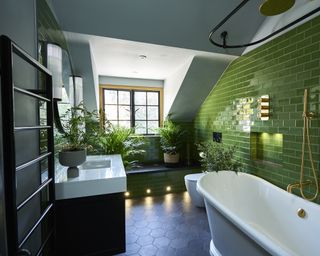 Contemporary meets traditional with a bold choice of vintage tiles and meticulous gold detailing in this green bathroom idea.
Paired with black hexagonal flooring, this modern bathroom feels like an urban jungle scheme with its abundance of leafy green potted plants.
And we love the use of bathroom lighting, spotlights on the bathroom floor and within the bathroom wall cubby holes creating unexpected drama.
'After seeing black and blues used heavily over the past several years, we've noticed green being incorporated in the same ways.' says Adriel Harris, brand content manager at Signature Hardware.
'Pastels like mint and seafoam green work great with hardware because they're delicate-looking yet eye-catching. For vanities, deep, dark greens and versions mixed with grays and subtle tans are popular.'
10. Add green to an existing white bathroom idea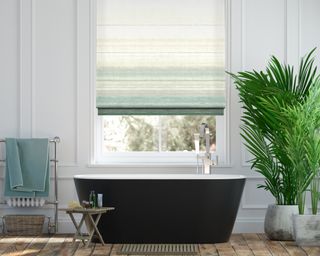 Ombre patterns are incredibly on trend right now. From bleached blonde and brunette balayage on hair to manicured nails and fashion, it seems the world cannot get enough of the graduated color effect. So why shouldn't it be used in your green bathroom idea?

As a tranquil bathroom window idea, this roman blind executes the design perfectly. The fading pattern could easily be a piece of modern art. Especially in a small bathroom idea where there is no room for additional wall decor ideas.

It successfully blends lots of aquatic blue and green tones to stunning effect and delivers a beautiful accent border across the bottom of the blind. Complement this blind with other green or blue bathroom ideas and you're onto a winner.
11. Freshen up a pink scheme with mint green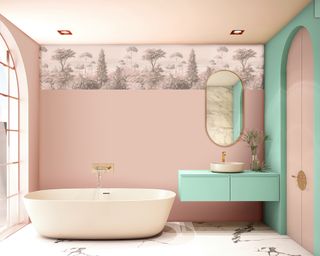 Bubblegum pinks and mint green Gelato shades are a tasteful combo that we're seeing in green bathroom ideas. Not only are they on-trend, but the chic collaboration of the two colors makes for a youthful bathroom makeover.
This show-off bathroom scheme uses a number of decorating techniques to create a wow-factor wonderland that'd get all the engagement on Instagram.
With an oval mirror design, arched window and pastel green arch, this is a feminine design that embraces its curves.
Gold accents in the way of faucets, door handles and spotlights provide all the 'extraness'. And we are here for it!
But, before we stop talking about this green bathroom scheme - don't forget to check out this white marble flooring. Classy, boujie and (anything but) ratchet as Megan Thee Stallion would say.
12. Choose muted shades like olive and khaki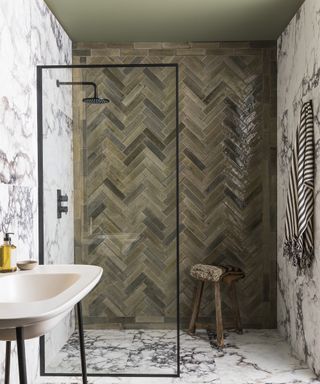 'Green doesn't have to be strong or bright. There are so many calm, subtle hues that seem to sit right in our interiors,' says Louisa Morgan, Marketing Director at Mandarin Stone.
'If you're not quite sure about color or how to use it, green could be the answer. It pairs beautifully with whites and neutrals and isn't in your face like yellow or orange.
'Green is equally as exquisite when combined with rich metallics, earthy terracotta hues or pale pastels. As in our natural world, green just seems to work with everything.'
13. Create a sweet chocolate lime bathroom design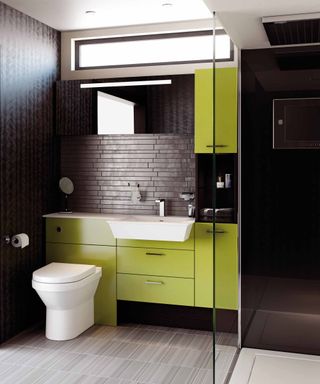 At Real Homes, we're all about experimenting with color. Just think of us as the Willy Wonka of the interior design world!
So you can imagine how stoked we were to see a brown and green bathroom design that looked like what of our fave British candies!
Pairing chocolate brown with lime green, we know this design is going to split the room. But we're partial to a bit of debate and subjective taste.

Making use of a small bathroom idea, the built-in bathroom cabinets add a pop of color to an otherwise dark bathroom design.
14. Paint your bath in shades of green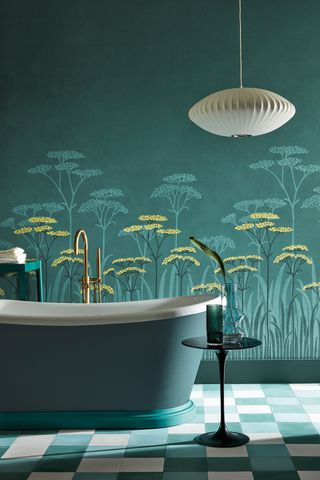 Bathroom wallpaper is a great way to add an expanse of color and pattern to a space so let it be the star of the show! Then, you can pull out a couple of the key colors to paint your bath.
The flat matt color matches that of the wallpaper - no shiny shiny here! You could have the floor in a plain green or if you're feeling brave then choosing a square design in various shades to complement the wallpaper.
15. Paint woodwork green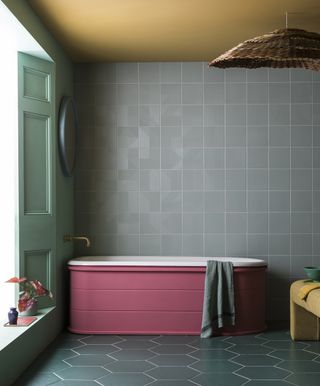 If you're a color lover of many shades then team green with your other favourite hues. This bathroom is a great example of how to make it work – small pockets of color that are of the same tone working harmoniously together.
Then tie them together visually with accessories in the various shades. Towels, vases, and a plant or two will do the trick.
16. Explore all the shades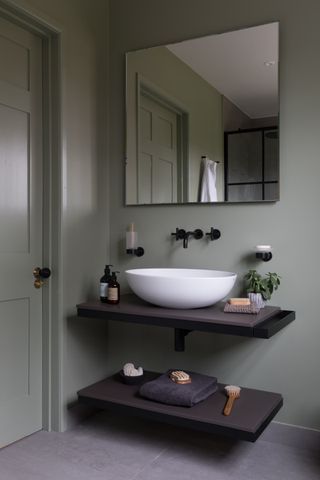 As with all colors, there are literally hundreds of different hues within the spectrum of green, this means you can really dig deep and discover a shade that suits you but may sit close to another color.
Take this bathroom for example, the green has a hint of grey in it that gives it a sophisticated feel. It looks great with jet black and other tones of grey from the slate like tops to the concrete style floor tiles.
17. Go for a tropical green splashback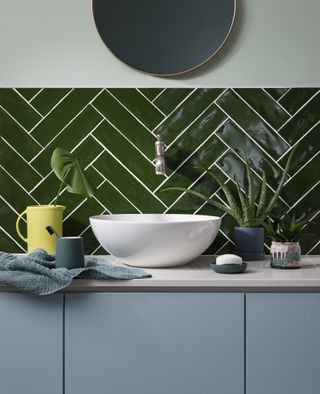 This rather striking metro tile splashback is a stylish addition to this bathroom. The bold color looks great with the pale green wall and sky blue unit, which incidentally work because they are of the same tone – this is key to creating a cohesive scheme.
The white grouting adds a decorative aspect and creates a punchy feel, we love the pop of the yellow jug, too!
18. Make the most of a small bathroom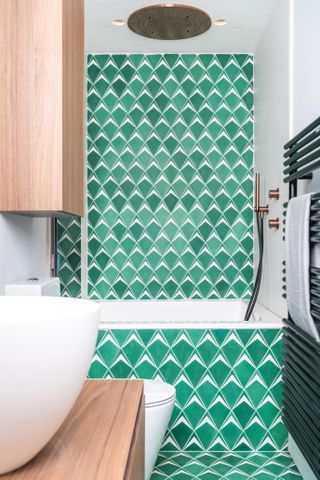 Small bathrooms are a great place to experiment in from a design point of view. Why? Because of their size it means you can buy those lush green tiles you've yearned for over the years that would cost a bomb in the family bathroom – yet in the teeny room they become reasonably priced!
It's also a fab way to create a statement - these tiles are so eye-catching that you can forgive the space for being so small.
19. Or make a large bathroom feel cozy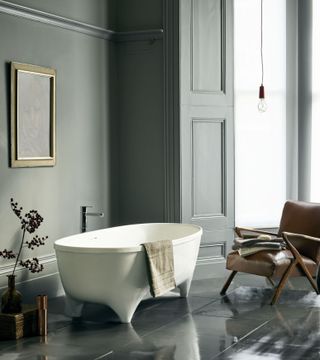 Painting one color from floor to ceiling can make a big space feel more intimate which is exactly what you want to achieve in a bathroom. It's best to choose a muted shade of green that will add relaxation rather than a vibrant shade which could have the opposite effect.
You can add contrast with a pure white bath and vintage pieces and check out that wet look floor - it works beautifully with the matt walls!
20. Lay green tiles differently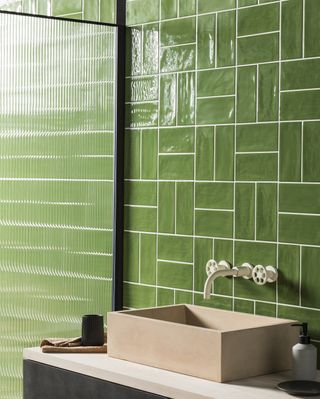 Tiles offer a practical aspect in a bathroom that you don't quite get with painted walls. Easy to wipe down and they can be placed to create a decorative aspect, bathroom tiles add instant color to a scheme.
This bright shade looks super fresh with white – we love the taps and worktop! The sandstone style basin adds warmth to the bathroom and you could choose towels to match.
21. Wallpaper your ceiling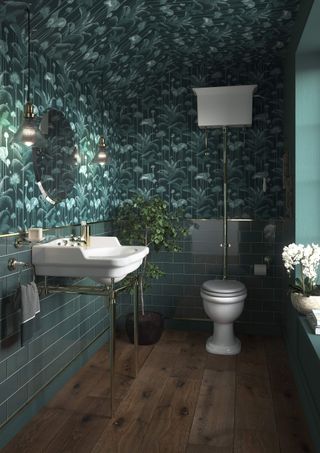 For an all encompassing green bathroom why not mix tiles, wallpaper and paint? This stylish space is reminiscent of a traditional bathroom but with a modern twist - the wallpapered ceiling is a clever aspect that makes the bathroom stand out and the brass fixtures and fittings add a luxurious feel.
Add a few plants as they always add life to a room whilst providing a textural element.
22. Add a squeeze of lime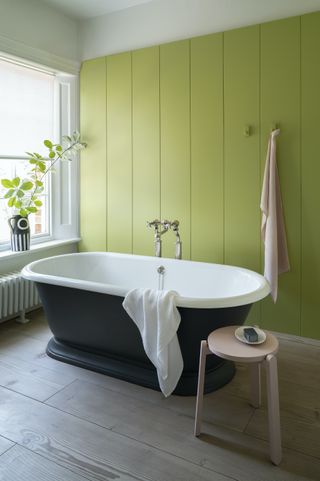 For a zesty feel opt for this bright and breezy shade! Green comes in a huge array of tones so the world really is your oyster when it comes to colours to pick from.
This fresh color is like a breath of fresh air and looks fabulous with this black painted bath and limed flooring. It works well with pale pink too so use that as an accent color.
23. Go two tone with a twist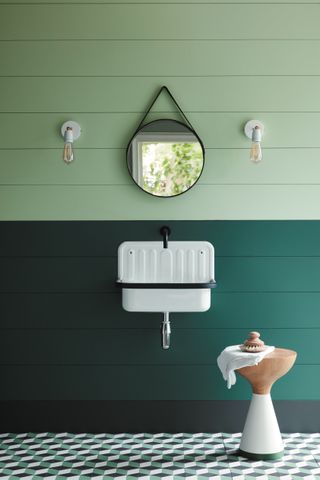 For a modern rustic feel opt for a vintage style sink with painted tongue and groove walls. This style combines trad aspects with contemporary design ideas – we love the bold patterned cubist floor tiles combined with the two tone green walls and pops of white. Use black to accessorize with as it gives the overall bathroom a bold edge.
24. Add texture with green marble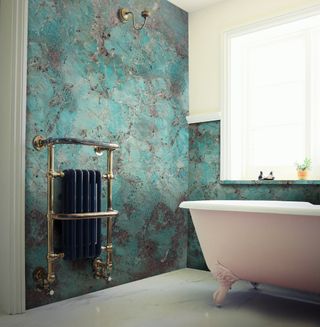 Want to create a dramatic statement? Consider a marble wall or two in the colours of the Mediterranean sea. This stunning bathroom gives you all the holiday feels with its fabulous texture.
To balance this out have a matt paint finish on your bath and walls so they don't compete with the marble. The gold and black towel rail add glamour as do the white marble floor tiles.
25. Use green as an accent bathroom color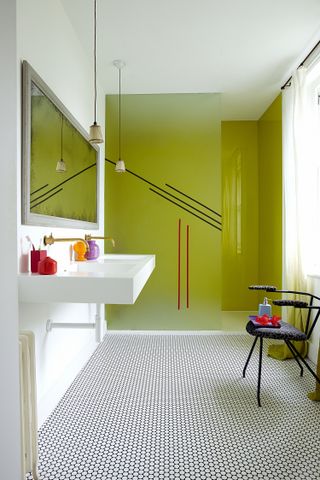 You can use green as an accent color, whether you choose an acid green like this walk in shower or a deep bottle green. Pops of color work really well in an all white scheme and you can use other bright shades to link the main colors together, like the scarlet red used here.
Add in a textured floor to add interest and you have a bright contemporary scheme!
26. Combine pale green and black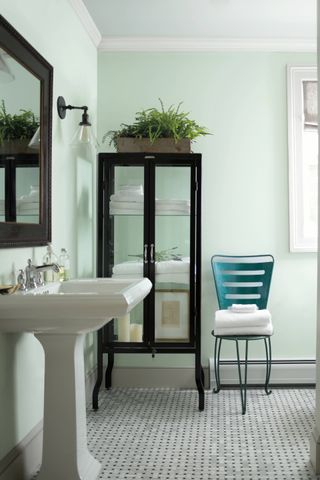 We love contrasts and this is a great combo to consider. Barely there green with jet black creates a modern scheme despite the sanitaryware being classic in style.
Take the black through into wall lights and a mirror and don't forget to add a few plants - they are fabulous at purifying the air and there are many varieties that love a bathroom environment.
27. Mix and match styles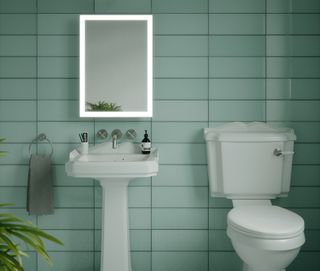 These sage colored tiles give this bathroom a contemporary look that's bold and beautiful. They're teamed with shapely trad style sanitary ware that contrasts against the angular nature of the metro tiles.
The fluro white mirror is dazzling for all the right reasons and we love the chrome fixtures and fittings. Pink and coral would look great with this green shade if you wanted to add another colour or two.
28. Be bold with your flooring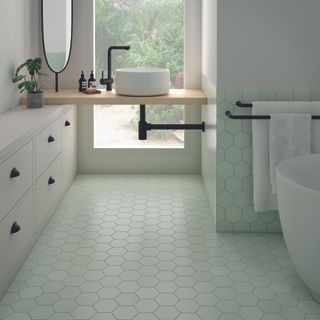 When we think of adding color to a room our first thoughts are that it will be used on the walls, but actually your bathroom flooring is as good a place as any - and can often look amazing.
These mint green hexagonal tiles add a warmth to this otherwise all white scheme that has a Scandi feel to it. They are subtle yet provide a contemporary element in their pale hue and they give a fresh feel against black fixtures and fittings.
Is green a good color for a bathroom?
Victoria Plum stylist, Nicky Kingston says: 'Green bathrooms are a top trend!
'If you're a fan of nature this is a great option for you, breaking the barriers from outdoors to indoors for an earthy and calming look.
'Add in plants for the full green effect.'
While Tash Bradley, color expert at Lick Home adds: 'Green - most shades recall lush grass, trees and foliage - its earthiness brings the outside in, distracting us from our phones and devices in the process.'
'It is also one of the most restful colors for your eyes and is known to make you feel optimistic and refreshed. Without doubt, Green is the one topping Lick's color charts at the moment.'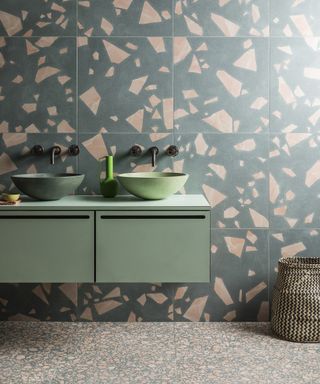 Ruth Mottershead, creative director for Little Greene comments: 'Bathrooms are spaces where we seek relaxation and serenity, so it's important to choose soothing colors that exude tranquility.
Whether you opt for softer tones or sumptuous, darker tones, green is always a great choice for a bathroom, bringing a touch of nature and creating a comforting atmosphere.
To add a sense of depth, use two or three shades of green with the lighter one above drawing your eyes to the ceiling or perhaps consider painting the ceiling in the same shade for an enveloping and more saturated scheme.
For a luxurious feel, consider a combination of paint and wallpaper, which results in a beautiful scheme that also feels nurturing and relaxing.
You can be a bold with your design choices in bathrooms, knowing it won't affect the rest of your interior scheme, but
remember to always choose shades with warmer natural undertones to avoid the space feeling too cold and stark.'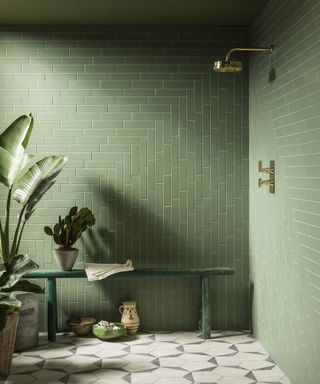 And Louisa Morgan, marketing director at Mandarin Stone adds: 'Green is associated with nature, renewal and energy.
'Known for its calming qualities and being at the center of the color spectrum, it has a sense of harmony, balance and tranquility and has deep connections to our well-being.
'In today's modern world where everything can sometimes feel a little chaotic, using green tiles in the home can reflect nature and calmness whilst bringing a sense of sanctuary to our indoor spaces.'