There's something stunning about a modern black and white bathroom scheme, and you can mix it up with some trad elements – you could have a black painted roll top tub yet your tiles teamed with contemporary fixtures and fittings with a bold modern tile design.
Modern bathroom ideas in monochrome can be simple yet highly effective and you can play with the amount of both colors that you use. For example, it could be that black is used minimally or vice versa.
And accent colors work well with black and white too – red, pink and teal are all good options. Our round up of modern black and white bathrooms ooze with style and practicality.
Modern black and white bathrooms that will add drama and style
One of the reasons why a black and white bathroom decor scheme is easy to use is because you don't have to worry about matching colors – because we all know that black and white works and that it has a universal appeal.
It also looks fabulous with black, brass, gold and chrome taps so it's versatile too.
1. Choose black with a side of marble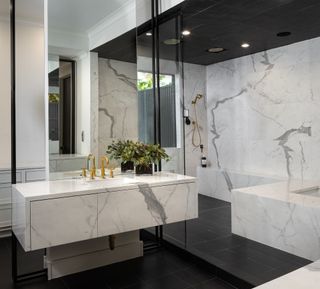 This striking spa bathroom idea is top and tailed by a black ceiling and black floor tiles. The middle section is marble and mirrors with gold style fixtures that add warmth to the ultra modern scheme.
The marble veining offers a mid tone of grey that stylishly prevents the overall look from being too white and softens the space visually.
2. Be dramatic with a hint of white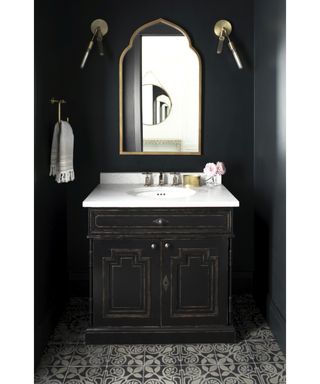 Although this vanity isn't modern, the rest of the scheme is – warm brass contemporary wall lights, curvy topped bathroom mirror and patterned tiles in grey and black. In here, the white comes from the marble countertop and it adds a burst of contrast against the jet black walls.
It's all about playing with proportions and seeing what work best for you – a hint of white or a hint of black?
3. Add a hint of black to white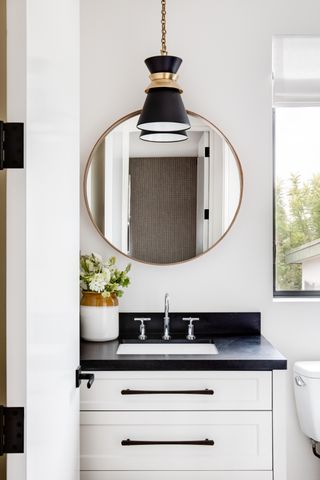 On the opposite end of the scale we have crisp fresh white with a black used sparingly. This beautiful contemporary bathroom is a great example of how to subtly tie in black and make it work really well.
The black pendant bathroom lighting idea with brass elements is a great way to introduce black without it being over dramatic and it ties in with the black basin top and black handles. The result is a smart and refreshing scheme that's timeless yet modern.
4. Start with a white bathroom and add in the black slowly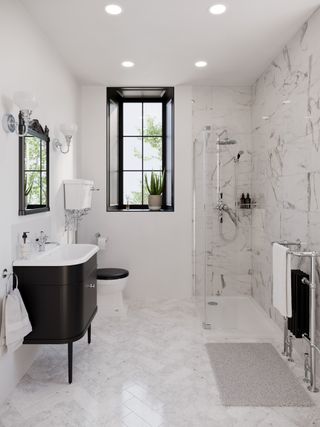 If you fancy having a go at adding black but feel unsure, then add it incrementally. This smart black vanity unit is the stand out piece in this bathroom and monochromatic design aside – it has a lovely shape – who wants to knock themselves on sharp corners first thing in the morning?
Back to the black bathroom ideas – we love the small touches like the black radiator, toilet seat cover and how the woodwork and window frame is painted black. These are relatively easy updates to give you an idea if a monochromatic scheme is for you or not.
5. Opt for a marble wall for a subtle monochromatic scheme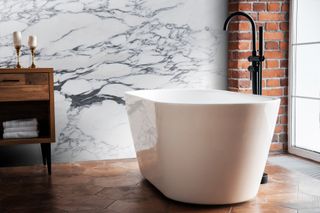 'Monochromatic schemes will always be timeless, especially in the bathroom,' says Oliver Webb, director at Cullifords
'Black and white pairs effortlessly with other natural finishes like wood and the crisp finishes of ceramics. A black and white marble like the classic Arabescato Corchia has an arresting black veining on a white background, ideal for those looking to bring an inimitable finish to their bathroom.'
6. Go graphic on your walls and floors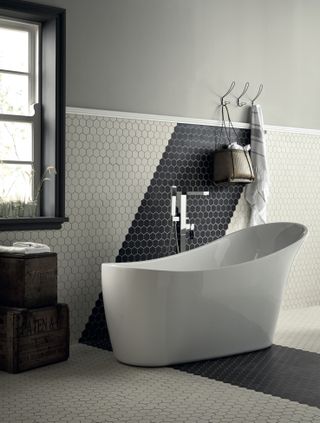 For a truly contemporary feel allow your bathroom tile idea to flow from the wall to the floor.
A monochromatic scheme this strong visually is the ultimate in modern and minimalist design. Streamlined and sleek, these geometric hexagons give this bathroom a bold edge. If you want to add in a third color choose a mid grey and bring that through into the towels and accessories.
7. Let grey dominate and add in black and white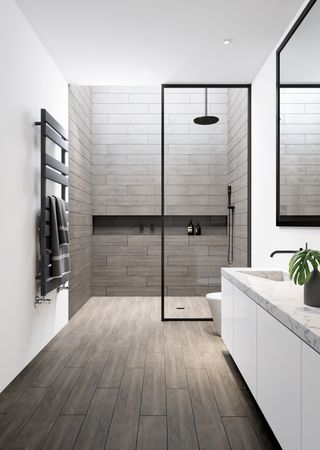 You can have a dominant color that's not black and white and still have a monochromatic scheme. The grey here acts as a neutral and allows the black and white to be used within it being too harsh.
Plus as it's mainly at one end the proportions work well and the white keeps the look fresh.
8. Mix contemporary and classic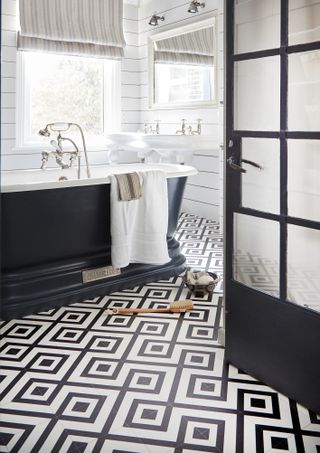 An existing classic style bathroom idea can be converted into a modern black and white bathroom simply by choosing uber bold monochromatic bathroom floor tiles. Add in a black door and some simple accessories that have a contemporary feel and your bathroom will be transformed.
9. Pop in a dash of color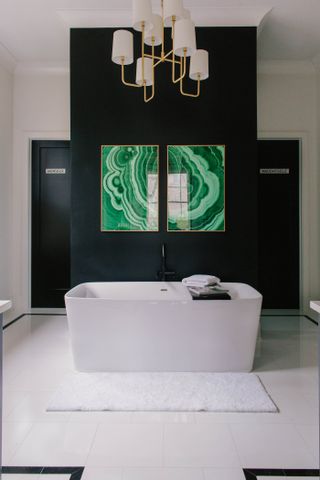 A bright zesty shade like apple green really adds a new and dramatic dimension to a monochromatic scheme. This double artwork is abstract in feel and adds life to the jet black wall.
Note the gold frames match the gold pendant light – details like this are key to keeping your interior design game high.
10. Throw in indigo with a monochromatic scheme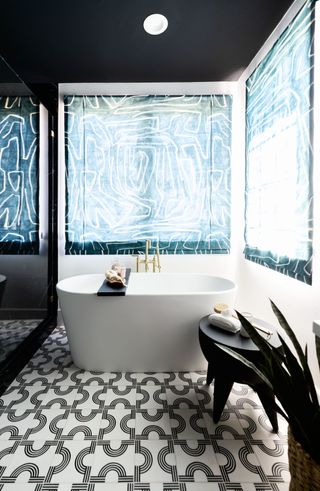 A good 'third' color is indigo blue. It acts as a mid toned color that helps to bridge the gap between the black and white.
In this bold bathroom the transparent element of the blind links in with the white walls and floor. Keep patterns graphic for a minimalist look.
11. Ditch the white tub for a black one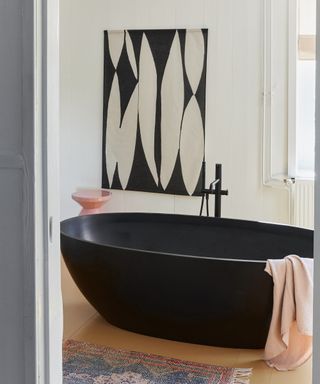 We're almost pre-conditioned to only consider having a white tub – especially the interior – and forget to realize we can have a pure colored design like this striking option.
Blush pink is looking great in this bathroom and it works well with the wooden floorboards and rug. A bold piece of artwork is a great addition too especially in a modern black and white bathroom idea.
12. Match black walls with a tub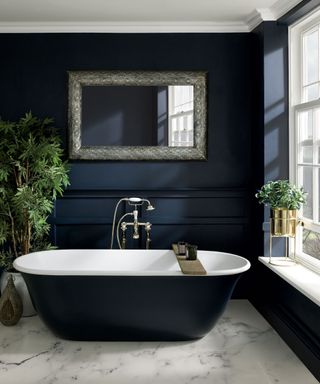 Create a cozy feel with black painted paneled walls, a freestanding bath and smart marble floor tiles. A combination that's ultimately chic and stylish.
Add in a couple of plants, a white painted window for balance and you have a dramatic scheme that you can relax in at the end of the day.
What colors go good with a black and white bathroom?
'If you're wanting to keep things classic with an updated black and white bathroom, I love mixing in a touch of gold in the hardware, the lighting, artwork, and towels,' explains Megan Nelson, co-owner and founder of Nest with the Nelsons
'An emerald green is a fun way to add a pop of luxe and color in the form of towels, rugs, and greenery – think earthy greens such as fern, magnolia, and other natural elements such as birch wood.' Or you could even add a splash of color to bath panels.
'If you're really bold and want to add a bright splash to the mix, a canary yellow would be just the way to push the envelope without going over the top. Most importantly, have fun incorporating these luxe color options into your design. What feels right to you is what truly makes your home your own!'
Are black and white bathrooms popular?
'Black and white bathrooms are often seen in more traditional homes with classic touches. They can be elegant, timeless, and sophisticated. Since black and white bathrooms are quite versatile, they can also be updated to match more modern styles by adding pops of color or interesting patterns.'
'So, I do think black and white bathrooms are popular in both traditional and modern homes,' says David Mason, owner of The Knobs Company