Even the most compact of bathrooms can still be big on style - fact! Transform your tiny space with small bathroom tile ideas that create the illusion of more room, whilst adding color and pattern for a bright and breezy update.
Cleverly trick the eye with tile patterns in a variety of colors, sizes, shapes, and finishes, and discover your tiny bathroom's inner-spa potential. From creating an ombre effect with deliciously dark tiles on the floor, fading to lighter shades on walls for a heightening effect, to going big on glossy finishes that will add texture and tactile appeal, there are a ton of ways to enhance small bathroom ideas with tiles, in a big way.
Small bathroom tile ideas that are big on design interest
Owner and principal designer, Cheryl Kees Clendenon of In Detail Interiors comments: 'The overall layout of a small bathroom is typically the first and most important step. Certain tile patterns that are more bold and larger scale are typically a win in a small bath because they translate and don't feel too busy.'
Pave the way to your favorite look with bathroom tile ideas that will transform a small space instantly.
1. Combine stripes in different scales
Narrow vertical stripes up the wall, and even onto the ceiling draw the eye up, giving a small space the illusion of added height. Partner this look with bathroom floor tile ideas in a wide stripes formation, in a complementary color palette, to play with a sense of scale, whilst lengthening the area and injecting fun pattern and color.
2. Create an optical illusion by tiling your bathtub
Give the illusion of more space and max out room flow by continuing the floor tiles up to the boundary of the bathtub with this fun small bathroom bathtub idea. Choose a mid-scale design with a geometric or sculptural element for a striking, modern tiling update.
Jen & Mar from Interior Fox comment: 'For a sleek design statement that works wonderfully in smaller bathrooms, consider taking the tile up the side of the bath. It makes for a much nicer alternative to a traditional bath panel while giving the illusion of a much larger floor space.'
3. Choose tiles with a tactile finish for detail
An advantage of small spaces is that every detail is maximized and truly appreciated. Make your small bathroom feel that extra bit special with luxe finishes on tiles - from glossy to handmade designs, 'splash-out' on a unique pick that will elevate your space in to a spa-like oasis.
Julia Miller at Yond Interiors, comments: 'Especially in a small space where every inch counts, we are huge fans of having one really special finish. Whether it's a statement natural stone countertop or speciality handmade tile, we are all for having one finish that is extra special or unexpected. A classic tile shape or pattern could be the perfect finishing touch.'
Owner and Principal Designer Cheryl Kees Clendenon of In Detail Interiors, comments: 'Even a tiny powder bath is an opportunity area - everyone who visits your home will probably visit this space. Consider tiling the walls and really enveloping the space in a material that helps make it feel special and out-of-the-box. Again - a smaller space will often be easier to accomplish this type of concept while maintaining a hold on the budget!'
4. Fake a tiled effect with peel-and-stick designs
Elizabeth Rees, founder of Chasing Paper, comments: 'Whether you're a renter, on a budget or working on a phase one renovation, peel-and-stick wallpaper and flooring is one of my go-tos for a small bathroom.'
'In addition to being cost-effective, this option is easy to both install and remove, while allowing you to try different colors and tile patterns without the commitment. If you want something more traditional, opt for a neutral white and black; otherwise, a small bathroom is a great space to experiment with color that you might avoid in a larger common space.'
5. Create a cozy space filled with floral detail
Breathe life into your small bathroom with a decorative tiled focal point featuring whimsical, botanical designs. Pair floral motifs with deep tones of green, dusky pinks and warm neutrals to create a rustic bathroom scheme, with a scattering of cottagecore chic.
*Tip: So as not to overwhelm a small space with too much intricate pattern, balance a tiled feature area with a single hue on walls and flooring.
6. Keep it contemporary with a touch of Terrazzo
Inject dynamic spirit into flooring with cheerful, Terrazzo tiles that deliver flecks of color and pattern in fun abandonment. By choosing a mid-large scale design with a bright or neutral foundation, you'll 'grow your space,' with personality. Tutti fruitti Terrazzo tiles make a striking small bathroom shower idea too.
Jen & Mar from Interior Fox comment: 'Terrazzo is one of this year's biggest bathroom trends – and for good reason. We like to use terrazzo floor tiles as it's perfect for introducing tone and texture without overpowering the space, while the varied colors within the design mean it pairs perfectly with so many other wall tiles.'
Owner and principal designer, Cheryl Kees Clendenon of In Detail Interiors, says: 'Small bathrooms are a GREAT opportunity to do really fun materials because - the space is small! So even an expensive floor tile can be a fit for a project because you don't need as much material as you might need, in say, a master bathroom! We always capitalize on this!'
7. Envelop your space in drama
Instead of trying to magic your small bathroom into palatial proportions with space-enhancing tricks of the tile, how about, embracing its perfectly petite proportions with a dark palette that dares to be different?
Kellie Burke from Kellie Burke Interiors says: 'One of my favorite things to do is to go bold in small spaces because every space deserves its moment to shine. Dark gray subway tiles provide a dose of drama especially when paired against gold mirror detailing and faucets.'
If venturing to the dark side isn't your thing, give your space a color-soaked makeover with a rainbow choice of colors for small bathrooms.
8. Create a calm Japandi inspired small space
In small bathrooms where you want to achieve a clutter-free, minimalist space, channel the fusion of pared-back Scandinavian and Japanese interior design styles with a simple, Japandi style. Adopt a neutral color palette, clean lines and natural textures to create a relaxed and nurturing environment.
Design experts at Coalbrook advise: 'A Japandi scheme will usually feature a simple, pared-back color palette. In bathrooms, add a subtle touch of color with colored bathroom tiles in a single muted tone, such as soft pink or sage green. Contrast with a black basin and opt for a mixer in brushed brass.'
9. Use reflective tiles to bounce the light
As part of a modern bathroom design, pick tiles with a shimmering, multi-tonal effect. And yes, it might sound a bit extra and too luxurious for a family bathroom, but metallic tiles can totally work in a small bathroom.
'The oldest trick in the interiors book - mirrors and reflective tiles are an easy way to open up a room. Use silver or even black reflective mosaic to add reflections to your bathroom and add a bit of shimmer and glamour to a commonly overlooked room!' says Kamila Chalfin, Marketing & Brand Manager at Tile Giant.
They'll add texture, depth and dimension, and will reflect light more than tiles with a flat finish. Just be wary that picking small mosaic tiles can make a bathroom feel busier so limit them to one or two walls and contrast with large format floor tiles.
10. Use pattern to create visual tricks
The basic rule of thumb for choosing patterned tiles for a small bathroom is to go for graphic designs that can be used cleverly to stretch the space (visually, at least). Here, a horizontal(ish) stripe will make a narrow bathroom feel wider. Match with large format, fuss-free floor tiles for the floor.
'Be clever with shapes - using hexagonal tiles or mosaic adds interest without overwhelming a small space. For a more traditional decor, opt for rectangular tiles and use them to create your own shapes on the wall, or make stripes by combining two colors. Applying vertically adds depth to the room and gives the illusion of higher ceilings. Laying horizontally, you can optically 'stretch' the room out and create the feel of a wider space.' continues Chalfin.
11. Use diagonal lines to widen and lengthen walls
Any tiles that create a diagonal pattern, however subtle, will create another visual trick: that of lengthening and widening walls. The same rules can be used with plain tiles laid diagonally. If yours is a very narrow bathroom, avoid putting tiles on all four walls; instead, create contrast and interest with a paint color.
12. Go for a statement wall behind the bath
Designing bathrooms on a budget, but would like to invest in luxury tiles? Go for a statement wall – preferably the one that frames the bath, since you'll look at it the most – and keep the other walls simple, perhaps painted with a toning shade or tiled in something really simple. The upside of creating a feature wall? You notice it, not the room's modest size.
13. Raise the ceiling with a vertical column of tiles
If your bathroom has a low ceiling, fitting tiles like this, in a vertical column, will draw the eye upwards to create the impression of a taller room. If it's going to look too formal for a whole wall in your small bathroom, go with the half wall trick and paint the upper portion.
But what color to choose? You can't go wrong with a classic white tile combined with a grey grout to make the pattern pop. This will work with lots of other tile patterns too so you can go big on the floor tiles if you fancy.
14. Going for dark tiles? Pick something with texture
A black bathroom can look very chic and inviting, and keeping to just one color means that you can really go to town with different textures and patterns. In a small bathroom, choose hexagonal mosaic tiles and go for a slightly lighter grey grout so you can see the individual shapes but still enjoy a subtle design finish.
15. Introduce a playful color palette
Want to introduce color and pattern to your small bathroom walls? Picking a design with a warm bathroom color scheme – like this dusty rose – will make the space feel much more open and welcoming. Choose simple finishes in the rest of your design, including accessories, for a sleek finish that will enhance space also.
16. Tile below the chair rail only
Metro tiles are endlessly fashionable – but also great for use within a small bathroom. Why? The strong horizontal lines they create when on the walls create the widening effect we mentioned earlier. Limiting the tiles (any tiles for that matter) to beneath the chair rail level, with a paler paint color above, will also make the room feel taller. Win-win. Get creative with the loveliest metro tile ideas around for an instant refresh.
17. Create a wall to floor contrast
Want to introduce dark tiles while keeping the bathroom as light, bright and spacious feeling as possible? This is the perfect tile combo: dark bathroom floor tiles and pale-colored bathroom wall tiles.
18. Pick an all-over tile in a shower room
Got a shower room or thinking about adding a wet room? Stretch space visually by using the same tile throughout; it'll also give you a smart, contemporary look – and make for super-easy cleaning. Choose an off-white tile with a marble effect for warmth, texture and interest.
19. Pick an on trend scalloped tile
As we have mentioned, you don't need to tile an entire space in a small bathroom to add impact. Try out the latest tile trends using a bold tile, in a brave shade or interesting shape instead, for the inside of your shower. Scalloped tiles are a stylish option and these Syren tiles from UK-retailer Topps Tiles come in five glorious sea-inspired hues to inspire.
20. Expand your space with clever floor tiles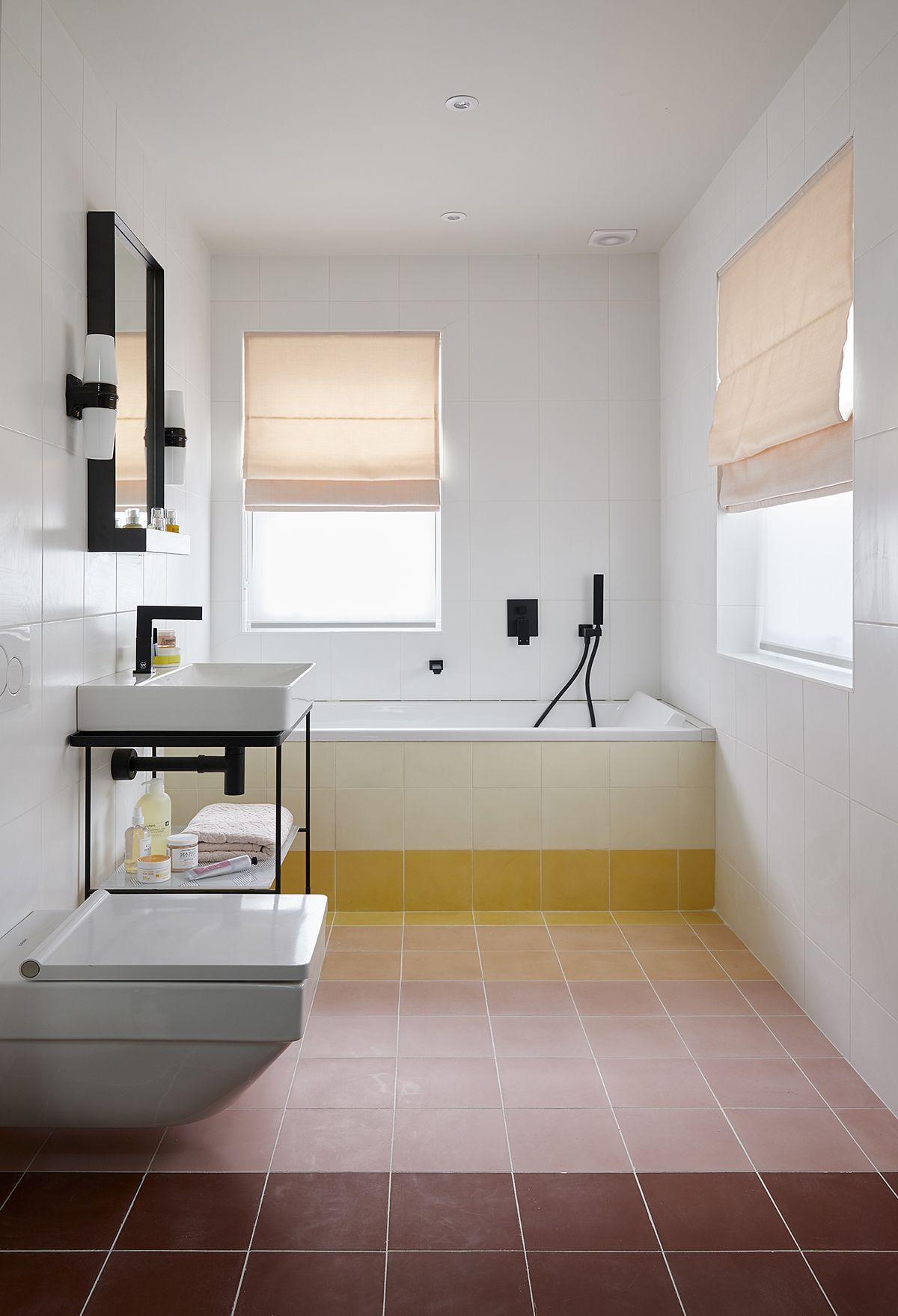 We love this idea and are obsessed with this very cool bathroom. It's a pretty small space too, it's just been made to look bigger with the clever choice of floor tiles. The fading colors draw the eye to the end of the room, giving the illusion that the room is longer than it is and running the tiles up the side of the bath only adds to lengthening the room. We love the sunset colors used but if you are more into a monochrome bathroom this would work really well fading black into white.
21. Go for a glossy metro tile
Because you can't go wrong with classic grey subway tiles. Pick a glossy finish that will help bounce more light around the room and combine them with a more bold floor tile so they don't look too flat. The subway tile layout is perfect for smaller bathrooms too because the horizontal format will stretch the walls, making it feel more spacious.
22. Tile all four walls
Tiling four walls in a larger bathroom can risk giving a bit of a clinical feel but in a small bathroom it's practical and stylish. Again, something simple like a metro tile would be the best to go for if you're tiling all your walls but add interest by picking a contrasting grout. A grey or a neutral will both work with white.
Choosing such simple wall tiles means you can add more interest when tiling a floor, so pick something colorful or patterned to bring plenty of interest into the space.
23. Tile the ceiling!
Yep, tiling your 5th wall is totally a thing and there are plenty of cool bathroom ceiling ideas to recreate using this technique. Tin ceiling tiles are often referred to as Brooklyn tiles and you can find both new and vintage offerings online –these homeowners decked out their ceiling with tiles from American Tin Ceilings, but check out eBay for some affordable secondhand options too.
Obviously, a reflective ceiling is going to bring loads of light into the room, but we think it's got to be the most stylish way to do so. This look is so glamourous in a very vintage way, it brings in texture too and a tin ceiling can work with so many different styles.
How do you make a small bathroom look bigger with tiles?
Tiles that reflect light are a great way to make a bathroom feel lighter, more spacious and luxe, while laying floor tiles diagonally can make it look wider and longer too. Another trick to make a small bathroom feel bigger is to use the same wall and floor tiles, the running pattern helps to create drama that is perfect to mimic a bigger space.
All of our suggestions will open up your space and therefore, add an element of elegance that you just wouldn't expect from a box bathroom! Consider all of this when choosing small bathroom tiles.
What size tile looks best in a small bathroom?
Our rule of thumb would be to go bigger in a smaller bathroom to stop the space looking too busy but, obviously, there are exceptions to that rule. If you like the look of smaller tiles don't be put off by your lack of space just keep them to a backsplash or a shower enclosure. If you want to use them on a larger surface, say the floor, just pick larger tiles for the walls for a nice contrast. It goes without saying that investing in the best floor tile cleaner will help keep even tiny bathroom tiles looking spick and span to add to the illusion of more space.