Finding the right small space interior design ideas for your place can be a tricky task, but it's also definitely a fun task. There are so many different ways to bring color and style into your space, which will showcase your personality and your tastes.
Small spaces especially can be difficult to style, as you don't have a lot of room to play with. That being said, there are lots of clever ways you can make it work for you and even enhance it. These range from things you can do with existing pieces you have to new ways to freshen them up.
If you're looking for small space decorating ideas, I'm here for you. I've spoken to experts to find out what timeless furniture and decor work for small spaces and how you can use them in your rental or apartment.
Small space interior design ideas
From small space furniture pieces to cute color combinations, these will all make your little rental or cozy apartment feel like home. As well as rounding up ideas, I've also picked out buys to help you get the look at home.
The prices below were correct at the time of publishing this article.
1. Pick multifunctional furniture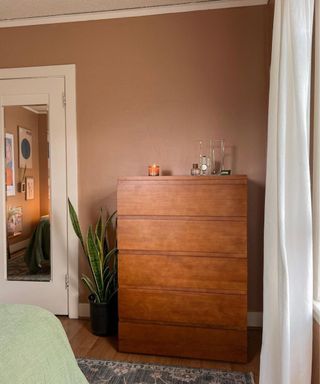 Why buy two pieces of furniture, when you can get one piece of furniture that does the function of both? "Embrace the versatility of furniture that serves dual purposes, such as a small sofa bed or a storage ottoman, offering comfort alongside functionality," says Elizabeth Grace, interior designer and founder of Dream Home Making. "Opt for nesting tables or extendable dining sets that can be effortlessly tucked away when not in use," she adds. This will help you optimize the space dynamically.
Elizabeth Grace is an interior designer who was born and raised in Philadelphia. After receiving her degree in Interior design from the University of Notre Dame, she moved to New York to pursue her dream of becoming an interior designer. Her passion drives her to create a platform to share her experience and facilitate her audience.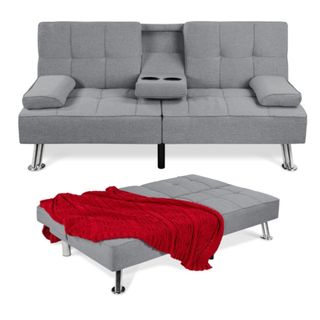 Convertible
Best Choice Modern Convertible Sofa Bed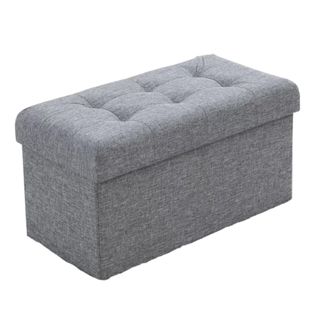 Comfortable
Winston Porter Foronda Storage Ottoman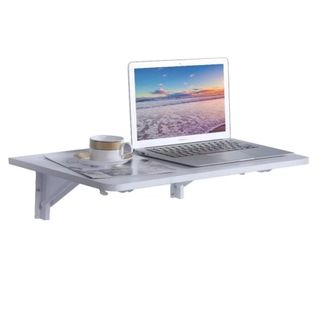 Amazon's choice
Mcmacros Floating Shelf Wall Table
2. Go for vertical expansion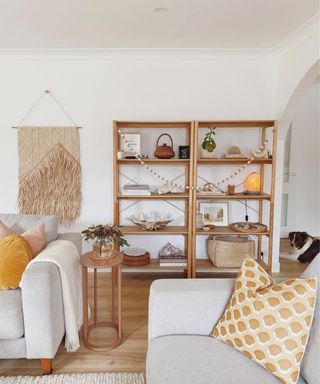 When you don't have a lot of floor space, it's a smart idea to use vertical space, instead. "One outdated organizing rule is only storing items in closets, dressers, bins, and multifunctional furniture like ottomans with built-in storage so that walls can just be used for decorations," says Christina Giaquinto, professional organizer and brand ambassador for Modular Closets.
Instead, she suggests using vertical wall storage options like tall bookshelves, floating shelves, and wall-mounted cabinets. "This will help you maximize your space's organizational capacity."
Christina Giaquinto is a professional organizer and brand ambassador for Modular Closets. She focuses on giving her clients the tools, methods, and techniques to transform their lives and homes through decluttering and organizing.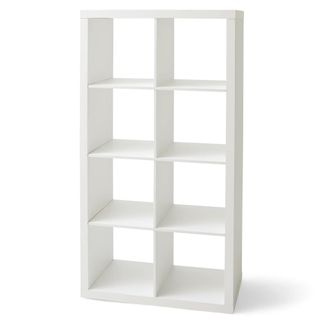 Ideal cube storage
Better Homes & Gardens 8-Cube Storage Organizer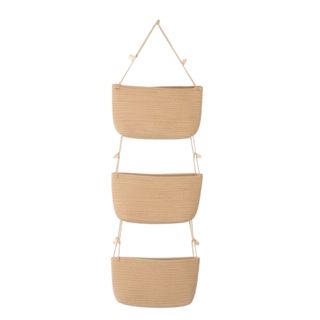 Cotton
Bay Isle Home Clemens Hanging Basket Organizer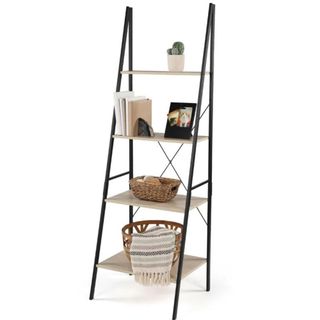 Industrial
Hashtag Home Abtal Metal Ladder Bookcase
3. Use lighting strategically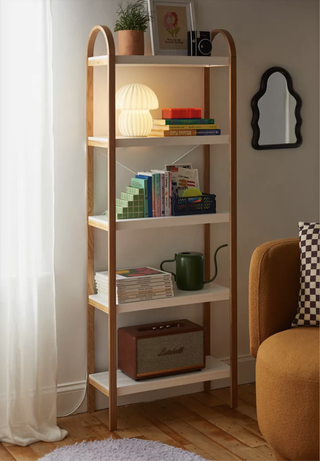 You can illuminate compact spaces strategically with a blend of ambient, task, and accent lighting. "If you're able to change your lighting in your rental, use wall sconces, pendant lights, or track lighting to create layers of illumination, establishing depth and highlighting specific areas while maintaining a cohesive ambiance," Grace says.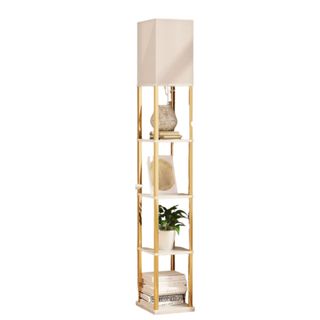 Extra shelves
Orren Ellis Haileyville Arched Floor Lamp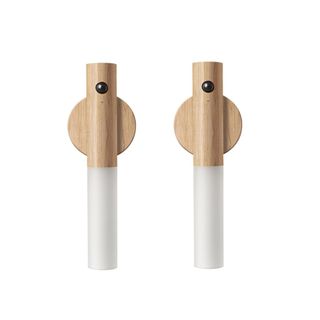 Grab and go
Landgoo Motion Sensor Night Lights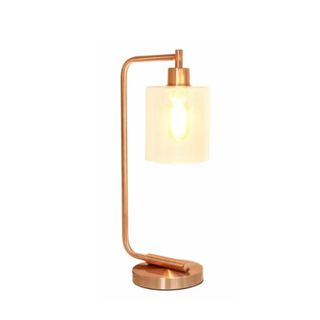 Highly-rated
17 Stories Kazuhiko Metal Desk Lamp
4. Make the most out of mirrors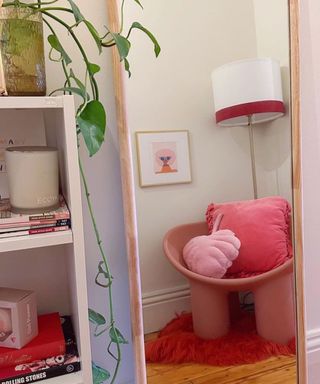 Using mirrors to make a small space appear bigger is a trick frequently used by interior designers. "A large, strategically placed full-length mirror can enhance depth perception, fostering an airy feel," says Grace.
Giaquinto suggests hanging a mirror on the wall opposite a window. "The mirror will reflect the natural light from the window, making your room feel larger, lighter, cleaner, and more open," she tells me.
As well as this, be sure to pay attention to where the light is in the room. "Place mirrors in line with light reflections, so one can feel more space is there," says Artem Kropovinsky, interior designer and founder of Arsight.
Artem Kropovinsky is an interior design expert and founder of Arsight, an award-winning interior design studio based in New York.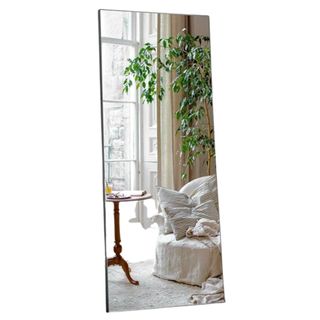 Aluminum alloy frame
Sweetcrispy Full Length Floor Mirror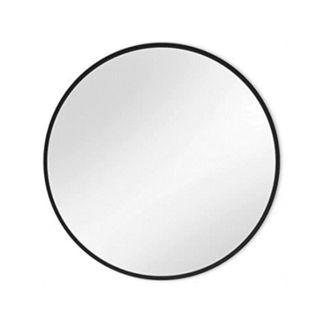 Hanging warehouse attached
Mainstays Round Wall Mount Mirror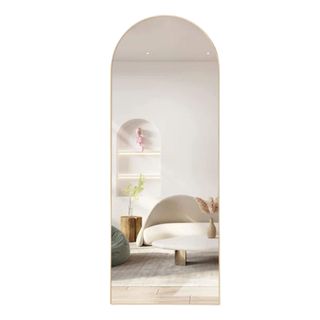 Shatterproof
Mercer41 Lilliemai Arch Metal Mirror
5. Choose scale-appropriate decor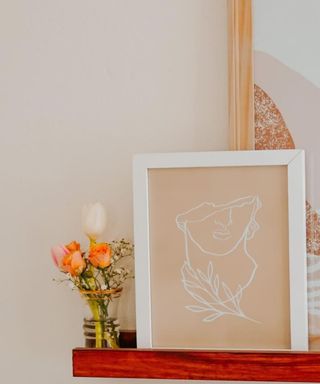 It can be easy to find dreamy decor on Instagram and TikTok — but what looks good in someone's larger home might overwhelm your smaller home. "Instead, curate decor items and furnishings that are proportionate to the scale of the space," explains Grace. "Avoid overwhelming the area with bulky pieces and opt for sleek, appropriately sized furniture and decor elements to maintain a harmonious balance." Decorative elements you could use include candles and throw blankets.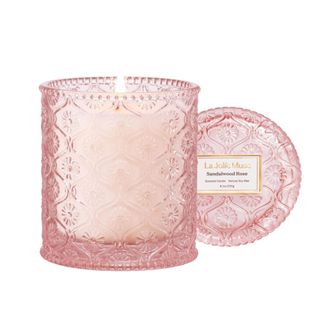 Amazon's choice
La Jolie Muse Scented Candle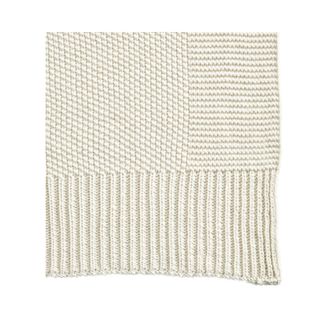 Oeko Tex certified
Better Homes & Gardens Throw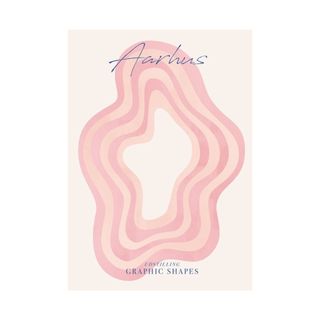 Danish pastel
6. Opt for translucent materials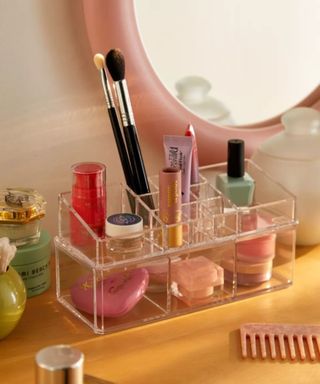 Bulky furniture can make a space look even smaller than it is. "You can avoid this by incorporating transparent or lucid elements, such as glass or acrylic furniture or acrylic decor accents," says Grace. These elements impart a sense of openness, allowing light to permeate while creating an illusion of space without compromising style.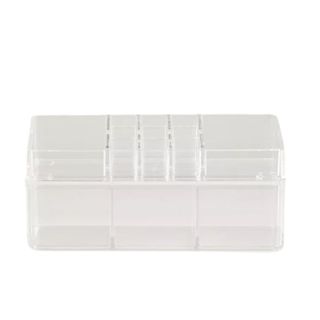 Stackable
Lori Acrylic Organizer Set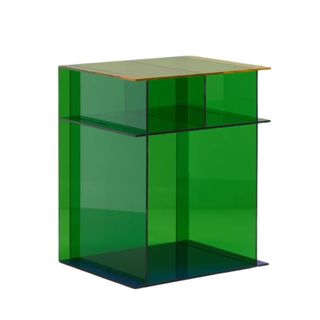 Wipe clean
Acrylic Bathroom Organizer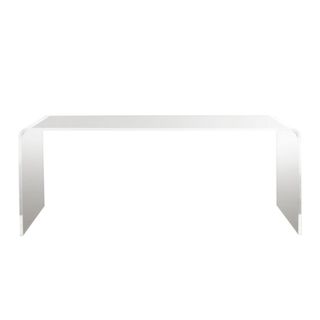 No assembly required
Safavieh Atka Acrylic Table
7. Choose customised home organization products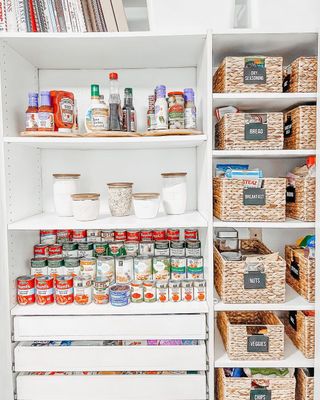 Making your space your own isn't just important in terms of decor but in terms of how you use it functionally, too. "Opt for organizational tools and essentials that help you personalize your living space in addition to keeping it decluttered and organized," says Giaquinto. From labeled boxes to monogrammed trinket trays, there are plenty of ways to use personalization to your benefit.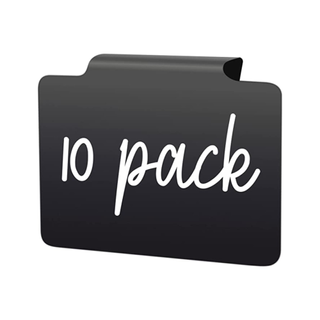 Clip on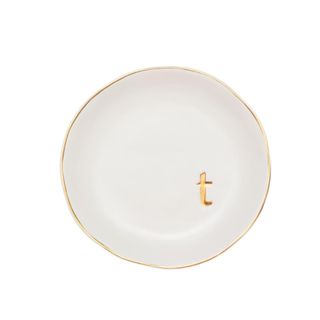 Comes in a gift box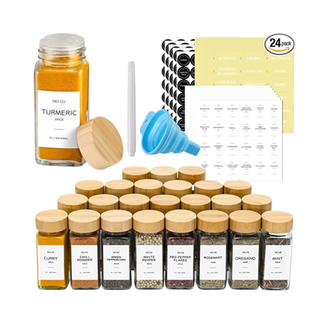 BPA free
8. Decorate with a neutral color palette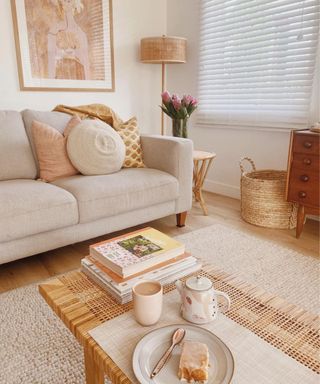 Neutral color palettes are timeless and are simple to work into popular design styles like Scandi. "Beige, tan, and white will all reflect light and help lighten up a small living room, as well as other places in the home," says Giaquinto. "All-white and neural tones are also easy on the eyes." Not only this, but for those who are renting and are stuck with white walls, sticking with a color palette that complements this will make decorating easy.
If you are a fan of color, you can still incorporate this in. "Go for light colors for open feeling, and add touch of strong shade here and there to give your house personality," suggests Kropovinsky.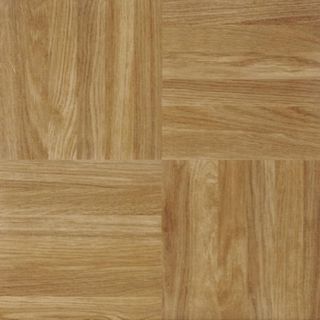 Peel and stick Pink undertones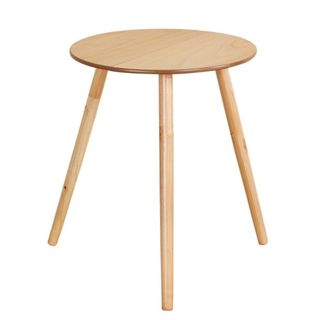 Natural wood
9. Play with woven and mesh textures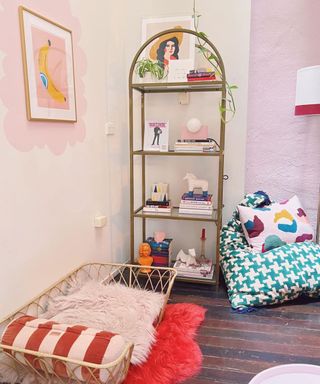 Eye-catching textures such as woven and mesh will add much more interest to your space than plain materials. "Using woven and mesh textures in each room will add depth to the space," explains Giaquinto. "For example, if you have a soft suede couch, add a metal wicker living room blanket." You could also use mesh storage solutions in your kitchen, to create a rustic farmhouse look.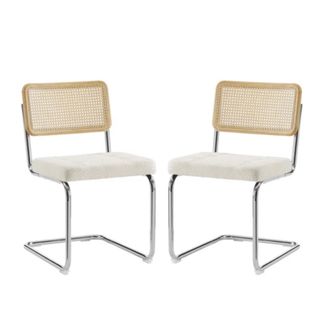 Hand-woven
Staple Hill Upholstered Rattan Back Chair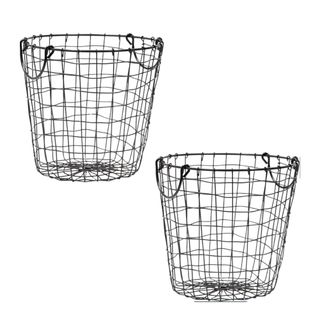 Multi-purpose
Farmlyn Creek Round Black Wire Baskets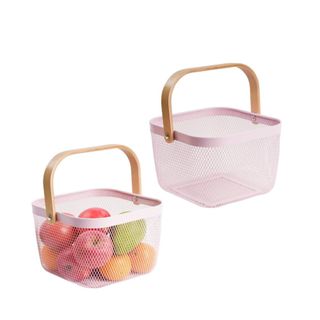 Multiple colors available
Sanhsehome Metal Mesh Steel Basket
10. Make use of all available space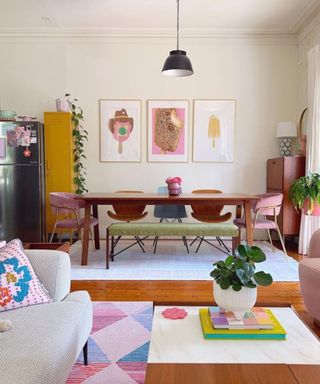 While it's important not to clutter your small space, don't be afraid to use as much of it as possible. "Are corners of your living room, kitchen, and bedroom bare and not serving any purpose? Consider adding custom-built shelving and other furnishings to maximize their capabilities," Giaquinto says. Even if you have an oddly shaped corner, learning how to fill an awkwardly sized small space will really benefit how you use your home.
FAQs
How can you design small spaces in interior design?
Make sure to keep the space uncluttered, choose furniture that works for you in multiple ways, and stay within one color palette in order to make the area look cohesive.
How to design a house with a small space?
Use multipurpose furniture to save space, decorate with neutral colors to make it appear brighter, and place mirrors opposite windows to make the whole room look bigger.
---
Ultimately, decorating with small space interior design trends and ideas are all about celebrating the home you have. "Embracing this canvas will allow you to bring in ingenious design, transforming diminutive areas into captivating havens of style and functionality," Grace finishes by saying.