Looking for luxury kitchen ideas? Well, let's just pretend you have all the money in the world for a second, what would your space look like? Would you invest in a luxurious breakfast bar, hand-painted cabinets or marble worktops, or would you opt for structural changes for a completely bespoke look?
We have scoured the world of luxury kitchens and gathered the most gorgeous and most ingenious design ideas to take your kitchen to the next level – whether you choose to invest in the real thing or emulate them with clever copycats.
And when you've finished daydreaming (we do understand that it may take a while), move on to more practical advice and realistic inspiration over on our kitchen ideas page.
1. Invest in bespoke cabinets that never date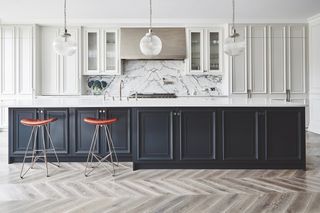 The most important – and often costliest – element in any kitchen is the quality of the cabinetry. How to choose yours? We say, a classic, detailed design showcasing quality materials and workmanship is always the best way to go. You can opt for a restrained Shaker-style design that will never date, or go as ornate and luxurious as you like.
Need more inspiration? We have a whole kitchen cabinet ideas feature for you to peruse.
2. Go for fully customisable, modular industrial fittings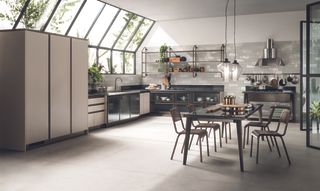 If you are coveting an industrial look, then bespoke is still the best way to achieve the luxury kitchen of your dreams. Mind, industrial needn't mean heavy-look or brutalist – with the right level of craftsmanship, an industrial kitchen can still look elegant.
Scavolini's newest kitchen has been designed in partnership with Diesel, and the designer credentials show. The fittings are made from modular steel tubes that can be customized and recomposed according to your needs. The industrial-style metal frame table is also part of the Open Workshop collection, and can be finished in a variety of materials, from quartz to granite.
3. Pick a bespoke marble worktop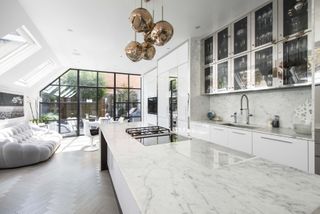 Marble worktops are one of our favorite luxury kitchen ideas. Why marble? Two main reasons: it looks incredibly elegant, more so any other real stone used for worktops, and it is always cool to the touch (due to its poor heat-conducting properties) – a valuable functional trait in a hot, steamy kitchen.
Want a marble lookalike or a different worktop completely? Find out more about the best kitchen worktops in our guide.
4. Install a one-of-a-kind splashback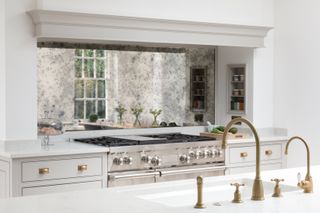 How about a kitchen that looks a bit like a luxury boudoir? The devil is in the detail: think gorgeous taps and a bespoke splashback.
This luxury Hampstead kitchen has been designed by Humphrey Munson and features a bespoke antique mirror-effect splashback, a Kohler sink with aged brass taps by Perrin & Rowe as well as the Parthian hot tap for instant boiling water.
Consider even more options with our kitchen splashback ideas.
5. Go for a kitchen island with an integrated wine cooler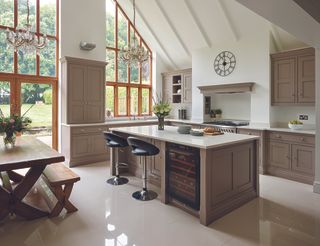 If you are looking for luxury kitchen ideas, chances are you already have a wine collection that's kept in either a cellar or a wine room. A wine fridge in the kitchen itself, however, is more convenient, especially when you simply want a glass of wine while you're cooking.
6. Make sure you have ample kitchen island seating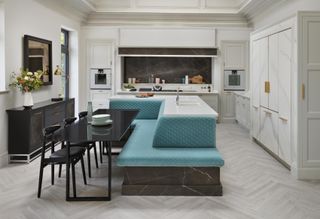 Easiest way to transform your kitchen into a chic kitchen diner? Add kitchen island seating. Bar stools are fine, but for a really elegant and streamlined look, we'd go with integrated seating.
This New Deco kitchen by Martin Moore features velvet-upholstered kitchen island seating, which completes the Jazz-era-inspired design scheme (and takes comfort to the next level).
For even more options, have a browse through our guide to styling a kitchen island with seating.
7. Pick handleless cabinets for a streamlined look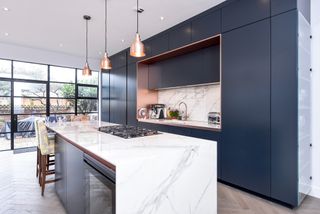 This gorgeous Kensington kitchen by Such Designs achieves its understated look by juxtaposing different finishes – the shiny worktop surface with the matt lacquer finish of the Rotpunkt kitchen cabinets. The clever handleless design completes the streamlined effect.
8. Switch to the hob to end all hobs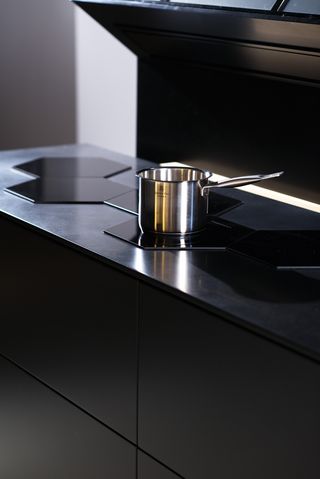 A kitchen, even a very luxurious one, is first and foremost for cooking. So, investing in a high-quality cooker and hob makes sense; it really helps if the hob looks great, too – after all, it's always on show.
The FX Carbon hob by TM Italia promises to turn 'food preparation into a futuristic experience' and features a digital console that allows you to control the concealed sink, concealed ovens, and even check emails. The uber-stylish beehive design is impressive, too. Available at Hub Kitchens.
9. For maximum impact pick an all-marble kitchen island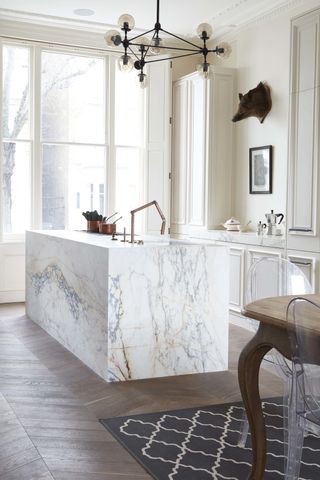 Kitchen islands come in a wide variety of materials and finishes, but for maximum design impact, nothing beats an all-marble island.
This kitchen by Blakes London has been taken to the next level with a marble island that showcases the unique veined pattern in the stone; luxurious yet understated.
See more kitchen island ideas in our gallery.
10. Let a bespoke structural feature take centre stage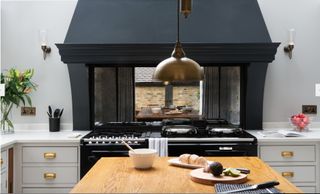 If you are ready to give your kitchen a complete transformation, consider a structural addition or alteration that will really pull the design together.
This stunning London kitchen designed by Humphrey Munson features a bespoke canopy that's been built specially to conceal the extractor – and accentuate the beautiful six-oven black Aga. The overall effect is dramatic and a touch Scandinavian – we love it.
11. Be bold with an all over colour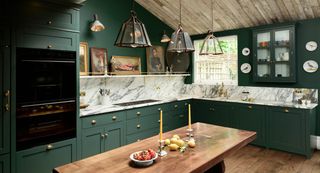 Want to add real oomph to a smaller kitchen? Our answer is: bold, all-over color. A great paint color will really bring out the quality of your cabinets – and bring to life other details, such as lighting and handles.
The Peckham Rye kitchen by deVol makes a truly stunning case for going bold with colour. We love the way the same color and finish has been applied to the walls and the cabinets, making the decorative elements of the kitchen stand out. The addition of marble completes the luxurious, eclectic look.
Ready to experiment with color? We have plenty of kitchen color schemes for you to check out.
12. Think practical with a double kitchen sink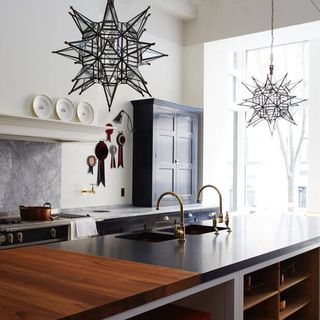 Two is better than one, trust us. Yes, it is true that a double-bowl sink can make washing up easier, and that one of the bowls can be connected to your rubbish disposal (handy if you peel a lot of veg on a regular basis). But for our money, the most convenient aspect of having a double-bowl, double-tap sink is the opportunity for two people to cook at the same time without getting in each other's way, or for one sink to be used for cooking, one for washing up. Perfect for busy households – or for teaching the kids how to cook, too.
This New York kitchen is by Plain English Kitchens. Clearly designed with consummate cooks in mind, not only does it have a double sink, but it also mixes work surfaces to cover every need and preference.
Make sure you buy the best kitchen sink with the help of our guide.
13. Treat yourself to a really luxurious larder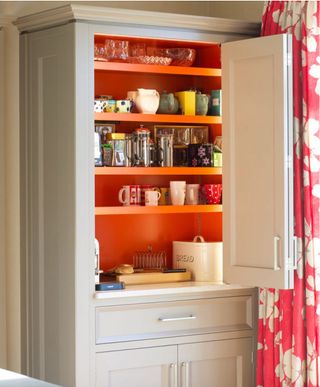 A good, well-stocked larder is a sure sign of a prosperous home; bespoke is best, as always, with a bespoke larder fitting in seamlessly with the rest of your cabinets.
See more freestanding kitchen ideas – from larders to kitchen islands in our gallery.
14. Pay attention to the details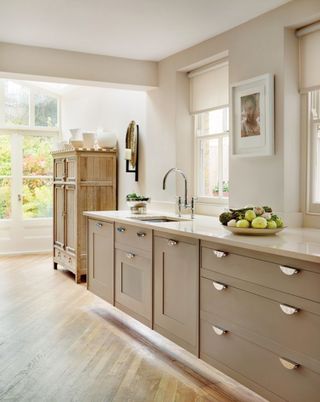 Attention to detail is key to a harmonious luxury kitchen design; put it another way: what makes just a kitchen a really beautiful kitchen is not just the big stuff. Think in terms of things that aren't the first thing you notice, but that contribute to the overall look and feel of the kitchen. Handles are one such crucial detail – the shape, size, and material should all bring out the best in your cabinets.
We think the beaten silver handles in this kitchen by Smallbone of Devizes are just perfect.
15.Choose an extractor that's a work of art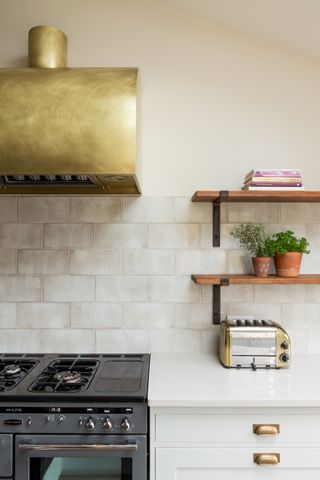 Let's face it, the extractor is not the most exciting of kitchen elements; which is not to say you have to settle for ugly. This polished brass extractor by Sola Kitchens is lustrous and beautiful, it could easily pass for a decorative piece.
16. Complete the room with sumptuous wood flooring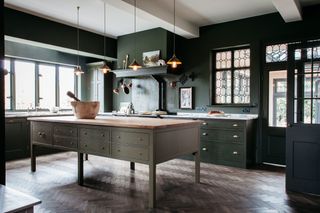 We think that nothing quite completes a traditional kitchen design scheme like wood flooring, especially if the kitchen opens onto a dining area or utility room. It is true that real stone flooring, or ceramic or porcelain tiles are more practical – but there is a warmth and elegance that is only achievable with wood. Do choose engineered wood flooring, however, rather than solid – it will better cope with the changes in temperature and humidity.
Find out more about choosing the right kitchen flooring in our guide.
17. Add softness with upholstered chairs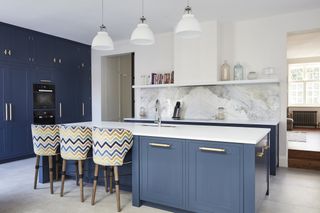 This is a luxury kitchen idea you can bring into any space – great dining chairs. Think roomy and upholstered, in a sumptuously textured material such as velvet. This two-toned kitchen by Blakes London is livened up with patterned upholstered chairs by Libby Avigdori..
Don't miss our selection of the best traditional dining chairs and best contemporary dining chairs.
18. Change the game with a range cooker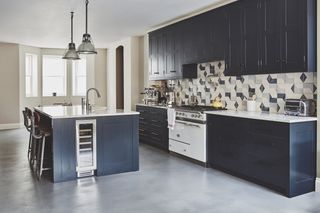 A really high-quality, beautiful range cooker can rightfully take center stage in a kitchen. To really show off yours, go for a contrasting color to the rest of your kitchen. Find out more about the best range cookers in our guide.
19. Pick a smart window treatment to complete the look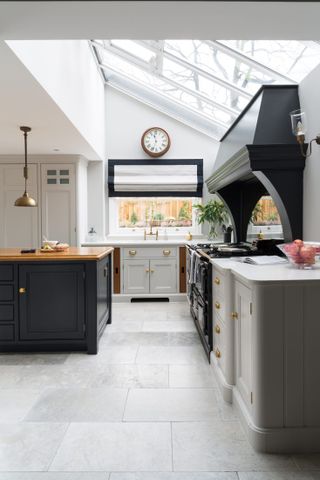 Of course, many kitchens look just fine without any window treatments, and you may well want to make the most of a nice large window and the light it brings in. But what if your kitchen faces a busy road – or, conversely, a dull fence you don't fancy looking at? That's where a smart window treatment comes in handy. A blind is the most practical and elegant option for the kitchen.
For more inspiration, browse our kitchen window ideas.
20. Blend kitchen and living space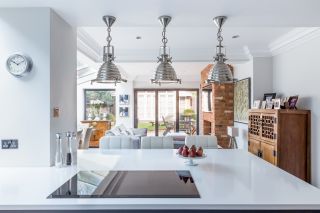 If your home is open plan, or if you like spending time in your kitchen, rather than just cooking in it, consider creating a luxury kitchen design that borrows from, or blends in with living room decor. The Frillen kitchen by Sola Kitchens features an airy breakfast bar area that links the kitchen to the open plan living area.
Find out more about open plan kitchen ideas in our feature.
21. Get a countryside vibe with open shelves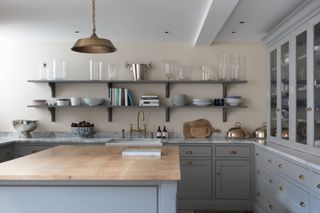 Want to introduce a bit of countryside charm into your luxury kitchen? Elegant open shelves are a great way to create a lived-in, slightly busier look than a wall-to-wall cabinet design will permit.
Find more about country kitchen ideas in our guide.
22. Find a sleek storage solution for fruit and veg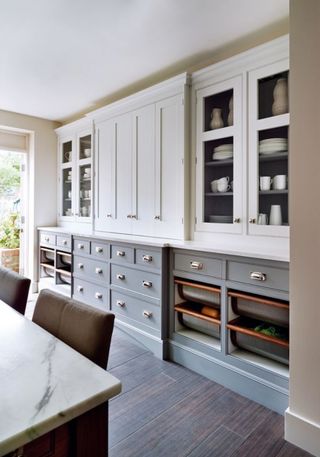 Even the most luxurious kitchen needs to be functional. Keen cooks will know that a lot of fruit and veg do much better when stored out of the fridge, but how do you store your veggies in a sleek and smart kitchen?
Smallbone of Devizes have found a practical and good-looking solution in this kitchen – bespoke crates that slide right into the open cabinet shelves.
Find more kitchen storage ideas in our guide.
23. Obviously choose gorgeous lighting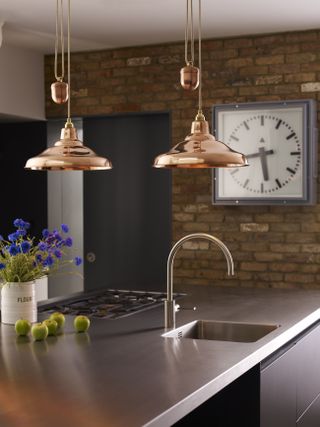 The kitchen is where you can really showcase gorgeous pendant lighting, from one-of-a-kind reclaimed industrial pieces to bespoke designer chandeliers. We are very fond of these shiny Rise and Fall school pendant lights by Davey Lighting.
24. Mimic a Victorian style (but still luxurious) kitchen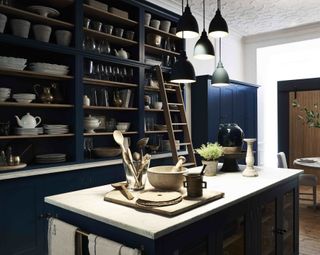 And for lovers of traditional kitchens, a dresser or open shelving is a great way to add a homely, lived-in touch to your luxury kitchen. This Victorian-style luxury kitchen cleverly combines fitted shelving units painted in a deep midnight blue with atmospheric kitchen lighting.
Find more design inspiration for country kitchen ideas in our guide.
25. Site your kitchen in a former living space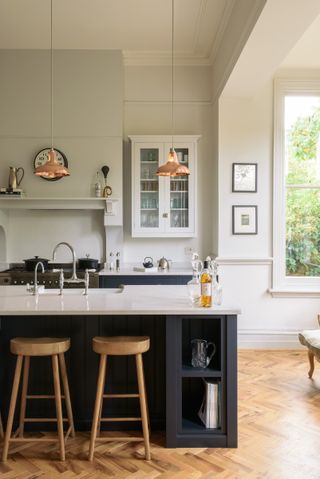 If moving your kitchen to what is currently a living space gives you the statement room you are after, it's really worth considering – especially if you can convert the existing kitchen into a reception room so that a separate living space isn't sacrificed.
If yours is a period style home, pick a kitchen cabinet design that flatters the room's decorative and structural style – a simple Shaker kitchen will work in most period homes.
For more Shaker kitchens, see our design gallery.
26. Add warmth with a copper splashback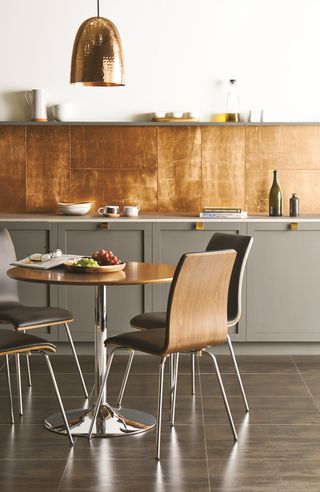 It doesn't get more luxurious than metallics in a kitchen. You could choose cabinets in a metallic finish, glamorous metallic worktops or just pick out some statement metallic accessories, but we love the idea of a copper splashback. In this luxury kitchen, the splashback is made up of copper leaf glass tiles.
Copper obsessed? As are we, so you should definitely check out these stylish copper kitchen accessories.
27. Create a relaxed space with a window seat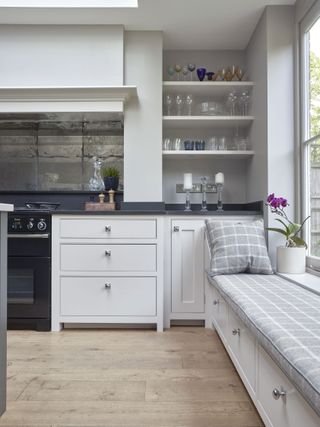 If you have lovely large windows in your kitchen, adding a window seat would be perfect for creating a more relaxed area. And no, you don't actually need a bay window to re-create this look. This space was designed by Higham Furniture and the seat has been built in front of the window, adding a cosy place to sit but also plenty of extra storage underneath the seat cushion. It's a lovely way to get some softness and pattern into a more luxurious kitchen.
More inspiring ideas: