The original cost-effective alternative to hardwood floors, now you can rely on the best laminate flooring to save you money, without compensating on style either.
Made from composite wood, all types of laminate flooring are easy to clean and maintain, with the most up-to-date designs almost indistinguishable from real wood. Best of all, installation is an achievable DIY job. It's no wonder that laminate is one of the most popular types of flooring materials out there. Paul Hambidge, founder of Factory Direct Flooring says, 'Laminate products have come a long way since the first product generation and now great value can be achieved in all budget brackets.'
'Laminate still remains a great option for those wanting wood or tile effect flooring, DIY or professional installation, for high traffic or low moisture areas. Laminate flooring offers easy maintenance through brushing, vacuuming and damp mopping, and can be found in a great number of plank size, thickness, texture and installation options, including click. The designs and textures are realistic, it's incredibly UV resistant and the composition thicker – which can be forgiving on variations in sub-flooring. The wide range of DIY options means it can suit various budgets.'
How can you tell good quality laminate flooring?
Why you can trust Real Homes Our expert reviewers spend hours testing and comparing products and services so you can choose the best for you. Find out more about how we test.
Laminate flooring is usually graded by AC rating, which is a measure of durability and therefore, good quality. AC1 is the lowest rating indicating that the floor type is sensitive so intended specifically for use in low traffic areas, where as AC5 is heavy duty and fine for higher footfall environments, including commercial use.
'AC5 laminate is a suitable type for all wear areas in the home or office, and offers good value for money.' Adds Hambidge. 'Factors such as use of room and whether it will be subject to high moisture levels should be key consideration when choosing any flooring. Some laminate products can be well-suited to high traffic areas, but tend not to fare as well or in some cases be completely unsuitable for high moisture rooms. Always seek the supplier or manufacturer's advice if you're unsure, but a good rule of thumb is to spend as much as you can afford to get the best product for your project.'
Additionally, you'll want to look out for the finish of the laminate itself to ensure it's a realistic imitation of different types of wooden floors.
Which type of laminate flooring is best?
The best laminate flooring depends on a number of factors and ultimately how well the product is designed to suit your home and budget needs. If you're installing laminate flooring in the bathroom, you'll want something waterproof and if it's for the kitchen, a water-resistant product with a high AC rating will be best. Hambidge says, 'Laminate flooring products now come in such a wide variety of designs, colouways and plank sizes so the options are infinite and can be decided by style or design, or price. Most laminate flooring products are click installation, so are great for DIY installation, which keeps the option comparatively lower across the flooring types.' These are some of our current favorite laminate flooring buys:
Mohawk Hickory laminate flooring: Moisture-resistant, available in realistic hardwood finishes – honey and shadow oak – easy to DIY install with Uniclic, scratch and dent-resistant. This type of laminate is ideal for medium traffic rooms like dining rooms, bedrooms, basements and living rooms.
Pergo Defense+ laminate at Home Depot: Oak effect with a matte finish, antimicrobial, waterproof and approved for steam mopping (a big bonus!) this laminate will work well in kitchens and even the bathroom. Costs starting at $2.99 /sq. ft, this is a good find for families with kids and pets in tow.
Mannington restoration collection at Wayfair: Waterproof with a beautiful
chestnut finish complete with wood knots. This has an AC4 rating, is scratch, UV and stain-resistant with Click-Lock installation.
How much does laminate flooring cost?
Laminate flooring can cost as little as £6m²/$1.40 per sq ft for the most basic 6mm thick planks from an online flooring dealer, or a high-street DIY warehouse. If you're going for a better quality option, usually 8mm to 12mm, look at paying around £14m²/$48.20 /case.
As a general rule, when it comes to laminate, you get what you pay for. Laminates at the budget end of the market are often too smooth, too shiny and unrealistic-looking. Cheaper options also have a tendency to peel, warp and stain because of the sub-standard materials used to make them.
More expensive options feature realistic grain finishes, embossing and bevelled edges to achieve a more authentic look. Good-quality laminates are durable, stain, scratch and moisture-resistant, while still being more cost-effective than solid wood options.
Another factor that impacts on the cost of laminate flooring is the warranty. Usually, the more you pay, the more confidence the manufacturer has in the product and the longer the warranty will be.
Can laminate flooring be laid over underfloor heating?
Most laminates are appropriate for use with underfloor heating, but make sure this is specified by the manufacturer to avoid damage or inefficiency before you buy. It's also important to ensure you have the right underlay.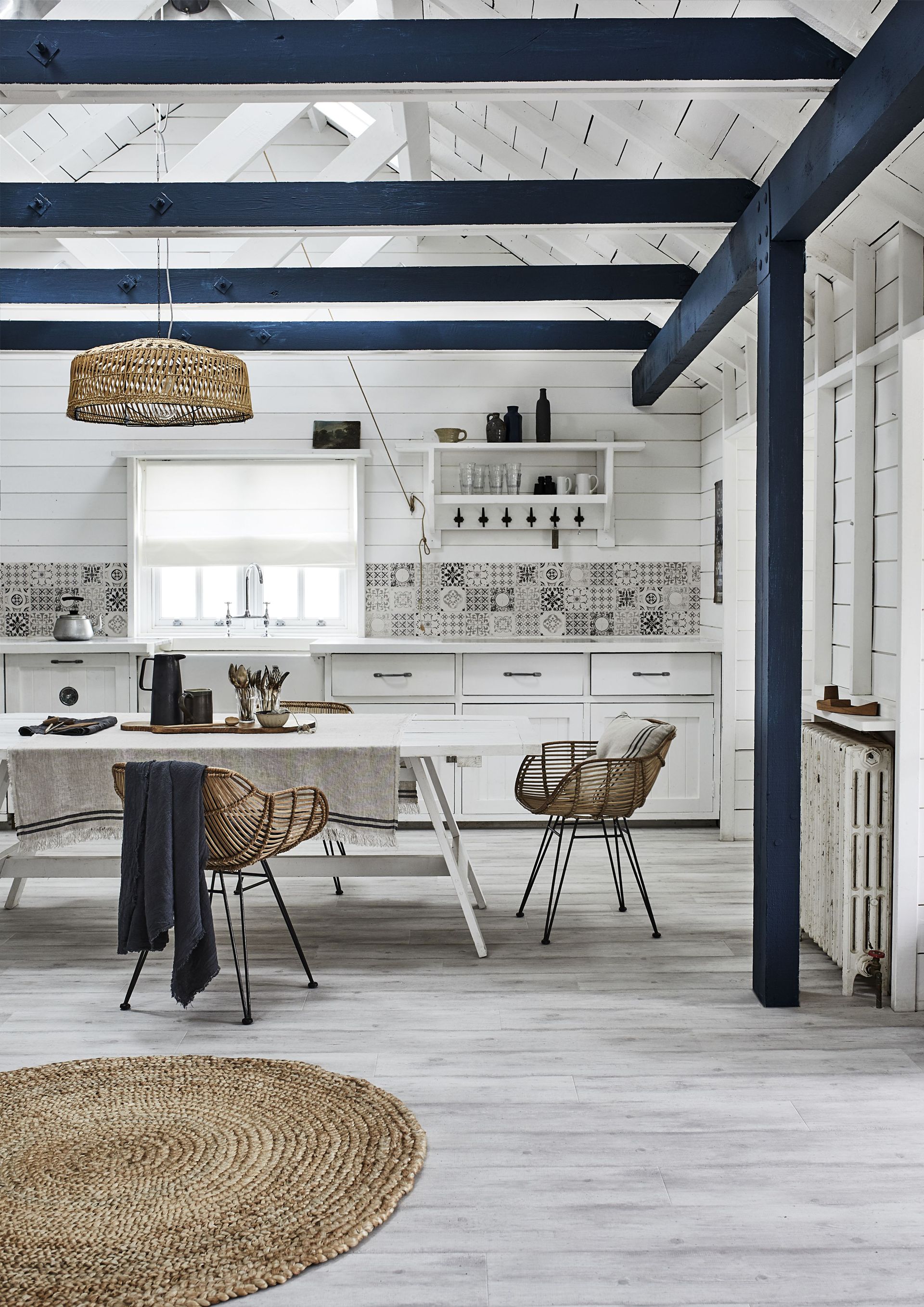 Where can you lay laminate flooring?
There is a laminate flooring on the market for every room, whether it's a high traffic area such as the kitchen, or somewhere that needs waterproofing, for example the bathroom.
If you are decorating a bathroom, ensure that your laminate has a waterproof core and is correctly laid and sealed to prevent rot and mold. Thicker laminates can be deployed in high traffic areas such as hallways and landings.
If you are planning on putting heavy furniture on top of your laminate floor, consult a contractor and invest in the right underlay to prevent damage.
Ease of installation
It is possible to install laminate flooring yourself, as manufacturers have developed simple, stress-free interlocking systems so that laminate flooring is quick and convenient to lay.
That said, if you're looking for a quality finish you might want to employ a professional fitter, especially if you are installing in a bathroom where the work may be more technical.
The National Institute of Carpet and Floorlayers is a good place to start if you're in the UK. It also pays to ask the dealer that you bought your floor from as they often keep the details of recommended fitters in the area. Fitters will often offer their own warranty on top of the manufacturers warranty.
Maintaining your laminate floor
Your laminate floor's manufacturer should give you aftercare instructions and may recommend a particular cleaning product. If not, there are lots available in supermarkets and DIY stores, like the best wood floor cleaning products and more.