Want to design a kitchen that's eclectic and loveworn, or retro with a dash of playfulness? The term 'vintage style' can mean different things to different people; there is no established design formula. There are, however, a few simple guidelines that will help you to evoke the right atmosphere.
What is vintage style?
The one thing that unites all kitchens in this style is that they reflect a sense of nostalgia – looking back to simpler, wholesome times and happy childhood memories. This makes mastering the art of display crucial. Quirky, boldly coloured appliances, rustic beaten-up tins, crates and utensils, chintzy mismatched china, copper pots and pans, and other vintage kitchenalia should all be proudly displayed. Place on open shelving, in glass-fronted cabinets – which should not be lined wall to wall – or hanging on hooks. Old crates repurposed as shelves look fantastic.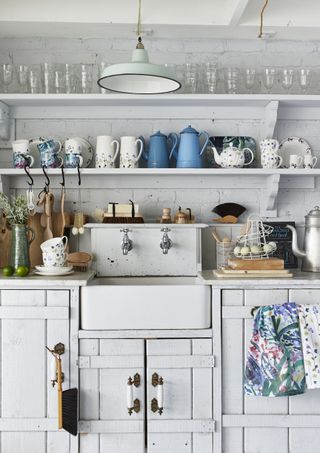 Choosing cabinets for a vintage kitchen
The best vintage kitchens let the accessories do the talking, so ideally keep the units simple, and top them with timber work surfaces. Solid wood cabinets, left bare or painted pastel or muted shades, with rounded timber door knobs, create the right level of laid-back charm.
For a more retro look though, nothing beats original aluminium English Rose units – a classic design produced throughout the 1950s. Made from top-quality materials after World War II, in factories that made parts for Spitfires, they are a perfect example of great British engineering, and reclaimed units are very desirable (try source-antiques.co.uk).
Alternatively, John Lewis of Hungerford produces a spot-on vintage kitchen.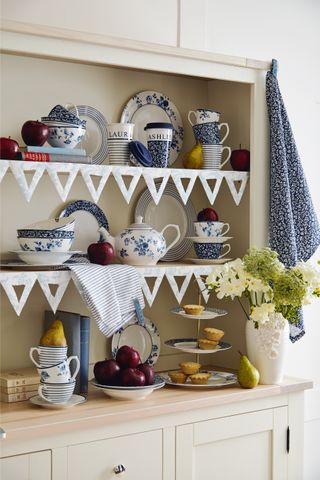 Mixing new kitchen cabinets with old finds
One thing a vintage-style kitchen should never be is perfect: a bit of wear and tear only adds to the charm. Do not distress pristine units, but do pick up old worn furniture (check it is structurally sound) from flea markets or antiques fairs – perhaps an old dresser on which to display china, or a farmhouse table and Windsor chairs. Mismatching the chairs creates a sense of evolution; paint chairs in different colours and rub the edges with sandpaper for a pretty, shabby-chic effect.
Investing in retro appliances
Appliances in most vintage-style kitchens tend to be very Fifties inspired, in bold or pastel colours with soft, curvy edges. For a unique refrigerator, try The Retro Fridge Shop, which creates retro appliance housings to install your choice of integrated cooling appliance in. Original vintage fridges can be also refurbished, making them fit for the 21st century (try thevintagefridgecompany.com).
Finding fabrics for vintage kitchens
Fabrics are key to adding warmth and texture to the look. Opt for blinds, curtains (and, as an aside, shutters work, too), tablecloths and tea towels in brightly coloured floral prints; classic combinations include bright reds, pinks and aqua or you could opt for more Fifties-style pastels, such as yellow, blue or green. Finish the look with a retro oilcloth and mismatched chair cushions.
More vintage inspiration: