The greatest garden room ideas will see you enjoying a natural extension of your home, all without the hassle and costs of actually extending a house. It's no secret that we've all been spending more time at home, and with that comes the need for extra room for both a more comfortable and productive setup.
Contemporary or vintage looking garden rooms will not only visually enhance your outdoor space but, they have endless practical perks too. Creating a nice bit of separation, a little luxury, whether you want a small garden room hidden in an unused corner of land, or a Shepherd's hut acting as your full time office space, there's so much you can do. With modular rooms of all shapes, sizes, specs to choose from, you're sure to find a look that will suit your needs and budget too.
1. Squeeze a small garden room into a lost corner
Choosing a small garden room to fit into a corner of your outdoor space is the perfect way to max out the space you do have. Go for something minimal and modern like The Hub corner studio by John Lewis & Partners, designed exclusively and in collaboration with Crane Garden Buildings. Built from FSC-certified northern Scandinavian redwood, finished with a dark micro-porous paint and complete with floor-to-ceiling glass panels, this model will ensure that you can enjoy views of the garden from a light-filled and modern feeling garden room.
2. Pick a modern garden room pod, that's tinted
Quite possibly one of the coolest modern garden rooms going anyhow, make it tinted, and well, that's a pretty grand design statement. This contemporary garden room pod will add a futuristic feel to every garden space from the outside, while inside you'll enjoy panoramic views as you entertain and/or chill out.
The Delux Summer House Sphere by Farmer's Cottage at John Lewis is made from waterproof laminated pine with bronze-tinted windows to reflect glare, a stainless-steel roof that reflects heat to keep the interior cool, and a sliding door so that the capsule is fully sealed.
3. Install a modern-looking shepherd's hut
It might have the look of a place to keep stray lambs warm, but this is a sophisticated new take on a shepherd's hut.
Plain Huts are contemporary garden rooms that are snug, waterproof, insulated with closed-cell foil-backed insulation and clad in cedar. Inside, they're light and airy – just right for curling up with craft projects. Add power via a lead or generator, or the hut can be designed for solar power and leisure batteries or an LPG gas supply.
4. Make a glass garden room a stylish studio
There's nothing quite so chic and studio-esque as a glass garden room. And as working from home doesn't mean cutting yourself off from the outside world, making sure that your contemporary garden room cum garden office takes in all the views of your outside space, with floor-to-ceiling glass is a must.
5. Go for a modular and jazzy garden office
Contemporary garden rooms used as work spaces need not be visually intrusive or even resemble a traditional home office. Choosing a single module like this one with a unique timber structure and cool colour scheme is sure to add energy to your working from garden day, every day.
6. Add an artist's cabin
Ann Knonhelmer created the perfect artist's hideaway for illustrating, which she would mainly do from home, with this cabin-like garden room. Note the surrounding planting and small kitchen garden also which not only add a lovely view from the inside, but help create more privacy also. This was purpose built with help from an architect in the end after realising that a lot of digging and hard work was going to be involved had Ann built this from scratch with a friend.
7. Fit out a smart and multi-functional space
A contemporary garden room or garden office needs adequate space to make it multi-functional, and this insulated Quarto-size Suffolk Barn fits four desks, storage and a meeting area, but it would also make a great yoga space or leisure room.
Ready to connect to the mains for year- round use, this pressure-treated spruce/pine wood barn with weatherboard finish measures H320cm x W433cm x D312cm.
8. Stay close to nature with a timber garden room, built to spec
Choosing a garden room that is made from sustainable materials, like timber, is a great way to keep the colours of your garden room in tune with your outdoor surroundings, while also minimising your environmental footprint in the process.
A timber frame garden room that can be constructed in any shape, size and wood type will allow you to in keep with your garden's style too. Whether you want French doors and double windows, painted plywood interior walls and a tiled pitched roof – you could have it all.
9. Make yours a kids play space
Proof that garden ideas for kids go further than hopscotch! As a mini extension of your home, what better way to use a smaller garden room than to house noisy little rascals and their playmates? This design from Green Retreats makes the perfect addition to smaller outdoor spaces that still could benefit from all the style and practical value that a garden room adds.
10. Make your contemporary garden room a pool house
Whether a place to unwind, storage for furniture or simply a practical pool-side space, this contemporary garden room from Vale Garden Houses has a gable front, terracotta tiled roof and inset glazed rooflights, plus bi-fold doors for a wider entrance.
11. Choose sliding doors luxury
Everything about this contemporary garden room oozes luxury. From the beautifully refined finish of the landscaping materials used, to the sliding doors and stunning garden room interiors, recreate the look in your modern garden and create the swankiest retreat ever, completely fit for stylish outdoor living.
Inside, the fire and seating area turns a simple glass structure into an inviting garden lounge. Insulated on two-and-a-half sides, this cedar building by IQ Glass features slim-framed sliding doors with an almost frameless effect, creating a stunning panorama even when closed.
12. Add structure in small gardens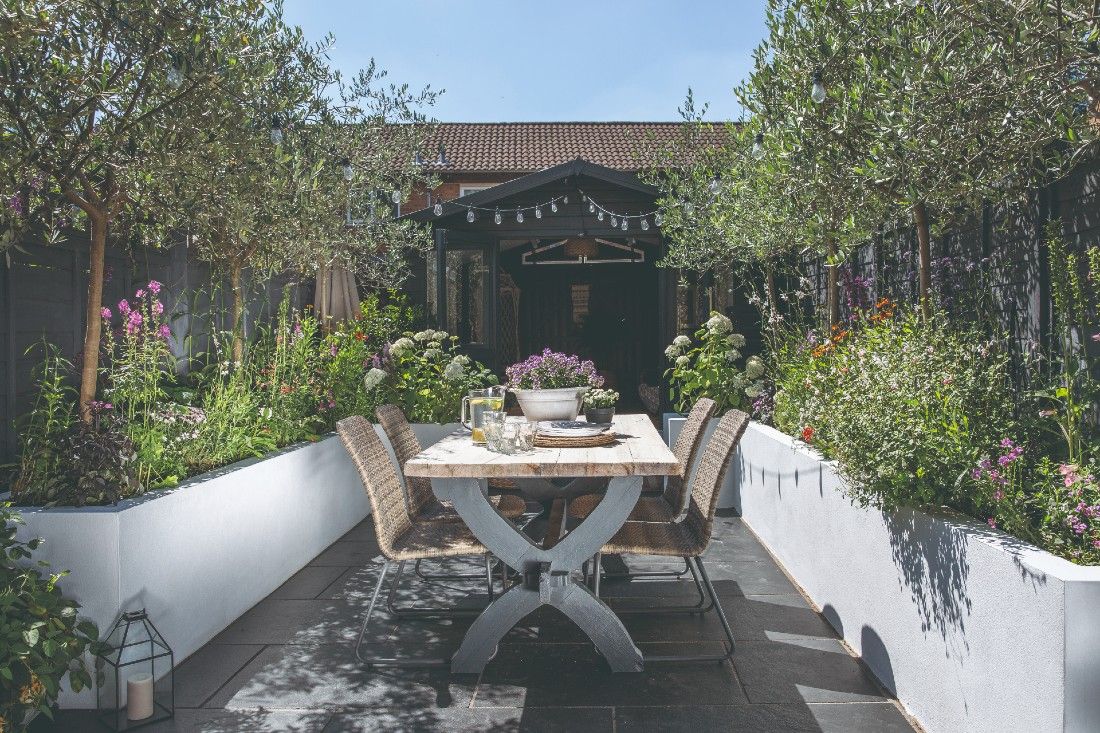 A great way to add impact and frame even small garden spaces is to keep your garden room central to surrounding raised garden borders. This will help create a refined and inviting structure outdoors. Having the outdoor table almost extending out from the garden room opening gives this fairly small space the perfect amount of drama.
13. Make a garden room gym blend in with your surroundings
Painting your garden room a shade of green, – or another colour that's very present in your garden – to help camouflage it, will help the structure sit more naturally within your surroundings. Perfect for simple garden settings, and especially for those who aren't completely sure about the addition of a garden room in the first place!
This garden from Scotts of Thrapston, in pressure-impregnated green-stained European redwood, has double-glazed doors, windows and a tongue-and-groove interior painted in Buttermilk.
With its hardwearing varnished floor, it's ideal for a workout space. A mineralised felt and felt-tiled roof with veranda-style overhang keeps the weather at bay.
14. Convert your garage into a luxury garden room retreat
Jane and Martin Peace replaced a dilapidated garage with a very jazzy garden room, complete with a sauna and garden bar. This was an ambitious project, but totally worth it. They chose a large standalone timber structure for a contained building complete with open plan living space and its other luxe features.
15. Paint your garden room to match your deck
Amelia Wilson has a painted garden room, in blue, which makes it a seamless addition to the decked space. Decorate the surrounding space with plenty of garden furniture and plush accessories to extend your garden room's space further to create a cosy outdoor living area.
16. Line it with your garden's walkway
To make your garden room even more accessible, line it with a gravel or other type of garden path. Marrying both style and function again, this garden room has a sloping roof and extends from all sides. Plus, the wrap-around door and window sets naturally enhances the look of this gorgeous structure.
17. Keep your garden room on wheels
A great garden room idea for renters, or for those who envisage moving house in the coming few years, having a garden room (hut in this particular case) that is portable, is not only very charming and 'Little House on the Prairie'-esque, but also, just really functional.
This new-build, rustic-style contemporary garden room makes a striking addition to a garden and still has a trad touch about it – but with all the mod cons. With a pine tongue-and-groove interior, and finished in corrugated tin or cedar wood, huts from Cotswold Shepherds Huts start from £10,000. Electrics can be supplied.
18. Add concertina windows for zero distractions in a garden office
When you're designing a garden office you need to think about how to make the best use of the space. It's likely that you'll need storage, a couple of shelves and more to make your garden room inviting and functional on the inside, so choosing concertina windows rather than floor to ceiling windows will be a wise (and stylish) move. David Nossiter Architects created this modern garden room as a peaceful space for an author so if you need to concentrate, this is the garden room for you!
19. Zone in a big garden room
If you've got the room, use it! Having a garden room large enough to zone an outdoor kitchen area, seating spot and more, is the ultimate dream. And, as we know how unpredictable the British weather can be, adding a BBQ is a fine way to make use of shelter, while you'll still get to enjoy an open plan and airy setting.
The clever Camargue Louvered Canopy by Garden House Design will be a joy to have in summer, and will still perform just as well in cooler months.. Its aluminium frame can be equipped with windproof sun protecting screens (which can cover the whole structure, making it completely enclosed), or sliding doors, or panels, or a combination of all three. From £12,000.
20. Go industrial chic with a converted shipping container
Like the industrial trend? Used in everything from extending a house to living room decor, industrial chic is defined by strong, graphic lines and the use of heavy duty materials. The contrast against the green of the garden provides the perfect amount of drama to make this space really cool and inviting. And now there's a way to bring some of that edgy style to your garden, with a garden room made from a converted shipping container. Basic shell with UK delivery from £8,995.
21. Invest in a tailor-made outdoor kitchen
If you've a passion for feasting al fresco, push the barbecue aside and go for a full-on kitchen in the garden. Kitted out with a grill, fridge and sink, it will be a godsend when the heavens cloud over. Install heating and it will get good use in the cooler months, too.
Ar'Chic designed this garden room for a home-owner who is obsessed with Mediterranean cooking. Glazed panels open entirely, revealing a kitchen that doubles as a games room, reading room or office. The 28 sq m steel-framed module has gas radiant heaters concealed in the roof overhang. Cost, from £80,000.
22. Add a green roof to a garden room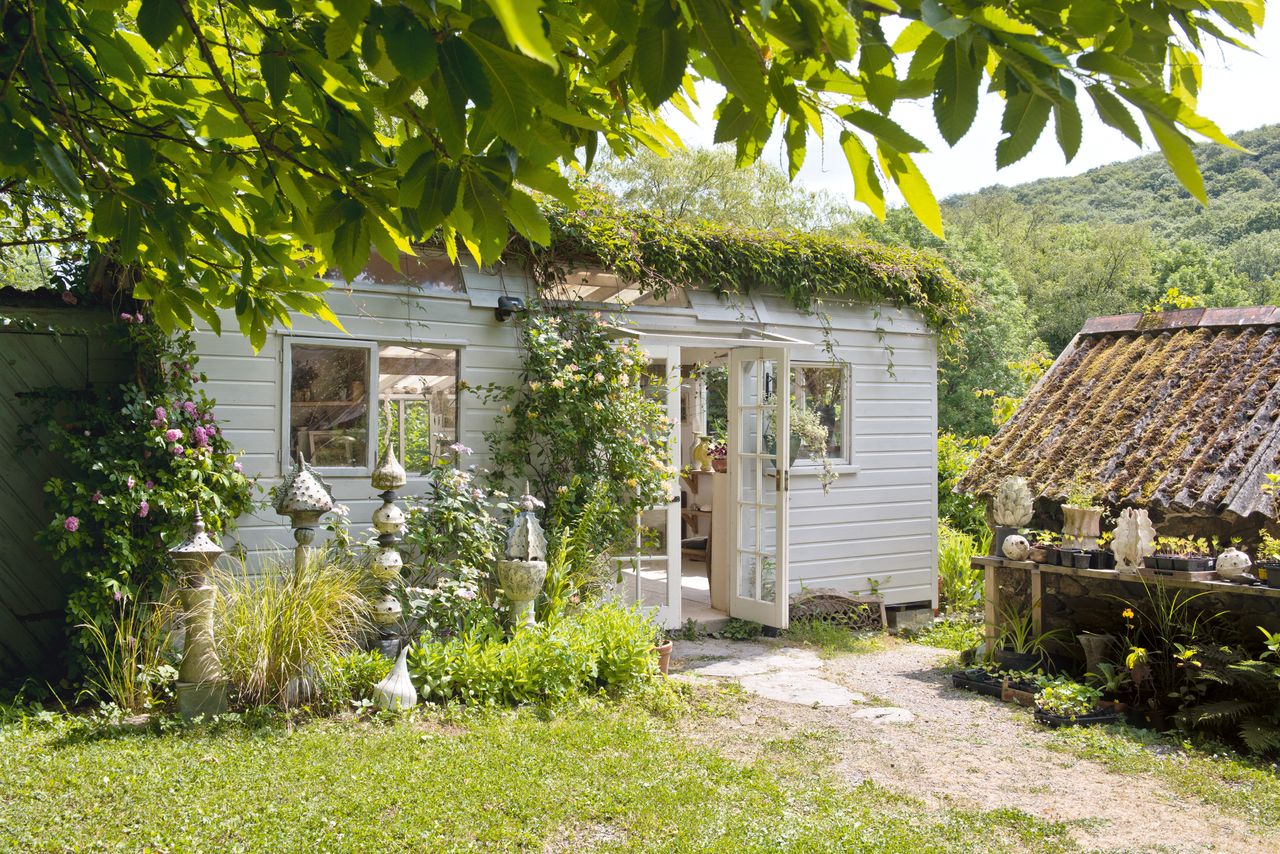 As a general, the overall design of your garden room should complement that of your home (and garden). If it isn't practical to mimic the gradient and angles of your home's roof, exactly, and if you want a bohemian and wildlife-friendly finish to your structure instead, then you might could consider a lush living roof. Build it so that it slopes gently towards the house and you'll be able to enjoy the foliage, flowers and wildlife from indoors too.
if you're going through a supplier, ask if they can create a this as part of the package – if not, there are plenty of specialist companies who can; all you'll need is a watertight roof construction that can take the weight.
23. Or, bring the outside in to your garden room
Your garden room interior design is mightily important and choosing a style that complements your garden and even your main home will help make the transition seamless and stylish. We love the tall indoor plant inside this garden room, alongside the tongue-in-grove panelling which continues onto the garden room's decking area, as it creates continuity and a really contemporary feel. The Hub Garden Studio by John Lewis is the perfect spot for entertaining in.
Garden room plans and installation
Contemporary garden rooms are usually sourced via specialist companies that tend to offer a full installation service, but you may need to find a reputable tradesperson to build an off-the-peg design. Having a power supply fitted will enable you to install lighting and run appliances – perfect when the sun goes down. Route power from your home or consider solar roof panels to provide electricity without the expense of cabling being installed around the garden.
Ask your supplier to discuss any changes in the build, and associated costs, before going ahead. Finally, if your garden room will store items through the winter, remember to include security measures, such as casement windows and sturdy lockable doors.
Does a garden room add value?
We spoke with industry experts Green Retreats who recently carried out a Q&A with some property specialists to understand whether garden rooms actually add value to a property, and the short answer is yes – garden rooms do add value! 'Garden rooms can add 1.5x their value to a home depending on the quality of the build, therefore covering the cost of the installation. Luke Jackson at Micheal Graham estate agents has found that "Not only does a garden room attract more buyers to your property, but a high-quality garden room can also boost the value of your home by 5% to 15%". Robert Ellis of Nutbrook Property said: "I would estimate that the value-added would be about 1.5x the cost of the building installation. The convenience value is also significant and must be considered for homeowners."
Can you use a garden room as a bedroom?
'A garden room used as a permanent bedroom would need planning permission approval and building regulation sign off. The beauty of garden rooms as an extension to your home is that they are cost-effective and hassle-free to have installed at your home. Planning permission is generally not required for a garden room because by design they fall within your permitted development rights (should you have them). The use of the building is a factor into your permitted development rights, and many councils state that using an outbuilding as accommodation is not allowed – unless planning permission and building regulations are passed.'
The modern way to update a garden 🙌