If you want to learn how to paint decking yourself, you'll be pleased to know that this is a job even a DIY beginner can tackle. Painting a deck is easy as long as you follow a few simple rules and allocate enough time for the project. The more time you spend painting your deck the better and longer-lasting the result will be, so we recommend giving it a full (dry) day on a weekend.
Of course, choosing the best decking paints is essential. A dedicated decking paint will adhere to your decking wood properly, last a very long time, and protect your deck from moisture and UV rays. Once you've chosen the paint you like, it's a matter of a few simple steps outlined by professional painters.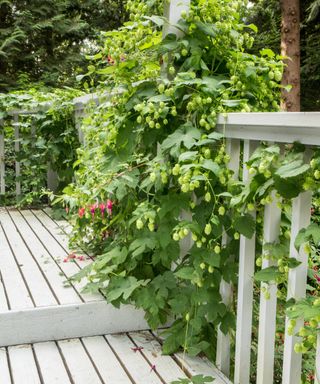 How to paint decking
You will need the following (most can be bought on Amazon):
1. Do a paint patch test
Paint often looks different once you've applied it, to the way it looks in pictures/in the can. It's a good idea to do a test the paint before you commit to the color you've chosen. Jan Walter, is a professional painter with over 20 years of experience and founder at Gocolorize.com. Walter has painted many decks in his career so trust his advice to 'paint a few test boards first to see how the paint looks and feels before you paint the entire deck.'
2. Roll on the paint
Once you're certain you're satisfied with the color and finish of your chosen decking paint, it's time to get going with the paint roller.
Using your roller, start painting. You may find it easier if you pour out a little of the paint as you go along rather than constantly dipping the roller in the can.
3. Go over the boards with a brush
Rollers are efficient, but they can leave textured marks as you're using them. To get a truly even, professional-looking finish, Walter recommends going over the boards you've just painted with a paintbrush. It is extra work, but 'if you don't want the texture that a roller's nap leaves behind', it's the way to go.
If you have a large deck and the prospect of squatting with a paintbrush is daunting, Walter recommends taping your paintbrush to an extra extension pole 'so you don't have to bend over as much since that can get tiring and cause back pain.'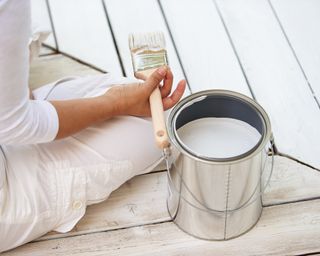 4. Paint in sections
'You should always paint in sections so that you can finish each section before the paint dries, so don't stop in the middle of a board because if you do there will be a visible line.'
5. Use the brush to cover the cracks and crevices
Once you've gone over the deck with a brush, it's time to zoom in on the finer detail of your deck. 'If you decide to roll the deck you'll still need to back brush the paint into the cracks and crevices of the decking boards that the roller can't reach.' Obviously, this is best done last as you won't see the bits you've missed until you've painted your whole deck.
Do I have to prime a deck before painting?
Priming your decking before painting it, isn't always necessary nowadays. Walter explains that 'some paints have a primer built into them so you don't need to use a separate primer, just check with the paint store before you buy the paint because the paint also needs to be compatible with a horizontal surface since rain might puddle and not drain properly.'
Niki Baker, who has over 15 years' experience in exterior painting, adds that 'most outdoor paints today are highly formulated as one application paint but please do not use interior wall paint on a deck as it will not hold up over time.'
If you do happen to have bought exterior paint that doesn't have a built-in primer and are repainting an old deck, Walter advises that so long as you 'have scraped off the loose and flaking paint then you only need to prime the bare spots where the paint has been removed down to the wood.' That way you can do the best decking ideas and decorative looks justice.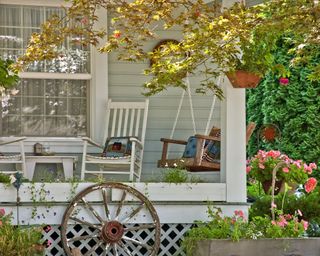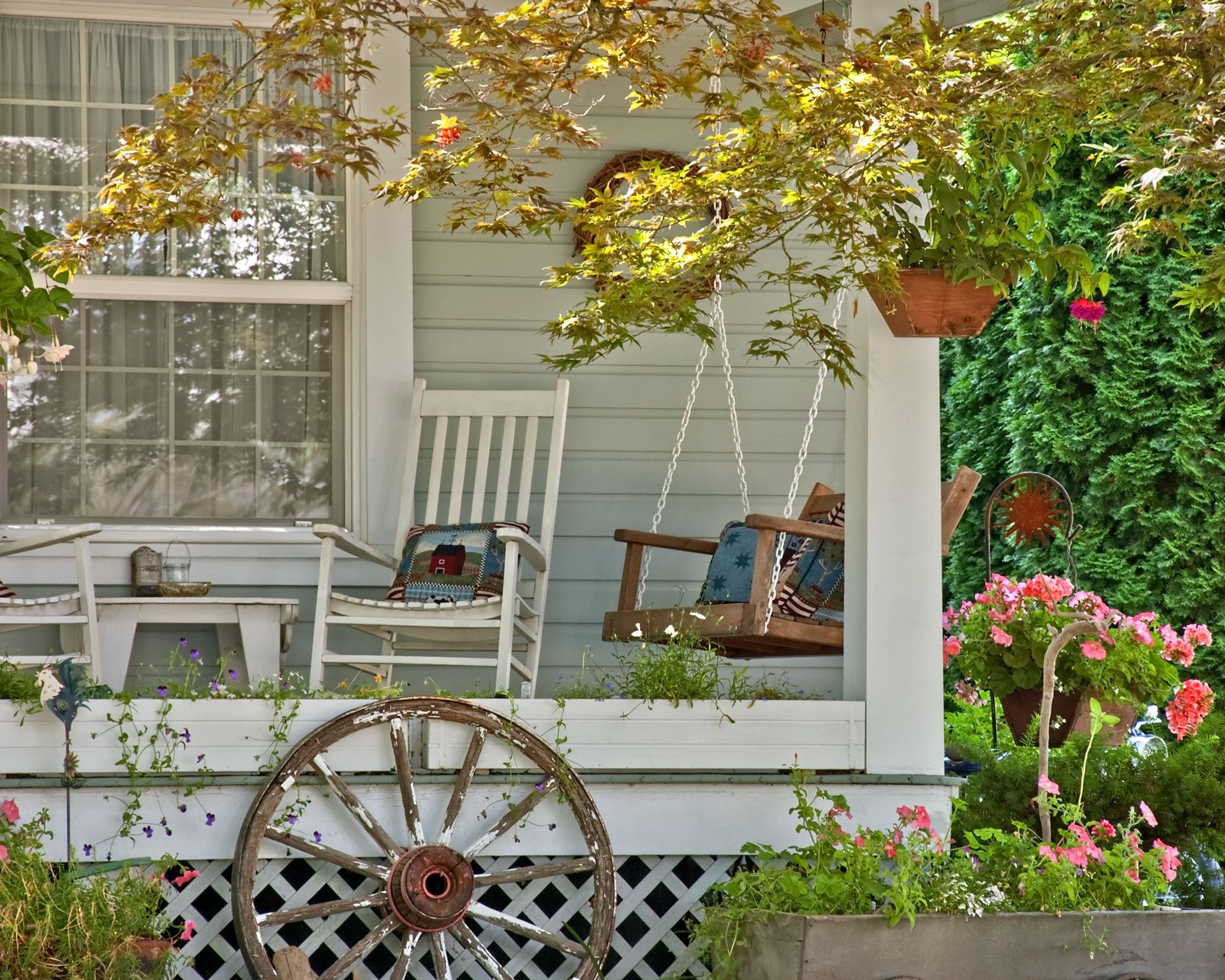 Painting vs. staining, which is better?
Decking paint or decking stain? While choosing between the two is largely down to individual preference, there are a few things to consider if you're not sure which one will suit your deck better:
Protection: If you are choosing between a standard deck paint and a standard deck stain, then paint will protect your decking better than a stain. Having said that, you really should do your product research: a high-quality, dedicated decking stain will protect your deck as well as paint.
Longevity: According to Walter, 'a paint job will last longer than a stain job since stains wear down over time and require re-coating on a regular basis.'
Expense: decking paint tends to cost more than a stain
Moisture: According to Andre Kazimierski, CEO of Improovy, 'paint traps moisture in the wood, which can eventually cause the paint to chip and peel as the deck expands and contracts.'
Color options: Decking paint comes in a wide variety of color options, whereas decking stain has limited options. With decking paint, you can match the color of your deck to the color of your home exterior
Covering up flaws: Kazimierski explains that paint 'tends to hide flaws in the deck. However, know that pIt also conceals the beauty of the wood and is generally permanent. It's difficult to go from paint to stain.'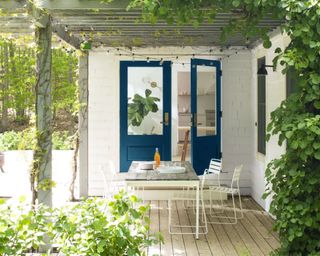 When is painting a deck not a good idea?
If you are leaning towards a decking paint over a decking stain, you should be aware of a few case scenarios where painting your deck is really not a good idea. Generally, Walter identifies three situations when you shouldn't be painting a deck:
Your deck is newly built: 'It's not a good idea to paint a newly built deck that hasn't had time to weather yet because the paint will trap moisture in the wood and that can cause the paint to peel.'
Your deck is very old: Conversely, 'if the deck is in a really bad condition then it's probably not worth painting and you should just replace the boards since when painted it won't look that great and it will be a lot of work for not much return'
Your deck is very close to the ground: The moisture from the ground 'will cause the paint to peel and the wood to rot over time so a stain is a better choice in this case.'
As a general rule, if you live in a very humid climate, you may reconsider painting your deck as you will almost certainly experience peeling and warping. On the other hand, hot and dry climates are perfect for painting decking. Always allow your deck to weather for at least a season to make sure you're not painting over wood that is damp. And – when you do get round to painting your deck, make sure you choose a dry, sunny weekend for the job.