Nothing beats the sight, sound, and smell of a humble sizzling barbie, but why stop at your best grill? Alfresco dining is a must of modern living, and nodding to the latest outdoor kitchen ideas in your yard space, big or small, will set you up for gatherings all year long. Whether your backyard ideas are complete with cute decking, a lush lawn or if yours is more compact and urban – there are a ton of different cooking setups to choose from to create the ultimate sociable space.
Imagine doing food prep, cranking up the heat, and entertaining guests in one dedicated fresh air spot, all without the hassle of darting back and forth between indoors and out with various cookware and side dishes? Dreamy. Now outdoor kitchens go above and beyond, we're talking grills, wine coolers, refrigerators, sinks, ample work surfaces, swanky storage and much more. Discover it all at your leisure.
Outdoor kitchen ideas that max-out on sunshine living
Declan Kingsley-Walsh, MD of Morsø UK, comments: 'Cooking and entertaining outdoors has really taken off over the last few years, and we expect this trend to only increase. An outdoor kitchen gives you ample opportunity to cook and eat outdoors, whatever the season, and as outdoor kitchens now come in a multitude of sizes and forms, you have more reason to get outside and make the most of your outdoor space, whether you have a large garden or a smaller patio. Outdoor kitchens can also include dining and relaxing space, perfect for creating a comfortable, fully functional outdoor living space where you can enjoy cooking, dining, and socializing all year round.'
In new research conducted by Atlas Ceramics, outdoor kitchens are undoubtedly the biggest kitchen design trend, and a key garden trend 2022, with over 70m TikTok views and 2.1 million searches on Google, achieving a score of 9.65. With new smart appliances cropping up all the time, a functional outdoor kitchen is getting easier to achieve.
According to Forbes, outdoor kitchens are seeing strong design trends for modern homes, with outdoor kitchens topping the American Institute of Architects' project trends list. This is largely due to more outdoor enhancements than ever before. With the increase in smart kitchen appliances, making functional outdoor kitchens is much more possible. Such smart appliances include ambient LED lighting, weather-resistant TVs, Wi-Fi-enabled BBQs, grills, smokers, and heating.
Cook up a design storm with these inspiring outdoor kitchen ideas and put the (style) surf on your turf!
1. Consider how you will use your outdoor kitchen
Create the ultimate outdoor kitchen based on your cooking and entertaining requirements. What is the primary purpose of this space? How do you envision using it the most?
Brendan Kwinter Schwartz, comments: 'Outdoor kitchens are a treat because there are so many options. Since they're usually for secondary use, you have a lot of room to play around and have some fun. You could include a pizza oven or a fun grill set up and really make an outdoor space your own. It can be as simple or intricate as you wish.'
Surinder Multani, owner, BBQ Outlets, comments: 'Will you be grilling for all of your friends and neighbors or just on special occasions? Answering these questions allows you to plan how much space you will realistically use for an outdoor entertaining and living area. Sometimes it's easier to first figure out what your primary cooking source will be - a grill, a smoker, or an oven? Maybe you want to have both a grill and a smoker or an all-inclusive cooker and an outdoor pizza oven too?'
'When planning your outdoor kitchen needs, it's best to use design tools, especially when it comes to spacing and planning, such as our free outdoor kitchen design tool.'
2. Bring the full kitchen experience outdoors with a luxury set-up
Multani continues: 'The latest trends in outdoor kitchens are moving towards full setups with more luxury offerings. Instead of the standard built-in bbq, accessories, such as pizza ovens, outdoor refrigeration, and outdoor storage are being added for the full kitchen experience. Additionally, with those looking to host events at home and entertain a number of guests, outdoor entertainment areas are expanding, with higher-end patios and bbq islands with bar seating.'
Jayme Muller, brand manager, RTA Outdoor Living, comments: 'The beauty of an outdoor kitchen is the ability to bring indoor kitchen functionality outside. If space is not an issue, focus on convenience when it comes to appliances - full refreshment center, refrigerator, trash, storage, power or side burner, warming drawer. There may be more options than you realize.'
3. Optimize space in a small outdoor kitchen
Even small backyards can benefit from a compact outdoor kitchen design. The key to utilizing space whilst maximizing functionality lies in the layout…
Muller comments: 'For small spaces, think beyond one small grill island. A small L-shape can be optimized to fit your space and needs. Or, consider two separate islands, strategically placed in your outdoor area.'
Muller continues: 'Another tip for small kitchens is to focus on a few things that are non-negotiable. Maybe that's enough storage or counter space. Maybe your must-have is a refrigerator or trash for convenience. Whatever it is for you, start there with your design layout to optimize your space.'
Kevin Lenhart, design director, and landscape architect, at online landscape design startup Yardzen, comments: 'Kitchens are effectively walls, and as such have a big influence on how people navigate a yard. In general, I try to keep kitchens to the periphery to maintain as much openness and free-flowing circulation as possible. This is especially important to be mindful of in yards with limited space.'
4. Consider all the cooking options
Whether you're an avid sizzle and smoke cook with the best gas BBQ 2022, or a fresh and fast dough chef extraordinaire, set up your space with the right grill or oven, or best of both, to enjoy alfresco feasts all year round.
Kingsley-Walsh comments: 'The popularity of smokers continues to rise, but charcoal and grills remain king of the backyard! This trend is exemplified by the Morsø Forno Outdoor Oven - where you can be the envy of your friends creating dishes such as roast beef, grilled steak, pizza, smoked salmon, tarts, bread, etc…'
'The outdoor cooking experience is becoming increasingly sophisticated with technically advanced and beautifully designed wood-fired products. To assist the cooking experience, a huge range of add-ons such as wood chips, meat rubs, novelty barbecue sauces, cooking tools, etc abound, and this will only grow in the coming months and years.'
Muller adds: 'Avid grillers shouldn't feel confined to one type of grill. There's no reason you can't have two grills in one outdoor kitchen - whether that's two with the same fuel-type added cooking capacity, or a gas grill and a charcoal grill for some variation.'
'For those who enjoy smoking vs. grilling, a drop-in pellet grill is the perfect addition to an outdoor kitchen design.'
'Pizza ovens are all the rage right now, and ideal for an outdoor kitchen space. Consider a mid-sized, countertop pizza oven that is large enough for a family but small enough to save space and money.'
Grill experts at Nuke, comment: 'Real wood-fired grilling has taken off in the last couple years as folks looked to the outdoor kitchen as a safe place to entertain family and friends, and that trend hasn't slowed down.'
The Puma Santa Maria-style grill from Ñuke, makers of artisan-crafted Argentinian wood-fired grills and ovens, is the perfect hearth around which to gather family and friends this spring.
5. Choose the perfect spot
It's all about location, location, location when planning indoor-outdoor spaces...
Lenhart comments: 'Location is key when designing an outdoor kitchen. Outdoor kitchens should remain close to indoor kitchens to make trips inside to get more cooking supplies convenient. Clients quickly get sick of trudging across their entire yard because they forgot a spatula.'
Lenhart continues: 'Kitchens placed in the further reaches of yards also tend to get less use. It's an out of sight, out of mind thing, compounded by the diminished convenience of being far from the house.'
Stuart Clarke, home expert at Victory Curtains & Blinds, comments: 'If you're new to the alfresco dining experience, the first (and most important!) tip is to make sure you pick the best place in your garden for the kitchen area. Try to avoid placing your outdoor kitchen in direct sunshine, as if you have a stainless steel BBQ the sun rays can make the BBQ extremely hot, too hot to touch! A secluded spot in the garden, with a few trees for shelter and closeby to the house should cater well for most gardens.'
Clarke continues: 'If possible, you want to try and find the least windy area in your garden for your outdoor kitchen. Awnings or garden gazebos provide that shelter from unfriendly gusts, whilst also transforming your outdoor kitchen into its own exotic space. Pair your awning with some integrated lighting and heating features to keep everyone warm and comfortable late into the evening.'
6. Incorporate texture for a stylish aesthetic
Muller says: 'Often, outdoor kitchens have a textured facade - stone, stucco, tile, etc. However, if your aesthetic is more modern, you have options, too. A smooth, modern concrete finish or sleek modular cabinet offers a contemporary feel.'
Lenhart comments: 'Outdoor kitchen materials should respond to materials elsewhere in the landscape. Too often kitchens feel like objects placed upon a yard, rather than integral components of a cohesive design. Because they are so visible, the walls of kitchens are particularly important to get right. Make sure your kitchen uses materials that look intentional and complimentary within the broader context of your design.'
7. Choose weatherproof materials
Your outdoor kitchen needs to be made of hardy stuff to survive all seasons and weathers - come rain, storm, or shine. Materials need to be durable, waterproof, and rust-resistant.
Clarke comments: 'Waterproof countertops are a must! Your outdoor kitchen is going to be exposed to a variety of weather conditions, so you need to choose a suitable material for your surfaces! Avoid wood and go for concrete or stainless steel instead.'
Choose stainless steel taps, like the Muncy hot and cold water dispenser from Newport Brass, for an industrial fusion that pairs a distinctive knurled handle and engine shell with a simplistically beautiful bent tube spout, exemplifying stunning craftsmanship.
8. Add a bar island in sociable spaces
If you're sociable hosts that love to entertain, adding a bar and the best outdoor furniture provides additional seating and extra counter space for serving. You can connect a bar to an L-shape or U-shape layout, or opt for a standalone design.
Lenhart comments: 'Cooking should be a social experience - we don't want to isolate the chef. I always try to keep some kind of appealing seating area within conversational distance of the cooking station. Bar seating along the back edge of a cooking counter is ideal in terms of maxing out sociability, but any kind of dining or casual seating area nearby helps to keep the cook company.'
9. Invest in a dedicated pull-out bin for your compost
Connect with nature and adopt a green-living approach with sustainable materials and planet-friendly elements. Composting has a wide range of environmental benefits; from reducing the amount of waste that ends up in landfills, to improving soil health – the process has a positive impact on the planet. It also helps to reduce the amount of food that goes to waste.
Design experts at Magnet, comment: 'At first sight, composting can seem a fairly difficult and lengthy way to dispose of food scraps and garden waste. According to recent Google trends data, searches for 'How to start a compost bin UK' have increased by more than 130 percent in the past year, highlighting a growing interest and potential new trend. Composting at home is really simple and one of the most environmentally-friendly ways of dealing with kitchen waste.''
'By recycling your organic waste, you are reducing the amount of household waste you produce and in turn reducing the number of pesky greenhouse gasses that landfills emit. Composting also provides the perfect excuse to get outdoors and enjoy feeling at one with nature.'
'It is worth preparing your kitchen space in advance of composting to make the overall process easier. Instead of using a compost bin that sits on the kitchen worktop emitting unpleasant odors, consider opting for a dedicated two-part pull-out bin to store your food waste and paper recycling to use in your compost. By keeping your food scraps out of sight and away from food preparation areas, your kitchen will feel cleaner and fresher.'
10. Go for a simple outdoor kitchen design
This elegant and spacious outdoor kitchen setup is also really clean-cut and simple in design. Well, thought-out under-counter storage means everything you need – wood, utensils, etc. – is well within reach, and a large counter means that you'll never be fighting for a space to prep food, drinks, and more.
11. Pick concrete countertops for a contemporary look
Concrete countertops will give an outdoor kitchen an industrial, modern feel, plus, it's a really resilient material so ideal to withstand the great outdoors.
12. Give it a restaurant feel
Defining your entire outdoor kitchen area using vertical garden structures is a great way to make the space feel like a restaurant's outdoor seating area. Keeping the cooking station just a little bit away from the bar makes it even more luxe.
13. Keep shelter close by
This enviable set-up includes an all-weather Outdoor Living Pod pergola by Caribbean Blinds to cleverly conceal and protect the dining area of this outdoor kitchen space. It adapts to changing ambient conditions, so will keep guests comfortable and dry even in cooler conditions.
14. Choose a small barbecue for ease
If your backyard space is quite compact then a small portable BBQ can be a great option to keep things simple. This pine outdoor dining set isn't far from the outdoor kitchen prep station either, making for seamless service when entertaining the family. Be sure to think carefully about the positioning of your best grill to keep smoke away from your diners.
15. Mix up drinks
Add a bar to your outdoor kitchen and you can mix up a cocktail for guests to start the evening – and they can sit right there while you do. How's that for a vacation feel at home?
This Palm Outdoor Kitchen Bar Set from Danetti has space for all you need, including glasses, cocktail shakers, and bottles and it even has hooks for utensils so everything is to hand.
16. Match outdoor kitchen fittings with the surroundings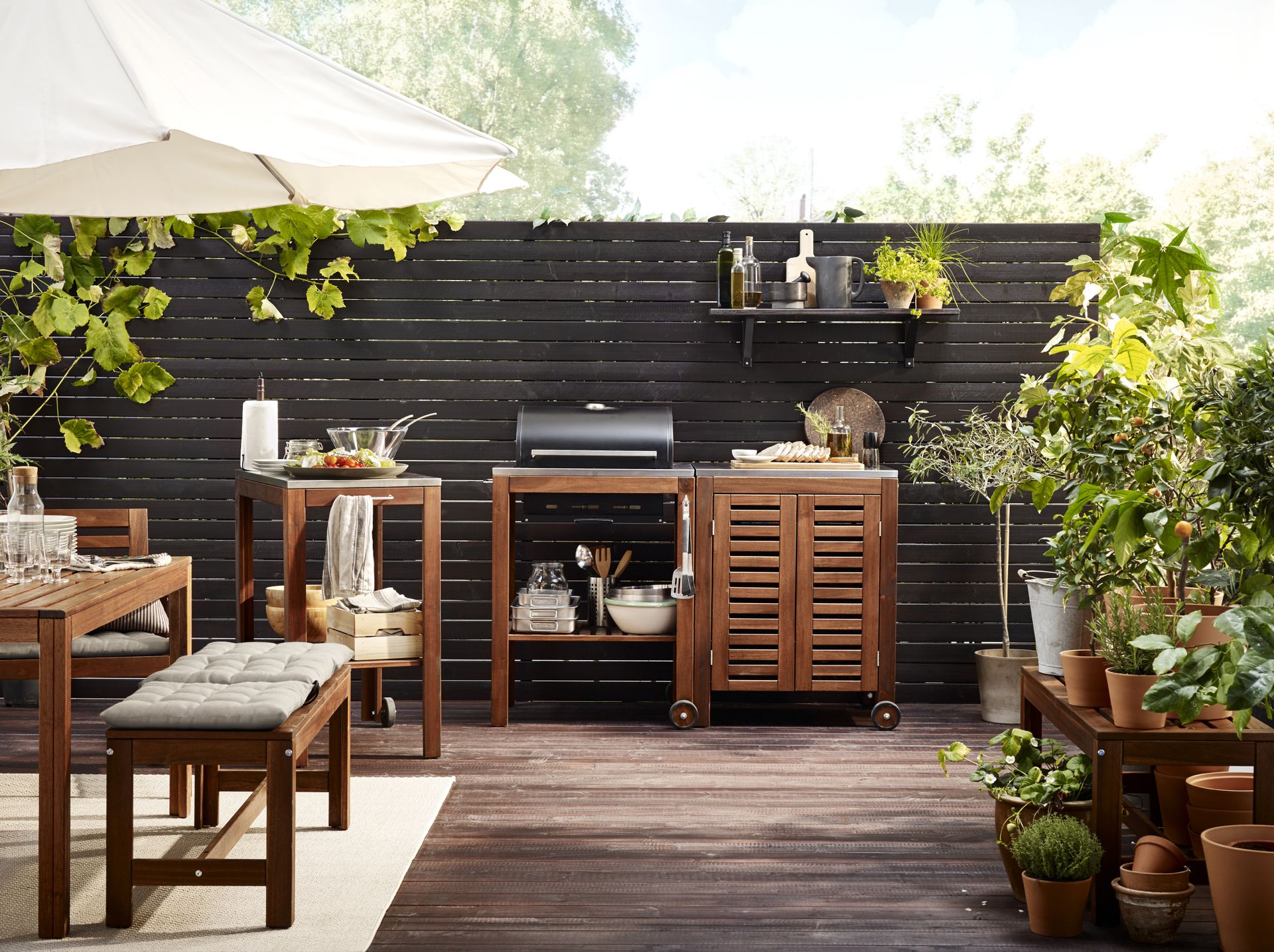 For your outdoor cooking space to blend seamlessly into your decking scheme and surroundings, it's a great idea to match the materials and finish of caddy cupboard doors and any additional compartments of your kitchen area to the surrounding decor on your patio. Plus, wooden tones will always look beautiful in an outdoor space, bringing it back to nature.
17. Cook under cover
If you want to be sure you won't get rained on, be inspired by this outdoor kitchen design. The bifold doors open from the house's kitchen to the outdoor kitchen which is, in turn, open to the garden. But it's protected by a roof overhead that keeps meal prepping dry.
The project was designed and completed by Construct Melbourne with styling by Norsu Interiors.
18. Go all out on decor
This outdoor kitchen's seating area is brought to life with bold accent shades, while outdoor lighting ideas and large potted plants help elevate the space further. Come winter, simply bring out the blankets and enjoy many a mulled beverage.
19. Opt for a modular outdoor kitchen
If you choose a modular outdoor kitchen design, you can configure it exactly to your needs, and the dimensions of your space. In other words, bespoke style.
Shown are modules from the Open Kitchen from Roshults at Chaplins Furniture, including sink and charcoal grill, plus sideboards and cutting boards.
20. Spice it up with simple shelving
Use your surroundings to their full potential with easy-to-add storage options that will help keep your outdoor kitchen space tidy. The addition of a simple shelving unit means that small but necessary items like fresh herbs, even salt and pepper mills, cutlery, and more can be on display and ready for use when needed without cluttering the outdoor cooking or dining space.
Open storage is perfect throughout the warm and dry(ish) season, but consider more closed storage options to ensure full use of your outdoor kitchen space even when winter kicks in. You can even try a container gardening idea to grow your own fresh tastebud sensations!
21. Dedicate space for your best tableware
Remember that wind and rain can cause havoc on your best dinnerware so choose a storage bench, trolley, or DIY bar cart with integrated shelving for added protection.
22. Make a feature of the outdoor sink
A sink can be a really useful part of your outdoor kitchen setup. But why not make it into a feature as well as a practical addition? Tiling can help define the area and is another element of an indoor kitchen that translates beautifully to the outdoors. Go plain or for a pattern like this one which looks so good against the Little Greene lime wash garden wall. With a water station this good, you'll be (happily) cleaning dishes until the sun comes up.
23. Use structured shelter for your outdoor kitchen
Including walls around and a roof over your outdoor kitchen design will create a more formal and refined finish that will also protect you against the elements. A complex extension-like design like this will cost more than other outdoor kitchen ideas might, but if you plan on spending a lot of valuable time in this space then it's worth the investment. And of course, you can create a cheaper structure than this with the help of a good carpenter.
24. Be seamless with stone
Refined and stunning, Caesarstone notes how 'An integrated sink in the same stone as the worktop gives a seamless and calm surface' and we couldn't agree more.
25. Don't forget the drinks fridge
A vital component of all outdoor kitchens in our eyes: after all, would dining alfresco be the same without your favorite drink? We highly recommend including a mini-fridge in your design. It's a touch fancier, but the perfect way to stretch out the evening.
26. Put your outdoor kitchen on wheels
When style meets functionality it's a clear win, especially in an outdoor kitchen. Sticking to cooking decks and outside storage that has wheels is a great way to keep your set-up as versatile as you need it to be. Particularly useful if you're short on space, it's also a great outdoor kitchen idea for renters who can take theirs with them the day they move. We love the nifty Ikea Klassen BBQ trolley which makes a stylish and useful addition to every outdoor kitchen design.
27. Less is more when you have a beautiful view
Simplicity is often the most best route to success. If you have an outdoor space with a big view, go for a pared-back look with your outdoor kitchen design to add all the function and beauty – without going overboard.
28. DIY your outdoor kitchen
A little creativity and know-how from the experts will see you whipping up a pro outdoor kitchen space in no time. Cuprinol says: 'You don't have to fork out to create an outdoor kitchen that blends seamlessly with its surroundings and stands tough against the elements. Open your imagination and see what you can achieve with a little DIY skill and some Cuprinol Garden Shades.' Here is their quick DIY recommendation:
Step 1
Frame your outdoor kitchen with a wooden pergola. Covering it in lush foliage will help form a natural canopy.
Step 2
Then install a sturdy splashback with a horizontal, slatted fence panel to add depth and interest.
Step 3
Finally, add a kitchen worktop and paint your pergola, splashback, and worktop in the same rich Old English Green/or another color for years of protection against the elements.
29. Keep it green with a living wall backdrop
We adore the idea of a vertical garden anywhere, and it makes a great addition to an outdoor kitchen space too we're sure you'll agree. Mix flowers and evergreens for year-round interest.
30. Nod to coherency for better flow
Choosing similar hues and materials to go with your patio floor or the decked area will help the entire space flow. It doesn't need to be an exact match, but choosing something that's in keeping with your existing style will create refined and modern vibes.
31. Keep herbs close by
Having a herb garden within reach of your outdoor kitchen is a swell idea to achieve culinary success. How better will you flavor food than with the freshest of herbs? Mix pots of mint, rosemary, thyme, lavender, and the likes with grasses to create a textured and tasty display.
32. Go for a small space solution
So, you've already got a BBQ you like, but you want to upgrade to an outdoor kitchen. Then check out this idea. This Cane-line Drop Outdoor Kitchen Unit from Nest has two storage cupboards, along with a beautiful solid worktop and a durable back wall for hanging shelves, utensils, and accessories, covering your preparation and stashing requirements. Team it with the barbecue and – hey presto – an outdoor kitchen is yours and it'll fit in the most modest of backyards.
33. DIY your outdoor kitchen backsplash for a tiled effect
Created by simply masking off the pattern and painting an MDF plank in warm terracotta, natural stone and blue garden shades by Cuprinol – this quick DIY garden wall idea proves that you can create the effect of a real kitchen outside, without spending big bucks or the need of an expert.
34. Keep it linear
Just like inside your home, a single-line kitchen can be a space-efficient way to fit in all you need and still leave an area sizeable enough for a dining table and outdoor dining chairs. Think about which elements you'd like to include: you might prefer a gas BBQ or a kamado charcoal version, which makes a great feature as well as cooking beautifully. A pizza oven is a must-have for many, too.
This WWOO Outdoor Kitchen is by Garden House Design and comes in three different heights of 1.3, 1.65 and 2m with each length being 1.5m wide, so you can size your kitchen to your needs, space and budget.
35. Make yours with an outdoor pizza oven
It can be straightforward to build your own outdoor kitchen if you prefer to. The simplest version could combine a surface on which you can position a great pizza oven like this Ooni Karu 12 Multi-Fuel Pizza Oven as well as prepare and serve. Leave room for your fuel supply below and you're ready to delight family and guests with delicious slices of pie alfresco.
36. Keep it casual with a fire pit
Firepit ideas aren't just very stylish and warming but many can act as barbecues also, like this wall-mounted model from Focus. Make your outdoor kitchen set up a mini and casual one, but nonetheless a brilliant one.
How do you design an outdoor kitchen?
There is a lot to consider when designing and building an outdoor kitchen, and this will change depending on the size and structure of your outdoor space.
The first point to note is that an outdoor kitchen will require a level, smooth and strong base. As spills are a possibility, avoid porous paving and opt for a version that can be easily washed down. And when choosing where to put your outdoor kitchen, make sure the floor surface won't be slippery when it's wet, too. Steer clear of decking, which leaves space for food to fall between the boards.
Then it's simply a case of deciding what kind of outdoor kitchen you'd like. Think about whether you want to include walls in the outdoor kitchen design or not. Walls will mean you can position storage and shelving easily in addition to your chosen cooking equipment and they may also be helpful in providing shelter from the wind. Going without makes for a more open design, but you'll need to plan more storage into the kitchen structure.
Other design considerations include whether you want a roof on an outdoor kitchen for a maximum utility or overhead features such as beams or a canopy to provide shade.
To create a permanent outdoor kitchen, the first thing to consider is how you'll want to cook. These are your options:
Outdoor kitchen BBQ
Think about building in a barbecue, remembering that you'll need to locate it at a safe distance from a shed or fences for safety. Bear in mind the way the wind tends to blow, too, to avoid creating a nuisance with smoke – think about the neighbors as well as your own comfort.
Outdoor oven
You might also think about an outdoor oven, which is suitable for cooking pizza, baking bread, or roasting meat. They can be fuelled with wood or use options such as charcoal or gas.
Smoker
A smoker will allow you to cook food slowly and these are good for dishes such as pulled pork.
Kamado grill
For the latest in outdoor cooking options, how about a kamado? Looking like a giant egg, one of these makes an interesting feature and it can be used for grilling, smoking, roasting, or to make pizza, or undertake other baking.
Other possibilities
Think also about including burners that'll let you boil and heat, and/or teppanyaki.
And if you like the idea of extending evenings in the garden and the months during which you can enjoy your outdoor space, it could be worth investing in an outdoor fireplace or chimenea.
What do you need in an outdoor kitchen?
This largely depends on what kind of outdoor kitchen you want, and on how much of your indoor kitchen you want to replicate in the garden. Do you like the idea of building in storage outside with suitable cabinetry? This could avoid the need to go back to the house for the equipment that's required. Don't go over the top, though. You won't need nearly as much storage space outside as you do in your kitchen.
Outdoor kitchen cabinets and surfaces
Fitting outdoor cabinetry also creates the opportunity to provide adequate worktop space above it for the preparation of meals. Work surfaces need to be weatherproof, so you may want to opt for suitable stone or micro-cement, for example.
Outdoor fridges
Think, too, about whether you'd like the luxury of outside refrigeration to keep both ingredients and drinks cool. You will need to invest in a cooling model that's designed to go outdoors, of course – designs made for indoors won't be suitable.
Keeping food warm can also be an issue, so decide whether you'd prefer to include warming drawers in your design.
Sinks and water
A fully equipped outdoor kitchen would also include a sink and tap, providing water for washing ingredients as needed as well as for boiling.
Heating
Outdoor heating may also be useful to make the kitchen and dining area comfortable when the weather isn't doing its best.
Lighting
Adequate (and gorgeous) garden lighting is a must with an outdoor kitchen should you want to use it after sunset. Be sure to keep cooking areas well lit, while dining and seating areas can benefit from more atmospheric lighting.
Planning your outdoor kitchen design and layout
Weigh up different layouts early in the design process. An outdoor kitchen could be linear or L-shaped, for instance, to suit working preferences and the space available. An L-shape can create a useful partition to keep the cooking area apart for safety and convenience, as could a layout that includes an island.
If you're running electricity and water to an outdoor kitchen, this may affect where you can position it, and this could be a factor to consider when allocating the budget. Remember to plan services from the beginning so that they work with paving and partitions in your patio area.
Think about how the dining area will relate to the cooking space. It's best to avoid a long walk to take food to the table. Consider also the orientation of preparation and barbecue areas – do you want to be able to talk to seated guests while you're working, or will you have your back to them?
You might want to include planting areas for both herbs and vegetables in the design so you can take advantage of fresh ingredients in your recipes.
Is a permit or planning permission needed for an outdoor kitchen?
Generally, a permit or planning permission isn't a necessity for an outdoor kitchen's construction, but you might need to bear in mind the rules on placing a structure near a boundary, and its height. If you live in a conservation area or a listed home, there may be other restrictions. And if any electrical or plumbing work is required you will need to abide by the rules. Contact your local planning department for guidance.
Kitchens with walls and roofs may need to adhere to the building regulations and don't forget that competent professionals will need to undertake the installation of services to it, including the connection to gas if that's how your barbecue is fuelled.
Where can you buy an outdoor kitchen?
If you want to do the work yourself you can shop for units in DIY stores. Make sure you site a barbecue in a fireproof compartment within your set-up.
Alternatively, specialist manufacturers sell outdoor kitchens with everything you need from storage to cooking options, including complete sets.
Some companies offer all the elements you might want, and will also plan and fit your outdoor room. Alternatively, employ a garden designer or landscape architect to work on a version that complements your home's architecture and the rest of the hard and soft landscaping of your plot.
How much does it cost to build an outdoor kitchen?
The cost of an outdoor kitchen will depend on the complexity of the design. Expect to pay from around £5,000 ($7,000) for a straightforward version and from £10,000 ($14,000) to £20,000 ($27,900) and more for a sophisticated arrangement with a barbecue, side burner, sink, and fridge.