Thinking about adding an outdoor kitchen? If you love dining in your garden on every possible occasion, maybe it's time to upgrade from a standard BBQ and make cooking alfresco easier and way more advanced.
Nowadays, it's perfectly possible to create a fully equipped kitchen outside that allows you to cook in different ways, and to have preparation and plating-up space. You'll also be able to take advantage of super-useful features such as sinks, fridges and lighting. 
Can't wait to get started on your designing an outdoor kitchen? We have all you need to know below...
What cooking options are there for an outdoor kitchen?
To create a permanent outdoor kitchen, think about building in a barbecue. Remember that you'll need to locate it at a safe distance from a shed or fences for safety. Bear in mind the way the wind tends to blow, too, to avoid creating a nuisance with smoke – think about the neighbours as well as your own comfort.
You might also think about an outdoor oven, which is suitable for cooking pizza, baking bread or roasting meat. They can be fuelled with wood, or use options such as charcoal or gas.
Check out our pick of the best pizza ovens. 
A smoker will allow you to cook food slowly and these are good for dishes such as pulled pork.
For the latest in outdoor cooking options, how about a kamado? Looking like a giant egg, one of these makes an interesting feature and it can be used for grilling, smoking, roasting, or to make pizza or undertake other baking.
Think also about including burners that'll let you boil and heat, and/or a teppanyaki.
If you like the idea of extending evenings in the garden and the months during which you can enjoy your outdoor space, it could be worth investing in an outdoor fireplace or chimenea.
Which other features should an outdoor kitchen have?
Think about how much of the kitchen you want to replicate in the garden. Do you like the idea of building in storage outside with suitable cabinetry, which will avoid the need to go back to the house for the equipment that's required. Don't go over the top, though. You won't need nearly as much storage space outside as you do in your kitchen.
Cabinets and surfaces
Fitting outdoor cabinetry also creates the opportunity to provide adequate worktop space above it for the preparation of meals. Work surfaces need to be weatherproof, so you may want to opt for suitable stone or micro-cement, for example.
Outdoor fridges
Think, too, about whether you'd like the luxury of outside refrigeration to keep both ingredients and drinks cool. You will need to invest in a cooling model that's designed to go outdoors, of course – designs made for indoors won't be suitable.
Keeping food warm can also be an issue, so decide whether you'd prefer to include warming drawers in your design.
Sinks and water
A fully equipped outdoor kitchen would also include a sink and tap, providing water for washing ingredients as needed as well as for boiling.
Heating
Outdoor heating may also be useful to make the kitchen and dining area comfortable when the weather isn't doing its best.
Position and structure of an outdoor kitchen
An outdoor kitchen will require a level, smooth and strong base. As spills are a possibility, avoid porous paving and opt for a version that can be easily washed down. Make sure the surface won't be perilously slippery when it's wet, too. Steer clear of decking, which leaves space for food to fall between the boards.
Think about whether you want to include walls in the outdoor kitchen design – just as indoors, they mean you can position storage and shelving easily in addition to your chosen cooking equipment. They may also be helpful in providing shelter from the wind.
Weigh up layouts. An outdoor kitchen could be linear or L-shaped, for instance, to suit working preferences and the space available. An L-shape can create a useful partition to keep the cooking area apart for safety and convenience, as could a layout that includes an island.
Decide whether you want a roof on an outdoor kitchen for maximum utility, or overhead features such as beams or a canopy to provide shade.
If you're running electricity and water to an outdoor kitchen, this may affect where you can position it, and this could be a factor to consider when allocating the budget. Remember to plan services in from the beginning so that they work with paving and partitions.
Think about how the dining area will relate to the cooking space. It's best to avoid a long walk to take food to the table. Consider, too, the orientation of preparation and barbecue areas – do you want to be able to talk to seated guests while you're working, or will you have your back to them? 
Consider planting areas for both herbs and vegetables in the design so you can take advantage of fresh ingredients in your recipes.
Find out more about how to create a kitchen garden.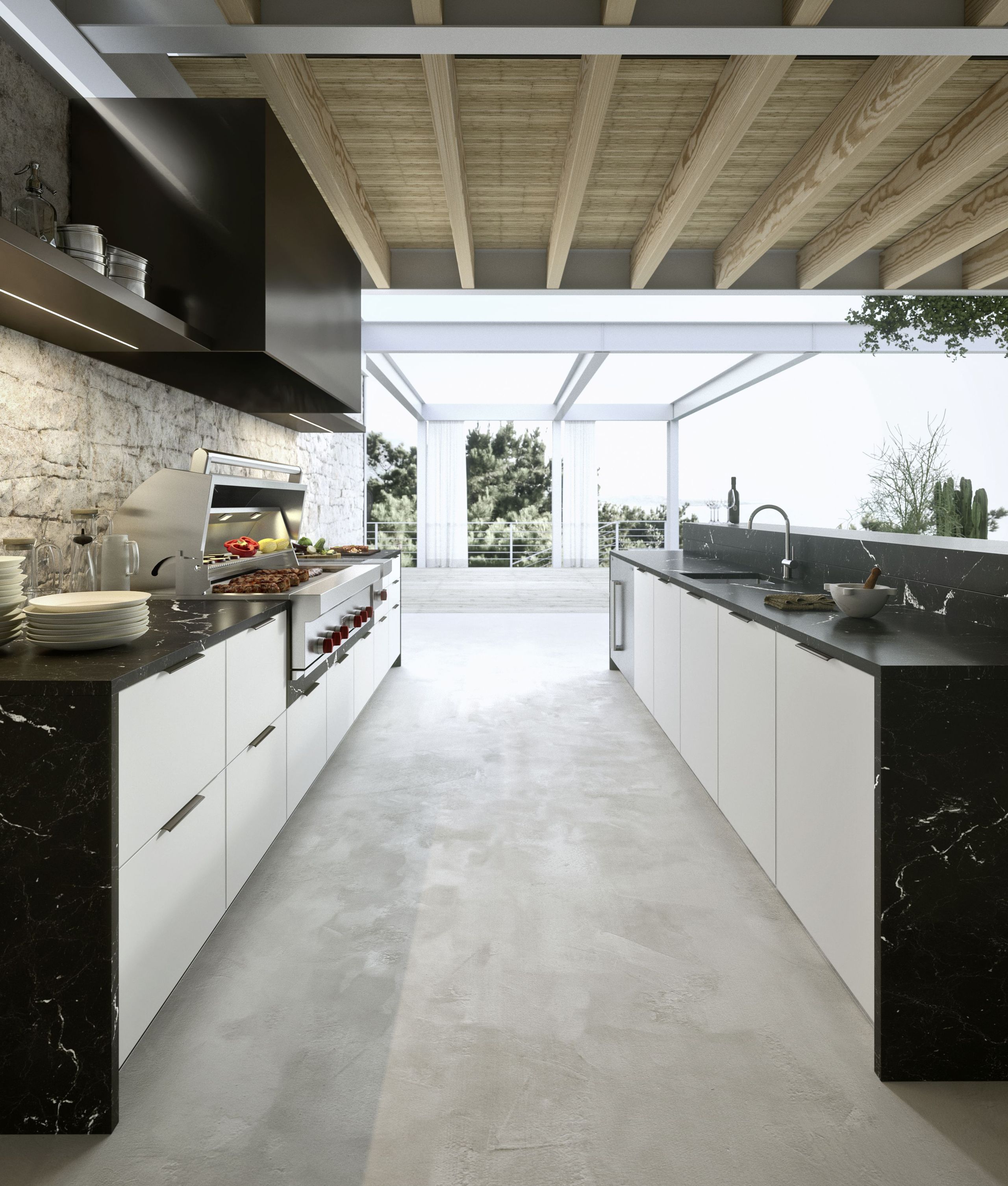 Is planning permission needed for an outdoor kitchen?
Generally, this isn't a necessity, but you might need to bear in mind the rules on placing a structure near a boundary, and its height. If you live in a conservation area or a listed home, there may be other restrictions. Contact your local planning department for guidance.
Kitchens with walls and roof may need to adhere to the building regulations and don't forget that competent professionals will need to undertake the installation of services to it, including the connection to gas if that's how your barbecue is fuelled.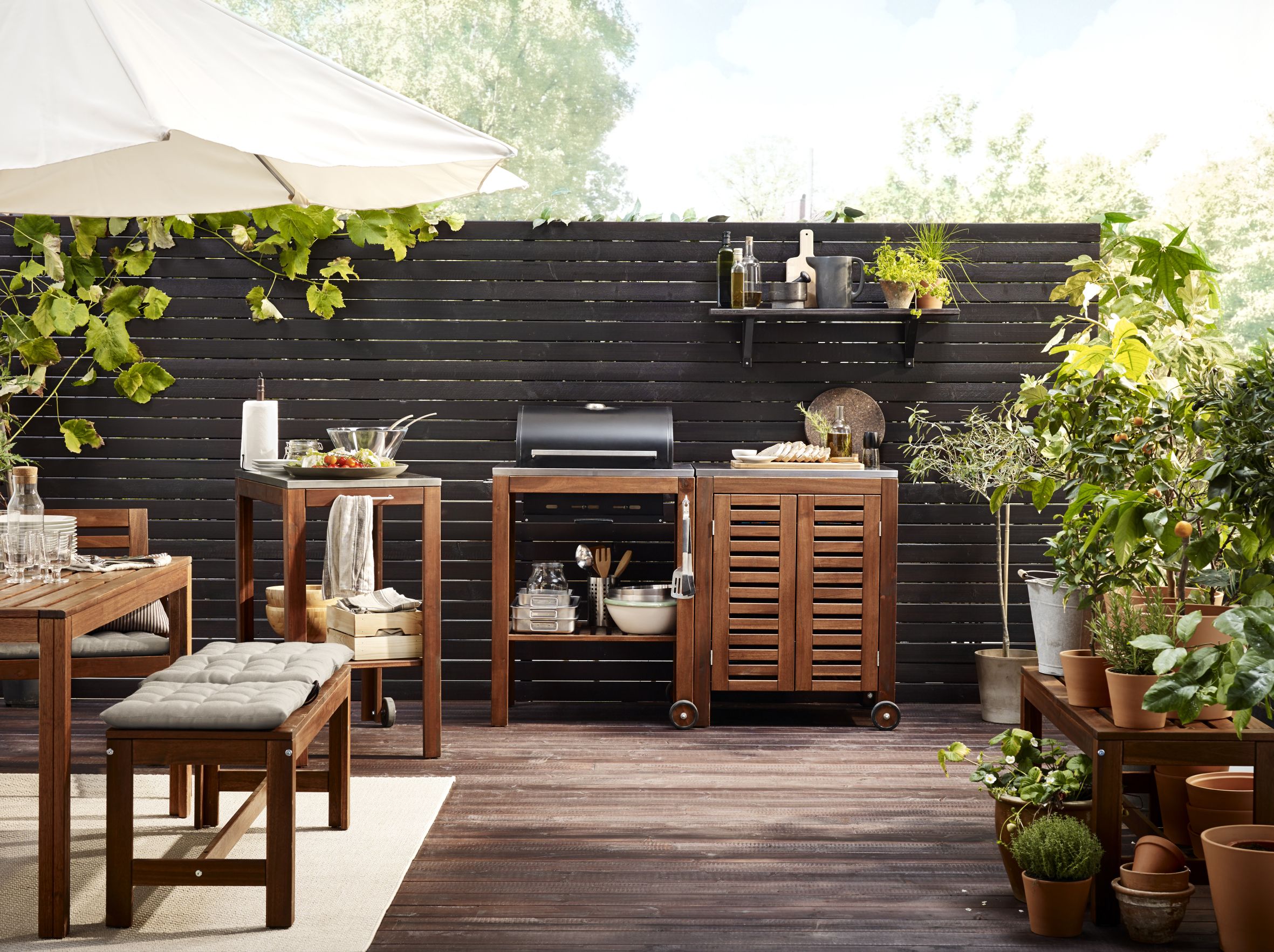 Where can you buy an outdoor kitchen?
If you want to do the work yourself you can shop for units in DIY stores. Make sure you site a barbecue in a fireproof compartment within your set up.
Alternatively, specialist manufacturers sell outdoor kitchens with everything you need from storage to cooking options, including as complete sets.
Some companies offer all the elements you might want, and will also plan and fit your outdoor room. Alternatively, employ a garden designer or landscape architect to work on a version that complements your home's architecture and the rest of the hard and soft landscaping of your plot.
Inspired by the idea of a garden kitchen?