Vertical gardens are an amazing wall to beautify walls and any type of small space for that matter – inside or out. Using the vertical plane for planting offers the opportunity to make the most of walls, fences and barriers to grow everything from vegetables to perennial plants and more. Plus, it's really budget-friendly if you're willing to do a little DIY. So, knowing how to create a vertical garden is an especially useful and one of the more creative small garden ideas too, which can of course be carried across into courtyards, onto balconies, into larger outdoor spaces and even into the home.
Set to be one of the biggest trends, especially in the UK with Google searches for vertical garden up by +485%*, if you're a gardening enthusiast and wanting a natural but next level addition to your home, look no further than vertical gardening.
What is vertical gardening?
It's in the name, vertical gardening is growing along and up vertical surfaces in and around your outdoor or inside space. Growing vertically offers many possibilities to grow both ornamental and edible plants. Contrary to living walls, vertical gardens usually work by direct greening, – meaning that you'll use climbers that will find their own way up a support such as a trellis – or by playing around with elevated planter displays. These are great garden wall ideas also as you can use fence panels, shelving and much more, it's a great way to get creative.
We spoke with Stannah's Gardening Expert, Mark Lane who makes frequent appearance on BBC Gardeners' World also, about how vertical gardens are not only a great small space solution but also a good way to create an accessible garden space. 'If you want to grow delicious veggies or fruit but are limited on space, then consider a vertical garden. This trendy technique involves growing plants on a vertically suspended panel, that's either freestanding or attached to a wall.' Easier to reach for many and sure to free up floor space, it's a really great option to ensure that everyone gets to enjoy the act of gardening. These are our favorite ways to start up a vertical garden display.
1. Create a living wall
Installing a fully flourished living wall is the number one vertical gardening idea. This clever look mimics the effect of climbing plants for a wild and beautiful finish.
2. Use climbers to conceal a wall
Choose hardy climbers like ivy, passionflower and jasmine for quick growth up and over an unsightly wall.
3. DIY a pallet vertical garden space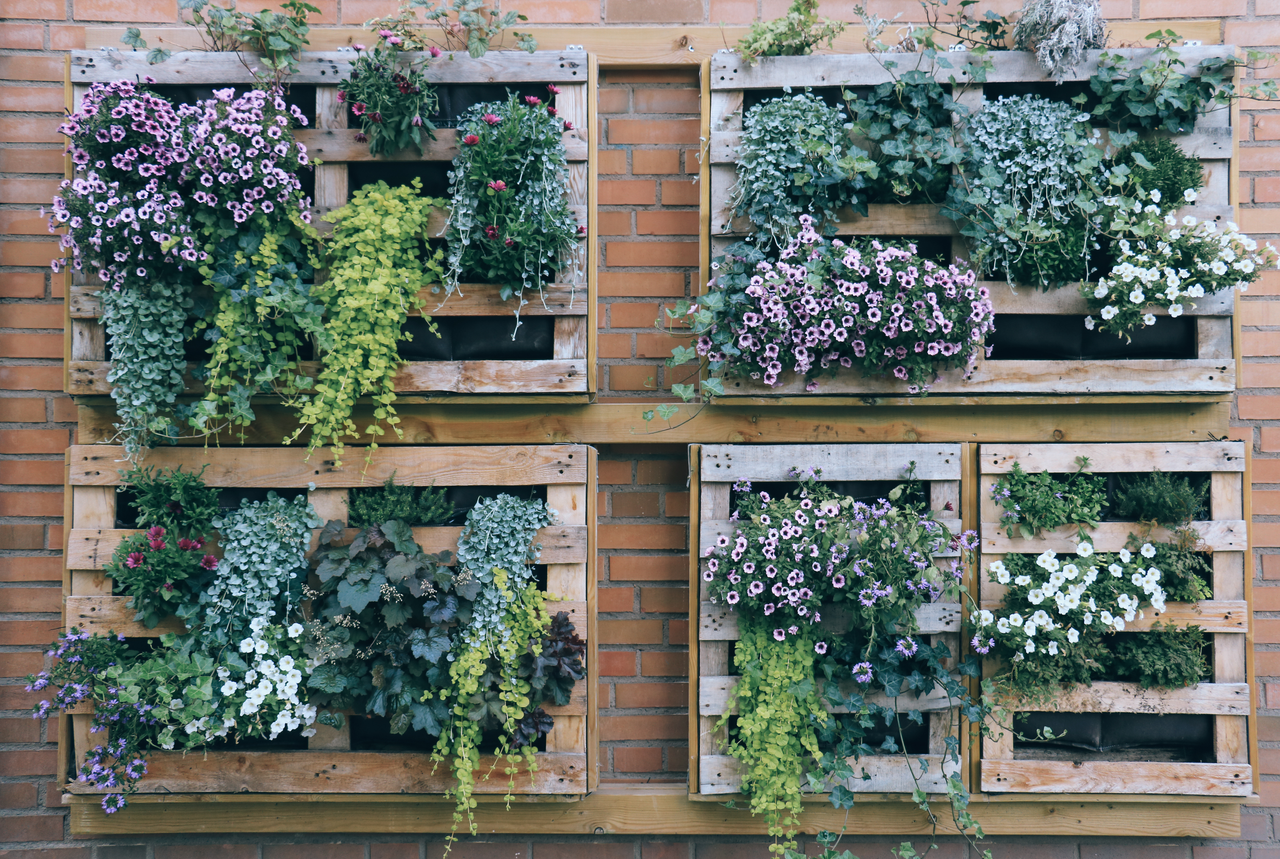 Whether you've been landscaping your garden or not recently, it's easy to get hold of pallets to start a statement vertical garden. Choose a mixture of trailing plants and florals for a full on effect and heaps of fragrance.
4. Can it
Don't be throwing those empty cans away. A little spray paint, string and savoir faire will recycle these nicely to make them part of a jazzy vertical garden for hardly any money at all.
5. Make yours edible
A great idea for vertical gardens, growing edibles in pockets and container systems take up less space, are easy to harvest and maintain. If you can already get a harvest from container gardens, vertical gardens should be no problem
6. Use the ceiling of your garden rooms
Garden rooms are there to be beautiful and practical too, if yours is small but needs a little more greenery to help the inside better reflect the view outdoors, hoist your vertical garden up and let those plants dangle down from the ceiling.
7. Let yours double up as garden screening
Growing vertically is one of the most natural garden screening ideas around. Keep yours both practical and beautiful by maxing out on drama with big evergreens. The silver foliage of lamium lifts the green hues from ferns in this soil-based system living wall designed by Kate Gould.
8. Plant up a ladder
Vertical gardens take a more traditional approach, using everything from pergolas to containers to use the vertical plane within the garden. So we love the idea of using old ladder space for a rustic display.
9. Plant up your balcony
The best balcony ideas combine space saving functionality and beauty. Use the different levels of your railing for a multidimensional display and you'll be sure to impress any passerby too.
10. Line your greenhouse
A full and thriving greenhouse is what it's all about. Keep yours busy by using side walls and ceiling space again from which to grow and display your vertical garden.
11. Mix it up with a pergola
Your walls and fences can become an attraction in themselves through paint techniques, planting schemes, creative materials or adornments. Pergolas, screens and hedges also offer further opportunities for your creativity, from a recycled old bed frame – perhaps to support plants and screen an area – to a tapestry of a mixed shrub hedging. So add some drama to your outdoor living space by growing up your pergola.
12. Embrace hanging baskets
Hanging baskets needn't be boring and they are one of the simplest tools to get a vertical garden blooming. Another super easy way to include vertical interest, you can try containers on windowsills, balconies or along walls too.
13. Grow a tiered herb garden
Vertical and indoor gardening go hand in hand so don't feel limited to just using your outdoor space. Grow herbs upwards for a cute and tasty display no matter where you hang this little masterpiece.
14. Interrupt your trellis
Growing up a trellis that frames a seating or outdoor dining area is a great visual and a natural way to zone your garden space decoratively too.
15. Make a vertical succulent frame
Plant your own growing art in a picture frame, we love this vertical succulent garden for a focal point like no other.
16. Level up your planter display
Not sure what to do with your DIY hanging planters or cheap buys from 10 summers ago? Play with levels using garden tables and attach some to a free, sturdy garden wall for an eclectic display.
17. Train yours over an archway
The vertical plane is the longest axis in the garden, and there are other ways to use this often forgotten space. For millennia we have used climbing plants to green a surface or espaliered fruit against a warm wall. Arbours, arches, tunnels, trellises and pergolas can become lovely focal points adorned in profusely flowering roses entwined with clematis. We love how romantic this archway is, perfectly framing what is actually a tiny seating area.
18. Mini statue planters
At its simplest, a vertical garden is just a container or containers full of soil with drainage holes and a spot on the wall in the sun, the more characterful the better.
19. Trio of clay pots
When you start taking notice of the vertical element all kinds of ideas come to mind to draw the eye up with eclectic arrangements. The power of three is a thing even in gardening...
20. Tripod
Tripod structures have long been a valuable tool in the garden to add vertical punctuation points and support plants. A splash of paint will transform them into something special.
Once you really look at the vertical axis you may be surprised at just how much you can achieve to complete your garden's vision. So look up, and grow up!
21. Keep it cottage on a trellis
Using cottage garden plants to brighten up a plain white trellis is a fine vertical gardening idea for period and modern homes. The bees will love it too!
Aim high!
Period Living is the UK's best-selling period homes magazine. Get inspiration, ideas and advice straight to your door every month with a subscription.
*Stats provided by Compare The Market.