Best Home Fragrance: Quick Menu
Cozy season is on now, so it's time to stock up on the best home fragrances to scent your space. Smell is so personal, and can evoke so many memories, so whether you bundle up with warm vanilla or crisp balsam to set the mood — the choice is yours. Everything from air fresheners to candles and diffusers will add some ambiance to your living room, bedroom, or bathroom.
There are so many home fragrance brands out there. So, to make your search easier I can be your eyes and nose, and the best part is that you don't even have to leave your couch and confuse your nose hovering over a handful of different options.
Every fragrance (including the best candles) featured below has been tested by me or a member of the Real Homes team so that you can buy knowing you're spending your money wisely. Four of the items we've listed are $20 and under, so whether you're looking for an affordable option, or have the capacity to splash a little more cash for someone special — there's a pick for every person.
Home fragrance deals
Shop these home fragrance deals to see great deals with up to 50% off seasonal scents. Go ahead, treat yourself.
Prices were correct at the time of publishing.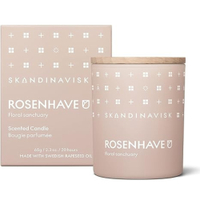 1. Skandinavisk ROSENHAVE 'Rose Garden' Mini Scented Candle, 2.3 oz | Was $25 Now $20 (save $5) at Amazon
Make your home smell like a floral sanctuary with a quartet of geranium, elderflower, rose and blackcurrant notes all blended into this beautiful home fragrance. This candle is made with sustainably farmed, non-GMO Swedish rapeseed wax blend in painted glass votive with a pure cotton wick and engraved FSC-certified beechwood lid. Hello, Sweden.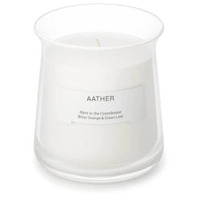 2. Aather Meet in the Greenhouse Candle | Was $52 Now $26 (save $26) at Candles Direct
If you want the smell of fresh air without putting on your jacket (and potentially bumping into people you want to avoid), invest in this candle. With notes of bitter orange and fig leaf in a traditional mouth-blown glass jar, this is quiet luxury with a Mediterranean twist.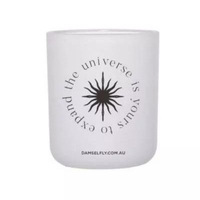 3. Damselfly Universe Scented Candle | Was $65.28 Now $39.17 (save $26.11) at MyBag
Hand-poured in Australia, this dreamy fragrance embodies notes of vanilla bean, anjou pear, a hint of white musk, and the sweetest citrus florals. It's made with lead-free wicks, and non-toxic coconut wax, and currently is 40% off.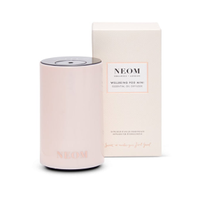 Hi! I'm Annie, head ecommerce editor at Real Homes. I've tested 100+ home fragrances since I joined the team in 2018. I've also reviewed fragrances for Livingetc, Homes & Gardens, Ideal Home, and Woman & Home. I test these candles, reed diffusers, and essential oil diffusers in my two-bedroom apartment that I share with my husband and my pug. Only my favorites and the fragrances I would repurchase made it to this list. I tend to know whether I like a fragrance before it's half empty, and I'll move fragrances around my home as I use them, to see which room(s) they work best in.
The best home fragrances to buy right now
Why you can trust Real Homes Our expert reviewers spend hours testing and comparing products and services so you can choose the best for you. Find out more about how we test.
Year-round home fragrances
These year-round scents are fitting for all seasons, meaning they can be used until they run out.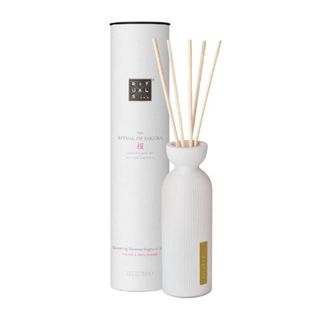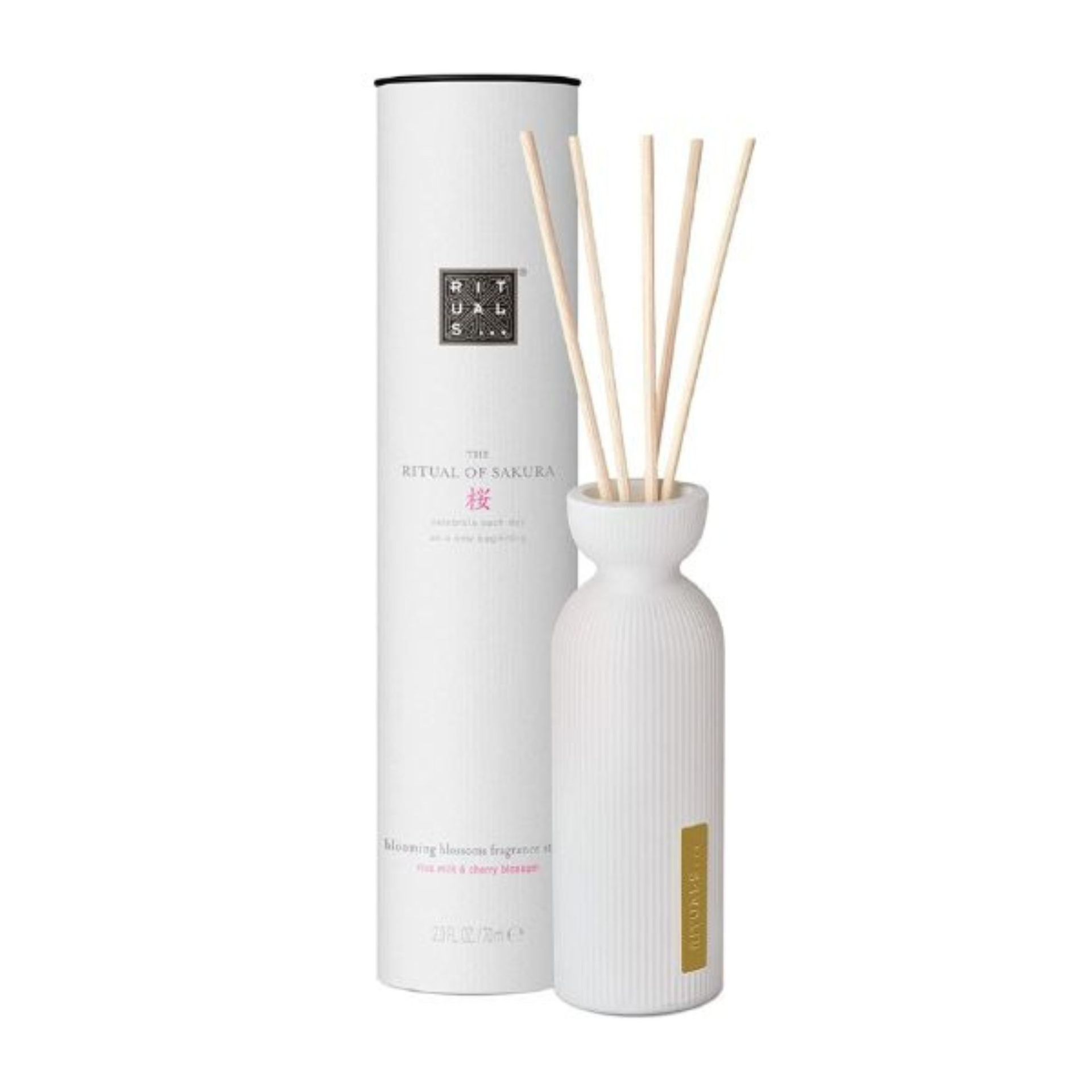 Wow-worthy
1. Rituals The Ritual of Sakura Reed Diffuser
Size: 1.6 oz./7.7 oz.
Scent: Oriental
Price: $21.50 at Rituals
I've been obsessed with this Rituals reed diffuser for years. Its strong oriental notes of rice milk and cherry blossom always wow me. It's the perfect year-round fragrance and I particularly love it in my entryway as it's nice and strong, so its scent will flood through your rooms. There's no need to flip your reeds regularly as the diffuser will stretch its aroma from one side of your room to the other, and the smallest size lasted me way longer than the recommended five weeks. The fragrance sits inside a luxurious white ribbed container that looks lovely on display. Though it's not recyclable, it is refillable.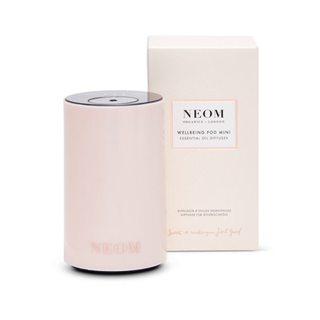 Essential oil diffuser
2. Neom Wellbeing Pod Mini
Size (in): H4.25 x W2.72 x L2.72
Scent: Various
Price: $69
This is rated our favorite essential oil diffuser for small spaces, and I think it's great for scenting a bathroom in particular. It's cordless and compact — mine sits above my toilet. It doesn't work with water, it only needs some essential oils to do its job. I use mine with Neom's Scent-to-Sleep essential oil (you can buy it from Amazon) which smells like lavender, basil, and jasmine. It has a 50-hour battery life and comes in two colors, It's super safe in comparison to a candle, and it has touch buttons on the top to control its intensity based on your room size. I'm obsessed with mine and guests have also commented on it.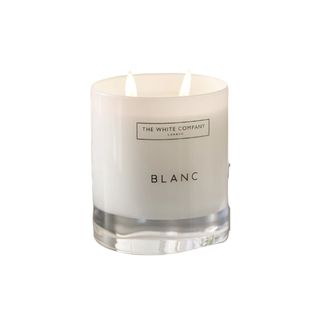 Luxurious
3. The White Company Blanc Candle
Size: 9.8 oz.
Scent: Fresh
Price: $42
This is my favorite crowd-pleaser scent from The White Company and possibly the number one candle I can recommend if you want something luxurious. Light it any time of year and in any room in your house to wow guests and complement your interiors. This subtle, crispy, and floral fragrance fills an entire room (I recommend the two-wick size). Just expect some soot around the corner of the elegant white glass vessel. It can burn for up to 55 hours, and it's made with mineral wax.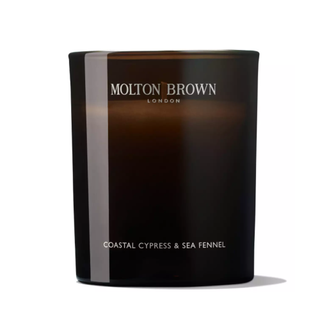 Fresh scent
4. Molton Brown Coastal Cypress & Sea Fennel Candle
Size: 6.7oz, 21.16 oz
Scent: Fresh
Price: From $50
This super fresh candle is ideal for your bathroom, bedroom, or entryway. It's definitely not too powerful for small spaces, yet its scent will flood through your home. Its fragrance is slightly ozonic and reminds me of the ocean mixed with a spring morning — it's just suuuuper fresh. It sits in a cute amber glass vessel and burns clean. This would make the perfect housewarming gift idea. Other perks include its recyclable packaging and vegan, cruelty-free ingredient list.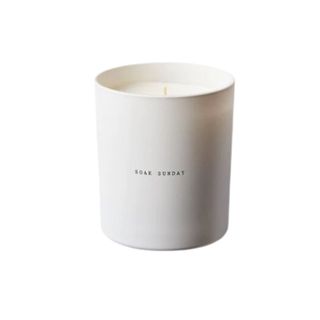 Cozy
5. Soak Sunday Cleo's Paradise Honey & Oat Candle
Size: 8.1 oz.
Scent: Warm
Price: $27.04
I love this warm candle for making my bedroom feel cozy — in both looks and scent. It's a fitting yet subtle blend of honey and oats with an impressive throw performance. I've had guests comment on its fragrance, and I adore its simple yet stunning white glass vessel. It burns clean for 35 hours, though you'll need to trim the wick often. This is one to light when it's a tad chilly outside and you need something comforting.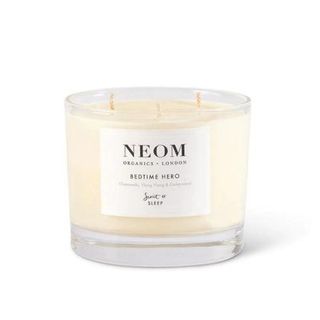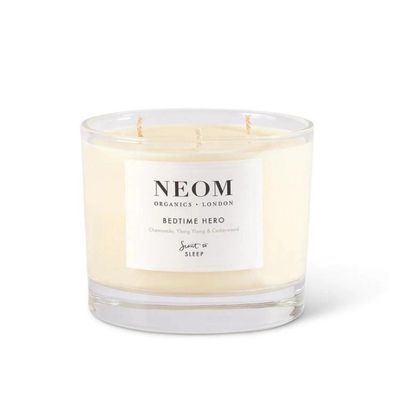 For bedrooms
6. Neom Bedtime Hero Candle
Size: 2.6 oz to 14.8 oz
Scent: Floral
Price: From $19.50
I light this candle in my bedroom a couple of hours before I sleep and it aids in relaxation. Fragranced with 11 essential oils to soothe, this fruity yet sweet smell is designed to fill a bedroom. Though it's clean and soot-free, you'll want to keep your wicks trimmed at all times as they tend to curl. My room is fairly spacious, but you might want to avoid lighting it in smaller bedrooms as it's pretty strong. It's made with vegetable wax, and it'll burn for 50 hours.
Fall home fragrances
Fall home fragrances have a special place in our hearts. Think woody, spicy, bold... they're simply the best for making a cozy impression.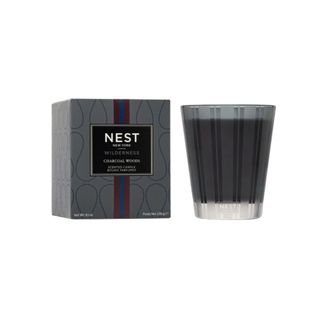 Fall favorite
7. Nest NY Charcoal Woods Classic Candle
Size: 2 oz, 8.1oz, 21.2 oz
Scent: Smoky
Price: From $48
This candle from Nest New York is my go-to on a wet fall day. Not only does it sit inside a frosted glass back vessel, but it's made using black wax to add to your decor. It's unique woody and smoky scent will wow you. Available in three sizes, it's the perfect pick for your living room coffee table. With notes of smoky labdanum, patchouli, and cedarwood combined with charred birchwood and a hint of black truffle, it's our favorite fall candle for 2023.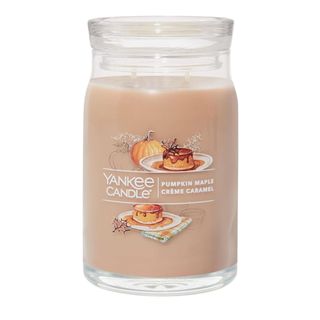 Yummy
8. Yankee Candle Pumpkin Maple Crème Caramel
Size: 20 oz
Scent: Sweet and spicy
Price: $38.99
If you like all the delicious sweet treats that come with autumn, you're going to love this Yankee Candle. Staff writer Eve found that while the scent was sweet, it wasn't overpowering so, thanks to the top and mid notes of cinnamon and spiced croissant dough. She also found that even after blowing out the candle in the evening, the scent still remained in her living room in the morning.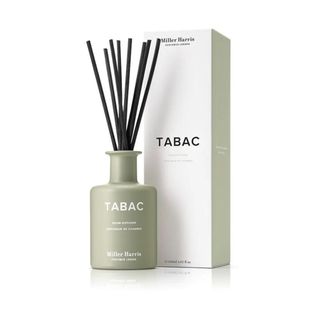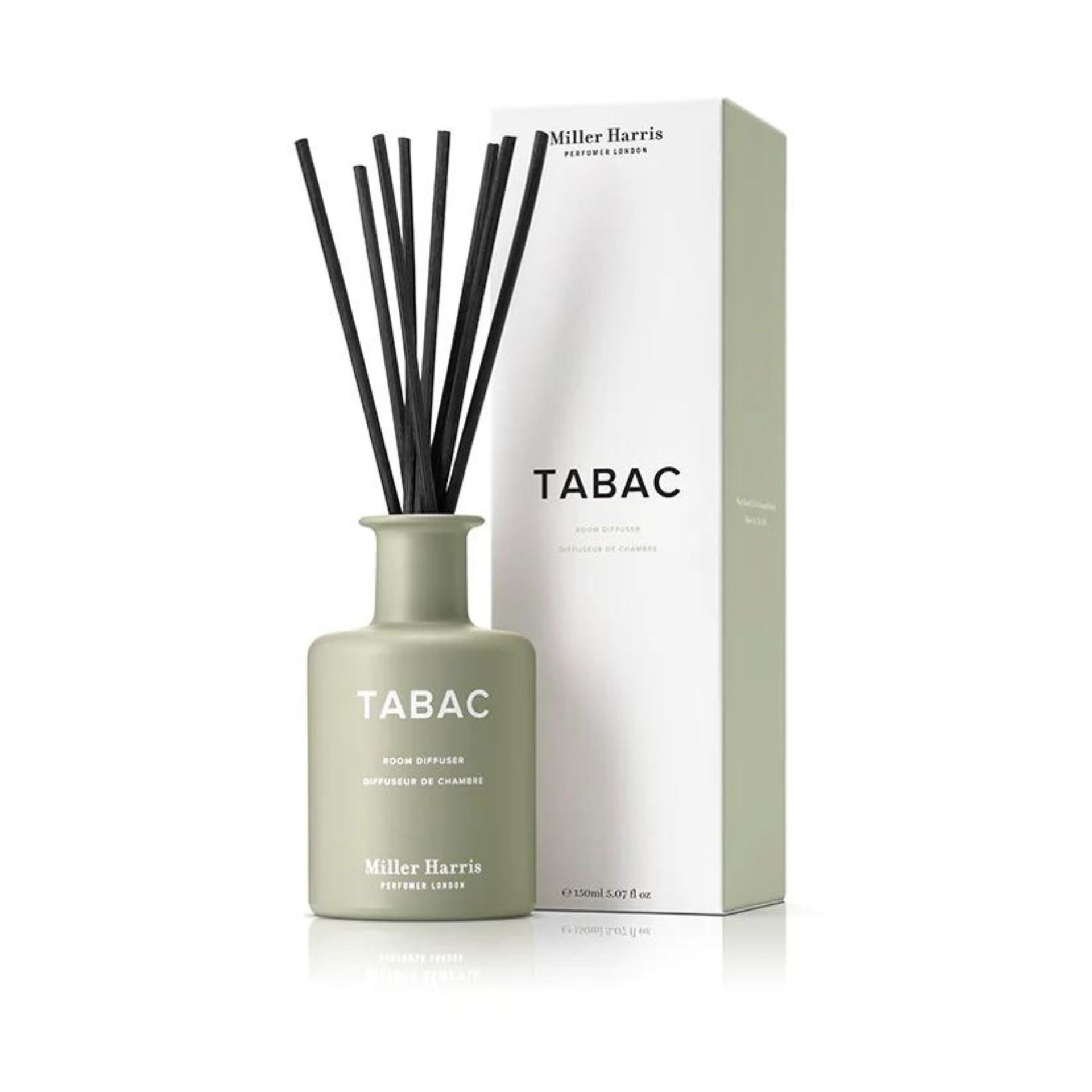 Eco-friendly
9. Miller Harris Tabac Reed Diffuser
Size: 5.07 fl. oz.
Scent: Warm
Price: $84
I was using this diffuser in my entryway last fall, and its serious and luxurious fragrance impressed my guests more than once. Equal parts warm, fresh, and woody, it doesn't emanate overpowering fall vibes ICYWW. It comes with a bottle stopper and sits in a subtle green glass vessel that's recyclable. In fact, the brand's ethos is sustainability, but it's not refillable.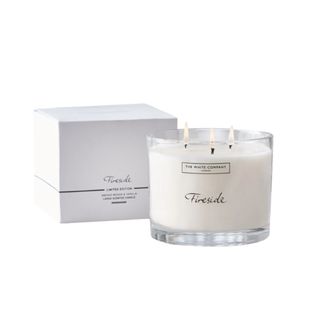 Great gift idea
10. The White Company Fireside Candle
Size: 4.9 oz to 27 oz
Notes: Woody
Price: From $29
The ultimate gift for your fall-obsessed friend, this candle imitates the fragrance of a roaring fireplace. It's cozy, warm, and the perfect addition to a living room. It's poured in the UK and comes in a classic glass vessel in various sizes. I buy it year after year, and my guests always comment when it's burning. I also have it as a reed diffuser, I love it that much. I can promise you won't regret buying this one!
On sale
11. DW Home Pumpkin Woods
Size: 15 oz
Notes: Spicy
Price: Was $24 Now $14.97
I picked this up last year at my closest T.J. Maxx, and to say that it smells like autumn and Halloween in a bottle (jar) would be an understatement. It's spicy, warm, and simply just the perfect combination to burn once the weather is cold. Its fragrance also floods a large room with ease. Not to mention it's huge, it has two wicks, and it's made with soy wax. The large orange glass vessel definitely makes a statement, and I washed it out and have kept it for holding candies this year.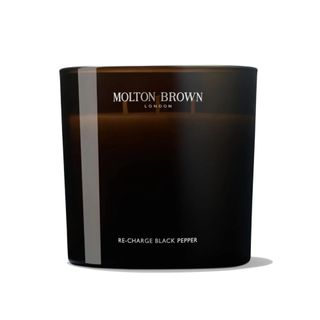 Fall elegance
12. Molton Brown Re-Charge Black Pepper Candle
Size: 6.7 oz, 21.16 oz
Notes: Spicy
Price: From $50
A fan-fave product for the colder months, this sultry scent is spicy, filling the air with an aromatic yet serious fragrance in minutes. It boasts warm notes of ginger and cilantro, and it's a great scent for larger spaces, such as a living room, as it's pretty strong (and that's before you've lit the wick). As for the amber glass jar, it's super chic, especially when the flame glows through the glass. We're also obsessed with the matching shower gel, FYI.
Spring and summer home fragrances
These spring and summer scents are subtle, fresh, fruity, and floral, and they welcome the sticky warmth of summer so are never overpowering. Perfect for warmer weather, they evoke the smell of a perfect summer's day.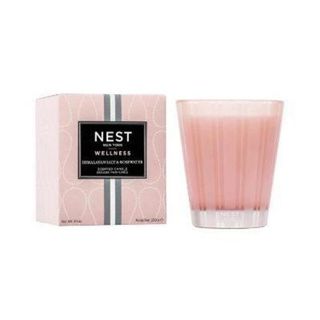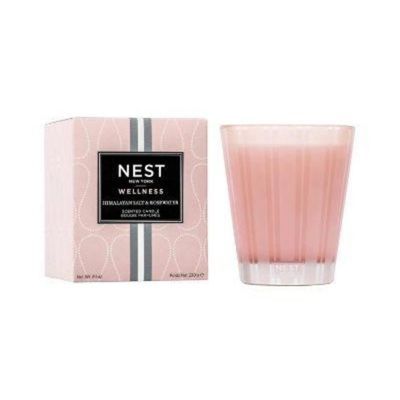 Barbiecore vibes
13. Nest New York Himalayan Salt & Rosewater candle
Size: 2oz–43.7oz
Scent: Floral
Price: From $20
I'm a little obsessed with this scent from Nest New York and I'd say it's my favorite from the brand. Not only does it look luxurious, but it smells incredible and works perfectly for summer. My only complaint? It's made with paraffin wax. I have the three-wick version and it floods my entire bedroom with its scent. It offers a clean burn, which is great if you're guilty of making a few candle mistakes. Aka: soot-filled candle jars! It comes in a luxury pink-tinted glass vessel that's frosted with stripes. If you're wondering about burn time, the largest size can last for up to 100 hours, and I can vouch for that.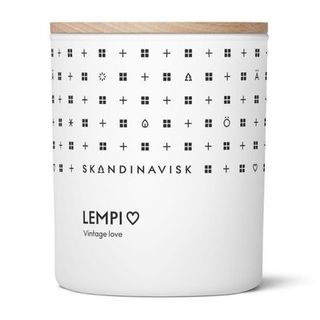 Eco-friendly
14. Skandinavisk Lempi Candle
Size: 2.3oz, 7 oz
Scent: Floral
Price: From $25
I've said it before and I'll say it again, this is a scent I will forever repurchase, whether for myself or as a gift. It's the perfect floral candle that never takes over a room, giving off just the right amount of fragrance to reach from one corner of a room to the other. It burns evenly every time in its Scandi-style vessel that's made from 30% recyclable materials. The candle even has an FSC-certified wooden lid for keeping dust away. It has a burn time of 50 hours, plus it's made with Swedish rapeseed wax.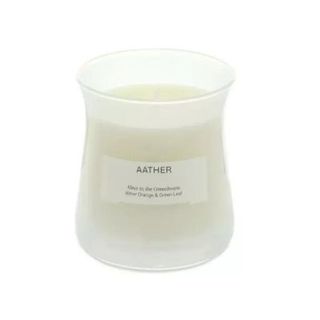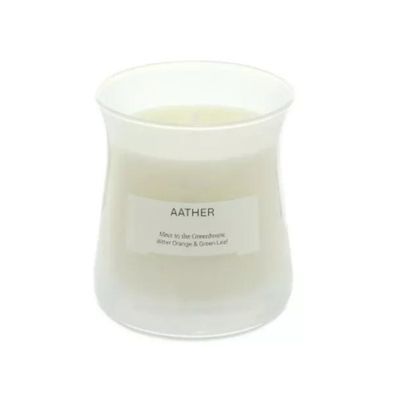 On sale
15. Aather Meet in the Greenhouse Bitter Orange & Green Leaf
Size: 10.5 oz.
Notes: Citrus
Price: Was $52, Now $26 (save $26)
This candle smells like fresh air but better. With a twist of bitter orange and underlying woody notes, I loved using it in my entryway to subtly flood my entire apartment with its scent. You can really light it in most spaces, though I'd avoid smaller rooms as its blend might be overpowering. It burns evenly from start to finish, but I did notice a little soot. The beeswax it's made of will burn for 55 hours.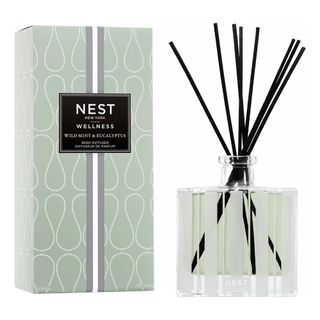 For your bathroom
16. Nest NY Wild Mint & Eucalyptus Reed Diffuser
Size: 5.9 oz.
Scent: Fresh
Price: $60
I'll admit that I wasn't immediately sold on this reed diffuser — until I moved it into my bathroom. Now, it perfectly fits this space and it's strong enough to banish odors as they come. It's fresh thanks to the mint and the eucalyptus helps strike the perfect balance. My bathroom is windowless, so I didn't use all of the reeds, but its luxury-looking vessel definitely looks on point 24/7. You can also buy refills for it, so you keep the vessel.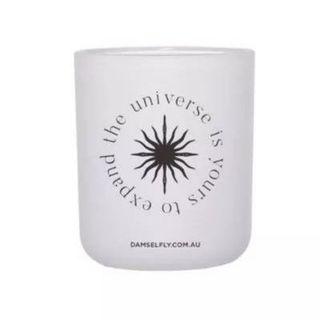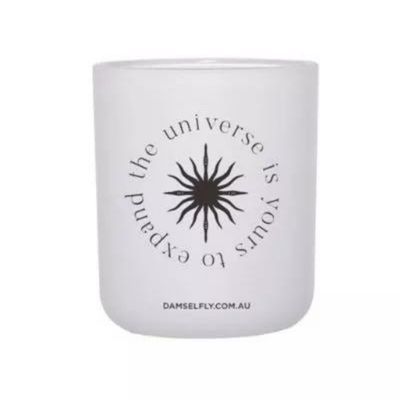 On sale
17. Damselfly Grace Universe
Size: 10.5 oz.
Scent: Fresh/herbal
Price: $65.28 $39.17 (save $26.11) at MyBag
I love this candle for spring and summer. Its gentle yet sweet fragrance sweeps across any space. It's best for living rooms, entryways, and bedrooms because it's way too lovely to hide away in your bathroom. Its two lead-free cotton wicks and soy wax burn super clean for 60 hours.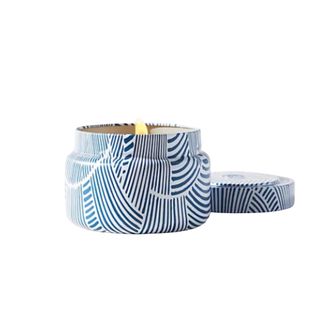 Summer dreaming
18. Capri Blue Candle Tin (Currently out of stock)
Size: 8 oz.
Scent: Fresh/fruity
Price: $22
Our former editor's all-time favorite candle, Melissa loves the feeling of being warm and this Amalfi-inspired candle helps her feel like she's in her happy place: aka swimming in the Med, while eating nothing but pasta for a week or so. The fact it sits in a lovely tin is just a bonus, plus it has a burn time of 38 hours in total and it's made with soy wax.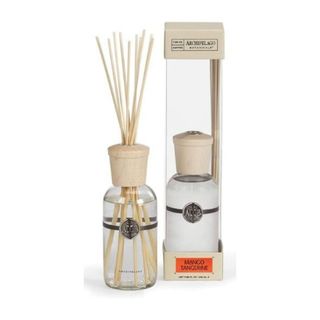 Uplifting
19. Archipelago Botanicals Mango Tangerine
Size: 7.85 oz.
Scent: Fruity
Price: $52
As approved by one of our writers, this uplifting diffuser is long-lasting, sweet, and refreshing without being overwhelming. It's scented with everything you love to eat in the summer, including mango, tangerine, passion fruit, and pomegranate. Its aroma manages to reach each corner of a room, and we think that its minimal bottle lends itself to the fragrance. You can buy refills and its vessel is recyclable.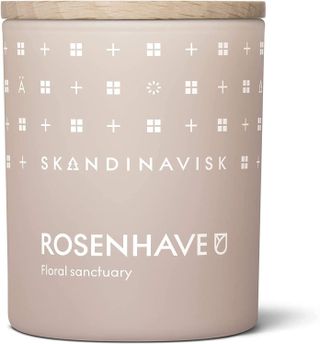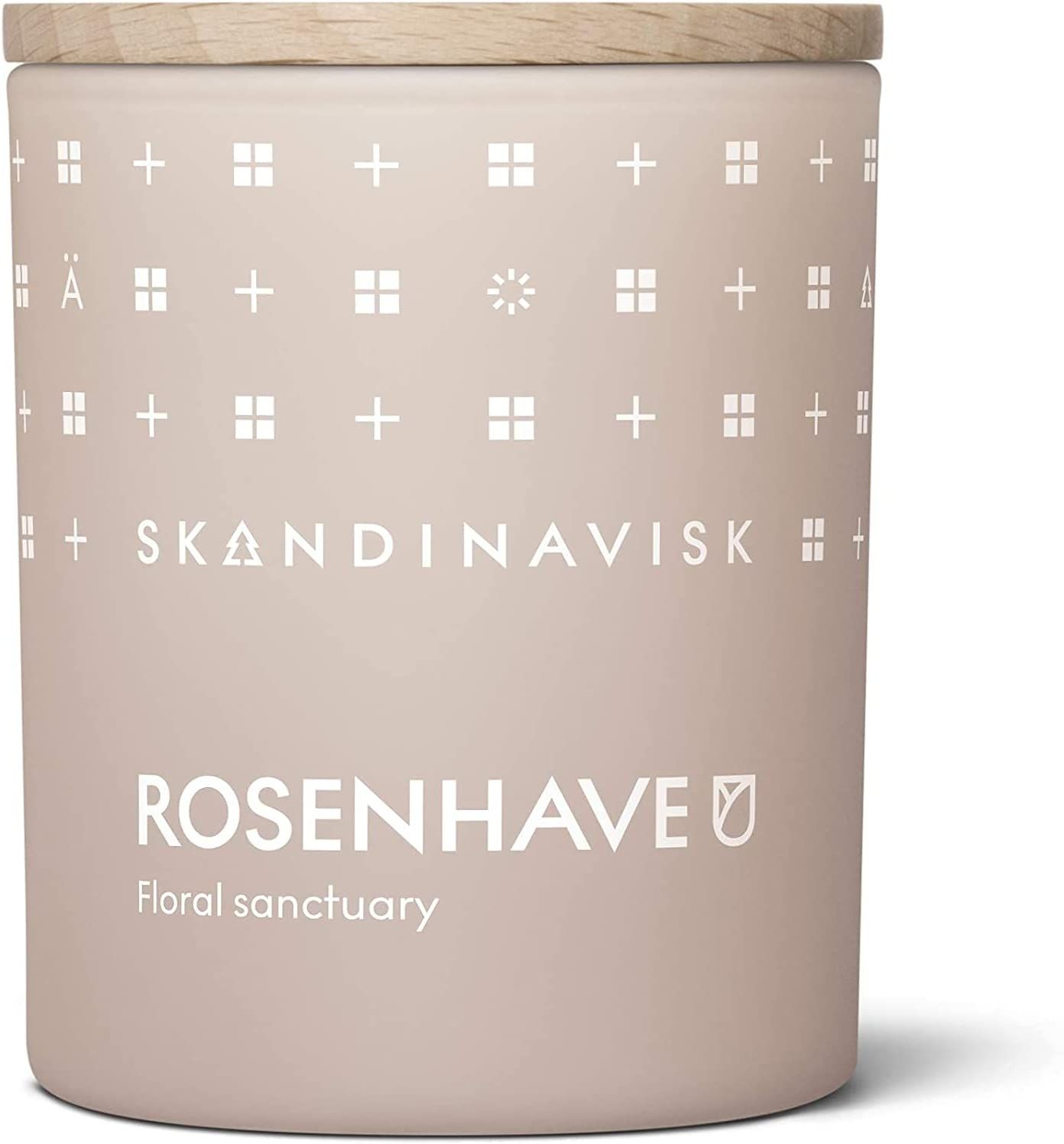 Flower power
20. Skandinavisk Rosenhave
Size: 2.3oz, 7 oz
Scent: Floral
Price: From $25
My go-to floral fragrance is eco-friendly and perfect for summer and spring thanks to its delightful floral aroma. Perfectly subtle yet still fragrant, it sits inside a pink recycled glass vessel with a wooden lid to prevent dust from collecting inside. The vegan, cruelty-free, and organic candle also burns clean. The smaller size burns for 20 hours and the largest for 50 hours. Oh, and it's made with Swedish rapeseed oil.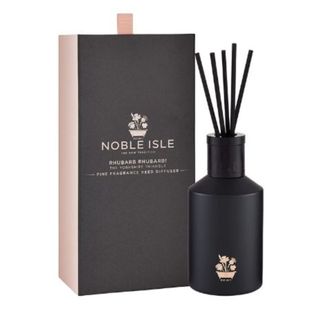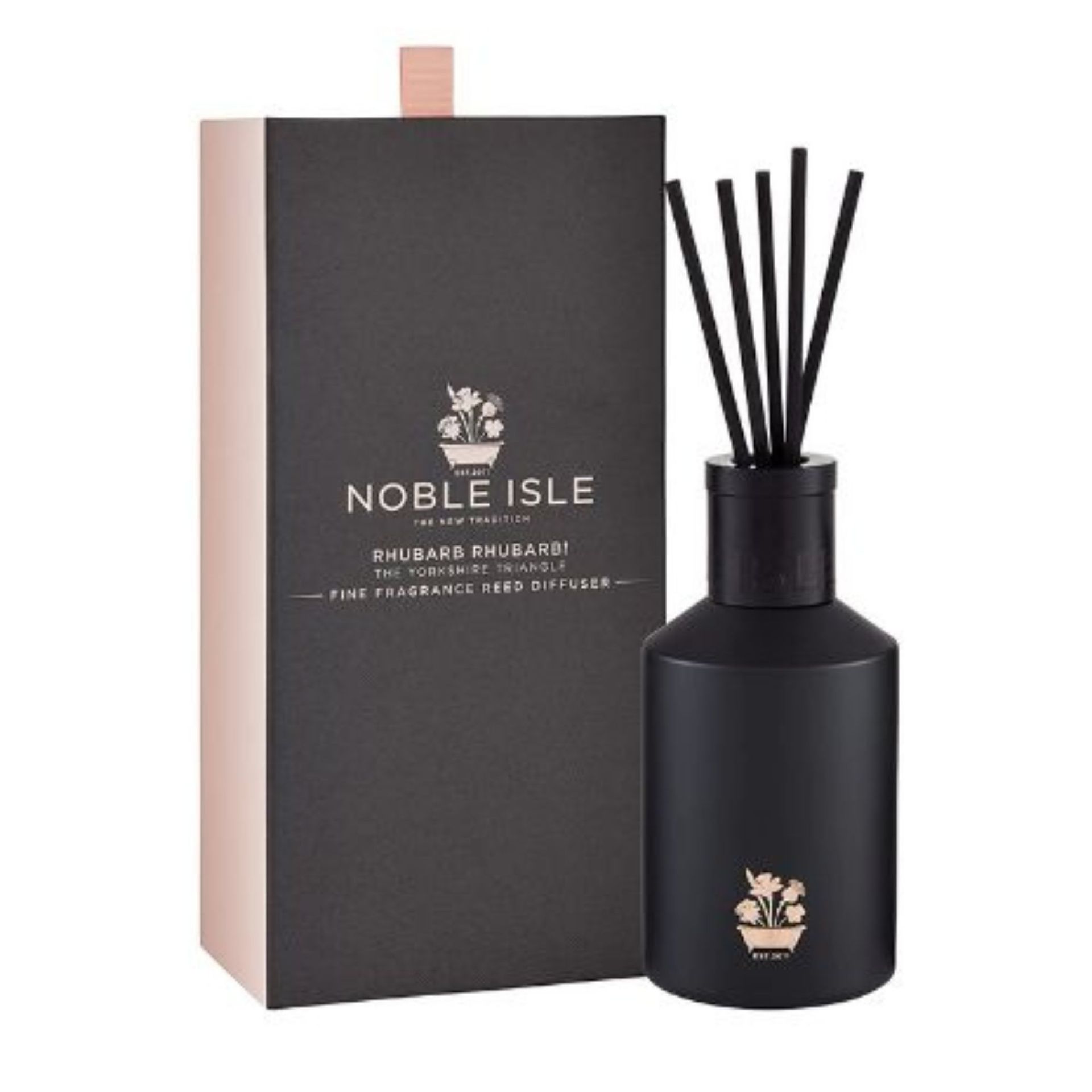 Sweet yet subtle
21. Noble Isle Rhubarb Rhubarb!
Size: 3.38 oz.
Scent: Sweet, floral
Price: $58
If you love a sweet fragrance, then I can recommend this incredible long-lasting diffuser that has a gorgeous floral yet slightly sweet aroma, fueled by rhubarb, sour juniper berry, and fresh muddled rosemary. It's housed in an elegant black glass vessel with black silk reeds you'll rarely need to flip. It's cruelty-free and vegan, and I think it's best for an entryway. Just bear in mind though that it's not recyclable or refillable.
Types of home fragrance
Candles
Using a candle to scent your space offers an explosion of fragrance over time. Be sure to consider the wax of your candle, with soy being the best and most clean option in our opinion, and also consider the candle's size in comparison to your room size, and how many hours it can burn for. Another thing to think about is the safety of lighting a candle at home. If you have small children or wandering pets, then you might be better off with a much less risky reed diffuser.
Reed diffusers
You can't really go wrong with a reed diffuser. They are sensational if you want more control over how strong the scent will be or have concerns about the safety of burning candles. Keep in mind that you'll need to flip the sticks to change which end is in the oil every couple of weeks (some reed diffusers require this every other day) for a fragrance boost. Add reeds or remove reeds to control fragrance depending on the size of your space. Though they're not necessarily dangerous, you will still want to place them out of the way of children or pets to avoid spills on your furniture. I would avoid putting them in bedrooms, but if you do, take it out while you sleep because pets shouldn't inhale them all day long.
Essential oil diffusers
Using essential oil drops and water, essential oil diffusers produce water-fragranced vapor into the air of your home to make it smell nice. We've only included one essential oil diffuser in this list, and it actually works without water. Instead, it uses cold fusion rather than water to get those essential oils diffusing. Essential oil diffusers are a lot safer to use to scent your home, especially since if you accidentally leave them on, they usually automatically shut off once their water tank empties. They just need to be placed near a plug socket (usually!).
How to choose a home fragrance
Fragrance is very subjective. Put simply — just choose what you love the smell of. if you're unsure, there are a few general rules that can help you make the right choice.
Living rooms: The living room is usually the largest room in the house and can take a strong fragrance. Bold florals, rich amber-based or woody-smoky fragrances, and sweet scents can all travel beautifully across a living room. We'd avoid anything herbal or overly subtle, as you probably won't be able to smell it much.
Bedrooms: Choosing a scent for a bedroom is all about making sure you won't disrupt your sleep with an overly strong or stimulating fragrance. Avoid citruses or cloyingly sweet scents. We recommend subtly blended white florals, minimalist scents with tea notes, or herbal fragrances with lavender or chamomile.
Kitchens: The best fragrance for a kitchen will need to blend perfectly with the smells of food being prepared, so it's always a good idea to pick something that harmonizes with those smells. Notes of tomato, passion fruit, basil, citrus, or mint all work really well in kitchens. While a reed diffuser works well in any other room, we avoid putting them in kitchens where they might take on cooking smells, or heat could impact their oils.
Bathrooms: This is your wild card of a room that can accommodate almost any fragrance, strong or subtle — it's all about preference. We prefer to stick to herbal or fresh fragrances in a bathroom and wouldn't opt for anything too heavy, especially if your bathroom is windowless.
Entryways: An entryway announces what your home is like to guests, so why not go for a blast of scent? Opulent white florals, rose scents, or complex woody fragrances will make a strong first impression.
Home office: A home office fragrance (or a room in which you work) needs to support productivity without being too distracting. Bright citruses will help you stay awake and concentrate, while a grounded fragrance with notes of amber or tobacco will conjure up a calm and controlled atmosphere. An essential oil diffuser can work well in a home office, too, for a calming scent that's not too soothing.
What to consider when choosing a home fragrance
We've listed a range of specs above, along with each product we recommend. Specifications differ from reed diffusers to candles, but when it comes to both of these home fragrances, we've made sure to list both size and scent. Go for a larger candle if you are considering this for a big space. If it's a reed diffuser, then be sure to use all of the reeds if your space is large. Consider each fragrance's notes and think about the scents you usually pick up, or ones you already own (and like) at home.
Candles
When it comes to candles we've also been sure to list the burn time of each fragrance. Consider this and compare it to the candle's price. The last specification for candles that we listed is wax. This is mostly down to personal preference, but we have found that soy wax burns cleaner than others — and it does tend to be a better option for breathing in.
Reed diffusers
When listing reed diffusers, we've made sure to check if each reed diffuser has to be fully replaced once finished or if refills are available. Refilling your reed diffuser isn't only an eco-friendly option, but it's also more affordable than buying the entire diffuser vessel and fragrance again and again. Some vessels are recyclable, too.
FAQs
Is now a good time to buy home fragrances?
We at Real Homes compare prices and provide insight using the Amazon price tracking site, camelcamelcamel. This allows us to see the lowest and highest prices recorded and provide guidance on the right time to buy home fragrance.
How we test home fragrance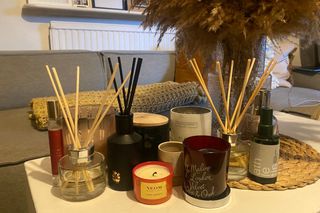 As well as taking on this job and testing the bulk of the fragrances in this guide, I do rely on team members' noses, too. In the case where I have too many fragrances at one time, I'll hand them over to members of the team and they will follow the same process to review. They'll light it and move it around their home until they find somewhere suitable for it to live. They'll also wait until the fragrance is half used to make a verdict and I add it to this list on the next update.
---
Finding the right home fragrance for you may take a little trial and error. Are you more of a candle person or do you like a subtle air freshener? Think about your surroundings — you'll need to keep flames away from little ones and pets so candles may not be the best solution. If you're prone to knocking over a glass reed diffuser, maybe a plug-in air freshener would be a better option.