Getting your home office storage spot on is key to creating a space that's functional, inspiring and that will help support your productivity when working from home.
Whether you've a whole room, a corner in the living room or nook in the hallway, ensuring you have the best storage solutions to keep this space tidy and well organised is crucial.
After all, bringing the best home office ideas to life wouldn't be possible without good storage behind it to hide daily clutter...
1. Invest in a dual-purpose coffee table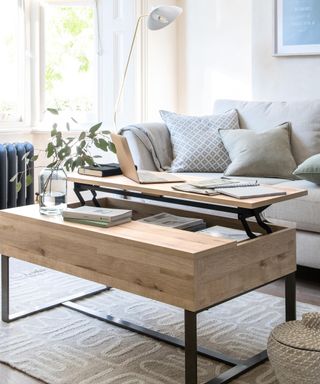 Remote working has unearthed ways to work in different rooms in the home. While the bedroom offers a quiet space, the temptation to slide under the covers may be too risky for some.
Instead lounge areas probably provide the closest thing to a 'normal' working environment. And, while not great for your posture, coffee tables are commonly used for laptop perching and coffee nestling.
This light oak effect table with grey metal legs from Next features a cool lift up storage section transforming into a desk or dining surface. So if you're looking for a multipurpose home office storage idea that suits multifunctional living - we've got you!
2. Go Art Deco and use a drinks trolley in your office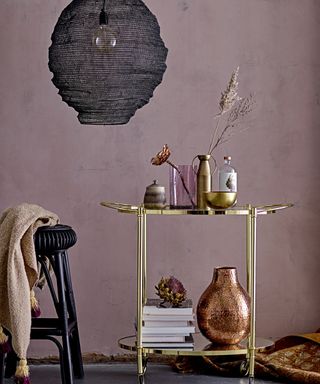 TGIF! OK, so maybe you're not reading this on the last working day of the week, but you can still inject some fun into your home office storage ideas.
Used more commonly to serve guests in style, the humble drinks trolley is a glamorous way to display everything from stationary to folders and more.
Asides from the practical additions, adding a statement vase or some clayware will make your makeshift office space look expensive.
And, after hours or on weekends, it can return to its original purpose.
3. Keep your desk tidy by using wall space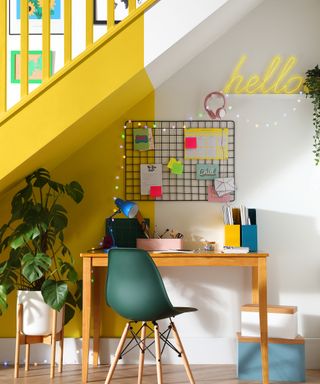 Working with a tiny workspace under the stairs or using an alcove? Keep clutter at bay by making use of wall decor. Think wire boards, fairy lights to hang things off, and of course, some floating shelves.
4. Create a cool co-working space with locker storage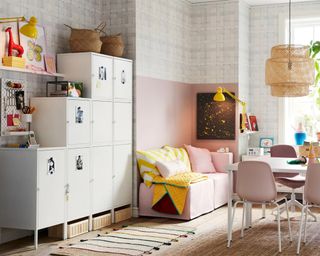 From the pink swivel chair, to the plush and cozy corner, rattan lampshade and textured rugs – we'd be tempted to work all hours. But the stand out feature here is the storage locker. To recreate this look, simply stack IKEA's HÄLLAN cabinets and place the larger ones on legs. The pegboard, floating shelves and baskets offer extra up solutions to keep things clean and tidy.
Each member of the family can then personalize their container as they see fit with photographs, post-it notes or a spray paint design.
5. Invest in a desk designed for tiny spaces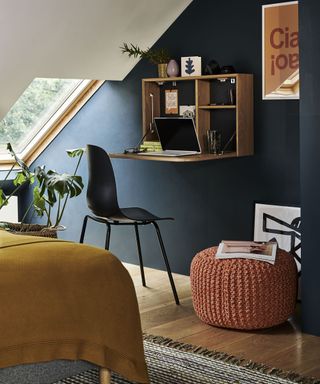 If a recent change in working from home had left you in a panic trying to find an appropriate space to work and store your laptop – you are not alone.

This pull-down home office storage desk from John Lewis and Partner's new Anyday range allows you to work and pack away your gear efficiently at the end of your shift. With internal shelves for storage and display, your weekends won't be wasted trying to nail extra shelving ideas into the wall.
6. Use magazine files to organize paperwork properly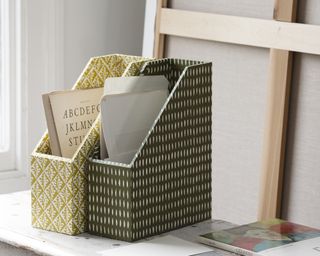 Cheap and cheerful, magazine files are great to organize magazines, brochures, pamphlets and documents in your home office.
But rather than opting for budget or plain colored ideas, consider printed designs that fit in with your room decor for a coordinated scheme.
These forest green and sage magazine files from Cambridge Imprint cost a little more than your standard box files, but are made by hand from sturdy wooden board. Lined inside and out with patterned paper, they make filing look fancy.
7. Repurpose an old dressing or hallway console table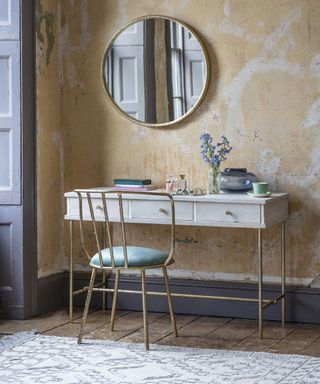 Getting full use out of dressing and console tables by letting yours double up as a home office storage space is a wise move. And, there are lots of fine design tweaks that can make these tables easier on the eye. Consider painting yours the same color as your office interiors, or place inserts inside so that your stationery doesn't roll about inside.
This is one of many cost-effective budget home office ideas to save you forking out on expensive furniture. Now all you need is a good office chair to accompany it.
8. Add an industrial feel with a metal side table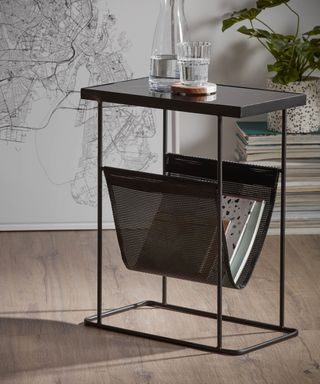 If you're looking for a chic bit of home office storage, look no further than this metal side table, available on Cuckooland.
With a black powder coated metal frame and will add an industrial element to your office. Styled in black with a glass table top, it's one stylish piece of furniture.
Outside of working hours, use it as a modern living room idea and set aside some time to relax with a good book or glossy magazine. What's more, it comes already assembled and spillages or dust can be cleaned with a damp cloth.
9. Keep things separate with a letter tray design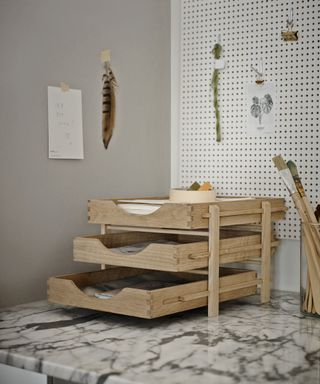 Keep loose paperwork tidy with a letter tray on your desk. Rather than going for a plastic or metal home office storage idea, this Skagerak Dania tray features three functional and oak trays on graduated levels and is the perfect Scandi chic and sustainable feature in your WFH setup. For added flexibility, pull out a tray and take it with you when you work away from your desk.
10. Keep your home office storage flexible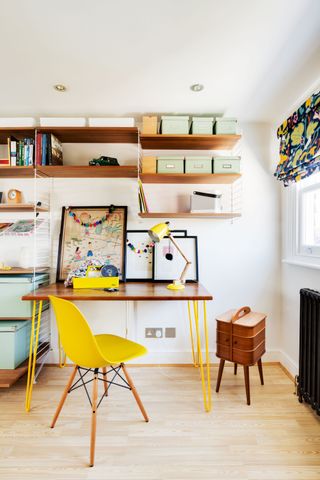 Look for adaptable storage systems that can grow and be altered as your storage needs change. Even if your work is largely paperless, the unavoidable creep of bills, post and archived documents needs to be pre-empted.
Choose adjustable shelves that can be repositioned. This allows you to maximise the available space, fitting the shelves to your items, rather than being left with wasted voids.
11. Choose modular home office storage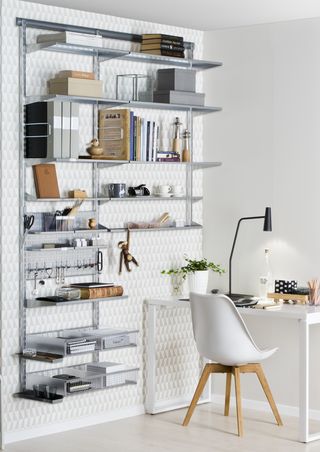 A great home office storage idea is to build an adaptable storage wall with floor-to-ceiling supports and brackets. Open storage systems like this Elfa storage system really do offer total control over the storage space. Not only can you get shelves of every depth, but handy pegboard-style panels, or drawers can be added too for stationery.
12. Go for bespoke home office storage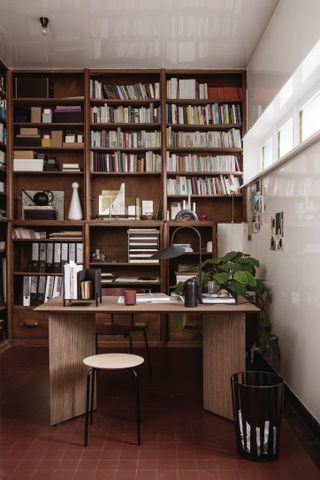 Many furniture companies and joinery specialists will be able to design and build home office storage to perfectly suit your requirements. No matter how big or small the space is, this can be the best way to make the most of every nook and cranny of the room.
Desks can be crafted as part of the storage, creating a coordinated look. Ask for a combination of open shelving (for pretty storage boxes and decorative items), as well as cupboards to hide away clutter and tech. Ask the designer to include trunking and portholes to keep unsightly tangled wires at bay.
13. Turn your home office storage into a feature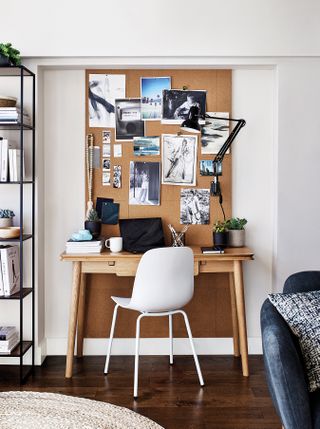 Make the necessity of home office storage into something beautiful with an accent wall of shelving or pinned pictures. This is the perfect solution for those integrating a home office in to a living room or communal space. Remember to leave plenty of space to display treasured items keeping it as aesthetically pleasing as it is functional.
14. Choose a variety of storage solutions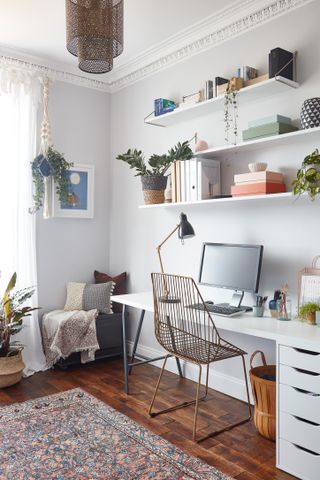 Go for a variety of home office storage types. Shelves for books, magazine files and ornaments; drawers with file hangers for paperwork; drawers for pens; and cupboards to hide away printers or bulky items.
15. Shared storage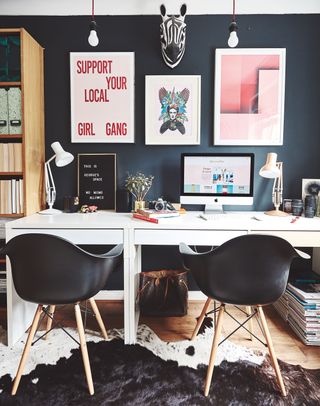 Sharing a workspace means squeezing the best desks and two people's paperwork and sundries into the space. Maximise the available room with a double desk and workstation with built in drawers under each.
16. Foldaway looks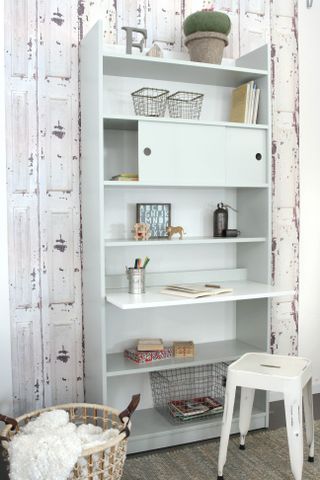 A foldaway desk is a space-saving solution for any room and provides enough work space for admin or using a laptop.
Using a shelf-cum-desk also means all of your storage is in arm's reach. The Morris bookcase comes in grey, mint and natural finishes.
17. Drawers where clutter is okay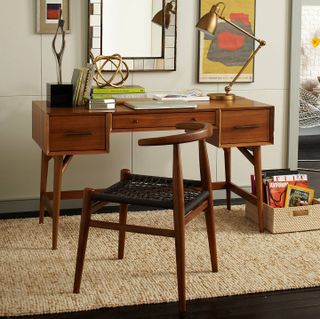 For a clutter-free office, look for a streamlined desk with drawers. Use the drawers for notepads and files, then make a feature of stationery storage with a selection of beautiful pen pots and magazine files.
We love this West Elm Mid-century style desk. It's got a generous worktop and three spacious drawers for hiding away clutter, sorry we mean we organizing important documents.
18. Build wall-to-wall home office storage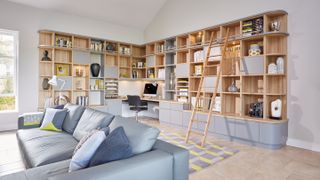 Where space allows, fill a wall or corner with shelving for plenty of home office storage. Remember that if you are going for height, you will need to be able to reach the top shelves, and this is where a library-style ladder and rail comes in handy.
A desk is neatly nestled in the corner of this Grey Roma storage solution from Neville Johnson, making it the perfect choice in a multifunctional space like a living room.
19. No home office? No problem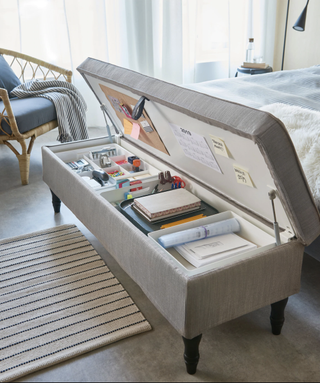 If you don't have room in your home for a dedicated home office, finding places to store your papers, laptop, stationery, that sort of thing can be tricky. But just check out this ingenious hack; store it all in an ottoman.
All you need to recreate this look is a cheap Ikea storage ottoman and a mix of desk organisers. In this bedroom, a combination of Kuggis and Kvissle have been used, but you can obviously customize the inside of your ottoman to suit your storage needs.
20. Get your home office organized with a peg board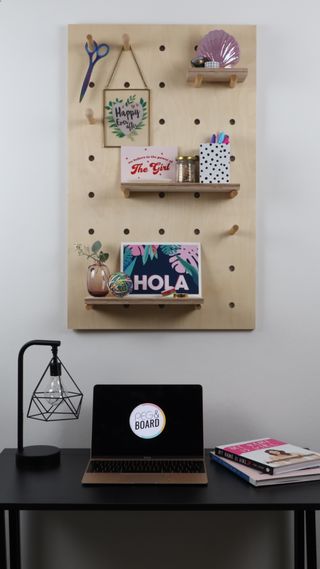 We have a lot of time for the humble peg board, it looks cool, is super versatile and can be cut to fit pretty much any space.
Mount some peg board above your desk to keep everything you need at an easily grabable distance, you could even add shelves to your peg board for even more home office storage.
21. Add a giant cork board to your home office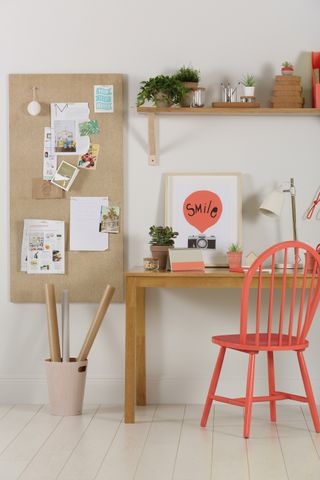 Okay maybe a cork board doesn't exactly count as home office storage, but they are super handy to keep those all import documents in plain sight.
You can also use them to keep to do lists at hand plus they are a really cheap way to add some personality to your home office.
22. Choose wall mounted wire shelving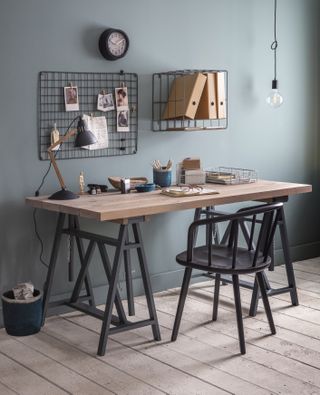 If you like industrial vibe interiors, check out these wire offerings from Garden Trading for some home office storage ideas.
The memo board is ideal for storing reminders, to do lists, inspirational quotes, whatever. Plus there is a matching wall mounted shelf which is perfect if you don't want to clutter up your desk.
23. Opt for open shelving (if you are neat enough)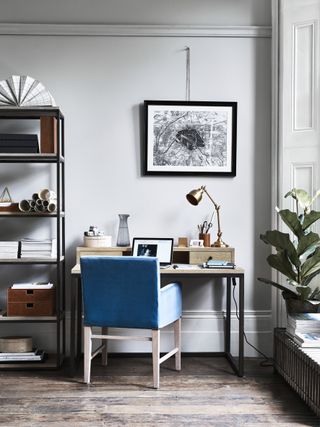 If you can be organized and tidy in your office (perhaps you've invested in some lovely filing boxes), going for a pared back look with open shelving and plenty of space to display either attractive work kit (rolls of wallpaper, plans...) or pretty home accessories, can help make the home office look neat and spacious.
24. Pick a home office cabinet to hide it all away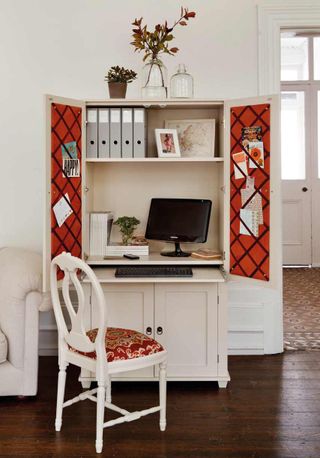 If your home office sits anywhere but in a designated home office, a hideaway cabinet or 'cloffice' is a fantastic solution.
By day, the doors can be open to provide you with a fully-functioning home office; by night, you shut the doors and hide it all away. This one is from The Dormy House and you can customize the colors and fabrics to suit your style.
25. Escape to an alcove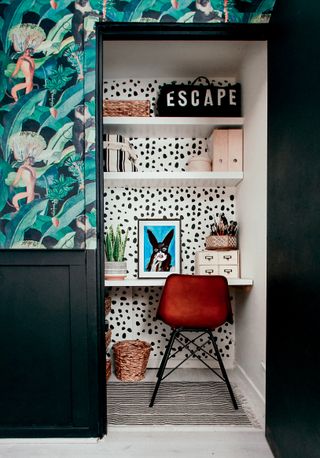 And a complete home office in itself if you want. A neglected alcove is just waiting to be transformed-into something more practical and building in a home office or some home office storage just makes sense.
You can actually DIY this home office storage idea yourself really easily, just check out our step-by-step guide to how to create an alcove office.
26. Create a walk-in library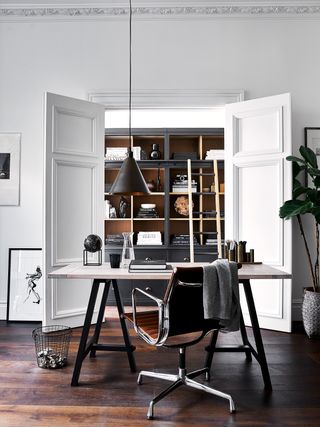 A truly extra home office storage idea is to build a walk-in home library, like a pantry but for your books and work stuff.
Obviously in this gorgeous home, there was a small room conveniently already built onto the side of this massive home office, but if you are blessed with smaller proportions, you could build a stud partition wall in your current set up to create a similar (if not slightly less grand) effect.
27. Color coordinated accessories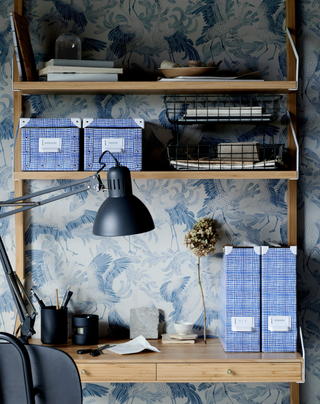 We love this little home office nook, those colors are gorgeous! A simple palette like blue and white is great for a home office because it makes the space more interesting but is still calm and not distracting.
Anyways, back to home office storage. Small accessories like these boxes and magazine files are great for clearing away the clutter you create through the day – use them to store notes, books, pens and paper but still keep them all very easy access.
How do I store things in my home office?
'Clever storage is king and a good de-clutter can make a home office area feel much bigger. Make the most of wall space to get everything up off the ground using shelving.', says Charlie Marshall, founder of Loaf.
'A great storage solution, shelves are the perfect way to store documents and office equipment as well as to show-off memories that you've collected over the years. Display your favorite knick-knacks, keepsakes and dog-eared books to give your home office personality. '
'Backless shelves can even be used to zone a room. A great solution if you're looking to create a home office in an existing space such as a living room or kitchen area.
'Ensuring it's backless will allow you to partition an area but still allow light to pass through, plus it's a brilliant storage solution too.'