Now we live in a largely digital world, a lot of us have the option to work at home from time to time. Even for those who don't, a dedicated home office space for 'life admin' or for the kids to do their homework is a great way to keep paperwork in one place.
Whether this is a whole room, or just a small home office in a nook in the living room, keeping this space tidy is crucial. Here is a gallery of home office storage ideas to guarantee a tidy desk and a tidy-ish mind.
Designing a completely new home office? Check our our guide for more advice.
1. Keep your office storage flexible
Look for adaptable storage systems that can grow and be altered as your storage needs change. Even if your work is largely paperless, the unavoidable creep of bills, post and archived documents needs to be pre-empted.
Choose adjustable shelves that can be repositioned. This allows you to maximise the available space, fitting the shelves to your items, rather than being left with wasted voids.
2. Choose modular office storage
Build an adaptable storage wall with floor-to-ceiling supports and brackets. Open storage systems like this Elfa storage system really do offer total control over the storage space. Not only can you get shelves of every depth, but handy pegboard-style panels, or drawers can be added too for stationery.
For more of the best home office shelving check our our buying guide.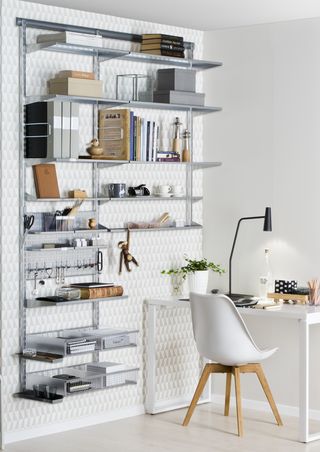 3. Get an all-in-one office storage box
A computer and an office desk are not all you need for a productive day's work — don't forget all the stationery that comes with the job. A storage box with different slots for pens, paperclips and notepads will cut time spent rummaging around for a working highlighter pen, or a post-it note.
Keep a few essentials close at hand in neat pots on your desk, then spares can be neatly tucked away in a dedicated storage shelf or unit. The timeless Leather Stationery Box, available from Life of Riley has three drawers and six compartments, ideal for storing paper and writing accessories.
Find out what other home office accessories you didn't realise you needed in your life in our buying guide.
4. Go bespoke
Many furniture companies and joinery specialists will be able to design and build home office storage to perfectly suit your requirements. No matter how big or small the space is, this can be the best way to make the most of every nook and cranny of the room.
Desks can be crafted as part of the storage, creating a coordinated look. Ask for a combination of open shelving (for pretty storage boxes and decorative items), as well as cupboards to hide away clutter and tech. Ask the designer to include trunking and portholes to keep that unsightly tangle of wires at bay.
5. Make home office storage a feature
Make the necessity of home office storage into something beautiful with a feature wall of shelving. This is the perfect solution for those integrating a home office in to a living room or communal space. Remember to leave plenty of space to display treasured items keeping it as aesthetically pleasing as it is functional.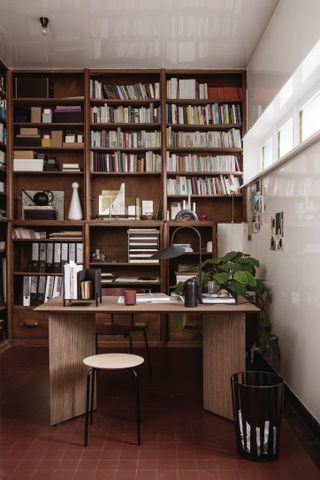 6. Choose a variety of office storage
Go for a variety of home office storage types. Shelves for books, magazine files and ornaments; drawers with file hangers for paperwork; drawers for pens; and cupboards to hide away printers or bulky items.
7. Create a shared workspace with plenty of storage
Sharing a workspace means squeezing a desk and two people's paperwork and sundries into the space. Maximise the available room with a double desk and workstation with built in drawers under each.
Check out more of the best home office desks in our handy buying guide.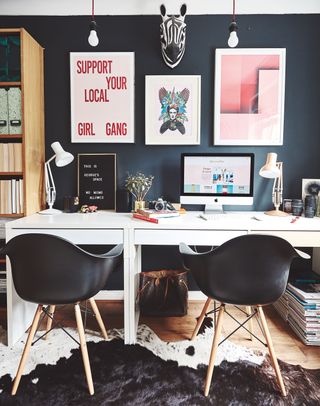 8. Opt for a foldaway desk
A foldaway desk is a space-saving solution for any room and provides enough work space for admin or using a laptop. Using a shelf-cum-desk also means all of your storage is in arm's reach. The Morris bookcase comes in grey, mint and natural finishes. It is the perfect homework station for a kid's bedroom.
Find more small home office design ideas.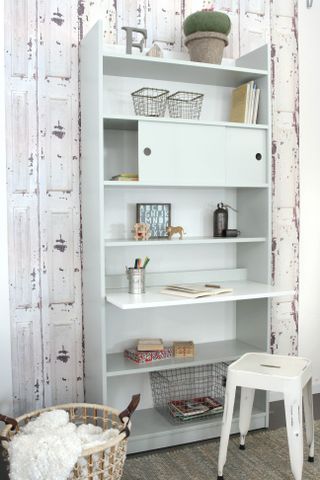 9. Or a desk with built in storage
For a clutter-free office, look for a streamlined desk with drawers. Use the drawers for notepads and files, then make a feature of stationery storage with a selection of beautiful pen pots and magazine files.
The Franklin desk from Made.com with a mango wood frame and copper drawers would make a stylish addition to any workspace.
10. Build wall-to-wall storage
Where space allows, fill a wall or corner with shelving for plenty of home office storage. Remember that if you are going for height, you will need to be able to reach the top shelves, and this is where a library-style ladder and rail comes in handy.
A desk is neatly nestled in the corner of this Grey Roma storage solution from Neville Johnson, making it the perfect choice in a multifunctional space like a living room.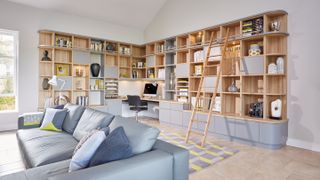 11. Invest in a stylish desk storage set
If you like working with printed documents, you need proper document storage, period. Forget ugly filing cabinets, though; instead, invest in a practical and stylish desk filing solution.
We like the very good-looking Alida Home Office Set from Made.com, which includes a document file, a stackable tray, and an A4 document box.
12. Get organised with peg board
We have a lot of time for the humble peg board, it looks cool, is super versatile and can be cut to fit pretty much any space. Mount some peg board above your desk to keep everything you need at an easily grabable distance, you could even add shelves to your peg board for even more home office storage.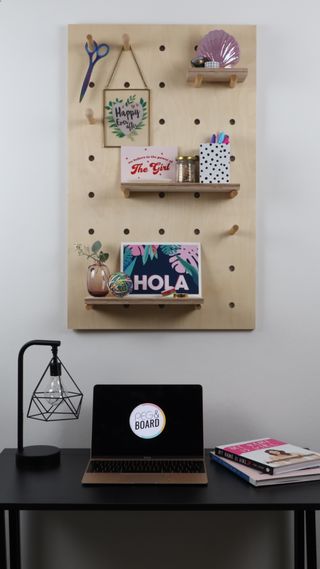 13. Add a giant cork board to your home office
Okay maybe a cork board doesn't exactly count as home office storage, but they are super handy to keep those all import documents in plain site. You can also use them to keep to do lists at hand plus they are a really cheap way to add some personality to your home office.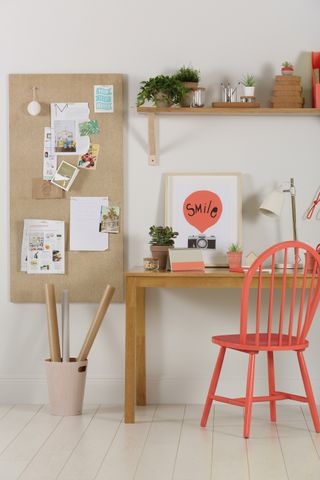 14. Choose wall mounted wire shelving
If you like industrial vibe interiors, check out these wire offerings from Garden Trading for some home office storage ideas. The memo board is ideal for storing reminders, to do lists, inspirational quotes, whatever. Plus there is a matching wall mounted shelf which is perfect if you don't want to clutter up your desk.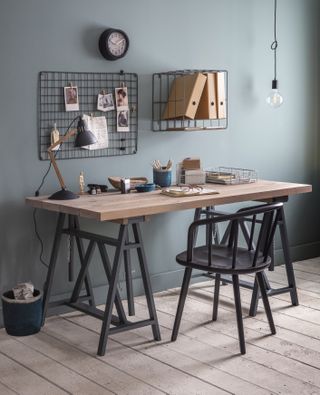 15. Can you be neat? Go for display shelving
If you can be organised and tidy in your office (perhaps you've invested in some lovely filing boxes), going for a pared back look with open shelving and plenty of space to display either attractive work kit (rolls of wallpaper, plans...) or pretty home accessories, can help make the home office look neat and spacious.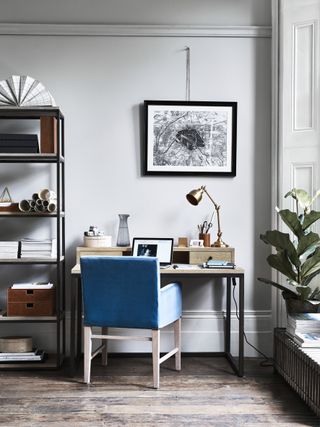 Check out our expert buying guides