The best hanging chairs for the garden offer the ultimate in outdoor relaxation and are one of our must-haves for creating a stylish garden retreat.
From freestanding garden egg chairs to swinging hammock chairs and romantic double hanging seats; the best hanging chairs are the perfect place to daydream or curl up with a book on a warm spring or summer day.
Turn your patio or decking into the perfect place to escape for an early morning coffee by opting for a hanging chair on a stand, or sway amongst the greenery with a hammock chair that can be slung from a strong tree branch. We've rounded up the best of the best below.
And once you've chosen the best hanging chair for your outdoor space? Make sure to visit our round-up of the best garden furniture to complete your alfresco set-up.
The best hanging chairs and garden egg chairs
Why you can trust Real Homes Our expert reviewers spend hours testing and comparing products and services so you can choose the best for you. Find out more about how we test.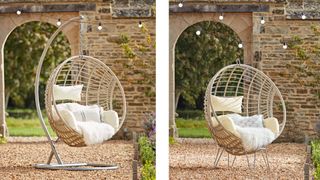 Our pick of the best hanging chairs of 2022, this rattan-effect garden egg chair from Cox & Cox offers brilliant versatility.
The cocooning circular egg chair can be hung from its freestanding base so you can sway gently with the summer breeze, or there is also a footed metal stand included if you prefer to be static.
Either way, once you've nestled into the plump UV-resistant cushions, we're pretty sure this will become your favourite garden hideaway. And it's so well designed, we'd be happy to give it a home indoors for maximum year-round use.
The only downside? There is a wait. It's available to pre-order now, or you can sign up for email notifications to alert you when it comes into stock in early May.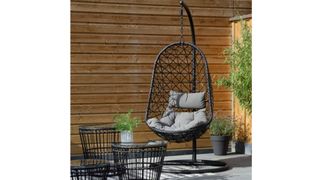 Already one of the best prices around for a hanging egg chair, this affordable black hanging chair comes with base stand, moveable headrest and seat cushion included, making it even better value.
It also currently has one of the shortest lead times of any hanging egg chair, with stock available for dispatch in early April.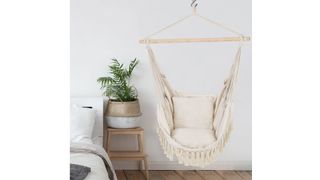 A great affordable hanging chair option, this cotton hammock chair is lightweight, easy to store when not in use, and perfect indoors or outdoors for year round use.
It comes with wooden spreader bar and all the essentials for indoor hanging from a joist. However, it doesn't have a stand, so you will need to make sure you have a sturdy tree branch, porch or pergola you can hang this from outdoors.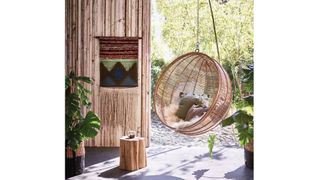 We love a perfectly circular egg chair, and this hand-crafted hanging seat is one of the few options on our list to be made from natural rattan, rather than plastic polymer 'synthetic rattan'.
Natural rattan is far better for the environment, but less durable outdoors, so if you want to use this hanging egg chair in the garden then it's best to bring it in overnight or in bad weather. Luckily the design is one you'll be happy to admire up close all year round.
Just note that this hanging chair comes with suspension spring and chain, but no stand, so you'll need to suss out where it can hang from before you buy.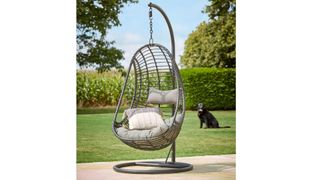 Although we love the look of a circular egg chair there's no denying they do take up a fair amount of room outdoors. Fine if you have acres of garden to play with, but potentially taking up valuable seating space in a smaller courtyard or patio.
For an option that's a little less space-hungry, this slim black hanging chair could be just the ticket. Its narrower width and depth mean you'll be seated rather than curled up in this one, but the generous seat cushion and headrest mean you won't sacrifice comfort.
If outdoor space is at a premium, make sure to view our small garden ideas page for some stylish tips to maximise your space.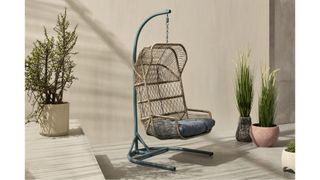 For a contemporary look that's bound to become a talking point amongst guests, the Lyra hanging chair fuses a classic rattan-look weave with modern geometric design and a powder-coated blue hanging stand.
We particularly like the fact that this hanging chair comes as part of a coordinating range of outdoor furniture. Add the outdoor lounge chairs and table or contemporary garden sofa to create a cohesive outdoor look.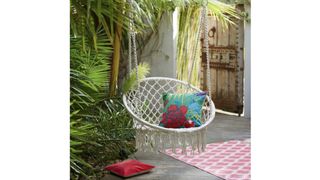 This macrame hanging chair is the perfect place to while away a summer's day.
Available in cream or black, the woven polycotton and fringed tassles will add a bohemian touch either in the garden or indoors.
A great affordable hanging chair option, just note this hammock-style chair doesn't come with hanging hooks or a stand, so you will need a suitable tree branch or joist to hang it from. This means you'll need to do a little DIY before it's ready to relax in.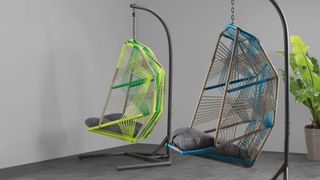 If you're after impact in the garden, then this bright and colourful hanging chair featuring graphic lime-green interwoven fibres definitely delivers.
Part of the Copa outdoor collection from MADE, the hanging chair is complemented by a striking tropical-feel aperitif set, dining chairs and lounge set.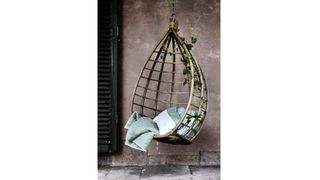 This is another of the few 'rattan' hanging chairs available that use natural rattan to form the egg-shaped cocoon chair, rather than plastic polymers.
We love the look of the thick rattan cane used in the frame, but it does make the seat a little uncomfortable to sit in without any padding. It's not a problem to pile high with your own cushions, but as this is a slimmer design, just be mindful you may not be able to add that many whilst still leaving room for yourself!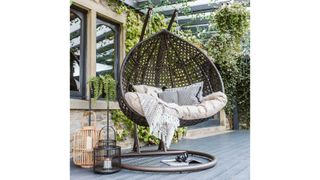 Reclining room is not an issue with this spacious hanging chair. The largest hanging chair (for one) on our list, there is plenty of space to sit, curl up, or lay back against the plump padded cushions in this design.
The denser synthetic-rattan weave also offers a little more shade than other designs, which can be a welcome respite from the sun depending on how you position the chair.
Of course, a larger chair means a larger price, and the maximum weight limit does mean this chair can't be shared (unless by two very light people!). So if you're likely to have company in your egg chair then read on for the best double hanging chair. Though this is one of the best hanging chairs for one!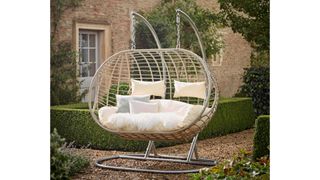 Perfect for two, or if you just want a bit more room to lay back and relax, this double hanging chair offers cocooning comfort on a grand scale.
Although it's easy to swoon over this ultimate luxury egg chair, it does pay to double-check your measurements to make sure this wider egg chair fits where you plan to put it, and that it will get through garden gates and down side-passages successfully!
Once installed we think this will become the perfect centrepiece to your outdoor seating though - or a favourite spot for a coffee on the decking. Check out our guide for more decking ideas.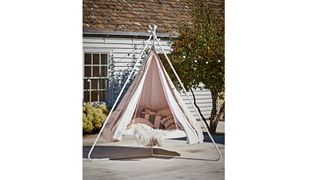 For an alternative wow-factor hanging seat, this hanging bell tent is hard to beat. There is also a smaller children's outdoor hanging tent available, but personally, we think any reasonable adult will want in on the action too!
A good option for a hot summer's day, this canopy will create a shady spot where everyone will want to 'hang' out... and the marine-grade, anti-mould and UV-resistant polycotton canvas means this swaying bell tent is as happy outdoors as in.
How to hang your hanging chair
It's likely if you're considering buying one of the best hanging chairs, you want it to... well, hang! But it's worth considering what it will hang from before you buy - especially as many of the lovely product pictures often crop this vital aspect out!
A base stand: The easiest options to accommodate (especially if your DIY skills leave something to be desired) are the hanging chairs that come with a freestanding base. These can be positioned anywhere in the garden (although flat hard ground is best) and save you the hassle of having to find a sturdy branch or reinforce a joist in order to hang your new chair. Of course, in order to ensure they don't topple, these bases are very heavy, so make sure you have help to move the chair into position when it arrives.
'Free-hanging': The other option is a hammock chair or 'free-hanging' chair that comes with hooks and clips, but requires you to find somewhere suitable to hang it from. A large sturdy tree branch or pergola is ideal.
Consider the best size of egg chair or hanging garden seat for your outdoor space
Unless you have acres of garden to play, with make sure to check your measurements before buying.
Circular egg chairs can be unexpectedly deep and wide, and even the slimmer models can have a wide base stand, so make sure your favourite chair fits into your seating area and through whatever access you have into your garden first.
How to care for your hanging chair
Nearly all garden furniture lasts longer if it's covered or stored under shelter during inclement weather, and the same goes for hanging chairs.
Of course a hanging egg chair takes up quite a lot of room, so you will need to consider where you can store it over winter.
An indoor/outdoor hanging chair can be particularly useful as you can keep it in your house - if you have the space - and make use of it indoors during the cooler months, offering better value for money.
If storage space is tight, then the best hanging chairs for you might be one of the hammock chairs on our list. These can fold neatly up when not in use and be stored easily for next year.
Not got room for a hanging chair?
If you don't have the space (or budget) for a hanging chair there are plenty of other great ways to make a statement with outdoor seating. Check out our guide to the best garden chairs for comfortable lounging, add year-round seating to the garden with the best garden benches available, or go all out on relaxation with the best sun loungers or the best garden swing seats money can buy