Let's face it, most of us need small backyard ideas nowadays, because finding acres of yard space is far easier said, or dreamt, than done! But this is not a sad reality, no no, because you do not need acres to create a good-looking, styled outdoor space ready to enjoy all year long. In fact, consider your small backyard a blessing in disguise, because it will be cheaper and often easier to landscape than a larger backyard space.
Small backyards also are made for enjoying cozy outdoor rooms and secluded nooks. By working with the space you do have, finding gems at the best outdoor furniture stores and getting a little creative with planting, you can make a major difference.
Small backyard design ideas from the experts
Whether you have a big budget or not, taking a simple approach can be enough to transform even the tiniest of verdant spaces into an inviting and relaxing spot for all to enjoy.
If you're not sure where to start, landscape designer and owner of How to Hardscape, Mike Pletz, recommends keeping your small backyard design simple and setting your goals for your space early on. 'Making a smaller outdoor plot look great involves knowing what you want to use that space for and how to incorporate all of that in an aesthetically pleasing way while making the most of that space', he advises.
1. Enhance privacy with a living fence
Yard screening ideas are especially important in small backyards since they often border other people's. Traditional fences can look bulky in smaller outdoor spaces, so it's always a good idea to explore natural fencing ideas and options first. Bamboo is a great plant to use as backyard screening – it is low maintenance, grows very fast, and many varieties grow quite tall (well over 10 feet), so you can create a secluded area in your backyard with very little effort. Be sure you pick a non-invasive variety, however, to keep your home's foundation healthy.
2. Squeeze in a bistro set
You can still enjoy a meal outdoors, even if you don't have space for a full dining set. The best bistro sets come in a variety of styles and materials; you're pretty much guaranteed to find one that matches your backyard and home style. Surround your bistro set with colorful, multi-height plants to create a textured, romantic breakfast area.
3. Maximize every inch by creating boundaries
Do you find that you only really use one particular section of your backyard? If so, dividing your space up into specific areas is a great way to maximize every inch. In this lovely modern backyard by @ohmymaison there are three distinct areas for sunbathing, playing on the grass, and dining, ensuring that even the very bottom of the backyard is used. Flooring is a really effective way to zone an outdoor space – see how the paving, grass and decking are used here. But if you can't change your flooring, look to screens, outdoor rugs or living walls, to create distinct 'rooms' within your backyard.
Note that if you only spend money on one aspect of your small backyard design you want to max out on the best patio ideas. Robert Bell, Residential Landscape Architect at Bell Design recommends you make it your patio paving: 'because smaller gardens don't require as much paving, use something on the higher end side like a beautiful limestone paver or a special glazed tile as an accent.
4. Stick to simple landscaping materials
The general rule with small backyard is you don't want to use too many materials, as your space will end up looking too busy. Stick to no more than two or three different materials and/or textures to keep the look of your backyard fresh and contemporary.
Pletz says to not overcomplicate the design unnecessarily, 'You do not want to overwhelm the space with features, colors, textures, shapes, and sizes. Instead, choose what you definitely want to include in that space and start to shape the landscape to incorporate those aspects while keeping in mind the space necessary for each of those aspects.'
This backyard, designed by Billinkoff Architecture, uses blond wood paneling in a clever corner seating/fencing design, combined with a simple gravel ground covering. Unfussy and clean. Even the best gravel for your garden won't cost much and can be laid on a DIY basis.
5. Select a few large plants over lots of small ones
It may seem counterintuitive, but several large trees or potted shrubs look much better in a small backyard than lots of smaller plants. This is because the more height you add to a small outdoor space the bigger it looks. It also helps to space out the plants a little to prevent a crammed feel. If your backyard is all paved, just go for a few large terracotta pots – lots of trees, including lemons and acers, will happily grow in containers for many years.
6. Take furniture off the floor
If you are exploring balcony ideas, then your space will by definition be small. You'll likely have to make some tough choices in terms of how much furniture you can fit in, and you may well decide that you don't want a traditional patio furniture set but rather something you can elevate to free up ground space, like this cute hammock. If you can comfortably fit a couple of chairs and a small table then go for it but don't shy away from different seating options also that will max out on space.
Bell has a useful tip, 'as a general rule, only cover about 1/3 of the square footage with furnishings, planters, etc., and allow any statement pieces to "breathe" with open space around them.'
7. Borrow neighboring scenery
The easiest way to make a small backyard look bigger without spending a dime? Arrange your existing planting scheme to complement and blend in with any taller trees beyond your backyard boundaries. You'll probably end up rearranging your containers a few times to create a seamless look. Look at your backyard from the entrance point for best results.
8. Stick to light materials
Who said there's no room for trompe l'oeil in a small backyard design? Like when you're decorating an indoor room, choosing light-colored finishes like the paving and fencing above, will brighten up your space and help it feel and appear bigger also.
9. Swimming pools aren't just for large backyards
Always dreamt of a swimming pool but have a small backyard? It's not necessarily out of reach. If your heart is set on adding a swimming pool, it can be achieved in even a tiny backyard. Obviously, you'll then have to compromise on how much patio furniture you have, and you may have to settle on a plunge pool, but don't let the small size of your outdoor space put you off having one installed.
10. Or get a paddling pool for the kids
If a swimming pool just isn't an option in your backyard but you still want to splash around with the kids on a hot day, get one of the best paddling pools. They're cheap, easy to store and clean, and many are big enough for the whole family.
Looking for something more permanent? Make your own stock tank pool for under $500.
11. Create a seating area with a fire pit
Choosing the best fire pit for your backyard will partly depend on the look you prefer. Cast iron fire pits typically have more traditional bowl-shaped designs perfect for the classic backyard setup. Gas fire pits tend to look more modern and are great for contemporary backyards. Whatever style you choose, having a firepit will help create a cozy and convivial outdoor space. Do bear in mind, however, that if you live in a large city, it may be illegal to burn a firepit if the smoke blows into a neighboring backyard. And if you are setting up a firepit, ensure it doesn't sit close to any exterior furnishings for safety reasons – it's one of the worst patio decorating mistakes you could make.
12. Create a vertical garden
No room for garden beds? No problem! Create a vertical wall garden by mounting planters to your fence or patio. Or, choose a vertical planter with a built-in drip irrigation kit. If you need to move your plants with the sun, select a planter and trellis on wheels so your green babies can enjoy peak light.
13. Hang your furniture
Have a covered porch? Maximize floor space by installing a comfy hanging chair or bench. Complete the look by favoring plants in macramé plant pots, and add faux fur toss pillows for a boho vibe.
14. Downsize your grill
Nothing says summer like throwing a few hot dogs on the grill. And a small backyard doesn't have to keep you from that quintessential experience! Opt for a petite gas grill with folding arms and wheels for easy storage. If you're really hurting for space, you can also go for a portable bbq for your balcony or porch.
15. Swing small
Your small backyard may not have room for a large swing set, but that doesn't mean your tot can't enjoy a jungle gym of his own! Try a freestanding swing or a cool saucer swing like the Luna from Wayfair that you can hang from a sturdy tree branch or mount under a deck.
16. Add height with string lights
Yard lighting ideas always come in handy when it comes to enhancing a small backyard. One big benefit to a small space is you can make a strong impact with cafe lights by stringing them across your whole space. The more the merrier to create the feel of a charming, Brooklyn cocktail bar. Nothing to hang lights from? No problem — install handy string light posts to your table with a simple clamp.
17. Invest in folding furniture
Folding furniture is a great way to enjoy a meal outside without taking up precious real estate when it's time to play. Look for a set that tucks within itself for easy storage, or consider a balcony dining set for your back porch.
18. Add a rug to your driveway
If you don't have a patio, throw an outdoor rug down on the back of your driveway to designate an outdoor dining area. It offers a nice spot to eat without bugs, and you'll save precious grassy space for playing or gardening.
19. Have fun with a bar on wheels
You don't need a fancy outdoor kitchen or bar to enjoy a boozy afternoon outdoors. Opt for a cooler on wheels (like this retro pink bar cart from Overstock) or make your own. Any type of vessel that can hold ice — a birdbath, planter, kiddie pool, or beach pale — can become an instant cooler.
20. Don't underestimate the power of containers
Garden beds take up a lot of room and require expensive installation (or very handy DIY skills). A container garden is a great way to enjoy fresh flowers and vegetables in the warmer months. Choose large pots, or go for a raised bed that can fit on your patio. The best part? No weeding!
21. Create a fairy garden
Even the smallest of yards is big to a fairy. Create your own charming fairy garden with gathered items like moss, stones, and pieces of wood. Or, purchase a handmade kit from Etsy to add characters straight out of A Midsummer Night's Dream.
22. Put down a temporary path in a rented backyard
Add some hardscaping to your small backyard without the investment by putting down a removable roll-out pathway, which you can buy on Amazon. The path will add style points but also has practical benefits — like reducing the amount of mud tracked into your house.
23. Discover the power of soft furnishings
If you only have space for one outdoor sofa and a couple of chairs, enhance the seating area with well-chosen soft furnishings. Textured cushions and a nice outdoor rug will go a long way toward creating a polished, stylish look, even if your backyard is very small.
24. Mix materials to create an illusion of a bigger space
Small backyard ideas can be quite subtle. Take this one, using zoning, a trick usually reserved for breaking up large indoor rooms into different areas – say, one for relaxing, and one for dining. The key to backyard zoning is using different textures, colors, and/or materials to differentiate between the areas. Flooring, for example, is perfect for doing this and will create a larger-feeling, more interesting outdoor living space.
This clever small backyard design by Anna Carin Design combines decking and patio paving to achieve a space-enhancing effect.
25. Include a backyard bar
A small backyard space doesn't mean you can't include a bar. Make yours bespoke so that it fits your space perfectly, or choose one on wheels and with a shelf or two for additional storage to enjoy it in all seasons.
26. Add accessories that multitask
Every detail counts in a small garden so when you're adding those final touches, make sure they work hard at both looking stylish and being practical too.
27. Bring decking up the wall
Enhance a small decked area furthermore by continuing the hard landscaping up the surrounding walls also. And, we've plenty more small garden decking ideas where that came from.
28. Choose a statement egg chair
Swap out a cramped feeling space for a luxurious one by carefully selecting the best hanging chair or egg chair. An egg chair now features in most of our homes and it elevates this small space perfectly. Find one in rattan for extra points.
29. Stack pots in multiple heights to add dimension
Cute garden plants can revive even the smallest of backyard, especially if yours is mainly patio or decking. The trick is to go for as many different types and heights of pots and plants as possible: this will help add dimension and texture to the space. For instance, mix and match large terracotta pots with tall and slender glazed pots. And if you have a really small space, stack them up like this or wall-hang them to pack more in.
30. Use partial screening for a contemporary look
In a small backyard, it's best to avoid solid screening and fencing. Instead, go for a minimalist, open-panel design that will give enough privacy without making your outdoor space feel clautrophobic.
31. Add a mini shed
If your outdoor space is really very small, go super slimline with your shed for more garden storage. That way you can keep useful items close by, without impacting on room for entertaining and actually gardening in.
32. Frame a cute patio with a pergola
What small patios and terraces lack in floor space, they can make up for with a sense of airiness and height. Emphasize these positives with an attractive pergola or even a canopy. So long as you can hang outdoor lighting and lanterns from above, you're golden.
33. Or fit a pergola into a small corner
This lovely compact backyard doesn't have acres, but defining the decking with a pergola proves how it can enhance even just a corner of a small space. String up the fairy lights, add an outdoor sofa and there's your little but lovely setup sorted. For even more character and to custom make yours to size, you could learn how to build a pergola yourself.
34. Enhance small backyard landscaping with a central gravel path
Gravel is a great material for creating fluid, easy-going paths that are flattering in backyards big and small. To create an illusion of space as part of your small backyard landscaping, build a central path surrounded by luscious borders.
35. Create a small but luxurious outdoor relaxation area
Even the tiniest yard can become a luxurious, relaxing sanctuary. You will have to decide what's most important to you – a fully planted up outdoor space, a nook for reading, perhaps even a tiny swimming pool... Once you've decided what you want your space to be like, there's no reason you can't achieve it, with the help of a skillful garden designer or landscape architect.
36. Plant a green wall
Another trick that emphasizes the height rather than width of small backyards is planting a green wall or vertical garden. Choose fast-growing climber species such as jasmine, honeysuckle, and ivy.
If you aren't green-fingered or just want some guaranteed all-year-round greenery, build a green wall just with fake flowers.Faux plant wall panels from IKEA are a life-saver.
37. Maximize seating space with a garden corner sofa
There's no hard and fast rule on where to position your outdoor furniture in small yards, but generally speaking, it makes sense not to place any heavy, non-portable pieces centrally, because everyone will inevitably keep bumping into them. Instead, opt for a corner sofa and a compact coffee table.
38. Blur the boundaries between indoors and outdoors
Use continuous flooring to relax the boundaries between home and garden which is a really nifty small backyard idea. You can maximize this with accessible glazing, and replicating the same decorating scheme inside and out.
39. Enhance a small courtyard with elevated areas
Even the smallest courtyard can be made to look chic and inviting with clever use of materials, levels, and lighting. This Chelsea courtyard has been given a sleek makeover with multiple layers of light limestone paving. By Charlotte Rowe Design.
40. Paint and plant walls and fences
Just as you'd paint walls in a light color in a small room to make it feel bigger, doing so in a small yard will make it feel larger. Another small yard idea? Think 'up' and 'out' by mounting your container plants onto a fence or wall. The effect will be especially stunning if you choose trailing plants (trailing pelargoniums are especially appealing).
41. Use limewash to create an airy and spacious look
Make your outdoor space feel bigger and brighter to get that charming cottage garden look – and make your tiny yard appear larger and lighter in the process – by liming exterior walls and furniture. This traditional preservation technique is coming back into favor in modern homes too for a chilled Scandi look if cottagey is not your vibe.
42. Keep your lawn pristine, even if it's tiny
Love your small yard lawn, no matter how tiny, as when kept neat and lush it will give your space a smart and spacious look. Mow it regularly with the best small lawnmower you can find for awesome results.
43. Paint small fences to add extra color
Want to transform your small yard in just a weekend? Painting fences in a bright, sunny color for summer can really improve your space. What's going to look nicer? A slightly faded, peeling wooden fence or a super stylish vivid color? You can always soften the look by adding a trellis and growing climbing plants over the top. And see this furniture, below? That was plain wooden and a little worn looking – but was given a new lease of life with a lick of paint.
44. Add a cheeky hammock or two for chilled vibes
The rug and the hammock help make the small space feel more like an outdoor room than a backyard, which is a great option if you have a small backyard and are not sure how to make the most of it. You don't need to try to transform it into a green space, just see it almost like an extra room, with a few potted plants dotted about, too. Oh, and use paint to add some splashes of color. We can't resist a bit of pink, so naturally, we are in love with @emeraldterrace's backyard.
45. Create a display on exterior walls
From the cacti to the stunning imagery from the best outdoor projector no doubt, it makes a beautiful backdrop to keep a small space feeling vibrant.
Complete the look with good chairs – we love these classics from Ikea, theVago chair and you're all set.
46. Go for modular furniture to suit your space
Modular furniture has always been a small space dweller's friend. What we like so much about the Solleron series is you can really create a shape of sofa that fits with your space. You can build up how many seats you want, add armrests, corner sections, pick colors and cushions to go on top – just a really versatile piece of patio furniture.
47. Co-ordinate paving and hard landscaping
Alan also recommends: 'Choose paving and other hard landscaping that match or complement each other. This way, whatever else is going on in the garden, these will act as an anchor and provide a unifying theme.'
48. Create a focal point in a small backyard
'Focal points are spots that draw your eye when you gaze into the garden. All backyards, no matter how small, ought to contain at least one good focal point, and preferably several of varying intensity – but cram in too many and they will all lose their impact,' says Alan from one of our favorite reads, Alan Titchmarsh's Small Gardens
49. Create a tiny outdoor kitchen
So when you have slaved away creating a lovely outdoor space, make sure you take time to enjoy it. And to us, enjoying an outdoor space means plenty of al fresco eating and drinking in an outdoor kitchen space. We love this option on wheels.
50. Add a summerhouse to a small garden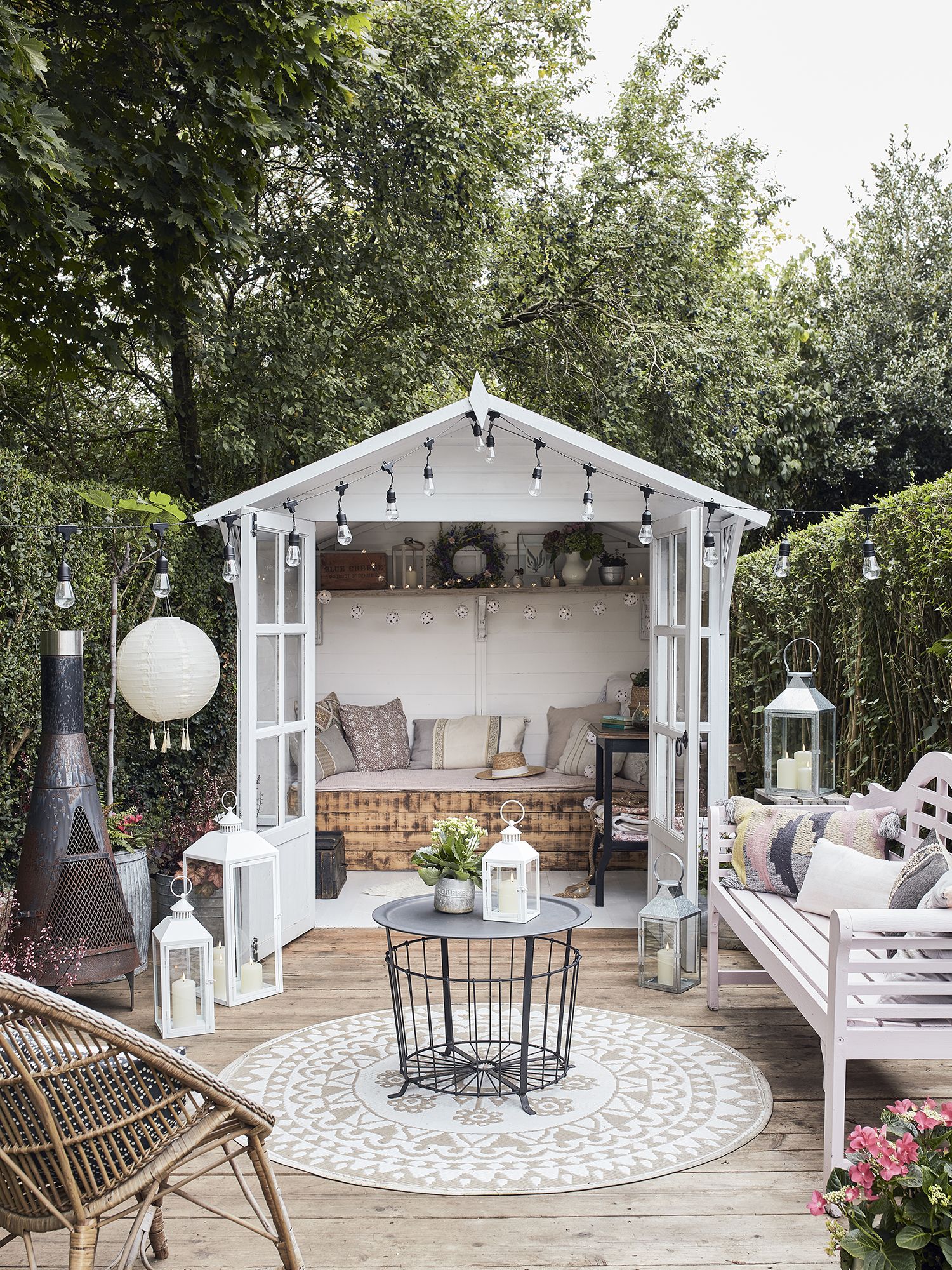 Summerhouses and outbuildings are not necessarily just for masses of acres of land – some are quite compact, as small as just five feet across. Set yours up to be a multifunctioning space and you'll add a ton of personality to a small yard.
51. Go monochrome to enhance a small space
And by monochrome we don't mean black or white; washing your entire small backyard in a deep, vibrant color will create a jewel-box effect that's very attractive, and it'll distract from the small size of your backyard. This small backyard idea is by Chaplins Furniture.
52. Don't be afraid to decorate a small outdoor table
Just because you have a tiny bistro set on your patio, doesn't mean you have to keep it clear at all times. In fact, we think that draping a small patio table with pretty linens and decorating it with fresh flowers will visually enhance your outdoor space by creating a focal point.
53. Tiny space? Go big on accessories
It's a misconception that small outdoor spaces do best with smaller everything: actually, a couple of well-chosen large ornaments, planters, or lanterns tend to look much better than lots of small ones. The Galvanised Metal Lantern is by Lights4fun.
How do I make a small backyard look great?
Joe Raboine, outdoor living expert and director of residential hardscapes at Belgard, has a top tip for small backyard owners: work out where you get the most sun and go from there. Raboine's advice is: 'look at every small space with some sun as an opportunity: porch, balcony, roof, landscape, windowsill, fence, mailbox, driveway, walkway, decks', and so on. Almost anything will look better in full sun, so make sure your backyard's most important feature is in the spot that gets the sun.

Lindsey Hyland, a gardening expert and founder of Urban Organic Yield, has further tips for small backyards:
Add features such as a patio, deck, or pergola to provide some extra space and make the area more functional
Install plants and trees to create a natural boundary and add some color and life to the area
Use furniture and decorations that maximize the available space.
How do you landscape a small backyard?
There are many ways to landscape a small backyard, depending on how you plan on using it. According to Hyland, 'some people might prefer to have a patio or deck area for entertaining, while others might want to use the space for growing fruits and vegetables. You can also create a lawn area or install flower beds. Decide what you want to use the space for, and start planning! A good place to start is by measuring the space and drawing out a rough plan of what you would like it to look like.'
John Thomas, who owns Backyard Garden Geek, adds that 'Before you begin a backyard landscaping project, you'll need to pay close attention to three things: irrigation, water runoff, and sun location. Do you need to install a sprinkler system to keep your grass or plants alive? What happens to your backyard during heavy rains? What parts of your yard are in shade versus sun?'
Thomas admits that these are 'boring topics', but stresses that 'after you've answered these questions, you'll be prepared to make fun decisions about how you'll design your backyard and which materials you'll use. Just don't skip the boring
for the fun. If you do, you might end up making some costly mistakes.'
Finally, Joe Raboine has a quick checklist of further landscaping considerations that are a must in a small backyard:
Walkway – Line your walkway with eye pleasing plants or edibles
Fence – Hang garden boxes from your fence or vining plants
A paver patio is also a great way to improve the appearance of a small backyard, as it can help cover areas where there may be little or no grass
Vertical gardens are another great option and really come into their own in micro garden spaces where options are very limited
Some vertical structures like arbors, arches, pergolas and gazebos help create the ambiance of an outdoor garden 'room' and can focus the eye on the mystery beyond
Raised gardens and beds are great for growing veg and small plots of flowers
What not to do in a small backyard?
Hyland has a reassuring answer: 'Don't try to do too much. When you have a small backyard, the key is to use every square inch wisely.' In practice, this means 'choosing plants and landscaping that will make the most of the space and avoiding features like pools or large garden sheds that will take up valuable real estate. You can still have fun in your small backyard – just think carefully about what you include.'