If you're stumped for garden path ideas because, well, yours is already just there, or because you want fresh inspiration as you're starting with a clean (garden) slate, we can help. Whether you're after a natural, weathered look or a formal and contemporary finish, we have many looks for backyards big and small, and practical advice on how to achieve them.
Garden paths are an integral part of garden landscaping and can add design flair as well as function to your backyard. From soft gravel paths lined with fragrant herbs to oversized pavers laid in intricate patterns, exploring a range of looks will help you find the one that's perfect for your backyard.
Garden path ideas from landscaping experts
Before designing a garden path, you need to strike the right balance between ease of laying, cost-effectiveness of your chosen material, and the desired look. Landscape designer and Co-founder of the gardeningit.com blog Kristina Mathew advises that the simplest way to make a garden path 'is to first dig into the soil. Then,
make several parallel lines of regular width, burying the soil between
them. Start in the middle and work outwards.'
If cost is the most important consideration, choose gravel, which is also one of the most versatile garden path materials – 'Gravel comes in many different colors, sizes, and textures. You have the option of choosing your own color gravel mix, or you can choose from the preselected colors available.'
Complete beginner and don't want to spend any money? Katie Krejci, a homesteader and blogger from The Homesteading RD, advises to just create dirt paths – 'this is what I use in 90 percent of my gardens. Simply choose a path and allow it to get compact with heavy use. This will deter the growth of some weeds, however you will need to pick some out from time to time. This is a timeless option and obtainable for any garden - large or small.'
1. Choose reclaimed bricks for a garden path
Apparently, this is one of Monty Don's favorite garden path ideas too, just saying! And, if you want the gently aged look, laying reclaimed bricks rather than new ones can create a lovely rustic effect. It's also the environmentally friendly way to go as you're re-using materials. Sustainable garden ideas that look great? This is one of them.
You'll find plenty of reclaimed brick suppliers online, and you could even call out to local people on Facebook Marketplace, and a variety of brick colors on offer. If you already have a brick wall in your garden, you might want to match the bricks to it for continuity or try picking a reddish brick that harmonizes with terracotta planters.
2. Use yoghurt to age new brick paths
If you just built in a new brick path as part of your garden design but it looks a little too pristine – kind of like with new white sneakers – then you might be wishing the years away for them to sport a little rustic edge.
Or perhaps you are putting down the path but prefer to use new bricks because the regular shape makes them easier – and cheaper – to lay? Don't worry, you can still achieve a weathered effect. The secret is...yoghurt. Yes, honestly – these garden path ideas are genius we know. You just need to dilute it with water then brush it on to the path. Make sure you check the weather forecast first so your solution isn't washed away in a hurry, though.
3. Build a wood chip path
Pavers and bricks can be expensive, but you don't have to go down that route to create a lovely and inviting garden path. Wood chips offer a cheaper alternative and make for a natural pathway that can complement any surrounding garden planting too. It's a lovely casual garden path look. Level the ground, although it doesn't need to be totally flat, then line the ground to help secure the wood chip – newspaper can work – and pour your wood chips over. Done!
4. Create a wide path with decking boards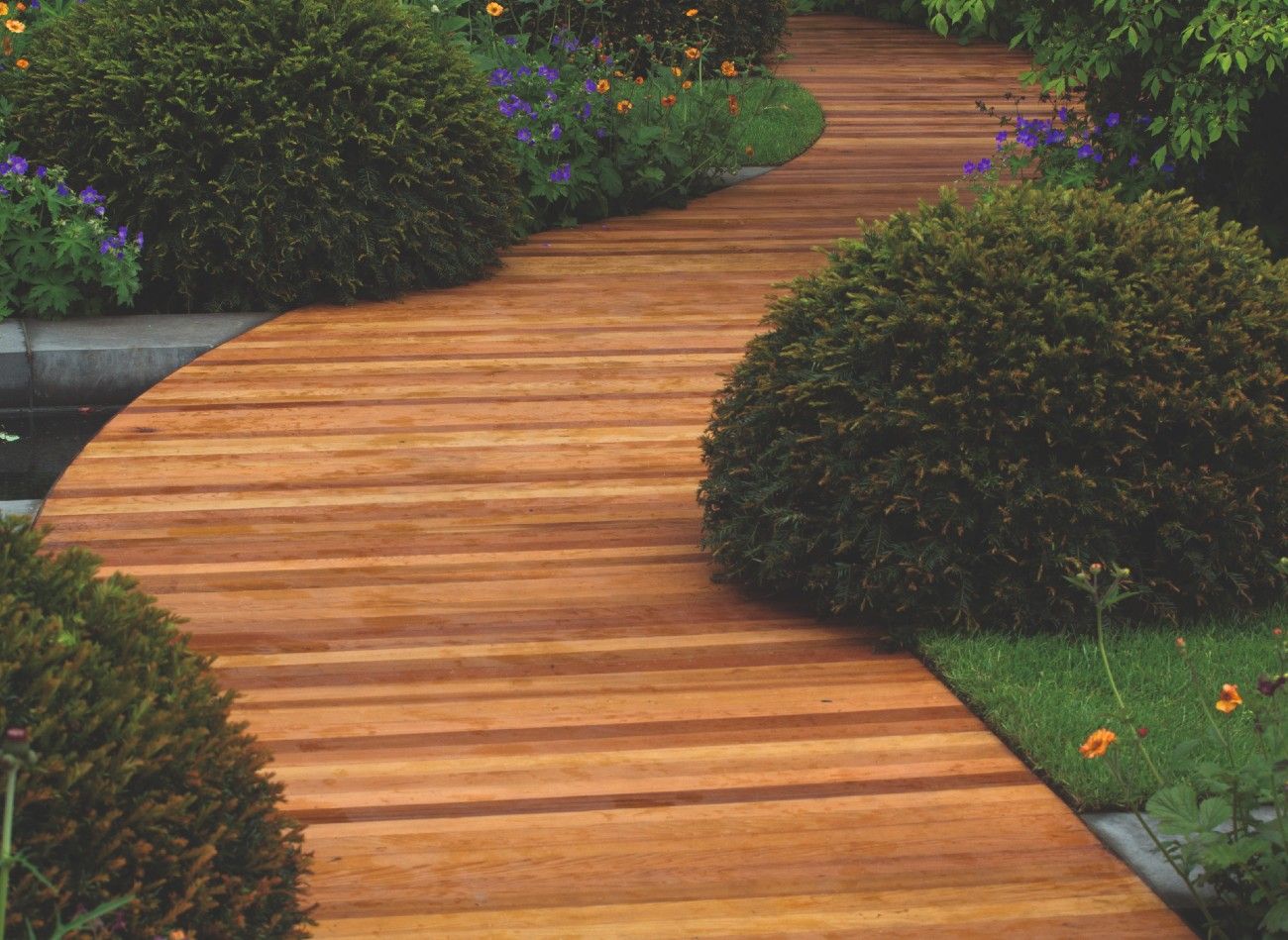 A wide pathway makes for convivial strolling through your outdoor space. Using wood for your garden path will again, help keep a natural feel in your garden, but that's not to say it can't look contemporary too. Choose a light colored wood and surround it with perfectly formed topiary and cut grass for a neat finish that will conceal uneven and unsightly ground too. Decking ideas and garden path ideas in one, we love it.
5. Allow seeds to grow between the cracks
For a more overgrown, relaxed garden path look, let nature do its thing and encourage plants to grow between the bricks of your path. Monty's advice, shared in the Mail Online is to skip the mortar between the bricks in your path when you lay it, and simply brush in plain sand. How easy – and time saving – is that?
6. Lay bricks in a gravel path for an inexpensive solution
Gravel is an inexpensive landscaping material so one of the best budget garden ideas if you're keeping costs low. If you don't want to go all out with gravel, you could set some reclaimed bricks in it for more interest and added sturdiness to your pathway, without the spend of building a brick path from scratch.
7. Choose gravel path ideas for security
Not only will the best gravel look good but if you haven't got an enclosed garden, gravel offers a natural alert system as you'll hear the crunch when it's stepped upon. Unless it's a hedgehog intruding, of course. It's also cheaper as we've mentioned and really quick and easy to install, if you want to create a cool walkway in a hurry.
8. Mix pavers with other materials
Combining different surfaces will simply make your garden path look more rustic and interesting – in a subtle way. To ensure you don't end up with a harsh contrast, choose a paver in a harmonious shade as above so the change of surface is subtle. Make sure, too, that there's not a level change where brick and a second material meet to avoid creating a trip hazard.
9. Line a gravel path with flowers
If you were left with a gravel garden path but aren't into the look, not to worry as you should never underestimate the power of flowers! Line your garden path for a dramatic and colorful display, ensuring you pick the right flowers for year-round interest and you'll be left with gorgeous garden borders, plus a more subtle path.
10. Create a sloped walkway in slate
What is a garden path if not a little interesting? We think this rustic slate walkway is made even more mystical by the soft, winding edges. It serves a purpose too as it's a space-saver in a sloping garden design.
11. Combine lighting with garden path ideas
Is your outdoor dining area set up at the back of the yard, away from the house? You'll need to think about appropriate garden lighting ideas to guide you along the garden path after dark. Stake lights are by far the simplest way to light a garden path, with lots of designs available. There are more formal options, too, like globe lights, which can be bought from Amazon, among many other places.
12. Lead the way to a decking area
If your decking area is detached from the house, build a deck garden path in matching material for a seamless and stylish entryway to it? We love this composite decking path for its natural weathered finish.
13. Curve your pathway with square stepping stones
If you're lucky enough to have a large garden, complete with a lush lawn, ensure that the structure isn't lost by using stepping stones to create a clear walkway. Keep yours curved to break up harsh lines from square stones and other hard landscaping around. Plus, if you keep yours adjacent to a border or planting display it will guarantee lovely visuals when stepping across yours too.
14. Soften paving stones with herbs for an interesting front garden path
Garden Designer Alicia Savage brightened up the walkway in a small front garden by surrounding the stepping stones with Thyme. It softens the look and will add a little fragrance too.
15. Create a stepping stone path, Japanese garden style
You don't have to be the proud owner of an immaculate Japanese-style garden to incorporate this beautiful stepping-stone path in yours. Especially useful as part of a rain garden or any garden that tends to flood, a path made from stepping stones has a slightly raised profile that allows you to walk around your garden in wet weather. Our advice is to pick stones with a bit of texture to them – anything too smooth will be too slippery to walk on.
16. Make a deconstructed garden path from oversized paving slabs
This brilliant idea lies somewhere down the middle between garden path ideas and patio paving ideas. Oversized concrete paving slabs have been laid on top of gravel in an informal path structure that gives a contemporary, floating effect. Very easy to achieve even for a beginner and looks smart without being overly formal.
17. For a formal look, lay pavers in a diamond pattern
Perfect for narrow gardens, this diamond-patterned path creates a pleasingly formal look. It's very straightforward to lay and looks good even when a little overgrown on the sides, as shown here.
18. Create a mosaic pattern for a bespoke effect
Not all garden paths have to be geometrically perfect. In fact, if you prefer a more natural look, then irregular-shaped paving stones are worth seeking out. It will take a bit of time to match up different edges to each other, but it's worth persevering – the result is a beautiful mosaic effect that will look completely bespoke in your garden.
19. Define smaller garden paths with brick edging
If you are exploring small garden ideas, it's worth putting in a little bit more effort into the landscaping of your garden paths. Small and narrow paths can easily get swallowed up by summer grass and foliage, so it's worth demarcating yours with stone or brick on the sides.
What is the best material for a garden path?
It depends on the look you want to create and also on who will be using the path. Grass makes for a natural finish, and stone for a rustic look. Gravel is cheap and quick to install also as mentioned, but can pose difficulties for some, especially anyone in a wheelchair.
Mark Lane, BBC Gardeners' World presenter and Stannah's Gardening Expert recommends 'paving slabs rather than gravel, as little stones are very difficult for wheelchair wheels to navigate. Paving should be pointed with a minimum gap of 10mm. You want a firm, stable, non-slip surface. In some instances, anti-glare paving slabs are a good idea — especially for partially sighted or blind people.'
If children are around especially, you'll want to prioritize non slip surfaces that are stylish, of course.
How wide should a garden path be?
You garden path should be wide enough to walk comfortably side by side with another. Lane adds, 'If you need to get from the back or front door to a gate, a shed or garage then consider a pathway. Ideally aim for a path c.1.2-1.5m wide, which is wide enough for two people to walk side-by-side, in a wheelchair or using a frame or stick. To stop wheels — and feet for that matter — ending up in a flowerbed, install a raised edge, either using a wooden gravel board (the board found at the bottom of a fence) or a concrete edger that stands proud c. 10cm above ground level.'
If you need to hold onto something when walking about the garden, then consider hanging a rope through hoops or install a support rail. Think about the material you want to use. Metal can be cold to the touch, especially in winter, whereas rope and wood feel warmer. Metal can be smoother, whereas wood and rope might need protecting and repairing.
Now to create the walkway of dreams!