Home gym ideas on a budget are invaluable, be it as an alternative to an expensive membership at a health club or studio, or simply to switch things up for when you don't want to face the world.
But, let's be honest: some home gym ideas can be just as, if not more expensive than a monthly direct debit commitment. It's so easy to go OTT when a gymnasium is a permanent fixture in your property, rather than a place you might visit on average 2-3 times a week.
We've done the legwork of reigning things in, and collating affordable and feasible budget home gym finds. Think portable and practical accessories, low-cost lighting that looks expensive, bargains for your basement and other inexpensive exercise ideas.
Home gym ideas on a budget to break a sweat
'The reason why I love using suspension trainers is that in my years of personal training on the floor (about 5,000 hours), I trained a lot of women, and a lot of people that are new to training,' says James Smith, online PT and 2x No 1. Sunday Times best-selling author.
'And fundamentally, we need to get people to squat, push and pull. Elements of core, maybe accessory work, based on gender, or desired outcome.
'Now in someone's training regime, I don't want to throw them in at the deep end. Using a suspension trainer makes it incredibly easy to teach someone to row: walk your feet into the anchor point, pull your chest in towards where it's attached. It's non-invasive, and I don't feel it's that intimidating.'
'Suspension trainers are very good for stretching chest, lats, triceps, very good for doing high repetition stuff – you work to failure and not really in a position where you're going to drop weights on you.'
'And if you are going to do drop sets which is where you make it lighter between every set of reps, you can just walk your feet, rather than having to stop, use a pin on a pin-loaded machine, or take plates off a bar.'
1. Go for a smart gym setup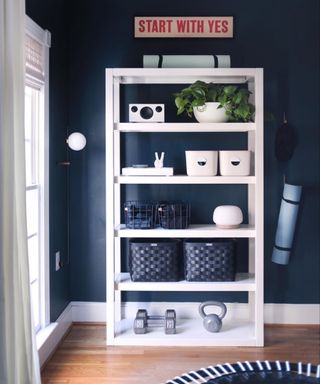 Open storage has been trending for a while now, and having your best home gym equipment on show for all to see is tres fashionable. But, that doesn't mean that you need to leave sweaty gym bags open or display your best dumbbells on ugly shelves, as one stylist and designer discusses:

'I knew I wanted to add some storage and instead of buying new, we repurposed that West Elm Parsons tower to house all of my fitness accessories like ankle weights, mats, resistance tubes, towels and a stylish speaker for good measure!' says Erin Wheeler, aka @sunnycirclestudio.

'Originally I wanted to install built-ins but the simplicity and versatility of the shelf worked as is! I love the idea of shopping my home for design projects!'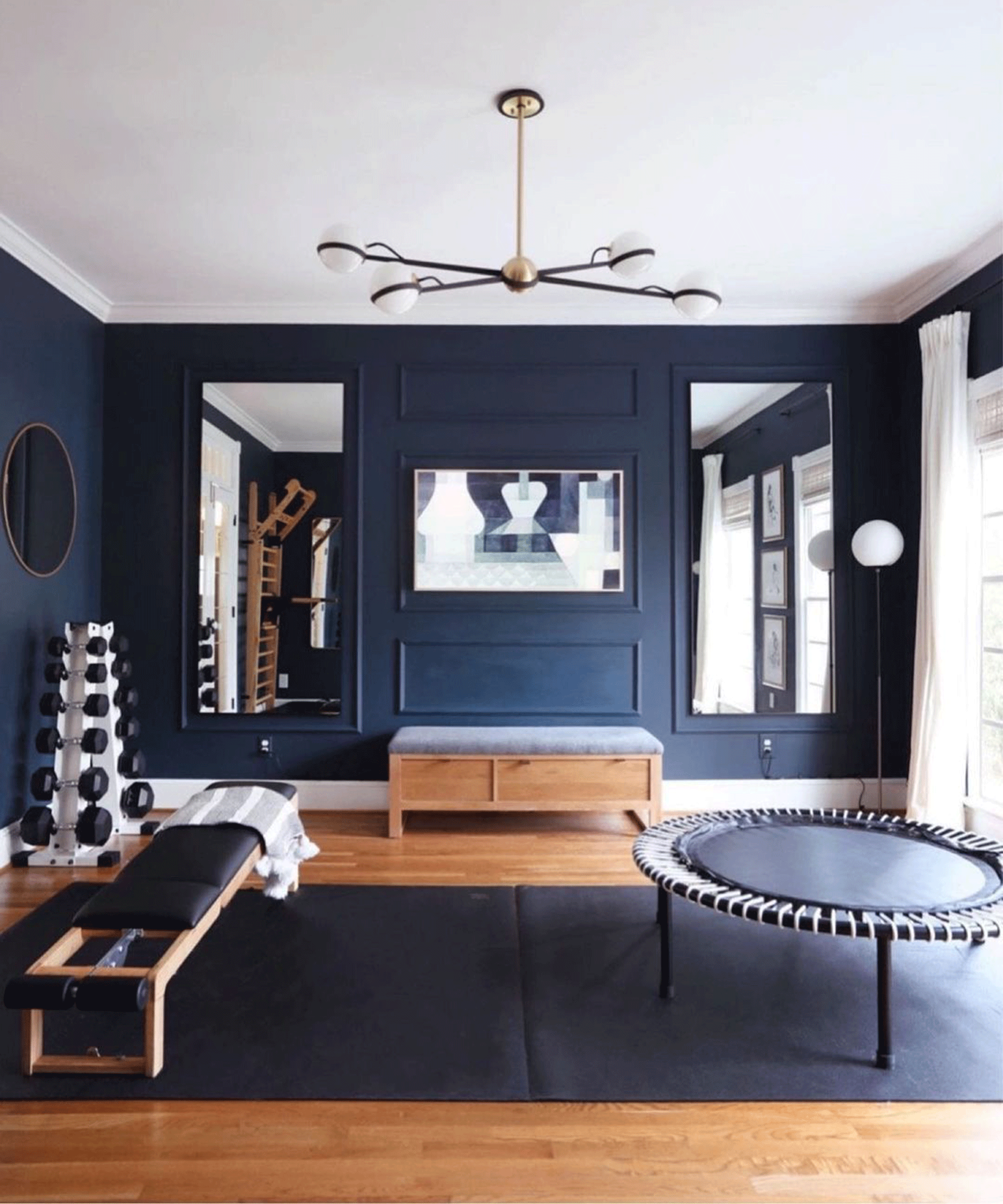 2. Use wallpaper to add a luxe touch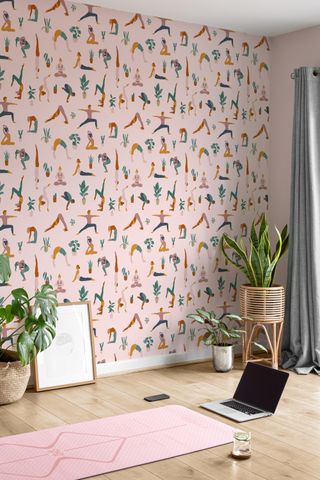 Paint isn't the only option when it comes to home gym wall decor. But, if you are turning up the heat with high impact workouts, be sure to invest in a wallcovering that is moisture-resistant so it can keep up with your routine.
We love this Sukhasana yoga poses and plants wallpaper mural from Hovia, which is an ideal print while you're practicing everything from your downward facing dog, pigeon, and child's pose.
'With health and wellbeing a big focus for people more than ever, yoga is becoming a way of life for many, bringing a new found sense of calm to people's everyday lives,' says Lauren Kavanagh, designer and trend researcher at Hovia.
'This fun, illustrative Yoga Poses and Plants Wallpaper Mural depicts a cute repeat pattern of people doing various yoga poses, as well as cool house plants which is another big trend in interiors. Perfect for any keen yogi's home space, or a commercial yoga studio, this stylish design adds a playful theme in fresh modern tones.'
3. Swap expensive classes for a flexible setup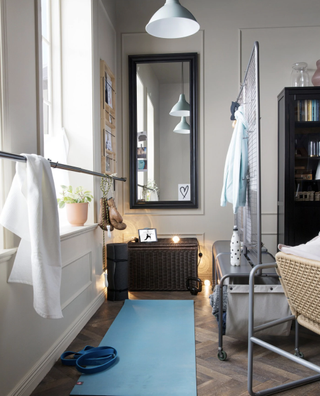 From Zumba to Pilates, Boxercise and Barre, we bound to have a group exercise class that gives us an endorphin boost. But, in many cases, it relies on us getting out of work (or out of bed) at a certain time, travelling to said gym and ensuring we're looking acceptable in our best gym leggings or activewear... And have brushed our hair.
If you're after a little flexibility in your exercise regime – set up your own Barre or ballet station.
'Attach a barre (or maybe an adjustable curtain rod, like the HUGAD available from Ikea) across your window to hang towels or workout gear while taking advantage of the natural daylight.' says Anna Blom, writer at Ikea.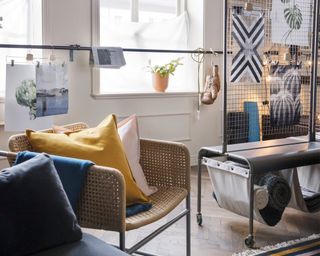 4. Add affordable strip lighting for atmosphere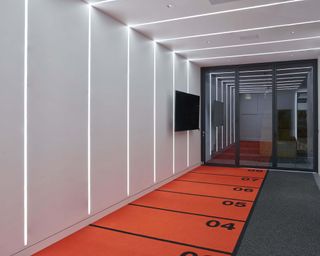 'Home gym lighting needs to be energizing, dramatic and exciting,' says Luke Thomas, design director at John Cullen Lighting.
'Bright, invigorating lighting gives you energy to work out at the highest intensities but that's not the only consideration. Downlights can provide great illumination down into the space whilst not complicating the positioning of the various machines, and equipment areas that might need to be accommodated in the room.
'A word of caution though; downlights give a direct light which comes straight down and this creates strong shadows. To soften the shadowing, ambient lighting should be layered with the downlights. There are many ways to achieve this, with some of the trendiest now being to use linear LED strip within architectural details such as ceiling coffers and shadow gaps to wash the walls.'
While John Cullen Lighting is a more premium option, you can buy more budget home gym lights from Amazon too.
5. Go back to school with a retro pegboard and locker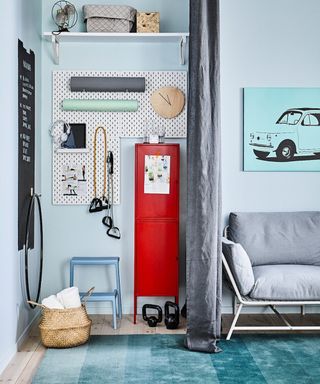 'You don't need a room to create a home gym,' explains Vanessa Algotsson, writer at Ikea.
'If you've got a little corner to spare, you've got yourself a totally functional exercise space. A cabinet keeps towels, clothes and gear nice and tidy, while a SKÅDIS peg board from IKEA is perfect for yoga mats, resistance bands, and more. And don't worry about your workout gear killing your style vibe. You can easily hide with the help of a full-length curtain.'
From a budget-friendly buy that's almost a steal, we think the SAMLA from IKEA clear storage tubs, (available from Ikea) stacked in the locker are an affordable investment at just $1.99 each.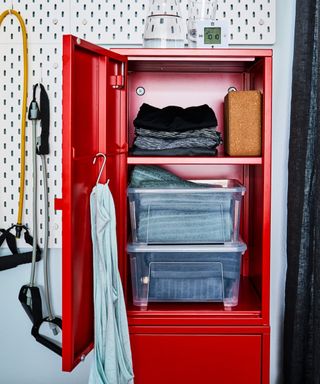 'A good idea is to install lockers in the walls so that one doesn't have to worry about leaving any valuables lying around.' says Zac Houghton, CEO of Loftera.
6. Create a small setup in your bedroom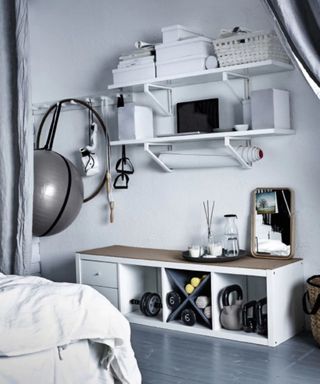 If you like to dabble in the occasional workout, and aren't a full-on fitness enthusiast (we won't judge), don't waste your hard-earned dollars on the best gym equipment that'll only get used as a clothes horse or extortionate doorstop.
If you're only going to be doing a few stretches or crunches each morning or night, then invest in the best yoga mat and weights in a range of varying weight increments instead.
'If you have less equipment, the KALLAX [available from Ikea] is a good choice [for storage],' says Jules Yap, aka the IKEA Hacker.
'The X divider insert is a great idea for sorting weights. The KALLAX doubles up as a bench too.'

And, while it's not the familiar budget home gym space that you might be used to... Remember: you still need to keep your apparatus clean. So make sure you know how to clean a yoga mat properly, using chemical-free household cupboard staples.
7. Complete your goals in your garage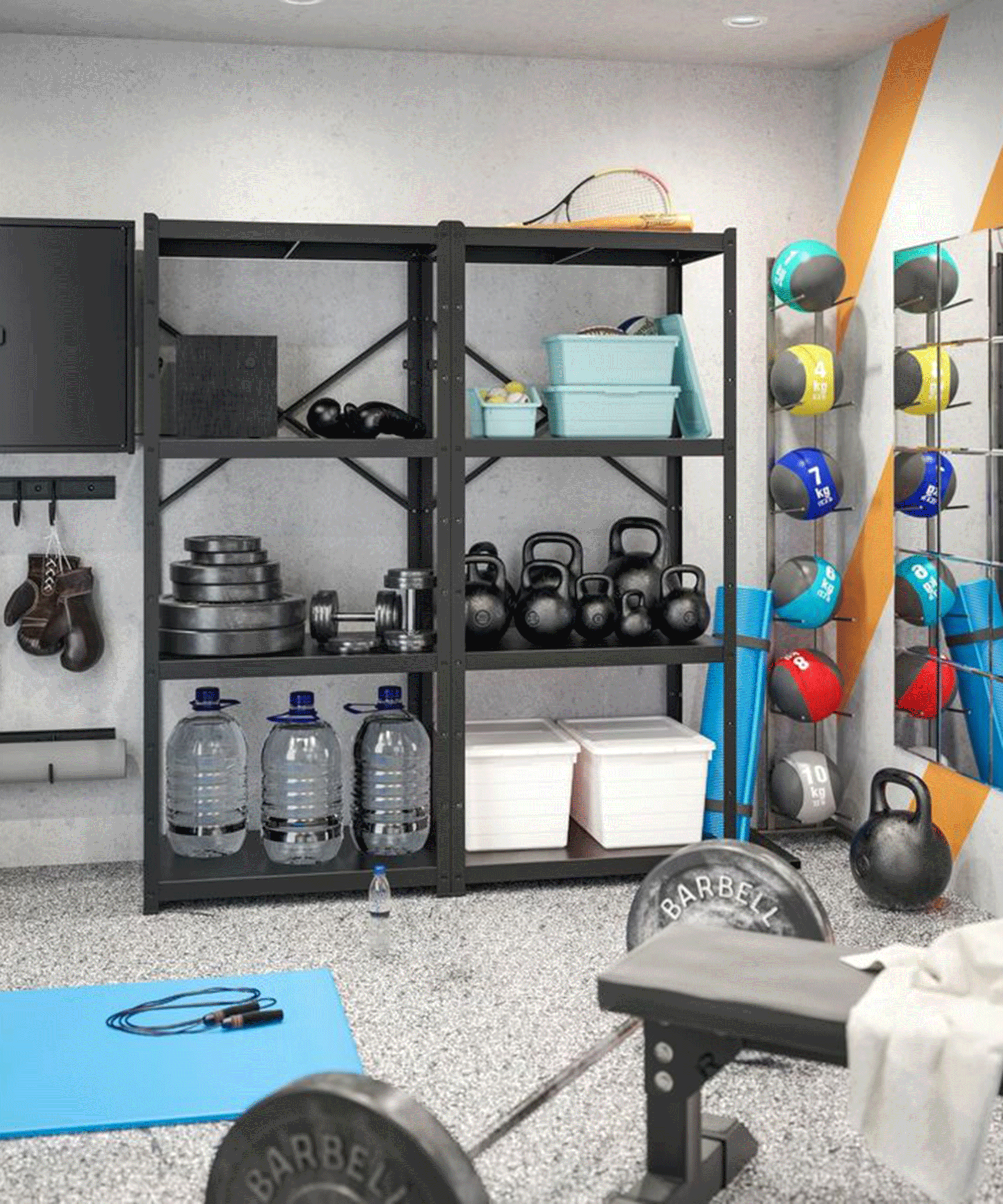 Begging for a bit of garage home gym inspo? We've got it. Aside from the speckled flooring (great for disguising dirt), and the striped yellow wall decor to add a dynamic and energetic touch, this workout space stays organized thanks to a hard-wearing shelf that won't topple over (unlike us during a plank challenge!)

'A home gym is an excuse-free place to reach your fitness goals.' says Becky Martin, interior design leader, IKEA UK & Ireland.
'Turn your underused garage into an all-purpose workout space and keep it organised with our BROR shelving system. This storage system is our interpretation of heavy metal – sturdy, durable and flexible. Also easy to assemble, complete as needed and is robust enough to withstand moisture, dirt and heavy loads.'
8. Increase your upper body strength with a pole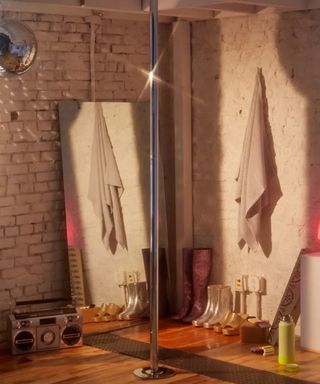 Gone are the days of pole dancing being perceived as a seedy side hustle for exotic dancers. Because pole fitness classes are popping up everywhere in premium studios all around the country. But, if you don't want to get into skimpy shorts and heels in front of a whole lot of people – set up your own vertical bar from the ceiling.
You won't have to go to a specialist hardware store, as this exact spinning dancing pole, available from Urban Outfitters is the real deal.
Get in the zone by investing in the best smart speaker to strut your stuff to in the confines of your own home.
9. Store indoor and outdoor exercise equipment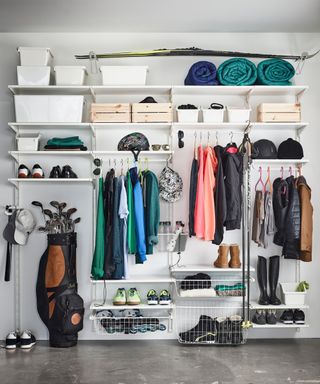 'If your family practically lives in the great outdoors, it's likely you've got piles of gear to prove it,' says Algotsson.
'We'd recommend outfitting your garage or attic with an ALGOT unit. It's easy to customize a section for each family member, adding shelves, baskets, boxes and more. You can even adjust the heights of shelves and rails, so kiddos can easily grab what they need.'
Now the bad news is that the ALGOT has been discontinued, but the BOAXEL from IKEA makes a good substitution.
10. Save money by using multipurpose storage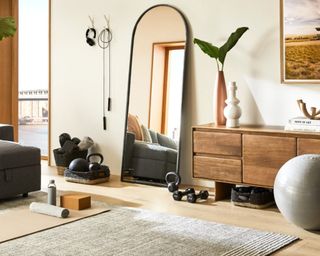 'Take your home gym from an afterthought to a design priority, whether it tucks
into a corner of your living room or has its own dedicated space,' says Ben Hanley, head of design services at West Elm.
'Multipurpose pieces –hidden storage, standing mirrors, wall hooks and baskets – are designed to keep your space organized, stylish and flexible. An organized workout space is essential, especially if it's tucked in a corner. Rely on baskets and hidden storage to easily stow away weights, mats and other accessories.'
We are particularly fond of the urban sleeper sectional with storage, available from West Elm; a sofa bed which secretly hides away your HIIT equipment and great for slouching on after an intense workout.
Not cheap cheap as it starts from $3,698, but if you're looking at a piece of furniture that's a 3-in-1 sofa, bed and storage unit – it certainly gives you a run for your money.
11. Opt for portable gym equipment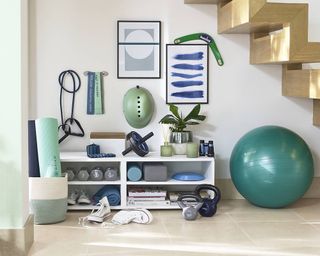 'My go-to bits of equipment follow me wherever I go,' says Scott Humphreys, founder of boutique fitness studio SP Athletic.
'They allow me to work out at home, and when I'm staying with family or friends or on holiday. Resistance bands, glute loops, a TRX suspension system, available on Amazon and a set of ankle and wrist weights are must-haves. If you have the space at home, add a set of dumbbells to your collection – you can't go wrong!'
12. Work out discreetly with cheap window treatments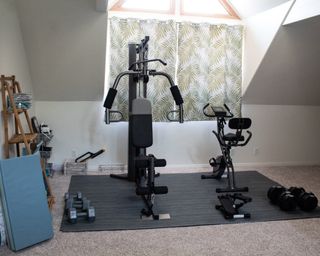 If you're doing an intense workout, the chances are that you don't want your neighbors and passers-by snooping in on your session.
So it's essential that you have adequate curtains or blinds to allow you to have an opportunity to work out in privacy and without an audience.
Hopefully, you've never experience THAT creep at the gym who watches your form, but if you have... Here's the solution.
13. Invest in foam flooring or a comfy alternative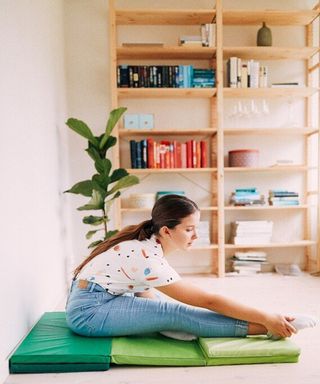 'Certain floorings are not only uncomfortable to deal with when exercising, but floorings such as laminates can become easily scratched when exercising, which is the last thing you want if you are a renter or if the floor has just been renovated,' says Matt Flanagan, CEO of E-Bikes Direct.
'Adding interlocking foam floor mats to your gym space adds a layer of cushioning and can even help with soundproofing, which is a perk if you live in a flat with neighbors underneath. Such mats can be purchased on a budget, can be easily removed and stored away if no longer necessary, and absorb movement well, meaning they cushion your workouts well.'
'An alternative to foam floor mats, individual yoga mats also act as a good defense for your floors, as well as cushioning your workouts and can be purchased on a budget. While some mats are foam, there are more heavy-duty alternatives such as rubber which are non-slip and also act as a soundproofing barrier.'
This green PLUFSIG gym mat, available by IKEA is one viable option that folds away nicely.
How can I create a cheap home gym?
'Believe it or not, for around $1,000, you can get yourself a squat rack with a pull-up bar, a flat bench, a jump rope, mid-range weight plates, and an Olympic barbell,' says Bob Barocas, a home remodeling and DIY expert who blogs at HomeRepairNinja.com.
'Throw in two gym mats, a medicine ball, and a yoga mat while you're at it too - you'll still be way under $1,200. Put all of this in your basement (even an unfinished basement is fine!), and voila you have a pretty classy home gym without breaking the bank.'
How can I keep a budget home gym organized?
If there's a will, there's a way. With just a few racks with knobs, Filip Kosatik, retail design lab leader, IKEA Sweden, turned his tiny entrance into a hallway home gym. It shows that simple ideas can turn out to be brilliant solutions that make everyday life better.
He says: 'Hooks are wildly underestimated tools when it comes to organizing small spaces. As you can see, they keep my gym equipment within easy reach and off the floor. I'm saving lots of money on a gym card and can work out anytime I feel like it.'