Should you be in search of the best gas BBQ, then we can for sure help with this all-important purchase. We've been hard at work this summer, testing six of the top models you can buy in our very own back gardens. The verdict? Our roundup below of stellar buys from the likes of Weber, Char-Broil, Everdure and other brands. Get yours now, or regret it later.
The summer might be coming to a close, but after the weather we've had this year, we can pretty much guarantee a bright and sunny September. Maybe your current barbecue has recently packed up or perhaps you're looking to upgrade from a charcoal model to something easier to use? Or the best of both with a hybrid? Smart idea. There's a reason that gas cooking is popular, and we couldn't agree more that a gas BBQ is a failsafe option for everyone.
Gas barbecues, as well as boasting fast ignition, can offer total temperature control that's usually over more than one zone. So, you can simultaneously cook your wings or an entire chicken beside six burgers, at different temperatures, whilst ensuring your food is ready all at the same time. Genius!
And with minimal effort required for tasty results, gas barbecues rarely flare up and burn your food which makes for more time for you to relax with a glass of vino on your garden sofa, rustle up a salad in the kitchen or catch up with friends as they arrive for a garden party.
If you've heard enough already then keep scrolling. For other options including charcoal and electric models, check out our complete guide to the best BBQs.
Our best gas BBQs to buy in 2023
Why you can trust Real Homes Our expert reviewers spend hours testing and comparing products and services so you can choose the best for you. Find out more about how we test.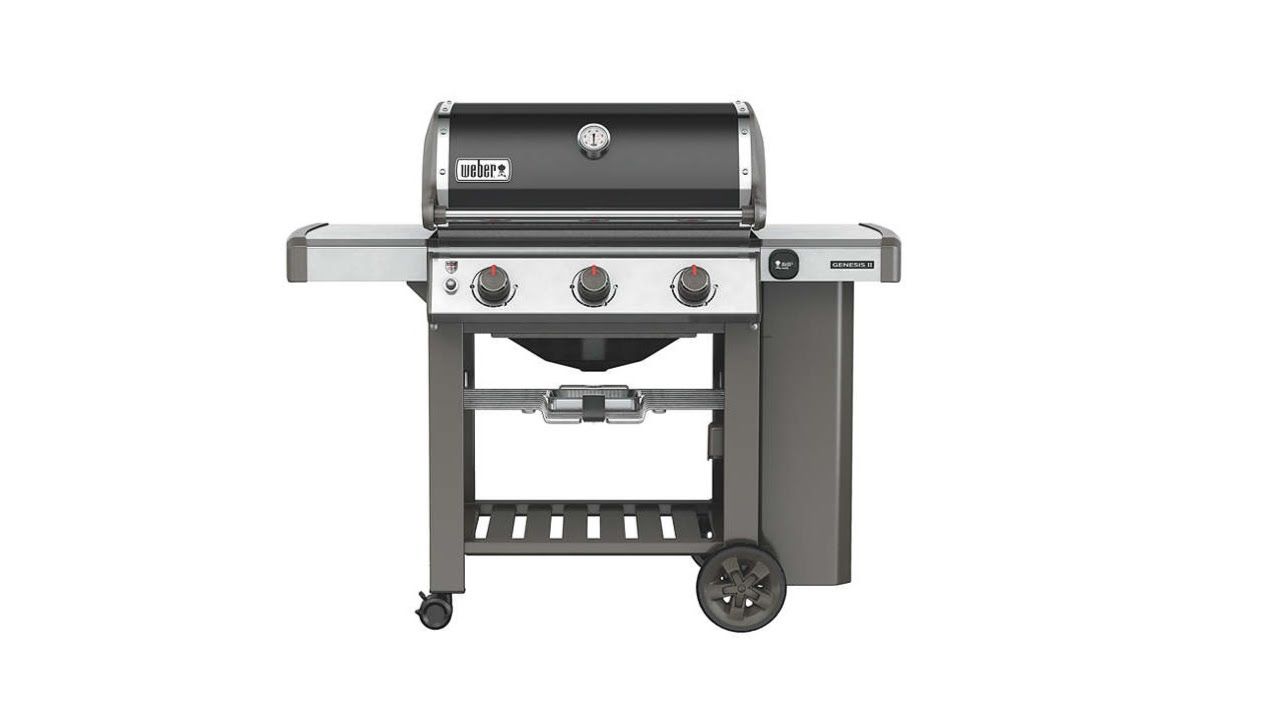 Our favourite gas barbecue is the Weber Genesis II E-310. It's designed to last, with a chip-resistant and rust-free coating and cast iron cooking grates that are durable and easy to clean. Not only that, but it's super convenient and easy to use, with plenty of space including three burners and a rack. You can use it with charcoal or gas, which means no more waiting for your charcoal to light and the option of total temperature control. You sync it with your smartphone and hook your food up to the temperature gauge for up-to-date alerts on when your food is done.
This sizeable gas barbecue demands a bit of space so wouldn't be the best for those with a small amount of outdoor space, or for small families. It also has steel side tables and steel doors for more storage, for tools and your charcoal bags. It sits on wheels, too. Bear in mind that assembly takes a while and is a bit fiddly.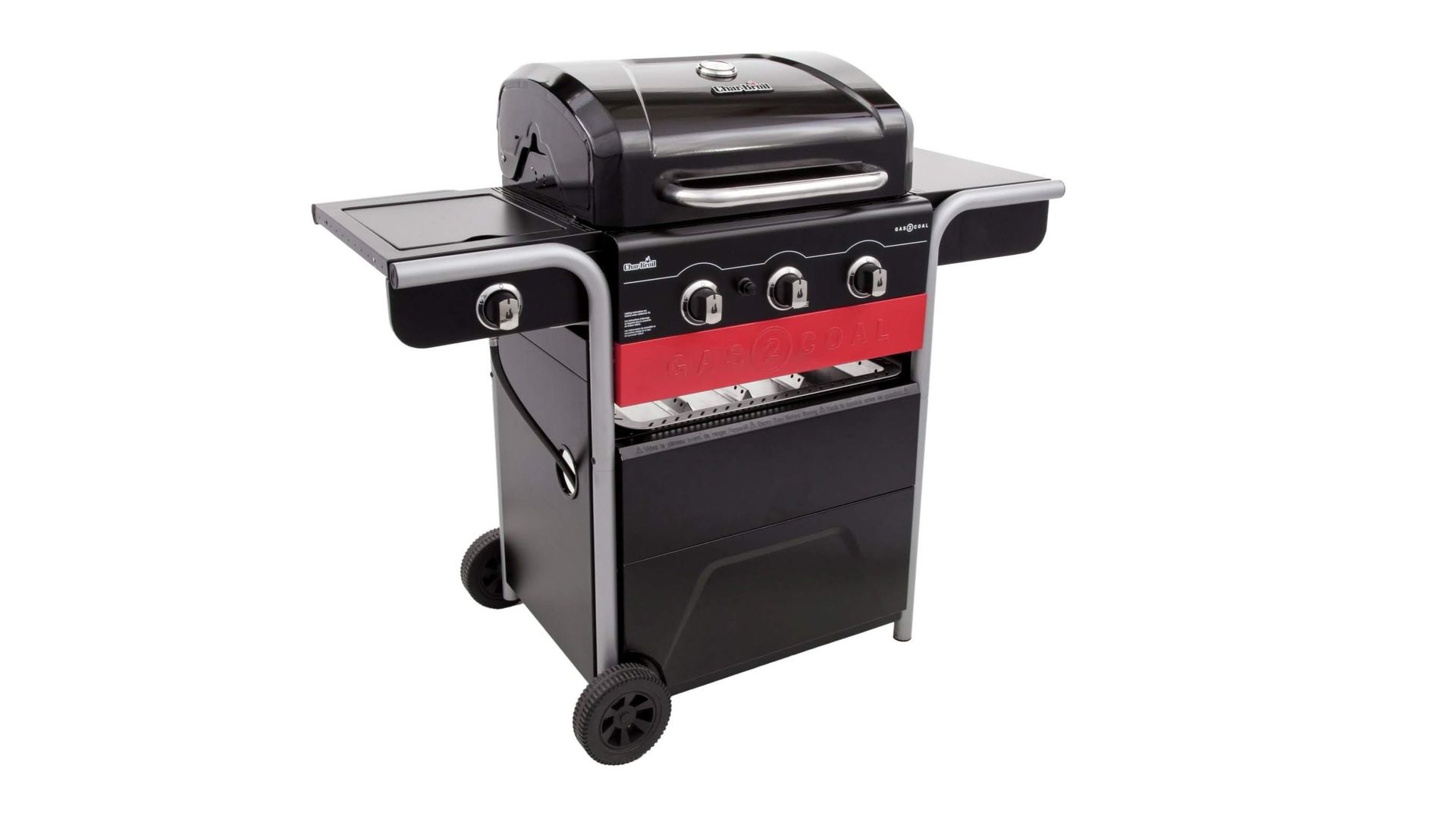 Another hybrid option, we can definitely recommend this barbecue from Char-Broil as it offers great gas temperature control with three individual burners that allow you to get the temperature just right when cooking on the gas setting. There's an off-heat cooking option for that smoky, slow-cooked flavour while the ability to cook without the heat on in the charcoal mode is great. The results, flavour-wise, are stunning. It also has a side shelf and warming rack, plus a side burner that doubles as extra food prep space when not in use.
This hybrid barbecue comes in a range of sizes so that you can choose based on your individual needs. Underneath the BBQ you'll find more storage space for tools and more. It also sits on wheels for easy transportation. Do note that assembly also took a while, so don't expect to unbox it and be cooking within half an hour.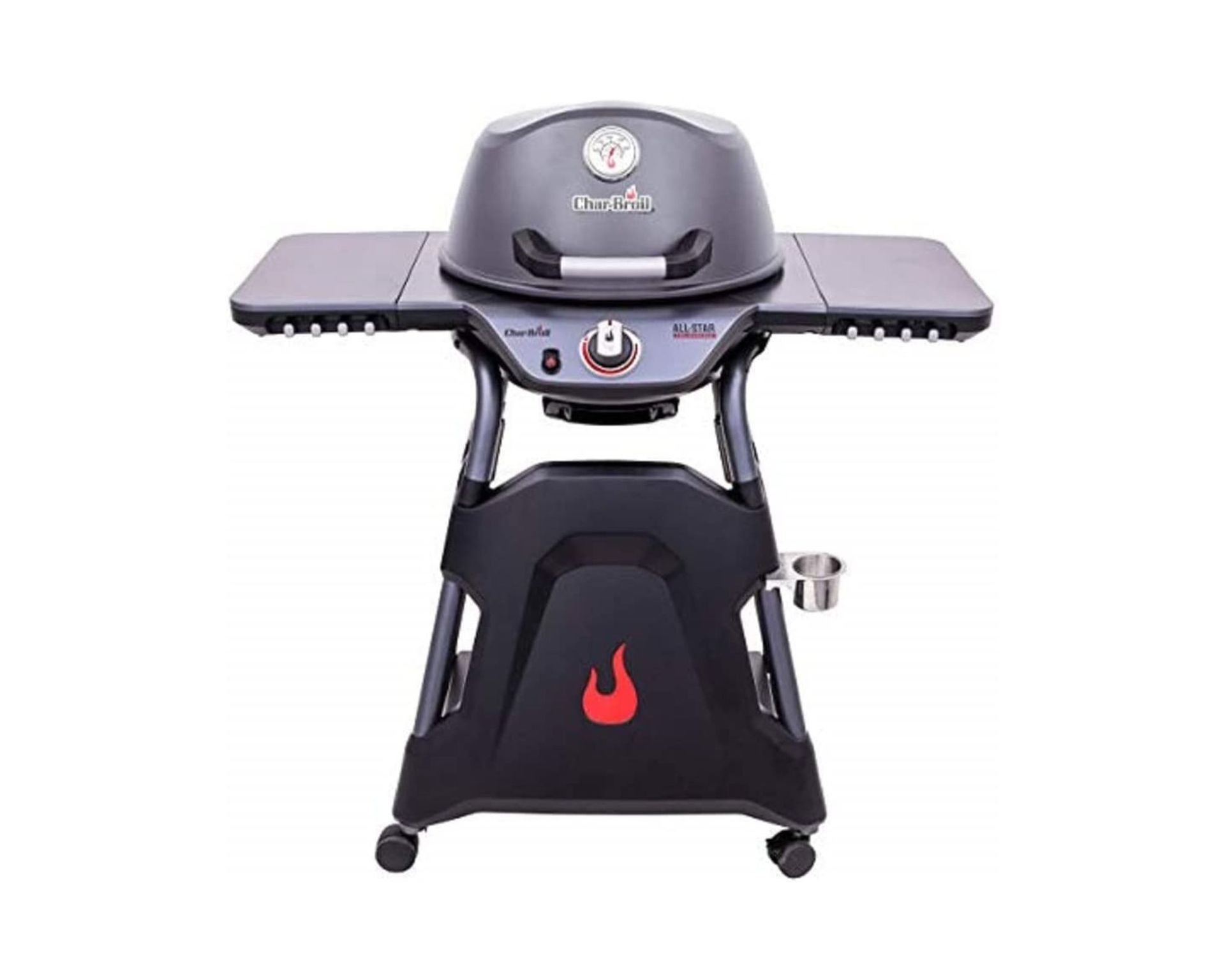 If you're searching for a gas barbecue that's small in size and reasonable in price, then the Char-Broil All Star could be the one for you. We had a small family test this BBQ for us, and the results were perfect. It's a great all-around option for anyone with a small amount of outside space to offer for a BBQ. For cooking a few burgers, some sausages and your other classic barbecue food, you can't go wrong.
It's a compact BBQ in more ways than one. With two foldable side shelves, it offers the space you need whilst being convenient to store away after use. A cover is sold separately. It also sits on wheels so you can move it around your garden with total ease. Cleaning is easy but assembly is confusing, but don't let that put you off as it only needs to be done once. Use the app to help you out.
If you're searching for something small that can do everything a full-size model can, then the Weber Go-Anywhere is the best portable barbecue for you. We've given this BBQ five out of five stars, and we really wish we could give it more. Whilst we admittedly tested the charcoal version, the gas model is very similar with the exception of the fuel used. Use this one along with a disposable propane or butane gas canister and light it with the press of the red button. It only has one burner, though, so everything will be cooked at the same temperature. It even sits at a happy-go-lucky price point, too.
This tabletop gas barbecue has foldable feet that unhook to cuddle the BBQ and its cover, to ensure it's secure when you're taking it on the go. It's super sturdy and has a comfortable handle that never gets hot. It's super easy to use and even if you're not someone who would ever take their BBQ out of the house, it's undeniably great for anyone with a smaller garden, a balcony or a terrace. Or even if you use your BBQ only a handful of times a year.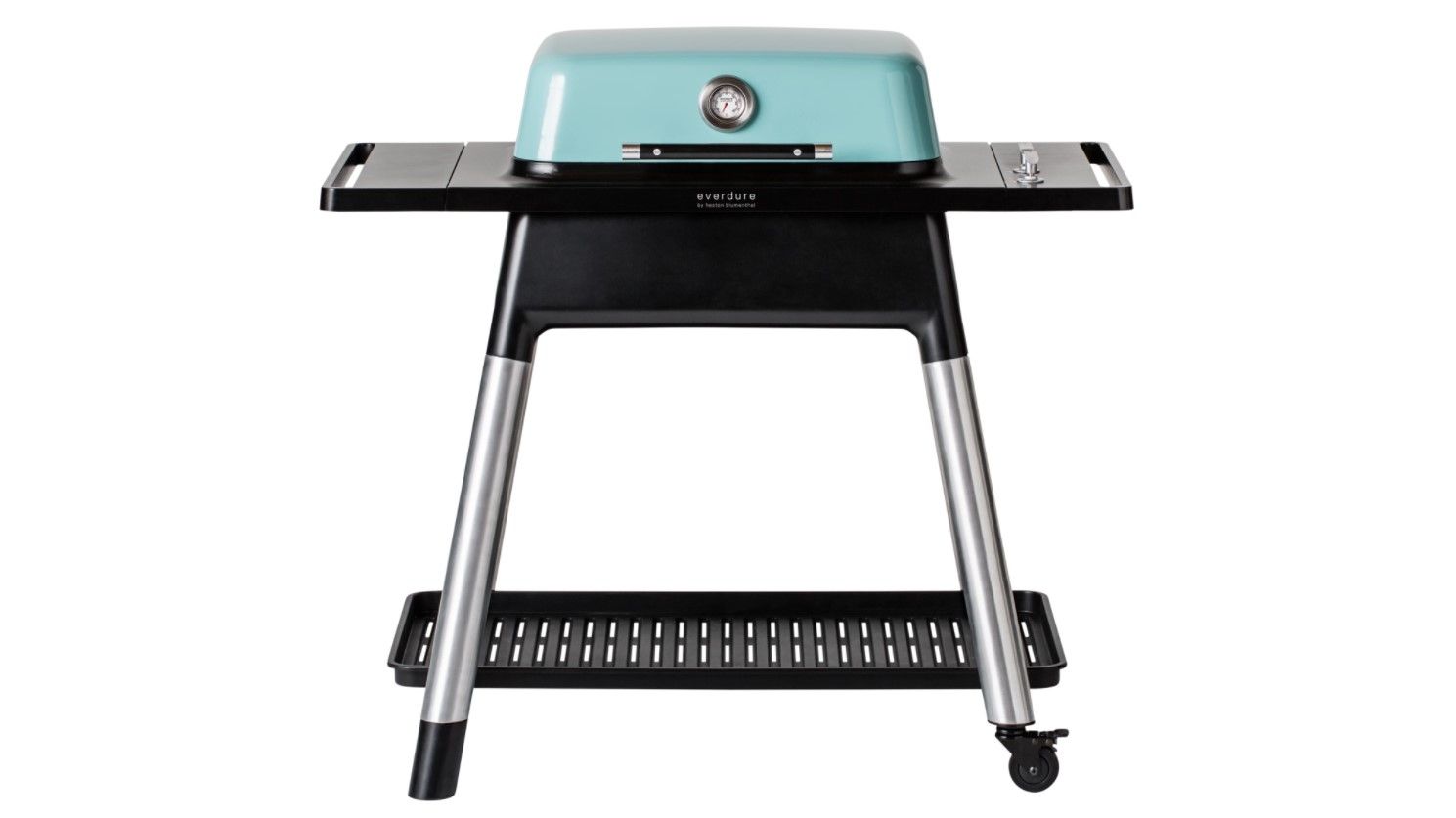 Offering outstanding control and good looks, the Everdure by Heston Blumenthal Force 2 Burner Gas BBQ is a great investment. When it comes to ease of use it's right up there too. It comes with independently controlled gas burners for cooking on and off the heat with variable heat control so you can ensure that ingredients are cooking at the perfect temperature. Cook with the hood up or down, with it being high enough for convection cooking if you fancy a large joint of meat.
A beautiful piece of design, we think it's well worth the investment with side shelves and extra storage space below to provide all the space you need for sauces and salads. The die-cast aluminium body is rust-proof and feels extremely sturdy and durable. Choose from a range of colours including blue, orange or graphite. Bear in mind that the plates are enamel coated, which means you'll need to clean them more carefully without the use of conventional scourers. Try a nylon brush instead. It's also a bit tricky to clean inside.
If you'd like a bigger version, then check out the Everdure Furnace 3 Burner Gas BBQ for size, which we also rated 4 out of 5 stars.
Leave your joints of meat to slowly tenderise and infuse with smoky flavour as you enjoy the full swing of your party thanks to this 3-in-1 barbecue from Char-Broil. The Big Easy isn't for anyone who's just searching for something to cook their beef burgers and grill their sausages, but it's angled more towards those hoping to cook everything from an entire chicken to a large turkey, a brisket of beef or even a shoulder of lamb. It's gas-powered to make it easy to achieve incredible results but you can add wood chips for smoking, and it has just two settings to make it faff-free. For an easy and healthy way to feed the five thousand, invest in this handy smoker.
It comes with a handy roasting basket and there's a grill for placing smaller cuts of meat such as chicken wings. In terms of size, it's really quite compact but wouldn't be the best BBQ for a balcony or terrace, mind. It's ideal for feeding lots of people but doesn't have any onboard storage. It's also not on wheels.
---
Which gas BBQ is best?
The best gas BBQ has to be the Weber Genesis II E-310 which we gave a five-star rating. It's convenient in more ways than one and the fact you can connect it to an app makes al fresco cooking 10 times easier.
Are gas BBQs worth it?
Knowing whether to choose a charcoal or gas barbecue is down to what you want from your outdoor cooking experience. If you want a BBQ that's easy to use, fast to light and simple to clean, then a gas model is your best bet. Gas barbecues are popular for good reason, and the majority of people who only use their barbecue a few times of year tend to opt for this type. You won't have to shop around for in-stock charcoal come the first warm day of the year, and they tend to mostly be sturdy and durable. Also don't forget that cooking with gas as oppose to charcoal makes for minimal smoke release in comparison. So, if your patio is close to your living room and you hate smoke flooding your home, then this is a great option.
What to consider when choosing a gas BBQ
Gas barbecues come in all manner of shapes and sizes, with two-burner units often sitting alongside the more serious-looking six-burner BBQs. This means that there are a few factors you'll need to consider before making a decision.
1. How many burners?
Gas BBQs with multiple burners are the best. You can seal your food on the heat, then turn half the burners off, close the lid and allow your food to cook super slowly off the direct heat. Otherwise, some models feature side burners that you can use for your side dishes if need be.
2. How heavy is it?
If you'll be wanting to move your barbecue around your garden, then be sure to consider its weight (especially if it's not on wheels). If hard to move you'll want to pick a spot and keep it there, covered. Otherwise, the Weber Go Anywhere Gas is perfect for moving spots to chase the sun (or the shade).
3. Does it have any storage?
It might not be that important to you, but having some kind of food prep area will prove to be handy – think pull-out side shelves or a storage shelf. The smaller the barbecue, the less likely it is to have onboard storage, of course.
4. What does it look like?
This may not be important for all, but for anyone with a keen eye for design, it might be a good idea to see which colours your new barbecue comes in. The Everdure Force 2 is our top recommendation if you're design-conscious and don't want a BBQ to ruin your aesthetic.
Where to buy a gas BBQ?
Here's where to shop for a new gas barbecue, online.
Real Homes review process - how we test gas BBQs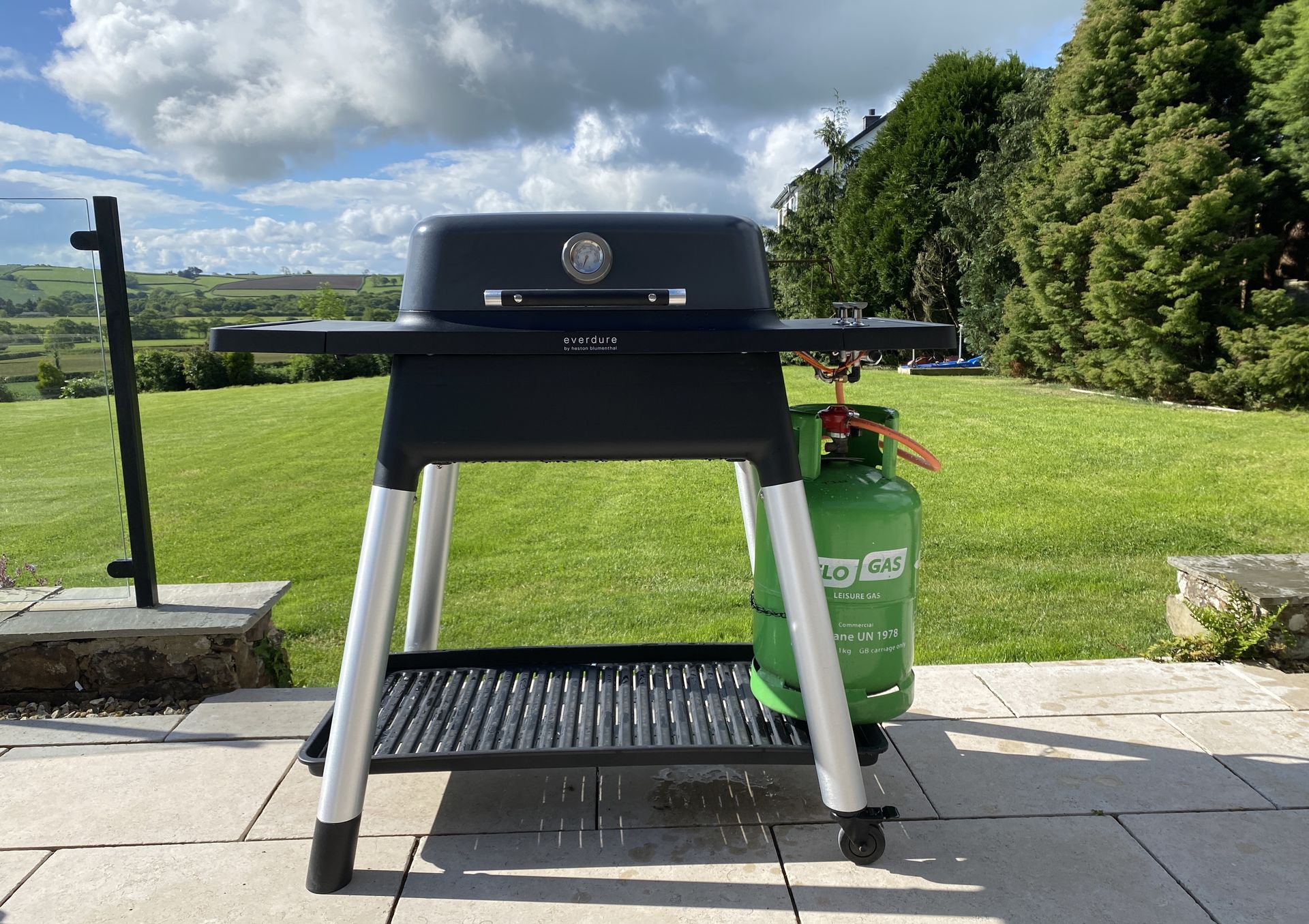 Each and every one of the gas barbecues in this guide has been tested by a member of our team. This way, we can recommend a gas barbecue with peace of mind that it does the job, and that it's worth your money.
When testing barbecues – gas, charcoal or both – we like to have them at home for around eight weeks and use them a good handful of times. When testing, we note everything from the assembly process to how easy they are to use. We like to use them to cook veggies, small pieces of meat and if possible, larger joints. We always clean our barbecues and report back how easy it was, and any tips we may have, whilst we always compare barbecues with similar models and predecessors to ensure they're worth their price tag.
Last but definitely not least, we consider how a barbecue looks, and how much space it will take up in a garden or on a balcony. As a team, we're made up of renters, solo homeowners, city dwellers, large family households, country residers and just about everyone in between. Rest assured you'll be able to find a gas barbecue to suit your needs.
For more info, see our guide on how we review BBQs. Otherwise, you can read all about Real Homes reviews and our whole process.