Apart from the advantage of cutting your food bills, there is nothing tastier or healthier than using the freshest ingredients for the kitchen table, straight from your own garden. The popularity of growing your own in a kitchen garden has led to sales of vegetable seeds overtaking those of flowers.
From a pot of herbs on the windowsill, tucking salads and vegetables in among the flowers beds, to setting aside a dedicated plot, there are many ways to create your own harvest in a vegetable garden.
Starting a new garden and need advice? Find out how to design a garden from scratch.
How to start a kitchen garden
Early spring is an ideal time to begin creating your vegetable garden plot, but start planning well ahead. At first it may involve a little trial and error but, whether you have a large or small garden, you can add some edibles.
Decide on the size of the plot you would like to create and can manage. A large vegetable garden with room to grow everything will take a lot of work, both in preparation and also maintenance. A tiny plot with dwarf varieties, containers, or produce mixed in among flowerbeds, are better options if your available time for gardening is limited.
To make sure everything runs smoothly, and to know when to harvest your veggies, take advantage of our calendar of garden jobs month by month.
The best position for a kitchen garden
An open, sunny spot is preferable, ideally one that enjoys the morning sun, and around six to eight hours of direct sunlight daily. To grow quickly and well, vegetables need as much light as possible, so track the sun throughout the day to see where shadows fall. If you don't have these conditions, there are some crops that tolerate shade, such as cherries, blackberries, raspberries, rhubarb and blackcurrants.
Wind protection is also important, so a permeable barrier, such as a picket fence, hedge or windbreak can filter its effect.
What should you grow?
Grow what you love to eat, and as much as you need. Make a list of your favourite edibles, including herbs, and consider those that are more expensive to buy. Include different varieties of vegetables you enjoy, then look carefully at your space and climatic conditions and narrow your selection. Plan choices so that you have harvests throughout the seasons – from the first potato crops to brassicas through the winter months.
A kitchen garden is also a great opportunity for growing organic. Find out how to grow organic fruit and veg in our guide.
Preparing soil for a kitchen garden
Test the pH levels of the soil in the chosen spot for your vegetable garden to see if it is more acid or alkaline – which can vary in different spots – and to help you select your crops. Soils are generally on a spectrum from clay to sand, but all will need the addition of organic matter to retain moisture and nutrients.
Clay soil needs breaking up and takes longer to warm up so suits later crops, whereas light soils are good for early vegetables but will need large quantities of manure and compost to avoid water draining away too rapidly. The ideal is loose, crumbly loam, which absorbs and holds water and nutrients, is well aerated and drains freely.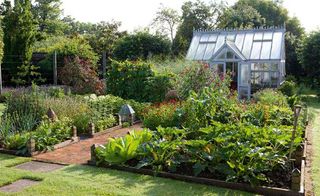 Types of beds in a kitchen garden
Raised beds, filled with a loamy soil from a local garden centre, are ideal for growing small plots of vegetables, and the perfect choice if the soil in your garden is not good quality. They provide good drainage, increase soil temperature, prevent soil compaction, and the sides of the bed prevent soil washing away in heavy rain and act as a barrier to pests, such as snails and slugs, as well as pathway weeds.
You can buy ready-made raised beds for your vegetable garden, or make them yourself. Wooden planks or old railway sleepers are often used, brick or stone surrounds are long lasting, while woven willow looks pretty and rustic but will need renewing about every six years. Line timber beds with black polythene to keep the timber dry and increase its longevity.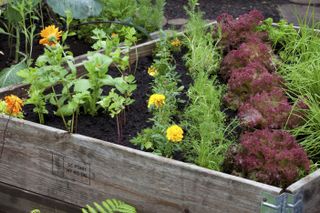 Kitchen garden layout options and features
Every plot is different, so work out the best design for your space and needs. There are no rules to creating a kitchen garden. You can mix vegetables, fruit, herbs and flowers, including edible varieties, all jostling together in a tapestry of colours and shapes, in segregated rows or blocks, or as an ornamental potager, in a geometric pattern of your choice.
Unless crops need special protection, it can be helpful to mix the plantings, as a large area of a single crop attracts pests, and the mix of different edibles and ornamentals confuses them. It is helpful to draw the design of your vegetable garden on paper first before marking out or planting.
See these bountiful kitchen gardens for inspiration for setting out yours.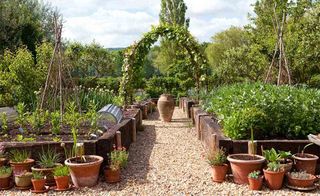 Include access pathways, and keep in mind that beds need to be a size you can reach into easily for weeding, planting and harvesting. To keep slugs at bay it is advisable not to have long grass or dense flower borders directly next to the plot; instead a path makes it easier to spot and dispatch the pests.
See our guides to building a herringbone path and laying a gravel path to find out how to create these within your garden.
Make best use of the vertical space, too. Grow climbers, such as peas, beans and cucumbers up tripods and climbing frames, along with nasturtiums to attract blackfly away from crops, and sweet peas for added colour and scent. Include companion plants that attract beneficial insects, such as marigolds and daisies. Fruit trees are a wonderful addition, even in the tiniest space, as espaliers, cordons or step-overs.
Use our guide to growing a living wall or vertical garden for tips on creating yours.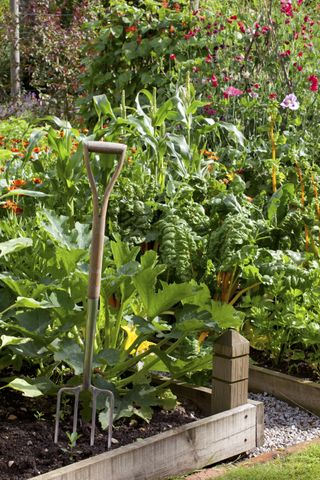 Sowing and planting a kitchen garden
Seeds are the lowest cost but if you don't have a greenhouse (see our buyer's guide) or propagator and want a more instant result, plug plants are a good option.
A combination of plants and seeds may work best; you can pop seed trays inside on a windowsill, then pot on seedlings into the garden. Many vegetable seeds can be sown directly in situ once the soil warms up.
Plan a programme of small, successive sowings and plantings every couple of weeks for a yearlong harvest. Edge plots with contrasting plants, including herbs and flowers, which will mask bare spots as the season progresses.
After harvesting, use fast fillers, such as chervil or cut-and-come-again salad greens. Many of the latter self-sow and can be moved easily to fill gaps when required. Fast-growing green manures are ideal: both mustard and phacelia are tough as well as beautiful in flower.
In February, you can start sowing choices such as broad beans, peas, carrots, onions, the first potatoes and salad crops under cloches. For great-value yielders you can't beat Swiss chard and perpetual spinach that will crop for a whole year and throughout winter. Salads can also be grown year round, and many of the most expensive to buy at the shops, such as rocket and baby leaves, are the easiest to grow.
Other easy to grow edibles include tomatoes, potatoes, beetroot, courgettes, garlic, onions, squash, strawberries, chives and mint. Vegetables, fruit and herbs can look beautiful, so be proud of your bounty.
Kitchen gardens to visit
West Green House Gardens – Imaginative, ever-changing creative potager displays. Near Hartley Wintney, Hook, Hampshire RG27 8JB
West Dean Gardens – Restored walled Victorian kitchen garden and glasshouses, with heritage and new vegetable varieties. West Dean, West Sussex PO18 0QZ
Pashley Manor Gardens – Decorative home kitchen garden. Ticehurst, East Sussex TN5 7HE pashleymanorgardens.com
Attingham Park – Late-18th-century kitchen garden, two acres of glasshouses and Georgian bee house. Atcham, Shropshire SY4 4TP
Audley End House & Gardens – Organic walled kitchen garden, with over 120 apple and 60 tomato varieties. Saffron Walden, Essex CB11 4JF
12 essential kitchen garden plants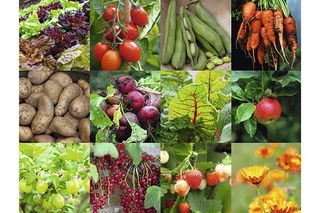 Salad leaves – and lettuces are easy to grow from seed in the ground or containers, and give a high yield. Cut-and-come-again salads give a succession of leaves, from five to eight weeks after sowing – an economic alternative to expensive salad bags in shops and much fresher and tastier. They like fertile, moisture-retentive soil. Sow more every four to six weeks for a continuous supply.
Tomatoes – are easy to raise from seed from March on a warm windowsill with plenty of light, or buy plants from your garden centre in May. They need nutrient-dense soil. Sun-ripened tomatoes from your garden will beat the taste of any you can buy. 'Bush' tomatoes are the easiest as they don't need to be staked or trained and grow happily outside in pots, hanging baskets or grow bags.
Beans – are good yielders and use the vertical space rather than taking up ground level space. Easy to grow from seed, water them well and harvest regularly – the more you pick, the more the plant will produce. Broad beans can be sown direct into the ground in March or April, or French, borlotti and runner beans the end of May/early June, for a harvest 12-14 weeks later. An added bonus with scarlet runner beans is that the vibrant flowers are also edible.
Carrots – Sow early carrots under cloches in February, or wait until March or April in the open. For sweet, small carrots, sow every few weeks from early spring to late summer for a successional harvest from June to November. They like light soil, with plenty of organic matter dug in with full sun for early varieties, or some shade for maincrop varieties. Carrots can also be grown in containers and raised beds; thin out the seedlings in the evenings, firming down the soil to help prevent carrot fly. Water when the weather is dry.
Potatoes – Plant chitted seed potatoes in the ground or containers – early varieties in late March and main crops in April, ready to harvest in 10 to 13 weeks. They grow best in fertile, slightly acidic loose soil, and need regular watering.
Beetroot – is easy to grow from seed, in the ground or a pot. Sow directly into the soil in April to July, in medium to light, neutral to slightly alkaline soil that has not been recently manured. Keep well watered and weeded. Round varieties will be ready to harvest from 11 weeks. Golf ball size are tender and delicious and the leaves can be used as an alternative to spinach or in salads.
Chard/silverbeet – Easy to grow, sow chard in spring, keep well watered and add liquid feed regularly. It often grows over a number of years as a perennial. Rainbow varieties add the wow factor whether in neat rows on the plot or mixed among garden flowers. Try 'Bright Lights', 'Rainbow' or 'Ruby'. A great addition to stir-fries.
Apples – Bare-root fruit trees can be planted from November to March. Self-fertile trees will produce fruit without the need of another tree to pollinate it. Soak roots before planting in a sheltered, sunny position, ideally in well-drained sandy loam soil. In a small space, train them against a wall or fence as an espalier. You can also buy espaliered trees in pots at garden centres throughout the year. Water well for the first few years and expect to harvest in a couple of years, depending on the variety. Even small gardens can have apples as step-overs, espaliered, on arches, or columns in containers.
Gooseberries – Easy to grow, there are many gooseberry varieties. Autumn is an ideal time to plant bare-rooted bushes, in a sunny sheltered spot. Prepare the soil by forking over and adding compost or rotted manure and fertiliser to the planting hole. Mulch and water well until they are established. Thin out in late May/early June,and use these first fruits for cooking. The second harvest, a few weeks later, will be sweeter.Net bushes or grow in a fruit cage.
Currants – Bare-rooted white, red and black currants are available for planting between October and March. Easy to look after, once established they will remain productive for about 15 years. Plant in well-drained soil, with added well-rotted manure. A sunny, slightly sheltered spot is best, but they will grow in part shade. They will fruit from the second summer, but need training, pruning and feeding for best crops.
Strawberries – For a tasty and decorative treat, grow some strawberries in a hanging basket. Plant in April for a summer harvest. Place five or six plants in a basket, and water daily during the growing seasons. Feed from flowering to harvest time with a product high in potassium.
Calendula – These quick-growing hardy annuals work well en masse or to edge productive beds as a companion plant to attract beneficial insects. Easy to grow in most soils they will do their best in rich, loose soil in full sun. If grown organically, add the tangy flower petals to salads.
Subscribe to Period Living magazine for monthly gardening news and inspiration
Read more: