Outbuildings are all the rage with many of us becoming comfortable with spending more time at home, and therefore making the most of the land and space we have. Whether you envisage a place to relax on the weekend with friends, or if you're thinking of an outbuilding to create a separate garden office and to lighten the load of people and things at home, we can help you decide which type of outbuilding will best suit your needs and budget.
What is an outbuilding?
Why you can trust Real Homes Our expert reviewers spend hours testing and comparing products and services so you can choose the best for you. Find out more about how we test.
Unlike a costly extension, outbuildings will create more living space but are totally separate to your home and they can't be used for sleeping in unless you have planning permission to do so – more on this below. Garden rooms, office sheds, huts and greenhouses all fall within the realm of garden outbuildings and while their purpose is usually for sheer enjoyment, the practicality that they offer is unquestionable also.
We spoke with Ross Goodwin, Managing Director of MyToolShed and Luke Spear, their 2021 Garden Office Ambassador. Spears says 'An outbuilding to me is somewhere you can isolate from the main house, that is quick to access, without having to drive or take transport. Ideally it is insulated, sound-proofed and has all facilities required, be it a work-out area, an office space or a relaxation spot. They add instant value to you and your family's quality of life, improving work/life separation and giving everyone a little more breathing room.
You wouldn't usually think twice about putting up a shed, but there are some things to consider before you purchase or build a garden room yourself.
If adding an outbuilding is part of a bigger garden design project, see our advice.
Do outbuildings need planning permission?
Most garden outbuildings come under permitted development so will not need planning permission. There are some limitations to consider; for example:
Height: Garden outbuildings must be single storey, with a maximum eaves height of 2.5m, a maximum overall height of 4m with a dual pitched roof or 3m for any other roof;
Square footage: They must take up no more than half the area of land around the original house;
Design: They shouldn't include verandas, balconies or raised platforms;
Dwelling: They must not be used as a home. You will definitely need to apply for planning permission if you want to use yours as a guest house.
Pro tip: Check whether your local council advise that you apply for a lawful development certificate before any work takes place.
Outbuilding and garden room uses
This is where to start as your options are endless and ultimately what type of outbuilding you go for depends on what do you need it for – whether you're building your own or not. Knowing what you need will help you settle on practicalities, such as whether it is for year-round use or for warmer months only – vital to know as you'll need to decide how sturdily built and well insulated it should be. Additionally, you'll need to know early on whether you need Wi-Fi, electrics, heating, lighting, extra storage and so on.
If it's more storage that's a priority, then a large shed could work, if you want a chill out zone for watching movies, lazy summer (or winter) days then a small and simple garden room will be fine. If you want a studio space or a garden office then you may want a garden room that's a little more spacious, especially if you know that the kids or the dog are likely to spend some time with you there too.
How much does a garden room cost?
Garden room and outbuilding costs vary according to their size; whether they are modular or bespoke; the quality of the materials used; the doors and windows specified; the level of insulation required; and the interior and exterior finishes.
For a modular kit, expect to pay anywhere between £2,000 and £30,000. For a completely bespoke building, expect to pay between £800 and £1,600 per square metre.
An all-year room requires heating, ventilation, insulation and electricity. If you go for a bespoke option, this will be arranged for you, but make sure the price includes connection to mains electricity. This requires a Part P registered electrician to relay power through armoured cabling and will cost between £300-500. You should also receive a certificate stating that the work meets current regulations.
Should you choose a modular or bespoke garden room?
If you're purchasing a garden room then these are your two main options.
A modular garden room is ordered and supplied in kit form, with some basic elements of customisation available, while a bespoke option will be designed to fit your space and then built on site.
With a modular outbuilding, you know up front exactly what you are getting and for how much. Most companies that sell kits will offer add-ons, such as insulation, door and window options, and storage areas, allowing you to create a somewhat tailored finish. However, you will be fairly limited to what's on offer in terms of the building's size and shape – which may not suit an awkward plot.
Many modular buildings are sold for DIY installation, with the pre-assembled walls and roof elements supplied, which saves on costs. However, it's a job for an experienced DIYer with the right tools – and an extra pair of hands. Bear in mind, too, that the levelling of the site and the construction of the base – whether solid concrete, blocks, paving or timber – is a major part of the job. If installation is beyond you, you could employ a trusted local builder, or ask your supplier if they offer a build service for an additional cost.
With a bespoke design, whether dreamt up by you or an architect, you'll get a building that exactly meets your needs, design ideas and the size and shape of your plot. It will also allow you to be more adventurous with materials and finishes. However, unless you're a budding builder, this is a job for a professional, which may make the final cost a little more unpredictable.
Is it cheaper to build your own garden room?
Spear actually built his own outdoor garden office room, spending £3,000 in comparison to 'Pre-made garden offices of this size cost from £12,000 to £20,000 and beyond!'. What's more, a garden room or office can add 5% to your property value so it's a sound investment for home owners.
Spear said 'Spending £1-3k on your home office will mean it has paid for itself in just a few years with small rented office spaces of similar size (30m2 footprint) costing from £1000 pa, plus rates, to £5k and beyond.'
Ross Goodwin, Managing Director of MyToolShed backs this 'As seen from the data there are cost-saving benefits to be made from creating your own garden building vs buying a pre-made design.'
'You get additional space, increased comfort, the knowledge and understanding of how to fix and repair, and even a house price increase that'll bring a larger real-terms profit vs simply buying an out of the box office outhouse.'
'However, for those who simply cannot find the time to build their own shed, an affordable pre-made shed still could pay for itself within a few years compared to renting office space. Working from home is the future and an office shed is a perfect option for both profitability and space to differentiate work and play.'
Of course, taking on this type of project is really hands on and not for the faint DIY-hearted.
Outbuildings – how to add one successfully
A garden room, office space or other type of outbuilding should feel like a seamless addition to your home and garden space. To ensure the design is spot on and that yours will serve its purpose well, think about the following when adding or building your own:
1. Find the perfect spot
Outbuildings can be positioned anywhere flat and dry, but think carefully about where to put yours if your plot is on the smaller side – and ensure its best possible angle is visible from the house. Never build in the garden's only sunny spot, unless your new room has doors that open out to create a sheltered sun trap.
Instead, consider placing it in a shady area where it's difficult to get plants to grow; so that it blocks a view of an ugly building at the back of the garden; or so that it improves privacy within your garden. Think, too, about whether to allow space around or behind your building for access and repairs.
Spear advises, 'A solid, dry and level foundation will ensure that your office stays standing for as long as it needs to and in any weather conditions.'
2. Get it in proportion
The size of your outbuilding is governed by planning regulations, but, as a general rule, it should be big enough to be useful and to evolve as your needs change, though not so large it overwhelms your garden or throws too much of it into shade. To better visualise its proportions, mark out the proposed boundaries with string or canes. Rethinking its size? Consider investing instead in a one of the best garden sheds.
3. Pick the right materials
Tongue-and-groove exterior wall cladding is standard, either pretreated or stained to suit your colour scheme. Consider the thickness of not just your walls, but the floor and ceiling, too – thicker or insulated constructions will be needed for buildings used year-round.
If you are building your own from scratch, when is comes to base framing and decking, Spear recommends 'Don't skimp on your joists. Use timber that is strong enough to support plenty of weight.'
If you want a structure that looks more permanent, have it brick- or block built and rendered – but bear in mind these materials, along with large amounts of glazing, will add significantly to the cost.
4. Choose great glazing
Windows and doors shouldn't just reflect the style of your house; their size, shape and position should also be designed around how you will use your room.
So, if you need lots of wall space for a desk and storage, for example, glazing all round may not be practical. The spec of the glazing needs to reflect how much – and when – you'll use the building; a year-round home office is best double-glazed, while a summer sunspot will only need single glazing.
Spear says that if you want more windows it will cost more money and time if you're building your own 'If you've got the time and money – go for it – if not, consider focusing on lighting instead.'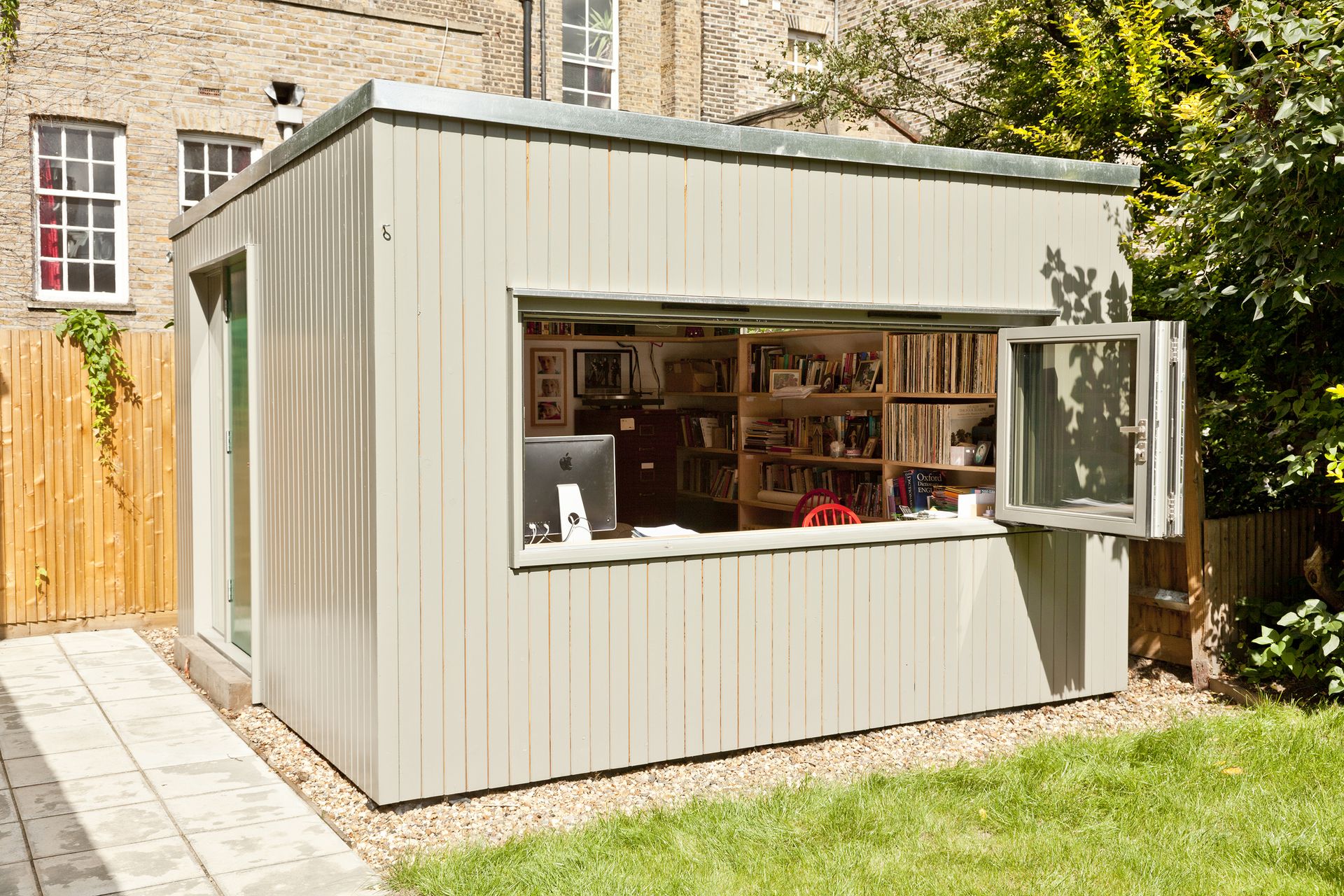 5. Fitting it out: electrics, heating and lighting
Some companies will connect your garden room's electrics to the house mains supply, but if not, you need to call an expert in. Spear, 'We would recommend leaving the electrics to the experts. Contracting a professional will cost around £500 but obviously, your safety is not something to compromise on.'
Be sure to sort WiFi with a booster from your home's supply or with a new connection altogether. Finding the best broadband provider will make this process easier also.
If using your garden room as a home office, you will need to consider heating; an oil-filled or halogen heater will make the most sense, since you can simply unplug it when you're not in.
Approach the lighting as you would a room indoors, depending on its use. So, if you're using yours as an extra living space, follow our guide to living room lighting and you'll be on track.
6. The interior
Although you want to reflect the style of the rest of your home in your garden outbuilding, it needs to be a bit more robust. Flooring, for example, needs to stand up to continual access from the (often very wet) garden; curtains, blinds or shutters might be needed for shade in a south-facing room; and furnishings may need to be washable, particularly if the room will be used regularly by children who won't think twice about going from paddling pool to sofa.
7. Exterior details
Once you've chosen an outbuilding, position outdoor lights and plants to show off and frame it. You may also want to factor in your best decking ideas to make the space pop.
8. Maintenance
Assuming your garden outbuilding is of solid construction, it should need no more maintenance than your home – perhaps a fresh coat of preservative on the cladding or paint on the woodwork every two or three years. The most vulnerable part of your building is probably its base, so when designing it, allow for the movement of air beneath; this will prevent a build-up of damp that will lead to rot and decay.
9. Security
An outbuilding, be it a shed, garden office or summer house, can be tempting to an intruder. Keep yours and its contents as safe as possible by:
Fitting a PIR light: and home security system (if the contents are valuable – perhaps you work from home and have computer equipment inside) to pick up any movement. Smart security systems that you can connect to via your phone are a flexible, easy to install option that you can use on the move;
Securing valuables: Attach your computer to the walls with metal security casings – most burglars don't want to make a noise when stealing your kit;
Considering a gravel path: Laying a gravel path to and from the garden building will make entry as noisy as possible;
Ensuring your insurance policy is sorted: Worst comes to worst, do your door and window locks meet your insurer's expectations?
The best space out of the house 🙌