Looking for garden ideas for kids? Or perhaps you're redesigning your garden and want to make it child-friendly? You can use this guide to make your garden both fun and safe for little ones – we include everything from garden design features to choosing plants and activities to enjoy as family – and, of course, talk about installing child-friendly play equipment into your garden. Best of all, we think adults will enjoy our garden ideas for kids, too.
Once you're done, head to our dedicated feature on designing a garden from scratch more garden-related advice and ideas.
1. Provide safe outdoor play equipment for children
With very young children, safety is the first consideration, so you will be thinking about enclosures, inflatable pools, ensuring raised decks or steps have bannister rails, that ponds are covered and that surfaces are soft and forgiving – and, of course, making sure that the plants in your garden will not harm your inquisitive toddler if she or he decides to touch or taste them (this goes for pets, too).
The flatter your garden the better because it will remove the need for steps for youngsters to negotiate, will mean you don't need to rail off raised areas, and will create expanses of space for them to enjoy safely.
However, if your garden does slope, having it terraced, with safety rails, will give your child areas to enjoy freely. If you have very young children and a large or terraced garden, you might also like to install a gate at far end of the terrace nearest the house or patio to limit their movement. As they get older, this of course can be easily removed.
Young children will do best playing in enclosed garden activity features, such as inflatable ball pools and netted trampolines, both of which need flat surfaces to work well.
Consult our buyer's guide to the best trampolines to choose the right one for your garden.
2. Make your garden suitable for older children
With older children, you can start exploring fun, challenging activities and games, and learning about plants and wildlife – and sustainability. You may want to encourage them to grow a kitchen garden (they're never to young to find this fascinating). Find out how to grow your own organic fruit and vegetables, too.
You might also need to create space for a larger climbing frame, a treehouse, a football pitch or goal, a netball post and, as a result, choose plants that can stand up to being bashed about. A row of espalier fruit trees, a shrub border or trellis around the garden will hopefully stop balls going into the neighbours' gardens regularly.
As the kids get older, they will be able to safely enjoy a proper water feature, or even a swimming pool if you have the space and budget.
As your children get older and can safely be in the garden out of sight, you might like to put up ornamental trellis with climbers on it or a pergola, both with the intention of screening the view of their play areas from the house or from the patio where you'll hopefully be unwinding.
It's unlikely you'll want to spend out on redesigning your garden every five years, so bear all this in mind when you're designing your garden from scratch. You may not be able to imagine your toddler swinging from a treehouse now, but it comes around quickly, so incorporating – or at least leaving space for – future activities and structures into your design now will save you money in the future.
3. Install a climbing frame
Let your kids enjoy the outdoors to the maximum with an activity centre. If you are a competent DIYer, you can easily build one yourself, but there are also plenty of options for buying an activity centre or climbing frame.
What to bear in mind? Climbing frames need a flat, stable base and, if self-built, must be constructed to take the weight of adventurous children swinging off their extremities – you can always bury the wide footing supports if you don't want to see (or forever be tripping over them).
Wooden climbing frames must be built from suitable wood – usually pressure-treated, and will last longer if given an annual coat of preservative.
Climbing frames with roofs provide shade and a no-need-for-a-tree treehouse – you'll find your children spend hours up there.
What to include? A climbing wall, a slide and a rope swing will all get tons of use and improve children's motor skills and, of course, their bravery!
We have a buyer's guide to the best climbing frames to make choosing one easier.
4. Create a shaded spot for rest and play
Gardening for kids can be tiring when they're small, while big ones love somewhere to lounge about, so it's a good idea to have a designated area with plenty of seating for a garden game (we have the best garden games to choose from), a snack or a lie down.
Providing plenty of shade is a must, especially during the summer months. Think patio umbrellas or pergolas. Then add climbing plants in a vertical garden to create a living canopy.
A raised decking area will work – great for bare feet, and less slippery and more forgiving than patio paving. Find out how to install your own deck in our guide.
5. Gardening for kids: our tips
Children love getting involved with what their parents are doing in the garden – from choosing plants to creating a kitchen garden, so make gardening inclusive and manageable by providing your child with their own, personalised kit for planting and watering.
Designating a bed or allowing them to create their own container garden will stoke year-round interest, too.
Find out more about container gardening for small spaces. And use our guide to gardening for beginners to get newbie adults green-fingered, too.
6. Top plants for kids
Choosing plants in a garden where children will be playing comes with two main considerations. The first one is safety: avoid plants that are poisonous or are known skin irritants. Common garden favourites to steer clear of are lily of the valley, daffodils, and foxgloves.
Less common varieties to steer clear of are Daphne, which has poisonous berries, and Euphorbia, because its stems ooze white sap when picked that is a nasty skin-irritant. Cherry laurel, mistletoe, rhubarb leaves, laburnum, delphinium should also be avoided. This is not an extensive list, so it is best to double check before buying anything. Plants such as fuchsias, clematis, begonias and busy lizzies are safe choices.
On the other hand, encourage plants that are safe and fun for your children to pick, such as strawberries and tomatoes. Lawn-side plants need to be resilient to withstand being trampled by feet and footballs – Crocosmia, Escallonia, Elaeagnus, Euonymus, Choisya and ornamental grasses are pretty tough.
Want to encourage your kids to grow plants? Pick easy-to-grow plants such as sunflowers, marigolds, carrots, and lavender. They can all withstand a bit of neglect, grow quickly, and give a big visual payoff children will love.
Find out more about how to choose plants for your garden in our guide.
7. Encourage wildlife into your garden
Gardening for kids should be educational, as well as fun, and you can do this by creating a wildlife-friendly garden. Watching birds and insects, and learning about them, can provide hours of fun – and is good for the environment (obvs). Bird feeders, bird houses, and bee hotels will make even more of an impact, and why not make one with your kids over a weekend? Find out more about creating a bee-friendly garden in our guide, and don't miss our pick of wildflower seed mixes – they can scatter them, then watch the blooms appear.
8. Include an adult area in your garden, too
Don't give over your entire garden to the children. It's worth creating a space that's adult-friendly, too. It might be that you screen it with planting to stop balls flying in and to create a private space to sun yourself when they have their friends round. It's also somewhere you can safely plant more delicate blooms that will be susceptible to damage where they play. Perhaps it's the deck (use our guide to find out how to plan yours) in front of a summerhouse? Or a raised patio (another handy guide)? Whatever, it's worth teaching them to respect that it's about quiet-time.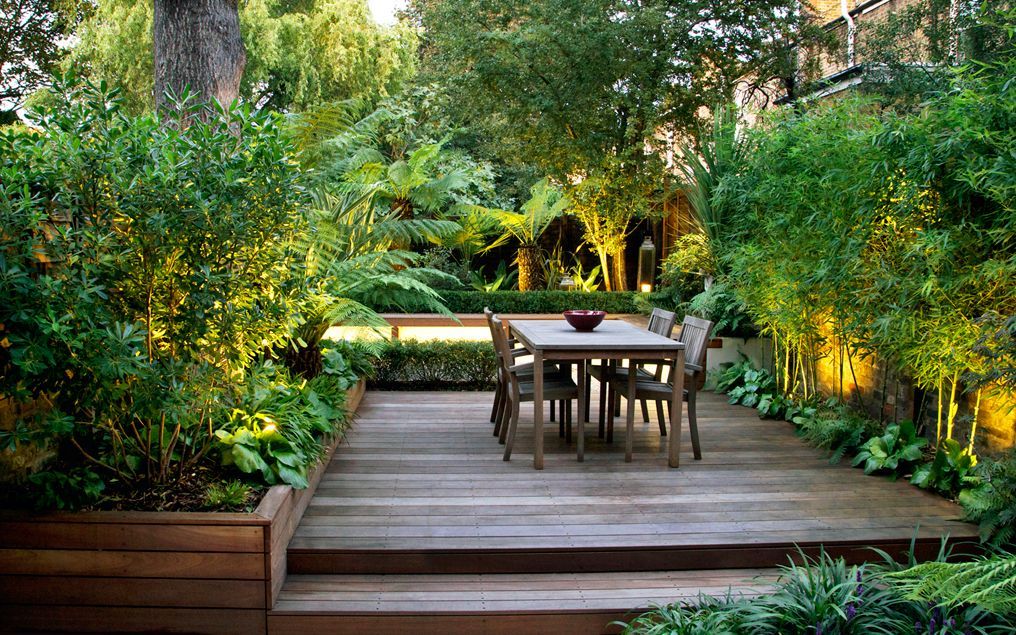 More ways to make your garden gorgeous: