On the hunt for some fun and creative garden ideas for kids? Well, you are in the right place. Whether you are looking for ways to get your older children away from the screen and out enjoying the fresh air, or want to get your toddlers started on a new gardening project, we have plenty of ideas right here.
From instant entertainment like dens and climbing frames, to more long-term projects, like getting the kids involved in planting a veg patch, there's something for all ages and all backyard sizes too. So just keep scrolling for all the child-friendly garden inspiration you need to get your whole family enjoying your outdoor space...
1. Plant up a veggie patch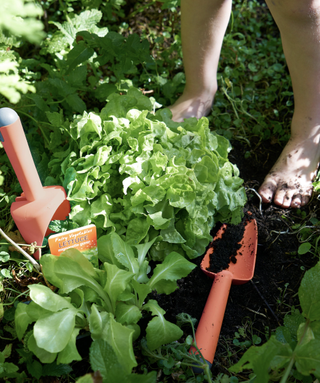 Veggie patches are a great addition to a garden for all the family, but for kids, they are a particularly fun project as they can watch their hard work pay off and (hopefully) taste what they grow. You'll want to pick fruits and veggies that are easy to grow and germinate quickly considering the short attention span of most kids. Courgettes, tomatoes, carrots, lettuces and micro salads are all good options.
And even if you don't have copious amounts of space to plant up a kitchen garden you could just plant up some seeds in window boxes or containers. You can even grow some fruits and vegetables in hanging baskets if floor space is really tight.
2. Treat your kids to their own tools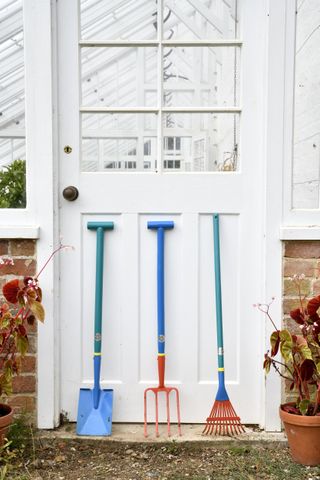 A great way to get your slightly older kids interested in gardening and to make them feel like they have some responsibility is to get them their own set of gardening tools. There are loads of options out there that were made for small hands, just check the suitable for your child's age before you buy.
'Investing in the right tools will make the whole process a lot easier. Choose lighter shovels and investing in a pair of personalized gloves for your children can help give a sense of importance when completing a task.' recommends Chris Bonnett, founder of Gardening Express.
'Allocate a couple of square meters which is completely the child's own. This encourages a sense of responsibility for the designated area. If you only have a limited amount of garden space, consider using plant pots instead. Indoor plants are also a great option and can be placed on windowsills or tables. Ensure this area is clean, weed-free and soil is in good condition.'
3. Always pick child-friendly plants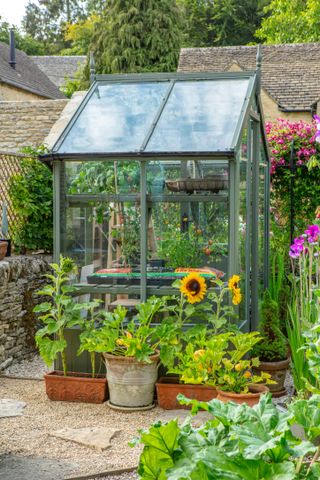 Do be careful when choosing plants for your backyard if your kids are going to be playing out there all the time. Always avoid plants that are poisonous or are known skin irritants. Common garden favorites to steer clear of are lily of the valley, daffodils, and foxgloves.
Less common varieties to steer clear of are Daphne, which has poisonous berries, and Euphorbia, because its stems ooze white sap when picked that is a nasty skin-irritant. Cherry laurel, mistletoe, rhubarb leaves, laburnum, delphinium should also be avoided. This is not an extensive list, so it is best to double-check before buying anything. Plants such as fuchsias, clematis, begonias and busy lizzies are safe choices.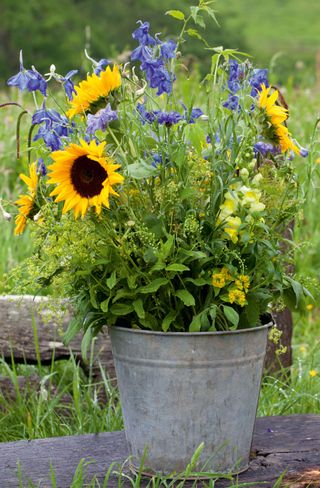 Instead encourage plants that are safe and fun for your children to pick, such as strawberries and tomatoes. Lawn-side plants need to be resilient to withstand being trampled by feet and footballs – Crocosmia, Escallonia, Elaeagnus, Euonymus, Choisya and ornamental grasses are pretty tough.
Want to encourage your kids to grow plants? Pick easy-to-grow plants such as sunflowers, marigolds, carrots, and lavender. They can all withstand a bit of neglect, grow quickly, and give a big visual payoff children will love.
'Let your children be responsible for choosing which color plants to buy and planning where they would like them to go.' says Chris. 'Do not limit them – allow them to let their creativity run free and experience the first taste of independence (under guidance). It is best to try and avoid more difficult plants to look after too. Stick to ones which are almost indestructible and thrive throughout the year.'
4. Have a growing competition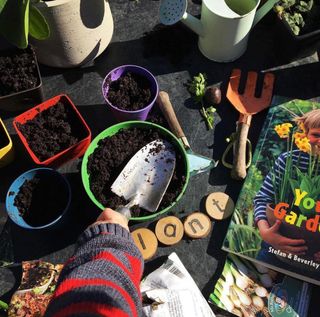 All children love a healthy bit of competition, plus the idea of 'winning' gives them the motivation to stick at something. Paint pots a different color for every member of the family and plant a seed, then see who's grows the largest and healthiest. It's a great way to teach your kids how to care for plants and give them a long-term project.
The obvious choice of seed is sunflowers, but anything that grows tall and fast would work – sweet peas, runner beans, or tomato plants would be a good options too.
5. Build a tipi den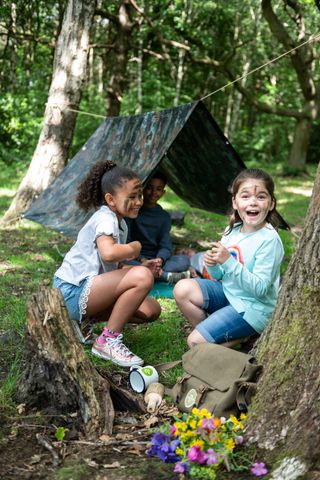 There's something so exciting about having a den in the garden. Kids love having that adult-free space to play in and feel like they have that extra bit of freedom. If you have older kids, why not help them build a tipi from branches stacked against a tree, and for smaller kids a washing line with some fabric pinned over it will provide just as much fun.
In the evenings you could enjoy the buzz too by lighting a fire and all feeling like you are camping in the wilderness rather than sat under a tarpaulin in your backyard.
6. Or add a permanent cabin to your backyard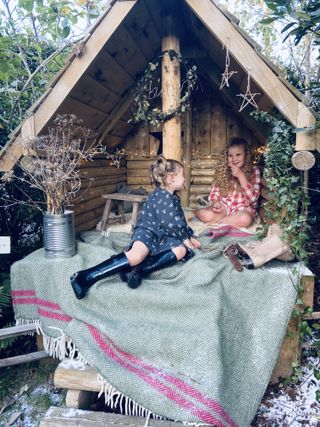 And if your kids love a den that much, why not make it a more permanent fixture in your garden? Building an open front, kid-sized log cabin would be perfect for getting them outside in the colder months too, plus it's something kids of all ages can enjoy. Make it feel extra cozy by filling it with blankets and solar-powered fairy lights.
7. Build a climbing frame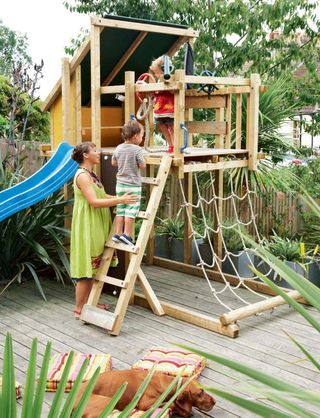 Let your kids enjoy the outdoors to the maximum with an activity center. If you are a competent DIYer, you can easily build one yourself, but there are also plenty of options for buying an activity center or climbing frame.
What to bear in mind? Climbing frames need a flat, stable base and, if self-built, must be constructed to take the weight of adventurous children swinging off their extremities – you can always bury the wide footing supports if you don't want to see (or forever be tripping over them).
Wooden climbing frames must be built from suitable wood – usually pressure-treated and will last longer if given an annual coat of preservative.
Climbing frames with roofs provide shade and a no-need-for-a-tree treehouse – you'll find your children spend hours up there.
What to include? A climbing wall, a slide and a rope swing will all get tons of use and improve children's motor skills and, of course, their bravery!
8. Add a mud kitchen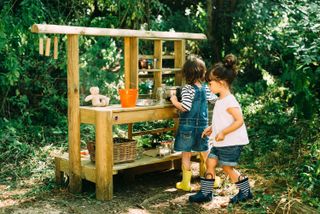 Mud kitchens can keep your kids entertained outside for hours. Even if the weather isn't glorious, you can still wrap them up and send them out to create an array of backyard-inspired delicacies.
We see so many gorgeous DIY mud kitchens on Instagram and if you are after a DIY project why not give making your own a go, you'll find loads of inspiring mud kitchen ideas over in our guide.
9. Educate your kids by encouraging wildlife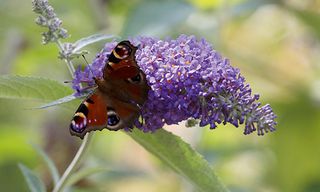 Gardening for kids should be educational, as well as fun, and you can do this by creating a wildlife-friendly garden. Watching birds and insects, and learning about them, can provide hours of fun – and is good for the environment (obvs). Bird feeders, birdhouses, and bee hotels will make even more of an impact, and why not make one with your kids over a weekend?
10. Make your garden magical with a fairy garden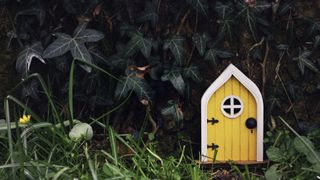 Because what kid doesn't want to believe fairies live in their garden? Create an enchanted garden at the base of a tree by adding a fair door (Etsy has loads of cute options) and then help your children build paths and fences and plant mini gardens for the fairies (wink wink) to enjoy.
11. Add a pond (even if is tiny)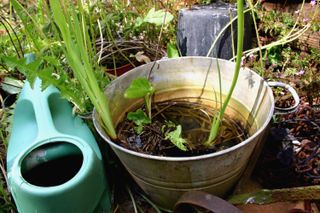 Now when we say pond, we don't mean you have to carve out a space for a full-on lake in your backyard. Container ponds can be just as exciting and educational and all you need to add one to your garden is a bucket or container.
Pick out a relatively large bucket and go as large as you can fit and just make sure it has no drainage holes. Then add a layer of stones and gravel to the bottom, if you have the room you could create different levels too using larger stones. Add in a selection of small pond plants (Miniature waterlily, Flowering rush and Starwort would all be good choices) and then fill up your pond. If you can allow it to fill with rainwater this would be much better for your wildlife.
Make sure you always add a log or a slope so any animals can easily get out of your container pond.
12. Create a spot for kids to chill out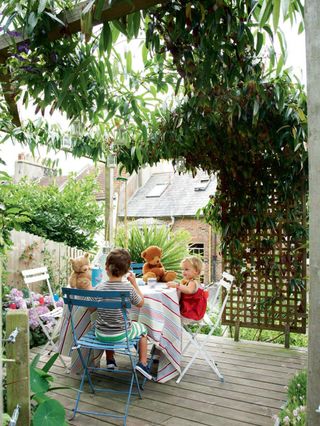 Gardening for kids can be tiring when they're small, while big ones love somewhere to lounge about, so it's a good idea to have a designated area with plenty of seating to chill out in.
Providing plenty of shade is a must, especially during the summer months. Think patio umbrellas or pergolas. Then add climbing plants to create a living canopy.
A raised decking area will work as a garden idea for kids – great for bare feet, and less slippery and more forgiving than patio paving.
13. Pick and press your flowers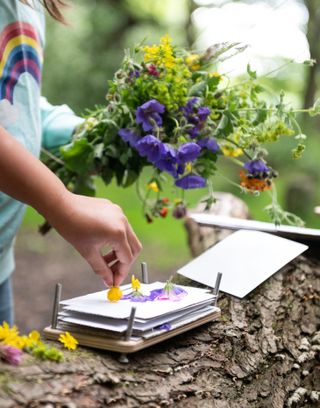 Pressing flowers is a lovely way to spend an afternoon in the garden picking our blooms and then turning them into something crafty. Plan ahead a bit for this project and plant up a wildflower garden, they are very low maintenance and usually just mean throwing down some packets of seed. Then let the kids pick the flowers and either use a flower press kit or simply squeeze them between the pages of books. Leave for a few days and then you can turn them into cards, posters, picture frames and more.
14. Bring artwork out into the garden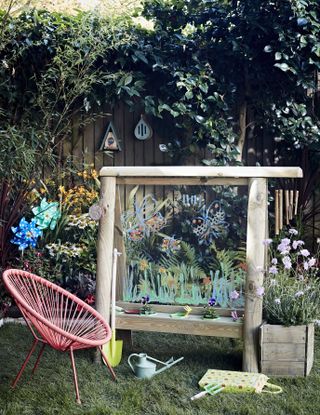 Simple, but effective, getting your kids to do indoor activities outdoors is a really easy way to get them breathing in that fresh air and looking at nature. Set up a craft station with tables and chairs, you could even invest in an outdoor chalkboard (just make one with chalkboard paint). Set fun tasks like drawing things they can see in the garden or keeping a tally of how many different types of bird they see.
15. Start composting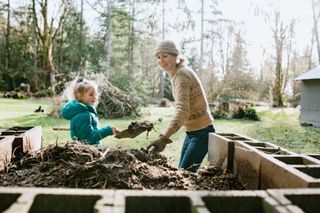 There's something very kid-friendly about the idea of composting. Piling up food and garden waste and knowing that worms are going to turn it into soil, we are sure sounds fascinating if you are five years old, so get them involved in creating a compost heap. Making your own compost is really easy, plus great for the planet and your garden too, it's also a really interesting lesson for kids to learn about.
How do I entertain my kids in the garden?
As our examples have shown, there are loads of ways to have fun in the garden with your kids. The ket is to keep mixing up the activities so they don't become bored and uninterested. For example, if your kids are old enough, spend the morning actually doing some gardening and once they tire of that let them have a break from what they might consider to be more 'educational'. Set up a mini sports day, teach them how to build a den, or go on a treasure hunt.
How can you make a small garden fun for kids?
You can make a garden fun for kids no matter what size you are working with. If you want to get your kids into gardening, container gardening is great for when space is tight and you can plant veggies in those too.
Add a firepit to your small garden so you can have 'camp out' nights. You can still squeeze in homes for wildlife too by hanging birdhouses and bug boxes, or by picking plants that are going to attract the most wildlife. You could also make a small backyard more kid-friendly by painting murals on the surrounding walls.