Want to cool off in your backyard? Above-ground pool ideas are a highly practical solution for enabling you to do so.
Unlike their in-ground swimming pool counterpart, they are simpler to install and easier to add personality to, not to mention above ground pools costs are typically lower... Making them great budget backyard additions.
They can usually be disassembled if you're a renter, about to move home, or have new ideas on where you wish to place your splash zone.
At first glance, a typical above-ground pool might not look as aesthetically pleasing as a heavily landscaped built-in swimming hole. But that's not to say that an above-ground pool has to ruin the carefully curated backyard vibe that you have going. In fact – it's quite the opposite.
From basic stock tank upgrades to bricked creations, there is a variety of ways to up the fun and functionality of your above-ground pool. To help you make a splash in your space, we've pulled together a handful of fun and functional and even DIY above-ground pool ideas that are very easy and affordable to do.
1. Consider a stock tank pool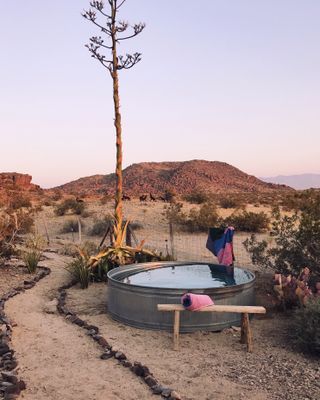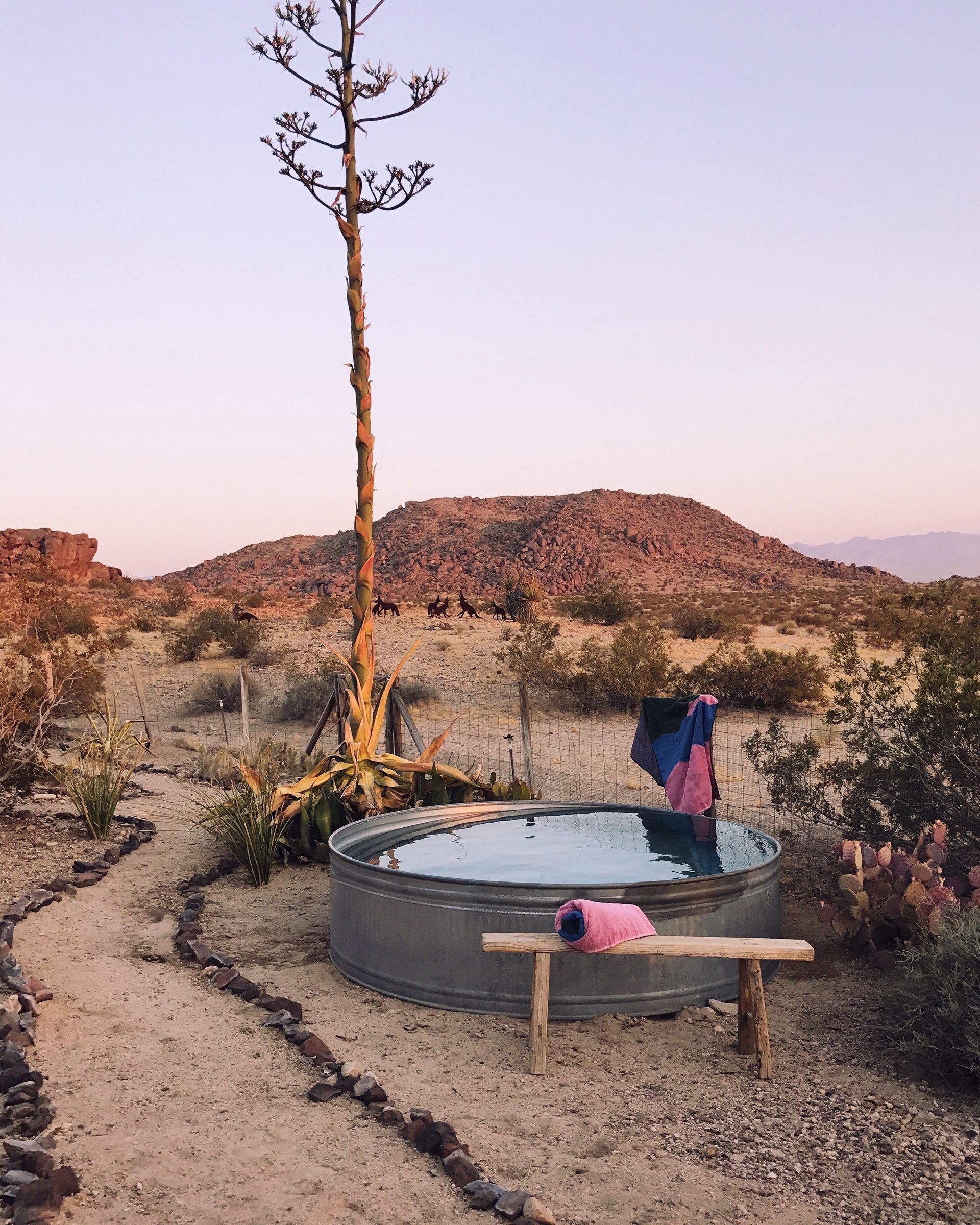 You don't need to go big, or splash to cool off this summer. Stock tank pools have been increasing in popularity over the years due to their affordable price tag and super chic look.
Unlike most in-ground pools, which can cost around $20,000 and upwards, you can actually make a stock tank pool for about $500. All you've got to do is pick your chosen size and design – check out Home Depotor Target for some affordable options – place it in your chosen splash spot and cool off by taking a dip.
2. Upgrade the perimeter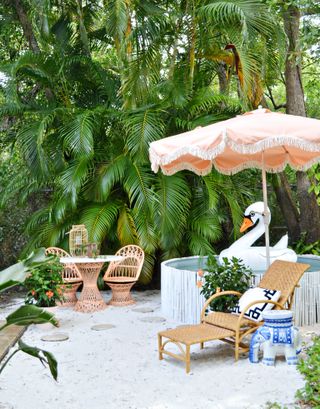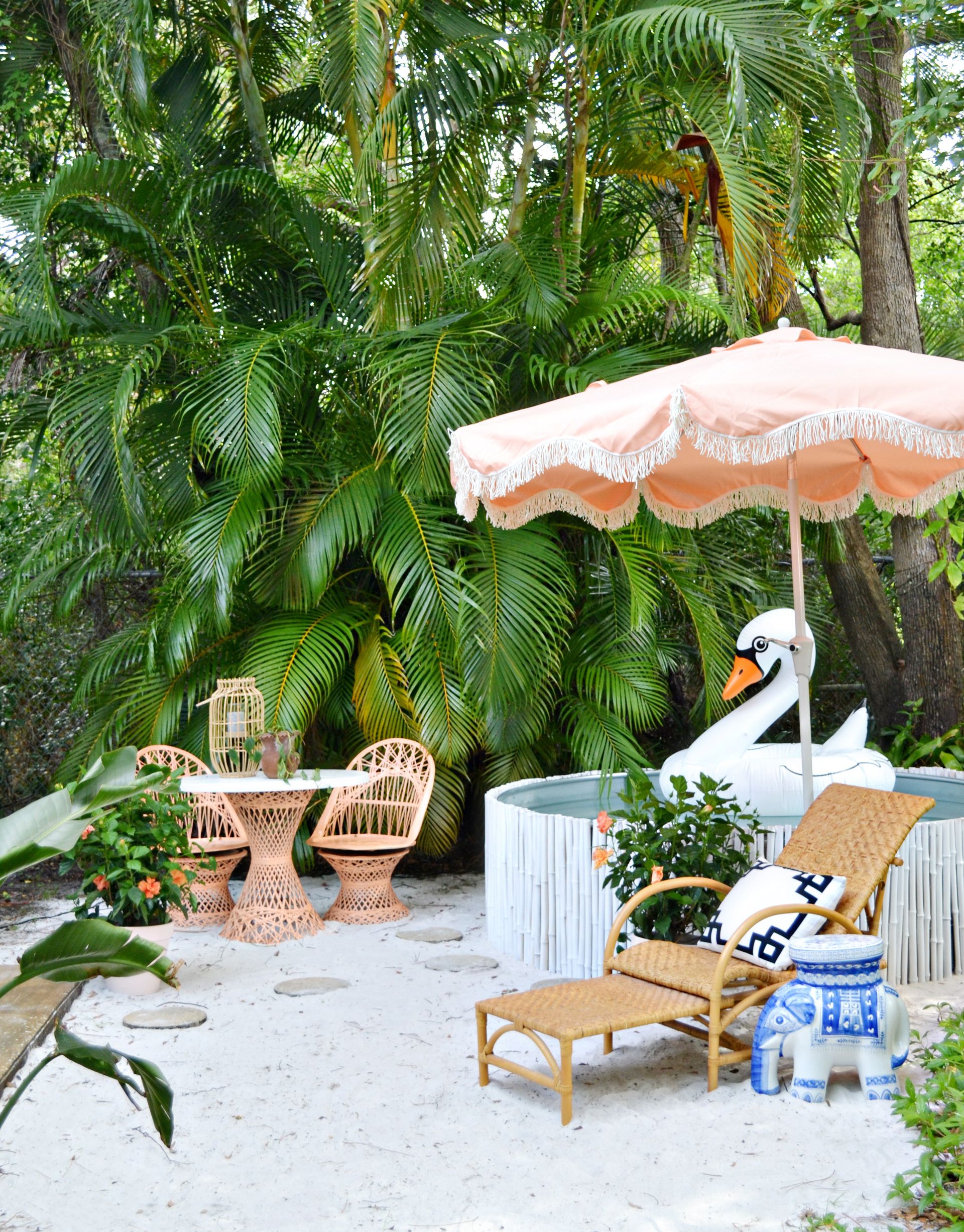 Strategically placed greenery and planters can take your above ground pool, stock tank or not, from boring to tropical in an instant. Whether you're working with a built-in deck or your pool stands alone, adding planters or landscaping the perimeter of your pool will make it look much more permanent and sophisticated.
Plus, you could upgrade your basic stock tank pools also by getting a little crafty with a DIY above ground pool design. Bring a tiki-inspired feel to your above-ground swimming pool by cutting and gluing bamboo to the outside of your tank. To avoid your design going moldy, just remember to coat your bamboo sticks with water-resistant gloss or paint, like this pick from Rust-Oleum from Target.
3. Don't stop at one – add two pools next to each other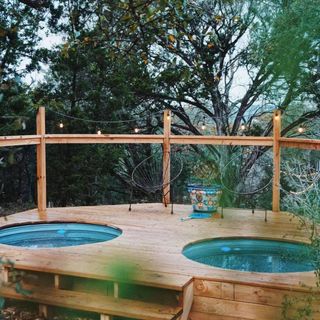 What's better then one above-ground pool? Two above-ground pools! So why not consider adding two right beside each other and surrounding it with decking?
This is a great idea if your home a) has enough space to allow for two swimming spots and b) you have a big family.
Then to really set the tone, and finish off your masterpiece, surround your pool deck with some of the best garden lighting to enhance its aesthetic appeal and allow you to get more use out of it even after dark.
4. Add fencing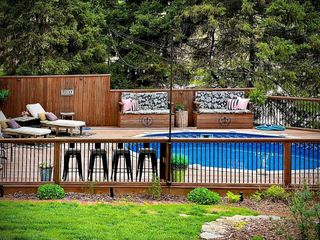 Trust us when we say the best fence ideas look good – but they don't have to cost the world. If you're set on tackling a DIY project, consider taking all your inspiration from Carol Beckman of Vaughn Hill Home.
Along with adding a decked space to her above-ground pool design complete with a cool pool cover to keep the water protected – Beckman has gone one step further by building fencing around the perimeter. Doing it yourself can save you a lot of money – and time. Especially if your local handyperson gets booked up quickly.
5. Edge your pool with foliage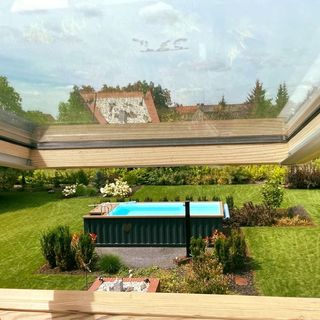 Doesn't this design by Cubepools just make you want to dive in? If the side of your above-ground pool is exposed but you crave a minimal aesthetic and aren't all that keen on DIY…add green landscape edging around your splash zone instead.
This super simple hack involves the bare minimum when it comes to gardening and maintenance. You could use basic flower box planters around the outside of your pool, you could plant a variety of water-friendly foliage or if the ground allows, you could level out the perimeter of the pool and add a layer of landscaping rocks. Discover our best rock garden ideas to get even more inspo.
6. Add brickwork for an instant face lift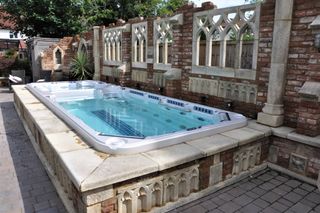 Adding brickwork to the exterior of your above-ground pool might seem like a lot of work at first glance – but it's actually quite simple and economically feasible with the right tools.
Consider building up your own facade using mismatched bricks or opt for brick adhesives to make the task even more straightforward.
7 . Light up your pool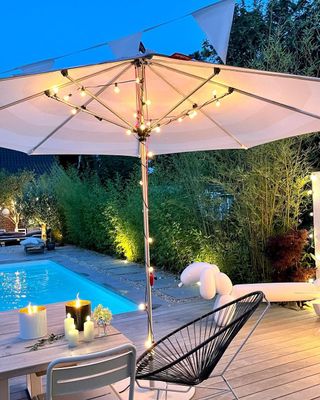 One of the best ways to add a stylish spin to your above ground pool? Just add lighting.
The best solar lighting is ideal for any outdoor space. A cute string of Edison bulbs will run you well under $100 but the effect will blow you away. What's more, adding strategic lighting will actually allow you to get more use out of your pool as it will make midnight dips much more appealing.
8. Consider adding a canopy for shade
Like stringing lights along the perimeter, adding a canopy above your pool will not only enhance its aesthetic appeal but actually allow you to get more use out of it. A simple canopy will help filter out the harsh afternoon sun, creating the perfect environment for a dip without worrying as much about the harmful rays.
What is the best material for an above-ground pool?
After deciding on the size and shape of your above ground pool – starting typically from 12-foot round pools and all the way up to a 30-foot round pools – you'll want to consider the material that yours is made from as this will impact both the look of your space, the longevity of the pool and the cost.
Above-ground pools are usually made from steel, resin, or aluminum. Although some can be a mixture of all three. Steel is the most affordable option, but it can rust over time. Aluminum is the most expensive and rust-resistant, with resin falling in between.
How can I make my above-ground pool look more attractive?
Kat Aul Cervoni, landscape designer and founder of Staghorn NYC and The Cultivation by Kat says, 'Nice decking custom built to surround it will have a huge impact on both function and style. If budget and space allows, adding a stone or brick wall veneer to the outside of the pool will also make it look much more attractive. It will also give an opportunity to integrate lighting or built-in planters and can help it better match the style of your home and surroundings. While a well-designed landscape with privacy and ornamental plantings will inevitably make your pool more attractive too. I love ornamental grasses and hydrangeas around pools as they look attractive for much of the season and are relatively mess-free. This is essential for keeping pool maintenance simpler! And, since above-ground pools need to be reached by stairs, there is an opportunity to play with different levels and to make the stairs a unique feature themselves. If budget and space allow, adding in a small lounge area or a space for a cafe table and chairs can make your pool area a truly special destination in your backyard.'
What is the best thing to put around an above-ground pool?
'Tall plantings (around the same height as the pool) are one of the best things to put around an above-ground pool and are the most budget-friendly way to
integrate it into your space,' Cervoni tells us. 'For functionality, a spacious deck with comfortable lounge chairs and seating takes a pool area to the next level. Don't forget to add some shade with an umbrella or shade sails! And potted plantings for color!'.
While if you're thinking of hardscaping around your splash zone, Cervoni says, 'A terraced stone patio and custom stonework surrounding the pool and veneering the sides will add a luxurious feel. Water features, lighting, seating and even plantings can all be incorporated into this. Don't forget privacy - especially since above-ground pools are elevated and standard backyard fences may not be high enough to block views and from neighboring properties. Privacy plantings like junipers, arborvitaes and cryptomerias are especially good for giving height and evergreen color without taking up too much space. Another way to take advantage of the height of an above-ground pool is to incorporate a built-in bar top with seating – this is especially great for entertaining and will make your space feel like a resort!'