Designing a living room, particularly a traditional one? Pictures of ornate furniture, elaborately patterned wallpaper and beautifully heavy curtains floating through your head? The term 'traditional' can mean a plethora of different things to different people and there is no established design formula. There are, however, a few simple guidelines that can help you evoke the traditional atmosphere.
1. Combine elements of old and new
We are all for mixing and matching and when it comes to traditional living rooms, combining antiques with super modern pieces can give the space a fresh twist. We love how the Chesterfield velvet sofa in this living room sets the overall traditional tone but the minimalist coffee table and quirky lamp prevent the room from feeling too overdone.
2. Choose the best paint for a traditional living room
For an elegant, traditional look don't shy away from darker, traditional paint colours, or, if you aren't ready to commit to the dark paint trend, try painting one wall to make a statement. A warm colour scheme would be more fitting with the traditional design so if you are sticking religiously to the style, opt for warm neutrals, purples, reds and forest greens. Alternatively, bright whites and cool grey tones can create a simple clean backdrop for your more traditional furniture.
3. Keep a traditional living room relaxed with added textures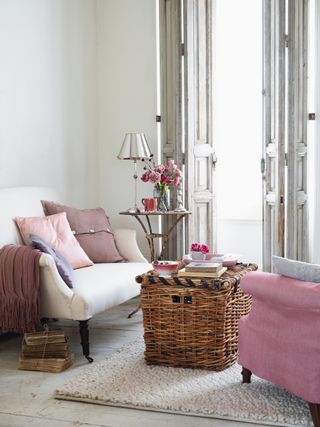 We think that the best traditional living rooms are both elegant and approachable. You can easily stop a traditional living room from becoming too formal by adding plenty of texture with rugs, cushion and throws. Texture doesn't need to be limited to fabrics, you could also add texture with paint, furniture, and flooring.
4. Create symmetry with living room furniture
Create an elegant order that is synonymous with traditional design by drawing a metaphorical line down the middle of your living room – whatever you do on one side, also do it on the other. Obviously you can play fast and loose with this rule, a perfectly symmetrical room can end up looking too rigid, so we suggest keep your furniture layout symmetrical but you needn't be so exact with your decoration.
Top tip: Make sure you give all the furniture plenty of breathing room so your traditional living room doesn't become too stuffy.
5. Reclaim vintage furniture as living room storage
Ensure that your living room storage solutions fit perfectly in a traditional space by salvaging vintage pieces. Maybe you fell hard for an ornate chest of drawers that doesn't quite fit in your bedroom or inherited an old china cabinet – think of ways they can be incorporated into your living room as extra storage. A china cabinet could easily be repurposed as a display unit for books or DVDs and chest of drawers would make a fabulous sideboard. If your vintage finds don't quite fit with the vibe you are going for, trying painting your furniture to better suit the aesthetic.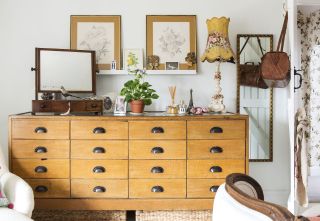 6. Embrace traditional wallpaper
Wallpaper is super easy and usually a pretty quick way of giving your living room some extra traditional heft. When choosing your traditional wallpaper, assess the size of your room – as a general rule we say go for a small pattern in a smaller living room and larger pattern in a more lofty space.
The high ceilings in this living room means that it can handle this bold Morris & Co. print without it overwhelming the room.
In this smaller living room the intricate pattern of Farrow and Ball's Atacama print works perfectly and the lighter colour scheme makes the space feel airy but still in keeping with the traditional style.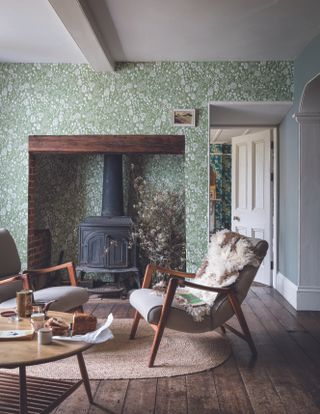 7. Choose traditional living room curtains
Sure, neat roller blinds and wooden shutters would work perfectly fine in a traditional living room but if you want to fully commit to this look, it's all about curtains with deep swags, lush fabrics and ornate pelmets.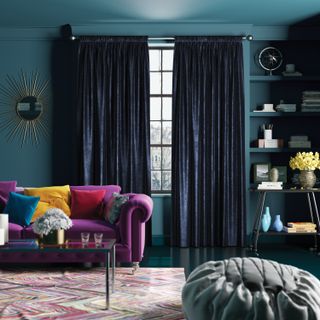 8. Opt for traditional wooden flooring
Nothing gives a room a more traditional, period feel than a hardwood floor. Just be sure to choose the best for your space – think about the size of your room, how often the space is used, what's your budget? These questions will indicate the type of living room flooring that would work best for your space. If you living room floor is used and abused choose a darker, more durable engineered wood flooring or if you are redoing a living room on a budget go for a realistic wood effect laminate flooring or vinyl.
Looking for more living room ideas?