Looking for a midcentury modern coffee tables? Who isn't? After all, who can resist a piece of post-war-inspired furniture with its clean lines, stunning shapes, and durability?
Simple but chic, this design movement doesn't care much for embellishments or intricate details. So you can be sure that this style will look good in most living rooms with no polka dots, stars, florals, or maximalist motifs to detract from a table made from honest and organic materials.
Featuring lots of wood and iron, this style made popular in the '50s and '60s is still very fashionable today. And why wouldn't it be? Mid-century coffee tables are unfussy, uncomplicated, and totally functional - all desirable qualities to counterbalance our complex modern lives. So it makes sense to have a stripped-back design when you're sitting back and sipping your morning java.
We've scoured the net for coffee tables that double up as shelves and ample storage for your sitting room. And when you're not hiding away clutter, you can show off your homewares in style.
---
10 midcentury modern coffee tables for chic socializing
Why you can trust Real Homes Our expert reviewers spend hours testing and comparing products and services so you can choose the best for you. Find out more about how we test.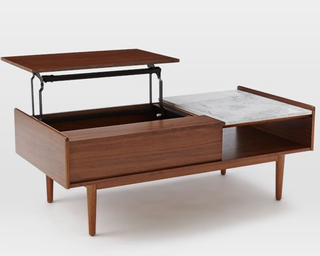 1. West Elm midcentury pop-up walnut and white marble coffee table
Table: W48" x D24" x H17.4" | Colour options: 2
This midcentury-inspired lift-top coffee table features a pop-up top to reveal hidden storage space. Its sustainably-sourced wood frame (in either walnut or a mix of dark mineral kiln-dried eucalyptus and Acacia) is complemented by a luxury marble slab top for additional shelving space – perfect for stowing paperbacks for your book club, or Real Homes magazines of course.
Because of the organic nature of both the wood and marble components, you can rest assured that your furniture purchase will be unique and no two pieces will be the same color or have the same veining.
---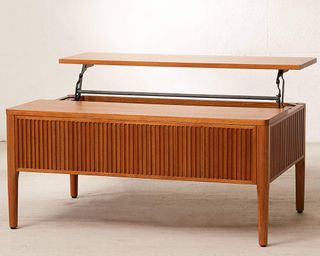 2. Urban Outfitters Naya Pop-Up Coffee Table
Table: W25 x L138 x H17 in | Colour options: 1
If you want a family-friendly, midcentury coffee table without the formality – this is the model for you. This wide coffee table is made from a mix of Acacia and eucalyptus wood features built-in storage with a lift-up top that hinges outward. Perfect for home office setups to hold your laptop, or even as a snack tray for movie nights in with loved ones. Don't worry about the sticky popcorn or sweets as this wipe-clean table is more resilient than you think! Despite its durability, the faceted detailing on the sides makes this table look so much more expensive than it is.
---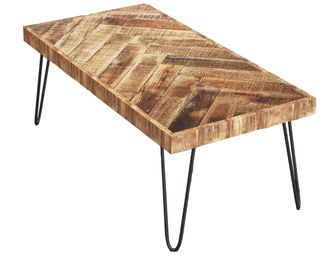 3. Mindful Living rustic farmhouse midcentury modern fusion accent coffee table
Table: H5 x W25 in | Colour options: 1
Want to dabble in a bit of midcentury modern style? This Mindful Living Rustic Mid Century Mango Wood and Iron Chevron Coffee Table mixes this classic trend with a rustic modern farmhouse aesthetic. Crafted from sustainably-sourced mango wood and solid but slimline iron hairpin legs, it also comes with a chevron pattern to add interest.
---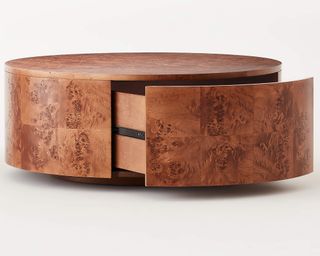 4. CB2 Purl rotating coffee table
Table: H14 X D45.5 in | Colour options: 1
Looking for a midcentury modern coffee table that'll turn heads? Look no further.
A CB2-exclusive, this round table is made from Mappa burl wood veneer for touch of Italy in your interior space. This Bellissimo design features one large push-to-open drawer to stash away remotes and other living room accessories. More amazingly, however, it has a round swivel base allowing it to rotate 360 degrees. Consider this storage coffee table the Lazy Susan of your lounge.
---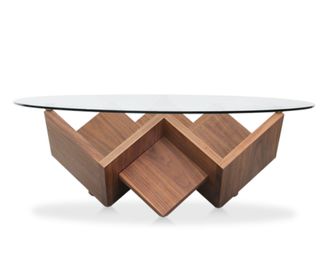 5. Castlery Cupid Coffee Table
Table: W39.3 x D39.3 x H13.3 in | Color options: 1
Roses are red, violets are blue, we're in love with this coffee table, and we think you will be too! Romantic names aside, this American Walnut Veneer wood and glass table has a trio of tremendous qualities. It has a strong structural base, is perfect for storage, and is a work of art in itself. What's not to love? But don't fall for its softly -softly aesthetic, as the tempered glass has a maximum bearing support of up to 55 lbs!
---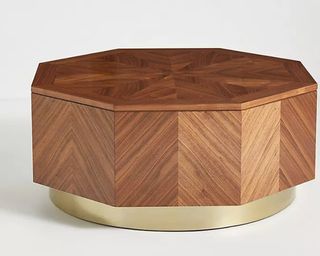 6. Anthropologie Quillen Marquetry coffee table
Table: 16"H, 36" diameter | Color options: 1
Featuring a mesmerizing marquetry top and luxury brushed brass base, this elegant, octagonal, mid century modern coffee table is the perfect fusion of classic, artisan craftsmanship and contemporary design. We can't get over the distinct starburst pattern in the center of the table, and the chevron-like graining on the table's edges.

---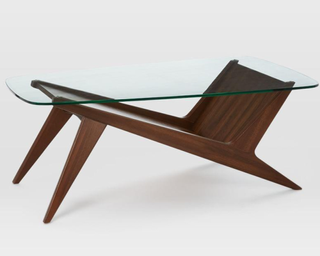 7. West Elm Marcio coffee table
Table: | Color options: 1
Want to spice up your sitting room? Take inspo from Brazillian midcentury modern design. Crafted of sustainably sourced, FSC®-certified wood, this unusually-shaped base will catch the eye of your guests. Its open design makes it the perfect place to display your coffee table books. The shape even mimics the reclining position we're in while snuggled up on the sofa.
---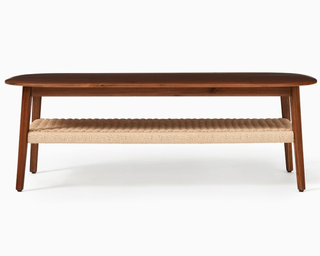 8. West Elm Chadwick mid-century coffee table
Table: W48 x D22 x H16 in | Color options: 1
If you think mid-century modern furniture won't suit your bohemian or Scandi living room – think again. Fusing quintessential qualities including rounded edges and tapered legs, with a light, textured woven shelf, this Chadwick coffee table by West Elm is a style chameleon that would sit well in many living rooms.
---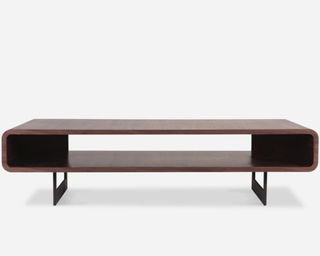 9. Castlery Peri coffee table
Table: W47.2 x D27.5 x H11.8 in | Colors available: 1
Not all low-level furniture needs to be slubby, so if you're looking for something simple and elegant that still has structure, consider the Peri coffee table from Castlery. This rounded rectangle design, made from Walnut wood veneer, is perfect for children playing board games on a comfy rug or paired with Japanese Zaisu chairs.
---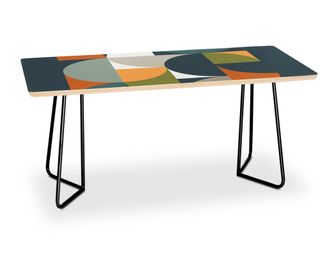 10. Mid Century Geometric 122 Coffee Table by The Old Art Studio
Looking to make a statement in an otherwise neutral living room? Though minimalist in structure, the unique geometric artwork will grab your attention. This'll suit a multitude of modern and traditional spaces including a vintage lounge or Scandi sitting room. Style with primary-colored accessories in this space to pay homage to the Bauhaus era.
---
How to style a mid-century modern coffee table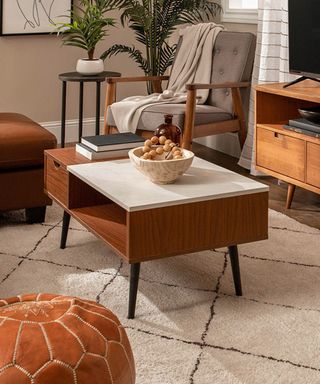 'High-quality wood is the go-to material for mid-century modern style.' says Victoria Atkin, co-founder, Atkin & Thyme.
'It helps to ground the scheme in nature and calls back to the teak synonymous with the original era. Use this material for tables, desks, and storage pieces to give a heritage touch. Mix and match different styles of wood when coordinating drawers, side tables, media units, or shelving. This will create a sense of uniqueness and an informal feel.'
'Mid-century is defined by its clean, well-designed lines and timeless appeal. Choose furniture pieces that have a sleek presence with smooth lines and pair with abstract accessories or artwork for contrast and interest.'
'Mid-century modern has a playful side. Use contrasting materials such as wood and marble, and don't forget to add in pattern and color. Pared-back rooms can be warmed using hallmark designs such as geometrics, and if the classic retro tones of mustard and orange seem too overpowering, take it back to nature with blues and greens.'