Who doesn't want to make small living room feel bigger? We know we've often said sometimes the best thing you can do is accept and embrace your small living room proportions and create cozy, inviting spaces that have no need to be made to feel any bigger. But come on, most of us just want our homes to look and feel as big as possible right?
If you've been blessed with limited square footage, the first thing you are probably thinking is what will help 'expand' your space. And lucky for you, there are loads of easy ways to give the impression that your tiny living room is lighter, loftier and lovelier. Just keep on scrolling for loads of ideas and expert tips...
1. Pick the right proportions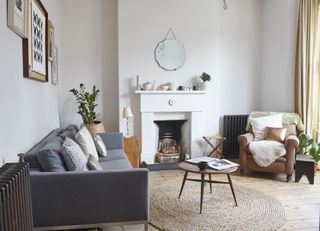 Naturally, you would probably think small living room = equals small furniture, but actually filling your space with lots of small pieces can just make the room feel cluttered but not properly filled.
Sometimes picking a large sectional sofa can make a small living room feel larger. The key is to keep it the same, or similar color to the walls it's against so it's much more subtle and doesn't just dominate the entire room. Pick a design that has a more sleek look to it, maybe it's lower to the floor or is armless so it doesn't add too much visual bulk. Then just keep the rest of the space very minimal, and probably forgo the coffee table in the middle of the room so you can actually see some floor.
'Prioritize furniture pieces that are multi-use too.' advises designer Kathy Kuo. 'Any time you get several functions out of one item, you free up additional space for other pieces! Benches with hidden storage or nesting tables are a great way to save space and create versatility.'
See our guide to how to choose living room furniture if you want any more tips or advice, and find the best seating for your small space in our guide to the best couches.
2. Get your furniture away from the walls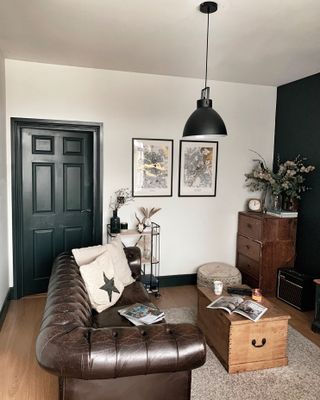 'I don't know where that became a rule to push your furniture up against the wall.' says Eilyn Jimenez, founder of Sire Design. 'Furniture that's away from the walls gives the space more fluidity. By placing furniture away from walls, the space has more fluidity and will appear bigger.'
We are totally guilty of this too in our own homes, but yes, why when it comes to small living room layouts do we automatically shove everything up against walls? The more floor space you can see the better right? Wrong! Instead, try pulling your bigger pieces, like the sofa, away from the wall to give them a bit of breathing room. Sure, you might not be able to see a sea of floor now but it will actually make the space feel much less cramped.
3. Pick the right color scheme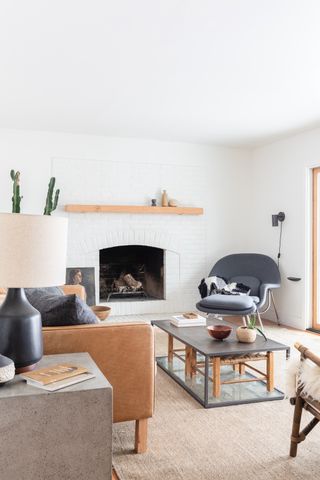 'To start, make smart choices with color - use white walls/trim / ceiling to make your room spacious.' says Kathy Kuo. ' Or I love the idea of using cool and warm tones of the same hue in one room. For example, having a room with a lower third wainscot in warm grey, and the upper 2/3 in cool grey, punctuated by chair railing or architectural trim detailing in warm whites can be so sophisticated and elevated.'
Now the 'right' living room color scheme will of course depend on your tastes, but if you want a small living room to feel bigger, the most straightforward way to do that is to pick a light, bright palette. Keep the walls and ceiling a clean, crisp white and bring in just enough contrast with darker neutral hues like greys and blues to give the room some depth.
And then there is the opposite, you could go down the route of painting your walls and ceilings a really dark, dramatic hue.
'While using some dark colors can't inherently make your room feel bigger you can help the illusion of more space by painting all the surfaces in one color, so your eye isn't drawn to too many contrasts, such as where the wall stops and the ceiling begins. This detail can work effectively both for dark and light shades, although the former is for those of braver hearts!' says Patrick O'Donnell of Farrow & Ball.
So just be sure to always order paint swatches and test it out in your space first before you fully commit to the dark side.
4. Trust in the power of mirrors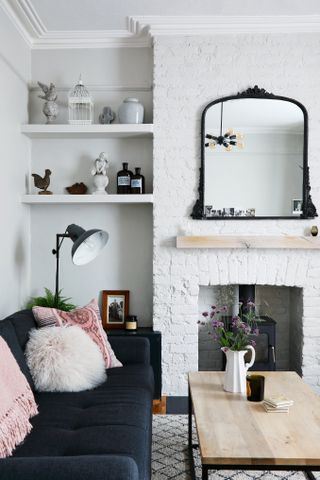 It's design 101, we all know mirror ideas expand spaces and is a relatively simple way to make a small living room look bigger. You can pretty much hang one anywhere and watch your room 'grow' but if you are strategic about it you can really maximize the effect.
Hanging a mirror opposite a window will really enhance the natural light in the room, making it feel bigger and lighter. So if your living room could do with a light boost, try that out. You could also prop a large, leaning mirror up in a corner and it instantly gives the impression you have more floor space, especially if you pick one with a very minimalist frame.
5. Maximize natural light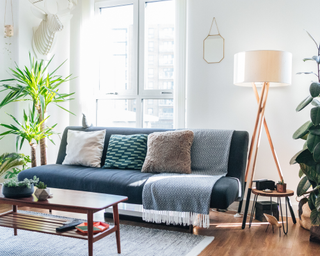 And to give those mirrors a fighting chance at making your living room feel bigger, think about your living room window ideas. If privacy isn't an issue, we would actually say ditch the drapes although, then nothing is blocking out all that lovely natural light.
If you're not quite ready to let the neighbors see you in your hibernation stage while you binge-watch Netflix, then go with light, semi-sheer curtains instead of blinds. Hang them slightly above the window and let them fall all the way to the floor as a little extra way to give your room some height.
6. Keep wall decor higher up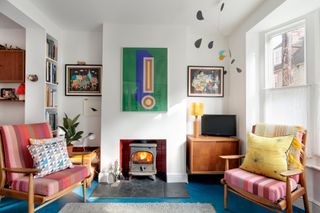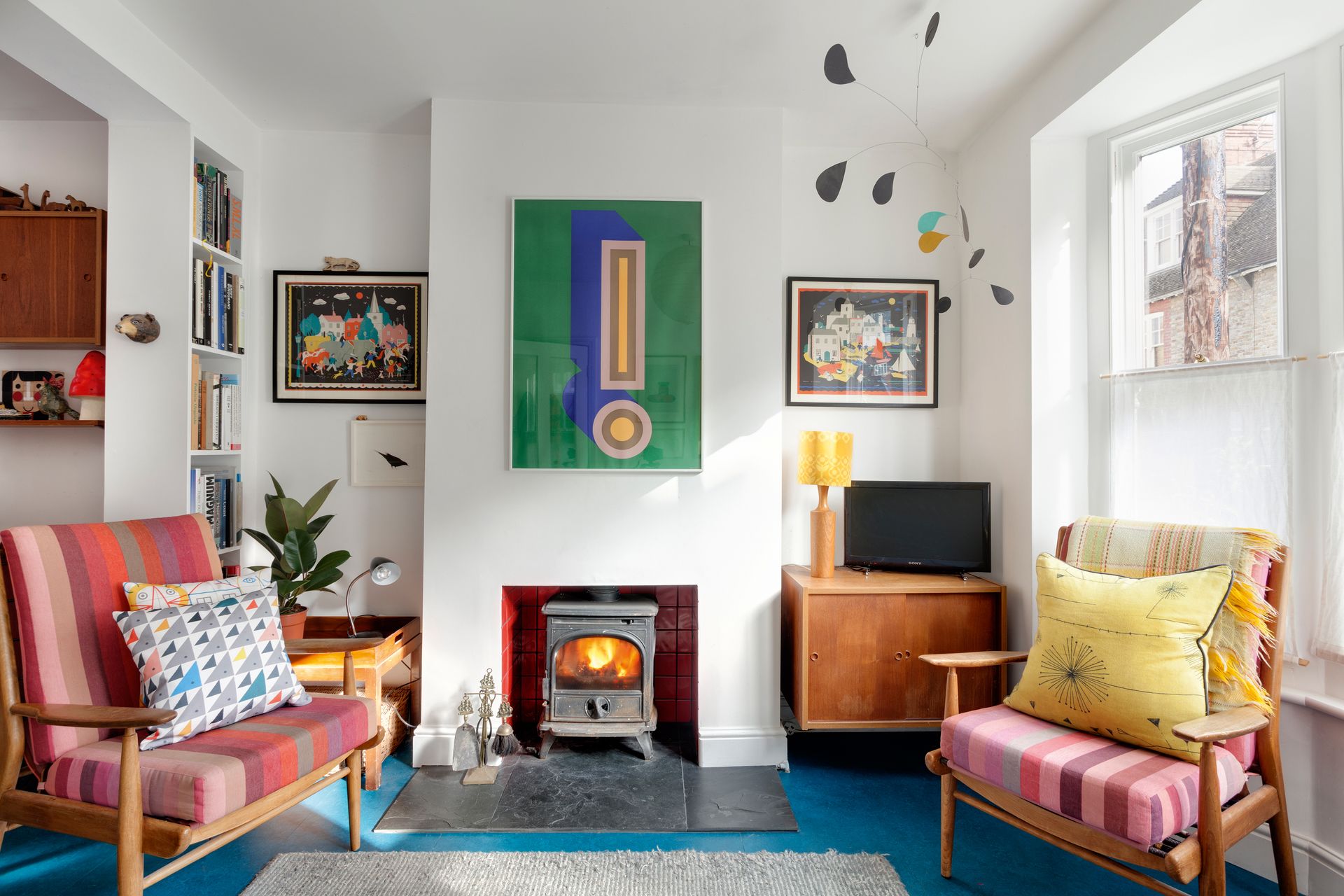 This is a great hack if you are looking to give your living the allusion of height, as well as width. See how in this living room all the artwork is hung above eye level, drawing your eye upwards making the space between floor and ceiling feel much bigger.
This rule applies to any other wall-mounted decor or storage too, so keep shelves and wall lights in the upper half of the wall. Then just try not to clutter up that negative space underneath too much.
7. Expand floor space with a rug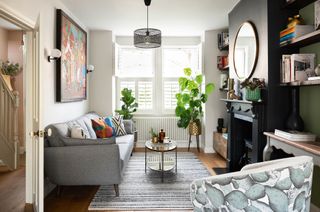 You can never go too big with a rug. The last thing you want in a small living room is all your furniture floating around a tiny rectangle.
'Make sure your rug fits your space well (going too small will cramp the space!).' says Kathy Kuo. 'Make use of reflective surfaces such as mirrors, and always curate your finishing touches. Too many small pieces can make it feel cluttered.'
So to make the space feel bigger you want your rug to run underneath all the biggest pieces of furniture, and if that's not possible, at least the front two legs should be on the rug. And leave around 10" around the edges so you can still see a little bit of the floor underneath.
Check out all our living room rug ideas for plenty more ideas and tips on how to choose the best rug for your space.
8. Have plenty of smaller light sources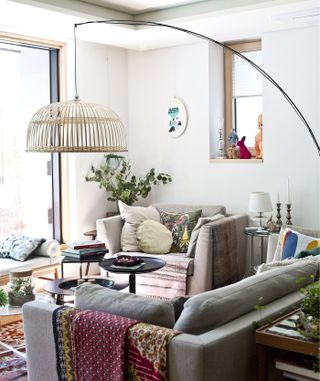 'Lighting is essential in a smaller living room.' says Jen and Marr, founders of Interior Fox. 'It is important to emphasize the natural light that flows through with strategically placed mirrors. Complement this with lighting solutions for when the sun starts to fade. Wall lights work well at creating a soft and ambient glow in the evenings without having to take up any valuable floor space.'
Along with always make sure to maximize natural light, artificial light can play a big part in making a small living room feel bigger. You want to have multiple small light sources, as well as your overhead light, so be sure to have floor lamps, side lamps and wall lamps as part of your lighting scheme. And make sure they are all at different levels too to create small pools of light all over the room.
9. Keep away clutter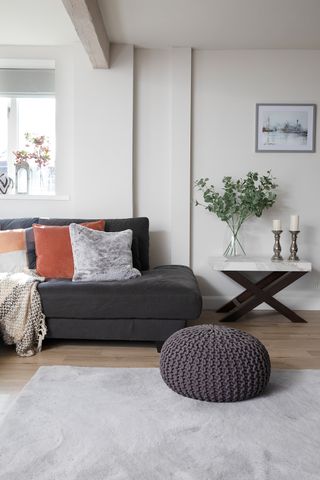 Keeping your space clear of clutter is always going to make your living room feel bigger. Nothing shrinks a room like every surface being fall and the floor not being visible under piles of stuff. As well as having a good clear out and only bringing into your living room things that need to be there, good living storage ideas will help banish the clutter.
'Keep the clutter at bay by investing in shelving units or a freestanding bookcase.' recommends Jen and Marr, founders of Interior Fox. 'Use the top and bottom shelves as storage, using stylish wicker baskets for storing items out of sight. Leaving the middle shelves where the eye naturally falls for an area of decoration.'
Look out for pieces that double up as storage too or has hidden storage like ottomans and coffee tables, so you can add storage without taking up any extra floor space.