Looking for kitchen color schemes that a little bit different? Well you are in the right place. We love a grey kitchen, a cream kitchen, a white kitchen as much as the next person, but we think it's time to be a bit braver in our homes and bring some color into the kitchen. 
Colorful kitchens are having a bit of a moment right now, and we are seeing more green, blue and even pink kitchens than we are neutral ones. But that's not to say they don't have longevity too, going bolder with your scheme doesn't mean it will date faster, in fact, all the looks here are classic that you can't go wrong with. 
'Making a decision about which colors to use in the kitchen is never simple, with endless options for not only the color of the walls, but also matching the cabinetry. Lighter paint hues are a perfect tool for balancing tones in the kitchen and creating contrast. One of the most popular routes to take is to have a coloured kitchen island. Using one color throughout creates serenity and can feel just as restful as soothing neutrals, whilst also making the room feel larger too.'  explains Lara Hughes, Kitchen Designer at Neptune.
Plus, exactly just how bold you want to go and how many colors you want to bring in up to you, but our kitchen color ideas are such to leave you feeling inspired...
1. Go for a retro kitchen color scheme
Retro kitchens are definitely making a comeback and a key part of the design trend is plenty of color. These simple kitchen cabinets have been painted with Benjamin Moore's Normandy – try combining this darker hue with candy colors and vintage kitchenware to recreate this look.
2. Mix dark color with soft metallics 
Choosing a palette of a just a few similar colors can still result in a standout kitchen. We love the blue and gold color scheme in this kitchen, it's a very simple design if you look closely but the colors prevent it from being plain. 
Love the look of a high end kitchen? Don't miss our luxury kitchen ideas (that we'd copy if money were no object). 
3. Try out unusual color combinations 
Who would have thought we would be drawn in by black and yellow?! There's even some red in there too in the terracotta floor tiles. It shouldn't work but it totally does. This black kitchen proves you can pair black with other bolder colors without the room looking too crazy.
The key is to stick to the more muted tones. The yellow here is still bold but it's more mustard than citrus and the same goes for the red, it's an earthy red rather than a vivid primary tone. There's plenty of light in this kitchen too which helps and white walls and ceilings balance out all the color going on. 
Find more ways of getting the look with our favorite maximalist ideas.
4. Add a colorful splashback 
If you aren't ready to commit to a techno colored kitchen, or maybe you're renting so holding back from creating the colorful kitchen of your dreams, try adding just a touch of color with a splashback. 
You can actually paint tiles if your tired looking splashback just needs a quick DIY update, or if you are looking for a lockdown project you could teach yourself how to tile a splashback. 
5. Get creative with tiles
Adding some colorful patterned tiles can be a really quick way to create some focus in your kitchen. A splashback is the obvious place to inject some color but why not go bolder and copy this idea, tile a whole wall! Really practical, tiled walls are easy to clean and perfect for areas that get splashed a lot or get splattered while you're cooking, but they also can add so much interest and texture to a kitchen. 
We can't get enough of this kitchen, the contrast between the pink and green is totally dreamy and the tiles are such a lovely texture too. They are glossy but still rustic, and give a real depth to this corner. 
For more green kitchen ideas check out our full gallery. 
6. On a budget? Try painting your kitchen cabinets 
If you are doing up a kitchen on a budget and don't want to splash out on brightly colored kitchen cabinets, try painting your existing ones. Check out our guide to painting kitchen cupboards to get you started. These cabinets have been painted in Farrow and Ball's Stiffkey Blue, we love how it looks mixed with the contrasting yellow kitchen accessories. 
Love this space? Find a whole load more blue kitchen ideas over in our gallery. 
7. Create a country feel with pastels 
If you didn't think that a bold kitchen color scheme could work in a country-style kitchen, think again. The pastel hues of this Shaker kitchen by deVOL works perfectly in the more traditional space. Team these pale colors with a marble worktop and gold accessories to prevent it from looking too twee. 
For more country kitchen ideas, check out our feature. 
8. Combine grey with a pop of color 
Grey counts as a color too right? Steal the idea from this kitchen and bring some color into a neutral scheme. We love the vivid pop of red brought in with the bar stools, but there's also that lovely, more subtle teal color from the single, glass front cabinets. 
The look isn't anything crazy, but the colorful accents really lift this grey kitchen making it more of a fun space that feels less monotone.
9. Choose muted colors for a more subtle kitchen color scheme
If you don't think crazy bold colors are going to suit your kitchen try picking out darker, more muted hues. We are still obsessed with dark, atmospheric interiors and we can't get enough of this dark teal Sebastian Cox kitchen by deVOL. 
'Gone are the days where dark colors in the kitchen and living spaces are all 'doom and gloom'. Color completely alters the mood of a room. Used cleverly, darker shades give a side of sophistication and drama to the space, especially when dressed with statement metallic ironmongery and well positioned lighting.' explains Matt Baker, kitchen designer at Harvey Jones. 
10. Small kitchen? You can still go big on colour
We have this tendency to play it safe in small spaces – all-white everything is going to make the space look bigger, right? Wrong! You can still be brave in a small kitchen, just look at this lovely blue kitchen with that lovely muted yellow to contrast. The space still feels light and airy but is full of personality too.
Big tip here – note the lack of wall cabinets, that really helps to make a smaller kitchen feel bigger, so if you can afford to stick to just floor cabinets.
We have loads more small kitchen ideas over in our gallery. 
11. Choose a colorful kitchen island
We are big fans of a kitchen island. They are a great way to add a bit of extra storage, more prep space and you can always use them to tag on some extra seating. But practicalities aside, they also give you the opportunity to be bolder in the finish or color you choose, or perhaps allow you to choose a more expensive worktop material that you wouldn't have dared to use for the whole kitchen. 
Check out more kitchen island ideas in our dedicated gallery. 
12. Choose a vibrant shade of green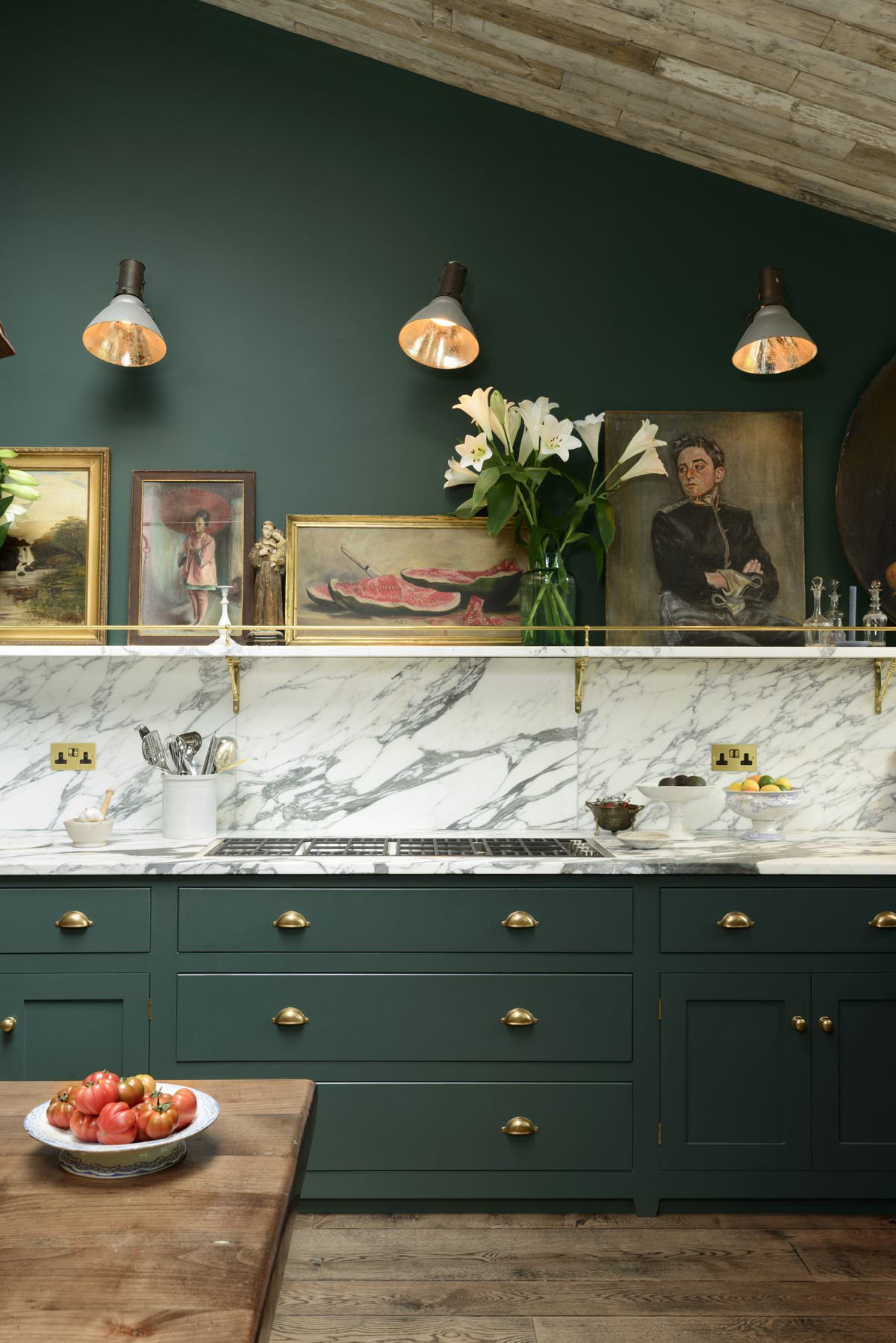 Want to add real oomph to a kitchen? Our answer is: a bold, vibrant green. A juicy green shade will really bring out the quality of your cabinets – and bring to life other details, such as lighting and handles. 
This kitchen by deVOL makes a truly stunning case for going bold with color. We love the way the same color and finish has been applied to the walls and the cabinets, making the decorative elements of the kitchen stand out. The addition of marble completes the luxurious, eclectic look. 
Find more green kitchen ideas in our gorgeous gallery. 
13. Introduce colourful furniture to a neutral space
Not everyone wants a brightly colored kitchen, but that doesn't mean you can't introduce color to a neutral room with brightly painted furniture. Come on, who can resist the rainbow of color these bar stools create?  And because the rest of the space is kept so simple, they don't overwhelm the room, an instead look very chic and minimalist despite the bold colors.
You could recreate this look quickly in your own home by painting your current kitchen chairs – find out how to paint furniture in our step by step guide.
14. Hang wallpaper for a subtle two-toned effect
Like paint, wallpaper can be a really easy way to subtly introduce color into your kitchen. We like how this wallpaper almost totally matches the green of the cabinets but still brings in that pink hue for contrast – another two-toned kitchen done beautifully. 
For more kitchen wallpaper ideas head to our feature. 
15. Create a soft look with pastel tones 
Does it get more dreamy than pale pink and sage green? Oh wait, yes, you throw in some copper too. You can recreate this combo by painting your kitchen cabinets and walls, but if your kitchen is already quite a neutral space, think about bringing in these two tones in a smaller, much easier way. Paint a pink feature wall and look out for sage green accessories and kitchen storage to create a similar vibe for just less effort. 
'A warm and playful color, pink is a versatile shade to use in the kitchen. It can be toned down and balanced out with muted timber accents, paired with black or grey for an industrial feel or placed with contrasting, vibrant shades for a lively and dynamic design.' explains Jayne Everett, Design Director at Naked Kitchens.
If you love pink as much as we do, be sure to check out our pink room ideas gallery. 
What are the best colors for a kitchen?
The best colors for kitchens totally comes down to your person tastes. That being said, if you are after a kitchen that has longevity you'll really have to think about what colors you can live with long term. Classic colors like blue, green and grey are always a safe bet, but if you want to go bolder just make sure you order lots of swatches and samples, maybe even try painting a wall in your potential choices and seeing if it's liveable long term. '
The kitchen is the perfect environment for experimenting with color on both a large or small scale. When deciding on the shade of the cabinetry, make sure you consider your space first – kitchens with lots of light can take a bolder, darker color than a more enclosed room where bright white, soft cream or warm taupe cabinets will help create the illusion of a bigger space.' explains Leisha Norman, Kitchen Designer at Harvey Jones.
'Generally we are seeing a lot of bold cabinetry colors – people seem to be braver than they used to. Shades of blue and green seem to be the most popular, especially teamed with the warmer taupe tones, moving away from cool grey.'
If you want more neutral kitchen color schemes, head over to our cream kitchen ideas next.