Personalize the heart of your home with kitchen cabinet color ideas that define your interior design tastes and make for a space-elevating statement – all with a simple flick of a brush. So much adversity in recent times has put an emphasis on creating happy homes, and choosing the right color scheme for your kitchen cabinetry is a must to boost mood and design interest in this important space.
Different kitchen cabinet colors provide an opportunity to mix things up (think like a rainbow salad) without the expense and hassle of a full kitchen reno. Get creative to make your kitchen cabinet ideas stand out and transform your entire space with the tastiest of shades. Take your pick from the color wheel menu...
Kitchen cabinet color ideas to add spark to your space
Julia Steadman, commercial director at Brandt Design says: 'Opt for a monochrome scheme and design a one-color kitchen interior with the same or variations of just one hue. Create interest with a two-tone, dual aspect kitchen with two high contrast finishes in opposing colors, or go bold and use vibrant kitchen color ideas in isolation to create a focal point. For a neutral color scheme, opt for colors that can function as either warm or cool like white, gray, and taupe and you'll be sure to create a timeless scheme that you can update easily.'
Before you get the overalls out, design experts at Panda Kitchen and Bath advise: 'The most crucial thing in this task is painting. If you need advice on what type of paint works best on wood, metal, or laminate, go to a trusted paint store or home improvement center. Pack a cabinet door to help the experts help you make the right choice. Most professionals advise using alkyd enamel paint that levels into the marks of your brush bristles for a solid, smooth finish. Alkyd paint behaves like oil-based paints that have been phased out, but the latter is water-based and has a low VOC content.'
*Top tip: You need a primer if you want to repaint your cupboards successfully. Then stain it to match the best kitchen cabinet paint you've picked.
1. Soup'er greens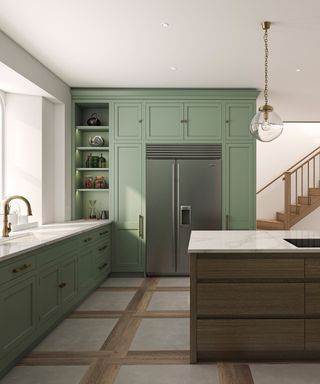 It's fresh, it's harmonious, and it's a hero paint color trend 2022. A quick search for green kitchens on Instagram returns over 90,000 results and with a green goddess palette ranging from soothing sage to wilderness forest, this healing color growth spurts a hue to satisfy every interior style. It's time to learn how to paint kitchen cabinets and reach out an olive branch to your kitchen cabinets (and scheme)...
Design experts at Armac Martin, comment: 'If redecorating your kitchen is at the top of your to-do list for 2022, there is one color leading the way and inspiring the heart of the home more than any other. Our research revealed that Google searches related to green kitchens are up year-on-year by 52% and interior designers everywhere are scanning the spectrum as the color green makes its mark.'
'A natural color to complement kitchens, this year's trending color draws on the understated hues of fresh herbs and produce like sage and olive - and for those dreaming of a more statement shade, decadent emerald and deep forest greens are in demand.'
'One of our favorite ways to add green in the kitchen is to opt for green kitchen cabinets. Depending on the type of green you choose, painted cabinets can create a truly striking statement or seamlessly blend in with a more subtle aesthetic.'
William Durrant, owner, and director of Herringbone Kitchens, shares: 'To make a green cabinet stand out or the central focus, consider a two-tone kitchen design with the green featuring on a standalone piece like a drinks cabinet, larder, or side unit. Another option is to paint the wall units green and the lower ones a neutral color like an off-white. Keeping the color to one specific location will create emphasis and naturally draw the eye.'
If you're keen for green, try Benjamin Moore's color of the year, October Mist - a captivating botanical hue, evoking the silver-green stem of a flower.
2. Yellow radiance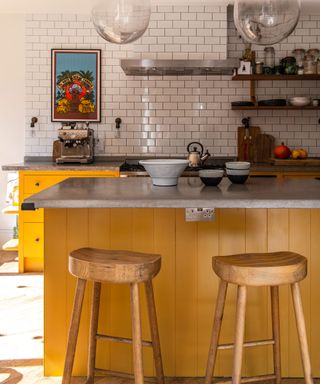 If you're yearning to follow the yellow brick road with a cheerful yellow kitchen idea, dazzle your space with yellow cabinets for a burst of sunshine energy indoors. Plus, the cost to paint kitchen cabinets yourself definitely makes this a worthwhile DIY.
Adrian Bergman, design manager at British Standard by Plain English, comments: 'As featured in the Pantone 2022 color report, we have seen an increase in cupboards being painted in bright and playful hues. As seen here in the home of Jacqueline Mercer (aka @tinyandthehouse), who updated her hand-painted British Standard by Plain English kitchen by repainting the originally inky blue cabinets in a cheerful yellow.'
Kris Lippi, licensed real estate broker, ISoldMyHouse.com, comments: 'When coupled with natural hues like greens and blues, painting kitchen cabinets with deep and warm yellows adds brightness to an otherwise dull kitchen. If bright yellows are too loud, pale yellows are a good alternative because they add just a bit of color while keeping the kitchen's overall sleek and simple aesthetic. It also has a soothing effect, making cooking more delightful. If you're attempting a more rustic look, try pairing sandy yellow shades with dark woods.'
3. Gray calm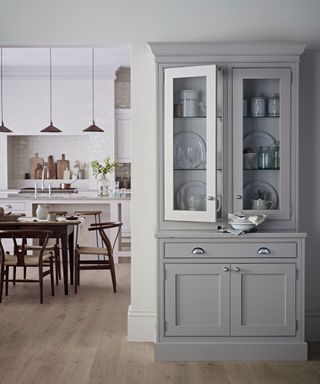 Warm grays continue to be a popular and timeless neutral for kitchens that don't want to be all bright in white. Versatile and inviting, gray works beautifully in any scheme, effortlessly pairing with other neutrals or contrasting brights. In a nutshell, gray is always OKAY for winning kitchen cabinet color ideas.
For a subtle yet fun decor idea using the best gray paint colors, be inspired by this image and paint cabinet door frames in a white or contrasting color, to add another dimension of interest.
Kris Lippi, licensed real estate broker, ISoldMyHouse.com, comments: 'Grays complement almost any kitchen color scheme, type, and design. It comes in various tones, making it easy to match with a wide range of backsplash styles and countertop materials. If your kitchen is small and has limited natural light, choose light grays, as such colors may reflect light into the room better than dark hues. Adding some wood accents to the kitchen is an excellent way to balance the grays. Natural, earthy tones help balance out the visual weight of rows of gray cabinets in the kitchen.'
4. Ice cream pastels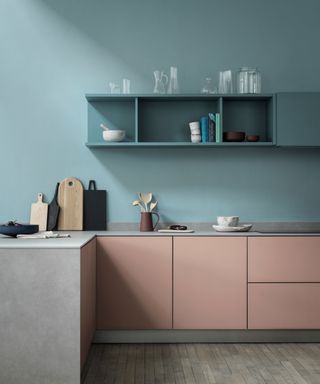 Bring renewed energy and optimism to your kitchen with soothing pastels for a simple spring-fling update that will keep things looking fresh well into the winter months and beyond. Joyful pastel kitchen ideas never fail to cheer everyone up, so why not bunnyhop to it and tackle your scheme with a tonal approach on walls and cabinets? Paint wall hung shelving and cabinets in the same shade as the wall for a blended and clean look.
Alan Weiner, COO of Elegant Strand, comments: 'If you are sticking to white on the kitchen walls, try a muted color on cabinets. Consider pale blue tints, pale mint greens, or creamy buttery yellows, if you are looking to add some color to your kitchen without overwhelming the space.'
5. Color duo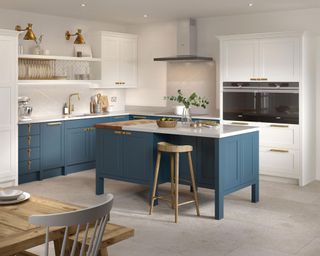 Embrace the two-tone trend with contrasting light and dark shades on cabinets and kitchen islands. Shown in this relaxed yet smart open kitchen, the balanced interplay of intense blue and bright white plays on the senses, adding depth and dynamic, whilst zoning the space.
Steadman comments: 'A paler color for top units enhances a high ceiling while base cupboards are grounded by a darker hue. They can help you to divide the cooking and dining areas as well as providing a modern alternative to the sideboard for special occasion crockery, glassware, and table linen.'
Graeme Smith, Head of Retail and Commercial Design at Life Kitchens, comments: 'Introducing a bold color to a kitchen makes for a striking design statement, the amount of color or tone you choose is a personal decision and ultimately depends on how brave you are feeling. A single bold hue, when used throughout, can make a space feel bigger but could be a sensory overload and pieces can get lost. Alternatively, you can take a subtler approach and choose to highlight specific aspects of the kitchen by adding a vivid splash of color like the backsplash, larder, island, drawers, or handles. This 'dual color' approach is a great way to enliven a space and add visual interest without being too overpowering – as well as allowing you to highlight specific areas of interest or difference.'
6. Give your kitchen a 'facelift' in all white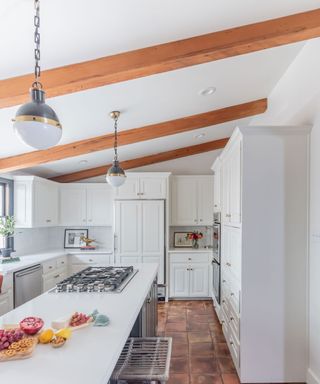 Whether you want to create a bright and breezy aesthetic in a modern country home, or a sleek, contemporary minimalist space, white kitchens designs provide a blank slate of opportunities, uniquely suited to a plethora of worktop finishes and appliances.
In this striking, airy kitchen, designer Rachel Cannon, gave the color scheme an overhaul with a daylight-loving bright white across cabinets, walls, and countertops - proving that 'you don't always have to bulldoze an entire space to transform it into something extra special.'
Kitchen design experts at Magnet, advise: 'Combine your gloss white kitchen cabinets with a heavy timber kitchen worktop or a bright graphite worksurface. Or, pair a matt white kitchen with angular laminate end panels or curving granite worktops. Patterned kitchen floor tiles, oak kitchen doors, or an ultra-modern fridge freezer can all be made to work with a white kitchen and a little bit of vision.'
Steadman says: 'The beauty of lighter colors is that they can instantly bring an airy, expansive feeling to the home creating the feeling of more space. This is particularly helpful if you need extensive storage as custom-built fitted furniture can be designed so that it is unobtrusive and blends into the room from floor to ceiling, making the best use of the space. Add freshness to warm greige, cream, and pink finishes by choosing white quartzite surfaces which can beautifully complement a classic ceramic sink if you are looking for a cottage core effect. Glass-fronted cabinets will also enhance a traditional feel with the opportunity for display lighting within to create further illumination.'
7. Charred wood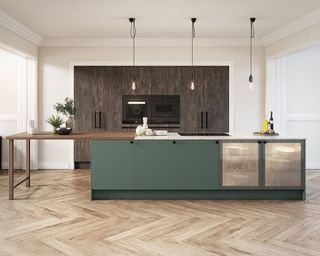 Indoor-outdoor living spaces are all the rage, as mindful lifestyles seek homes connected in nature. In the same way that the 'outdoor lounge' invites interior comforts like cushions and decorative accessories into the garden, flip-flop things and bring natural materials, raw textures, and charred hues indoors and onto your kitchen cabinets, to blur boundaries and create a grounded and authentic aesthetic. This look is less refined and more rooted in honest materials, eco-design, and beauty in imperfection. Think texture, rich grains, and layered elements, and you'll have it 'nailed'.' Of course, you'll be wanting to use the latest eco-friendly cleaning products in your sustainable space.
Representing an open-plan kitchen living concept, the pictured Renzo kitchen in Charred Japanese Wood and Character Oak Tobacco presents a broad mix of materials that all work in combination, yet still provide distinction.
Matt Phillips, head of operations at Rotpunkt says: 'Indoor-outdoor living is going to be big in 2022 and so botanical grays and greens will be met with raw timber finishes ranging from light oak to rich, dark black. Design integrity will be achieved through a well-considered balance of block colors and natural design effects, offset by matt black hardware and accessories like appliances and storage systems through to kitchen lighting and essential fixtures and fittings.'
8. Cook up a storm with intense dark shades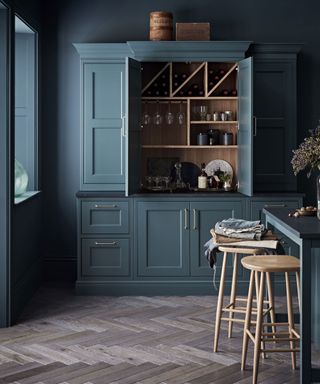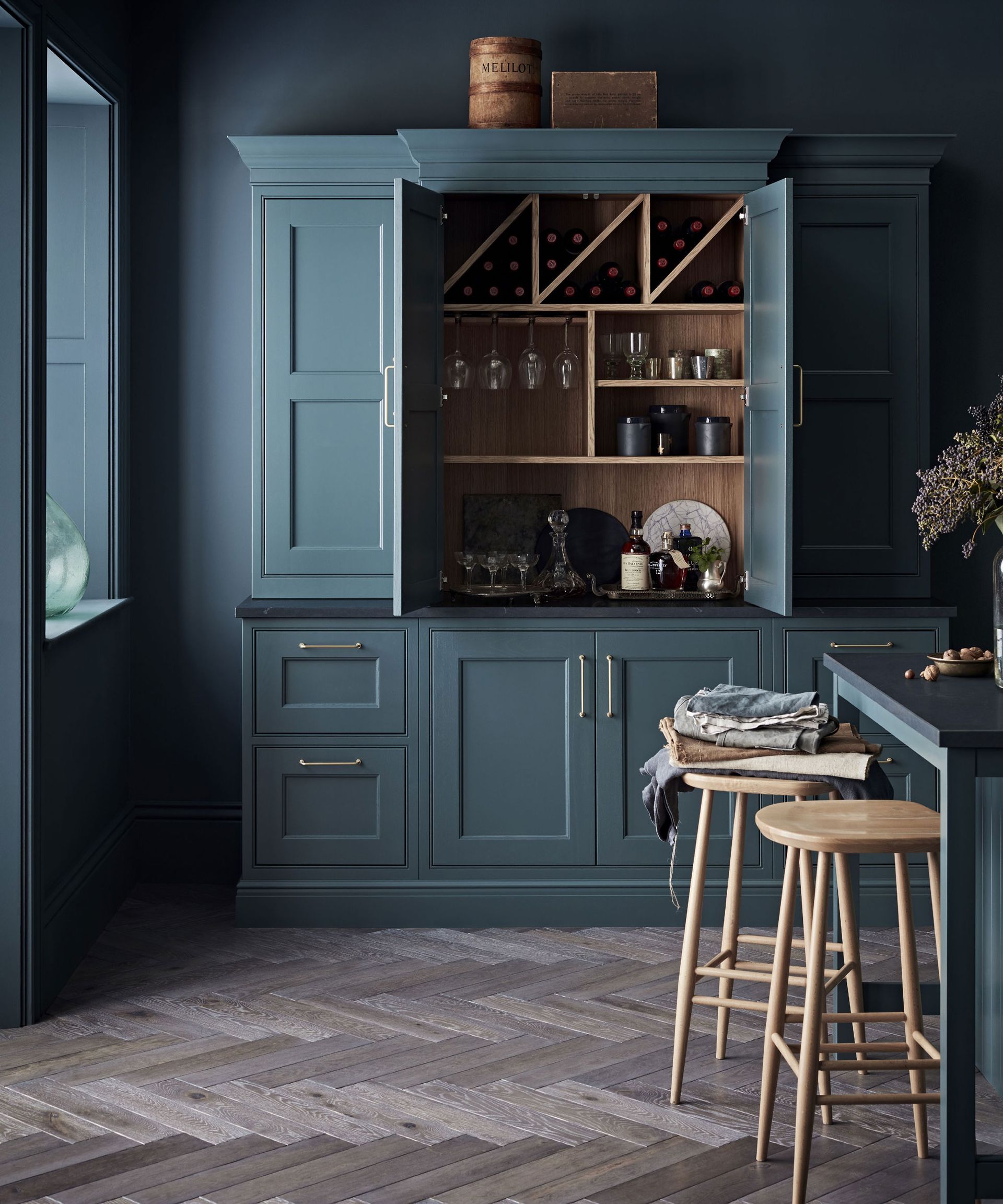 Embrace everything dramatically dark on kitchen cabinets with rich, stormy hues like Baltic green (try Sherwin-Williams' Isle of Pines), inky indigo (try Dark Night), or charcoal abyss (try Sea Serpent).
Intense tones redefine kitchens, elevating them from mere cooking zones to sophisticated spaces that make an impactful statement.
If you're worried about going fully to the dark side, paint cabinets in a chosen dark hue to make them 'pop', but keep walls, backsplashes, and countertops light, for a bright contrast. But, if it's the maxed-out impact you're after, dive deep and envelop your entire scheme in one or two divinely dark tones. Finish cabinets with burnished brass hardware for a luxe detail.
Tom Howley, founder, Tom Howley Kitchens, comments: 'When choosing a darker hue for your cabinetry, you will want to keep the space feeling airy and bright. A lighter worktop will reflect light in the space and create a beautiful contrast with your cabinetry. Look towards DIY marble worktops for a crisp finish which will allow the cabinets to be the focal point of the kitchen design.'
9. Nod to the shades of nature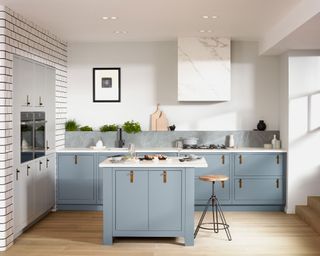 Deliver nourishing color to tired-looking cabinets in urban and modern country kitchens alike with a nature-inspired palette of soft, chalky tones, like Sherwin-Williams' color of the month, Aleutian. Balance color block painted cabinets with real wood textures and recycled materials to update your space with a dollop of authentic texture and a sustainable edge.
Simon Bodsworth, Managing Director at Daval says: 'The 2022 kitchen will embrace the mellow and gentle hues of nature where land meets the sky, so look out for shades of gray, cream, green and blue echoing the colors of the countryside.'
He continues: 'When it comes to material, timber will be a go-to solution providing both traditional grounding for modern in-frame kitchens, as well as a tactile and organic contrast to pared-back linear schemes with Scandi-style undertones.'
'For us, Hunter Green works well with organic materials as well as the continuing trend for industrial-style kitchens that are sympathetic in style and design. Other contemporary colors proving popular this year include varying shades of blue kitchens.'
10. Mono twist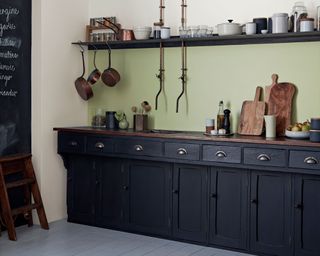 We've talked about white kitchens and dark or black kitchens, so let's now move on to a best of both monochrome combo – full of personality.
Well actually, it's the image that's doing all the talking, with its 'look at me' black painted cabinets and co-ordinated shelf; white walls, and green painted backsplash. We adore the dark and light contrast, united in an unexpected way with the green 'piggy in the middle color block wall. Notice how the shade of the cabinets has been thoughtfully referenced on the shelf and blackboard, creating a unique, but unified space bursting with creativity and charm. The tonal gray painted floor is an inexpensive, DIY kitchen flooring idea to try too!
Helena Myers, The Myers Touch, comments: 'Since homeowners are spending more time in their homes, their interest in contrasting, yet vibrant cabinetry has increased as they have become more comfortable with seeing their kitchen as a central room in their home - a place where they work, relax, socialize and cook in - so are looking for a personalized, wow-factor design using a range of colors, materials, finishes, and furniture that remain elegant and timeless.'
Which color is best for kitchen cabinets?
Helena Myers, The Myers Touch, says: 'Sage green looks stunning on feature cabinetry or dresser units as they help create an area of definition in an otherwise more neutral design.'
Steadman comments: 'A great choice for a show-stopping lifestyle kitchen, choosing blue or grey as your design anchor ensures a strong yet livable look which will go the distance. Up the luxe factor with tactile handles and brassware so you can enjoy using them every day.'
What are the new colors for kitchen cabinets?
Homeowners are becoming bolder and more confident with two-toned shades across kitchen cabinets. Leading the way are pastels, cool-toned neutrals including white and gray, and ever-popular, nature-inspired shades of green and blue.
Myers adds: 'Consumers are increasingly interested in kitchen design spaces that mix different color tones and materials in order to create definition, detail, and interest in their homes.