Looking for garden lighting ideas to give your garden an instant update – whether you're planning on sitting out late or admiring it from indoors? Whether you like a bohemian, relaxed look with lots of fairy lights, or an ultra-modern lighting scheme, we have a design for you. 
For more practical tips, read out guide on how to plan your garden lighting; and if you're looking for the best garden lights, read our buyer's guide. 
1. Use pendant lights to add volume to a dining area
To instantly update a garden dining area, or to turn your pergola into a chic al fresco dining spot, add pendant lights. The hand-blown Acid Drop pendants by Curiosa & Curiosa add both colour and a chic Art Deco vibe to this garden dining area.  
Find out more about how to create an outdoor dining area in our guide.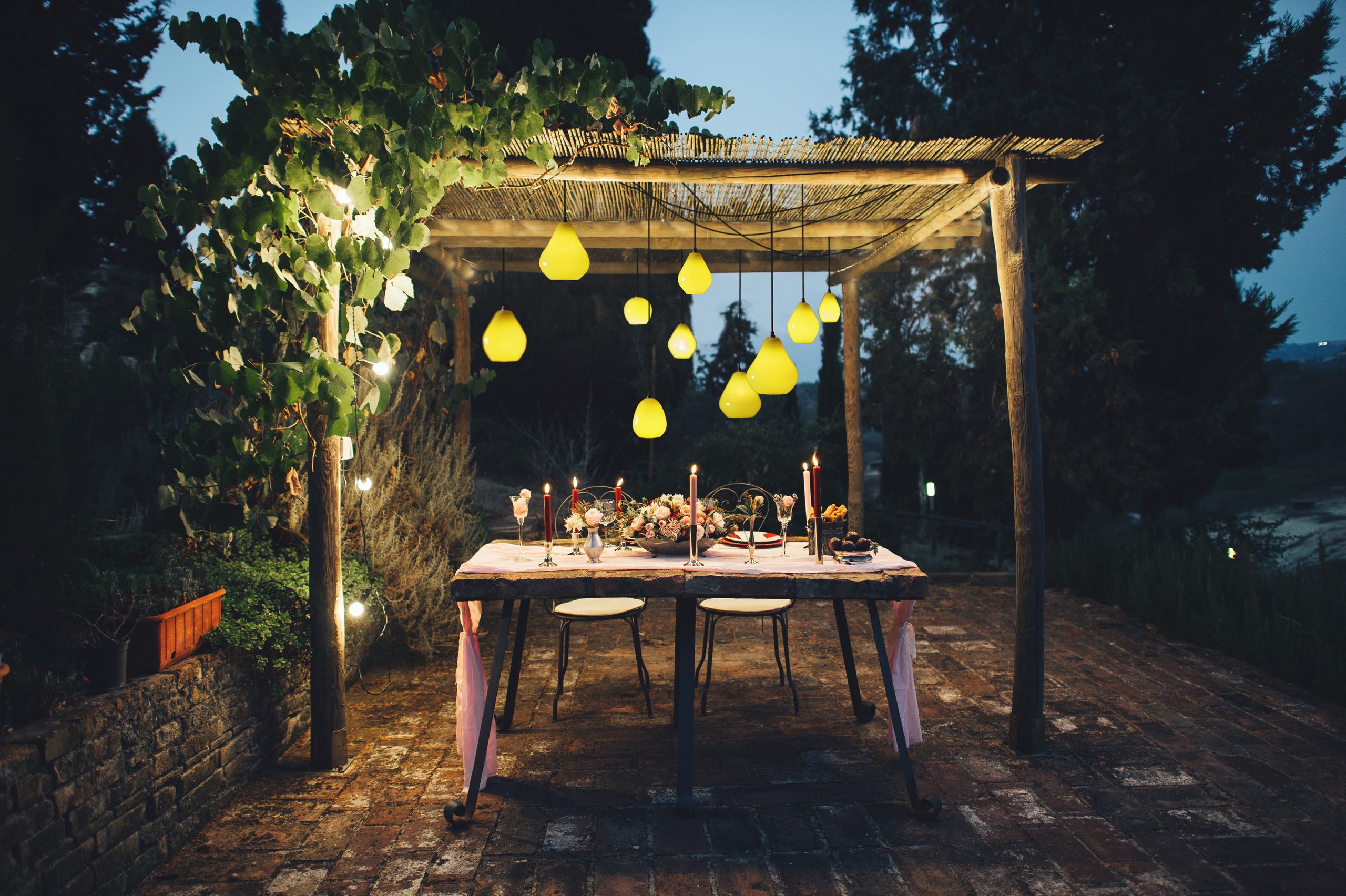 2. Create bohemian charm with candles and lanterns
For a smart look that doesn't look too formal, mix and match lanterns in a variety of shapes and materials. This contemporary garden gets a bohemian update courtesy of The White Company. You can use large storage jars to create a similar candlelit look.
We have more brilliantly boho design ideas for you to explore.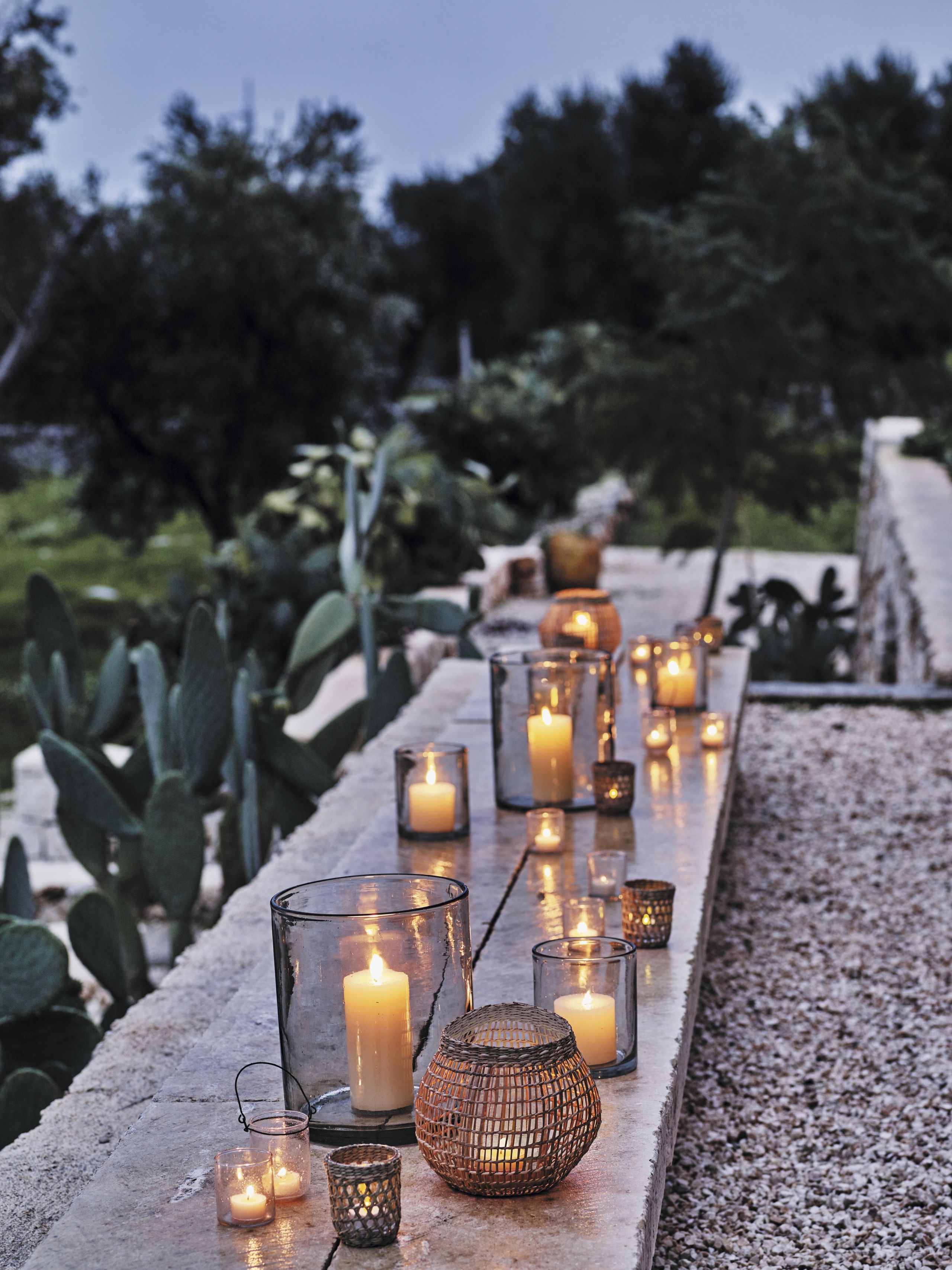 3. Suspend festoon lights above your dinner table
Festoon lights are a timeless classic for a reason: there's not an outdoor space out there you can't instantly transform into a romantic nook with this garden lighting idea. Our all-time favourite look is strings of festoon lights suspended above a dining area. 
The festoon garden lights are from Lights4fun.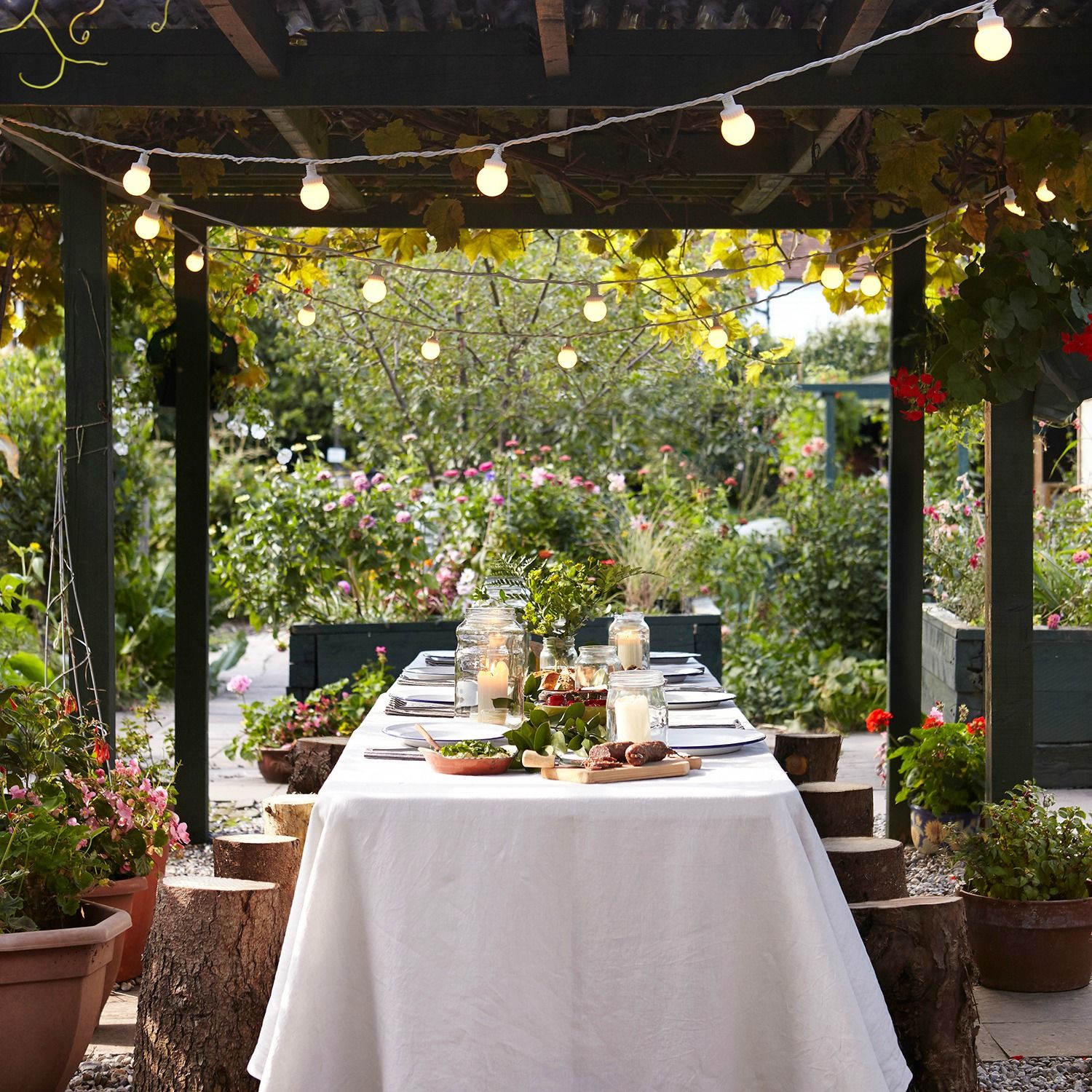 4. Create an outdoor room with a garden floor lamp
Already have all the festoon lights you'll ever need, or want to try something a bit different? Creating an outdoor room is a recent trend that allows you to blend indoor and outdoor decor – and is very effective for making your garden cosy come autumn. Use outdoor lighting that looks like it's for indoors to achieve this effect. 
The Elsa outdoor floor lamp is from Cox & Cox.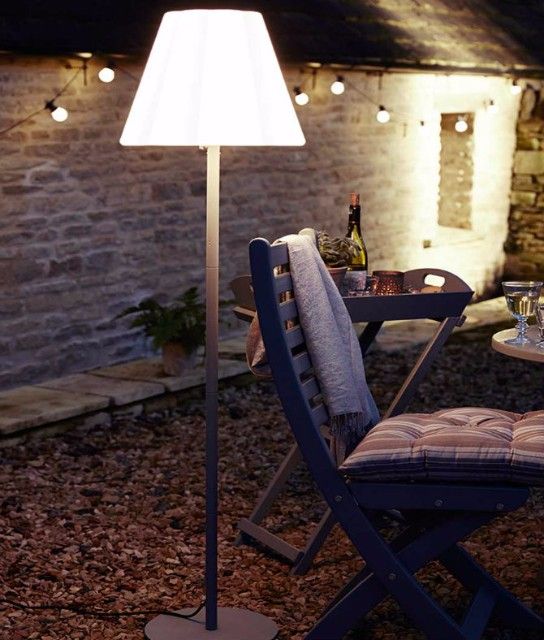 5. Add interest to a container garden with LED sticks
If you want to draw more attention to your container garden after it gets dark, but are bored of spotlights/flood lights, try this garden lighting idea: sticking LED path lights into your containers. They'll add a subtle glow and won't look too shabby during the day, either. 
The LED Pathway Light Set by House Additions is available from Wayfair. 
Read more about container gardening for small spaces in our guide.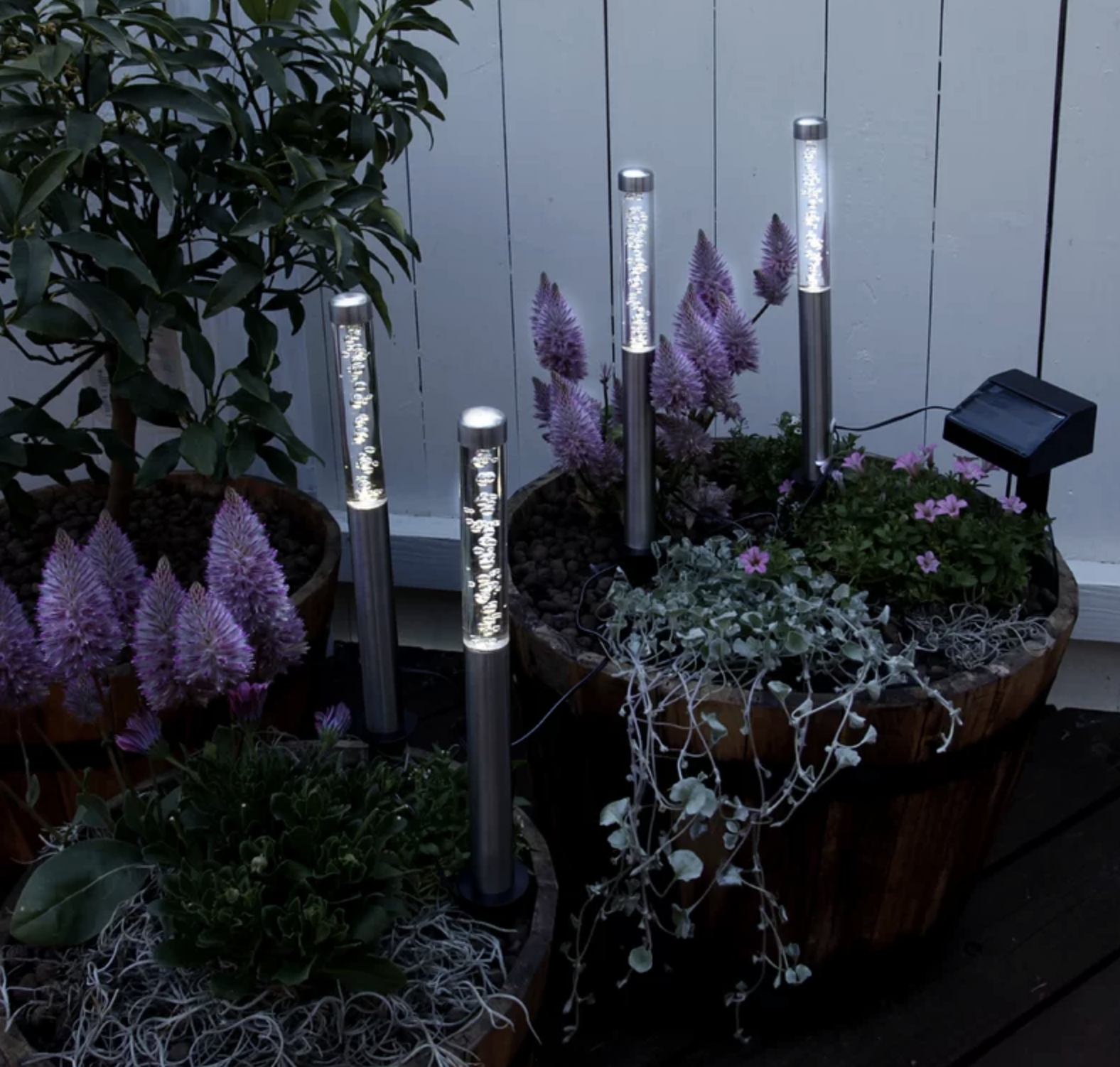 6. Create a contrast with monochrome lighting
Monochrome design never goes out of fashion for gardens. Shades of white and cream are the failsafe option for creating an opulent contemporary garden design scheme – they look amazing as a decking idea, too. To break up the neutral space, add some graphic black lanterns and pendants. 
This monochrome garden lighting ideas scheme is by Vintage Boulevard. 
7. A light that doubles up as a garden statue
Those with rustic gardens will love this charming LED Resin Hare garden lighting idea from Argos Home – a garden statue and solar-powered garden light in one. Place on your porch, or on top of your garden table. Whimsical and delightful, and not so over the top that it won't look good in a more restrained garden. 
8. Emphasise height with a cascade of string lights
Blessed with a large garden and a tall canopy? Make the most of your garden's spaciousness by hanging not just one string of lights, but lots of them, for a shimmering, cascading effect. 
The Warm White LED Connectable Fairy Lights are from Lights4fun.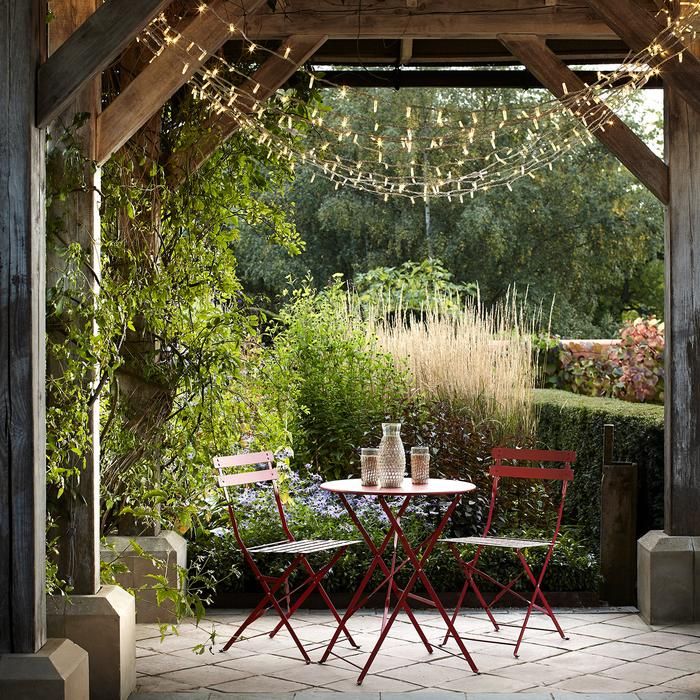 9. Experiment with unusual path lights
Newsflash: path lights don't have to be non-descript and boring. To add more character to your garden path, choose novelty designs that'll draw attention to your borders. The Halbert Solar Powered Ice Cube lights add warmth and texture to this garden path, and are available from Wayfair. You can use them as a garden lighting idea to illuminate your deck, too.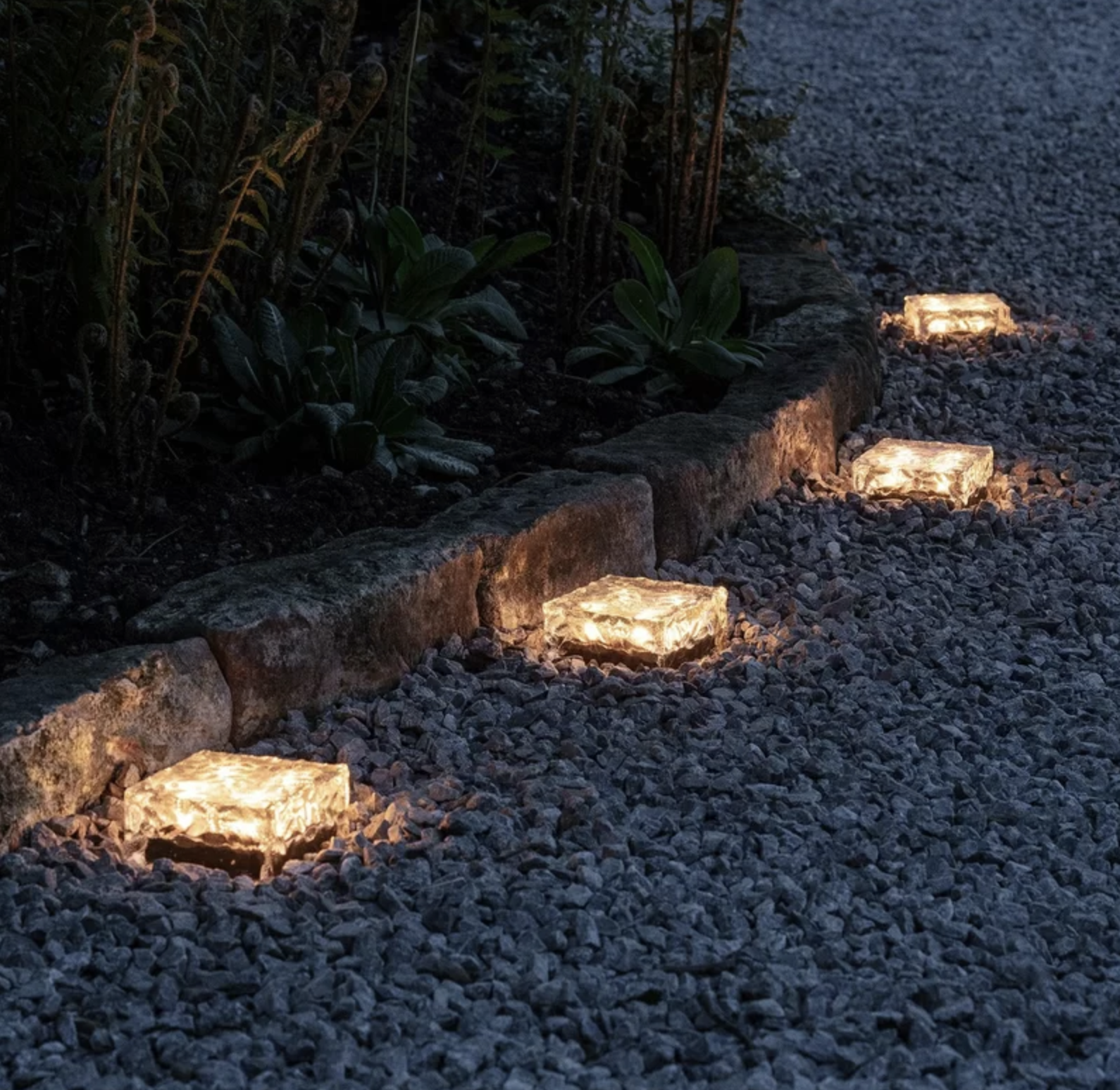 10. Add garden lighting ideas to a water feature
Proud owner of a garden pond? Few things in the garden are as enchanting as a beautifully lit water feature. Some will come with their own lighting, but if you have a natural pond, you can get water-safe lights designed especially for them. We really like the soft, otherworldly effect created by the LED decorative frogs by Hokku Designs. The lights come attached to the artificial lily pads.  
Find out everything you need to know about garden water features in our guide.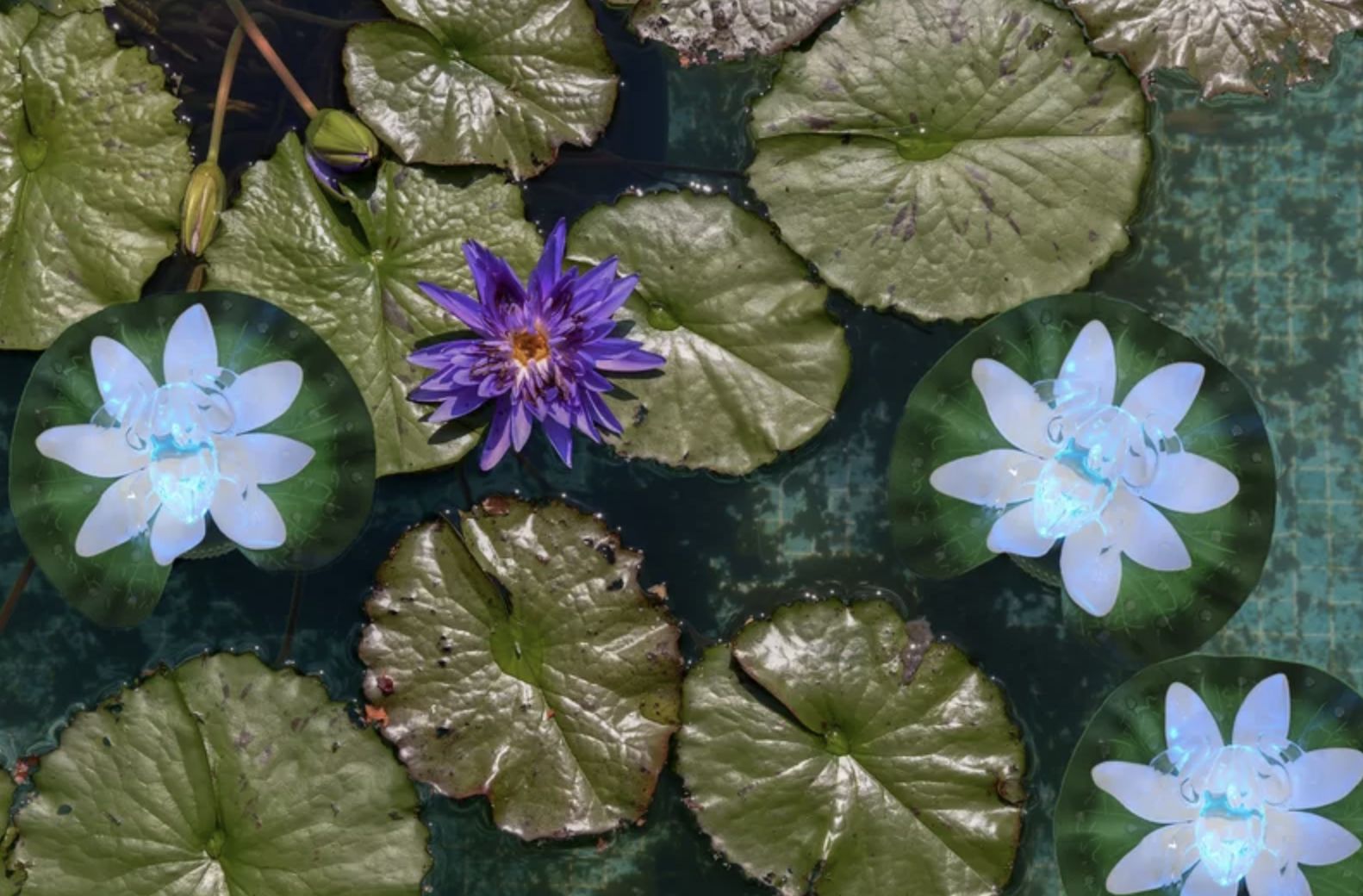 11. Moroccan garden lanterns add an exotic vibe
There are so many different looks you can achieve with lanterns, depending on what style they are. Nautical lanterns are a classic choice, but for a warmer look, choose Moroccan-inspired ones. They'll cast beautiful shadows on your patio or deck, creating a mysterious and intimate atmosphere. 
The Almeida Moroccan Candle Lantern Duo is from Lights4fun.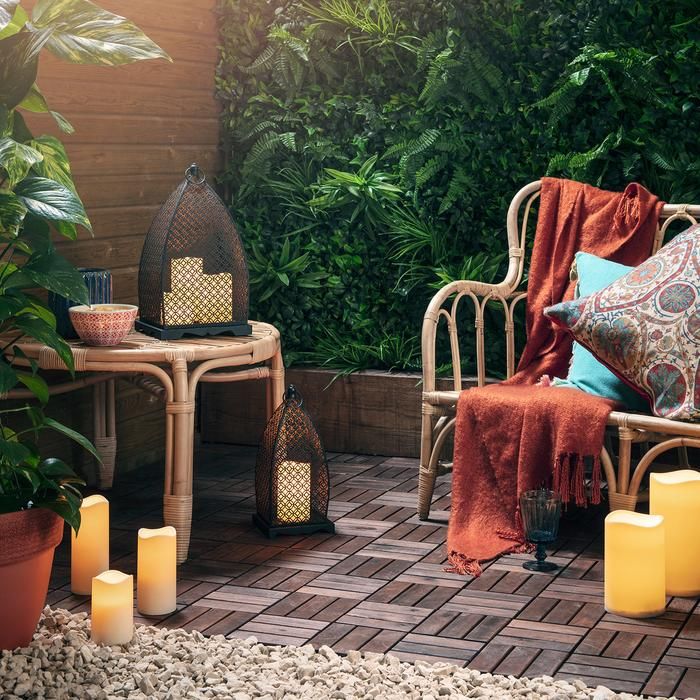 12. Ultra-modern globe path lights for a contemporary look
Path lights are probably the easiest way to update your garden lighting. You just stick them in, and they run off either batteries or solar energy. For contemporary gardens, matt globe path lights are a great way to create accents on a lawn; in a sloped garden, they'll emphasise the different levels. 
The Toula Pathway lights come in a variety of colours and are available from Wayfair.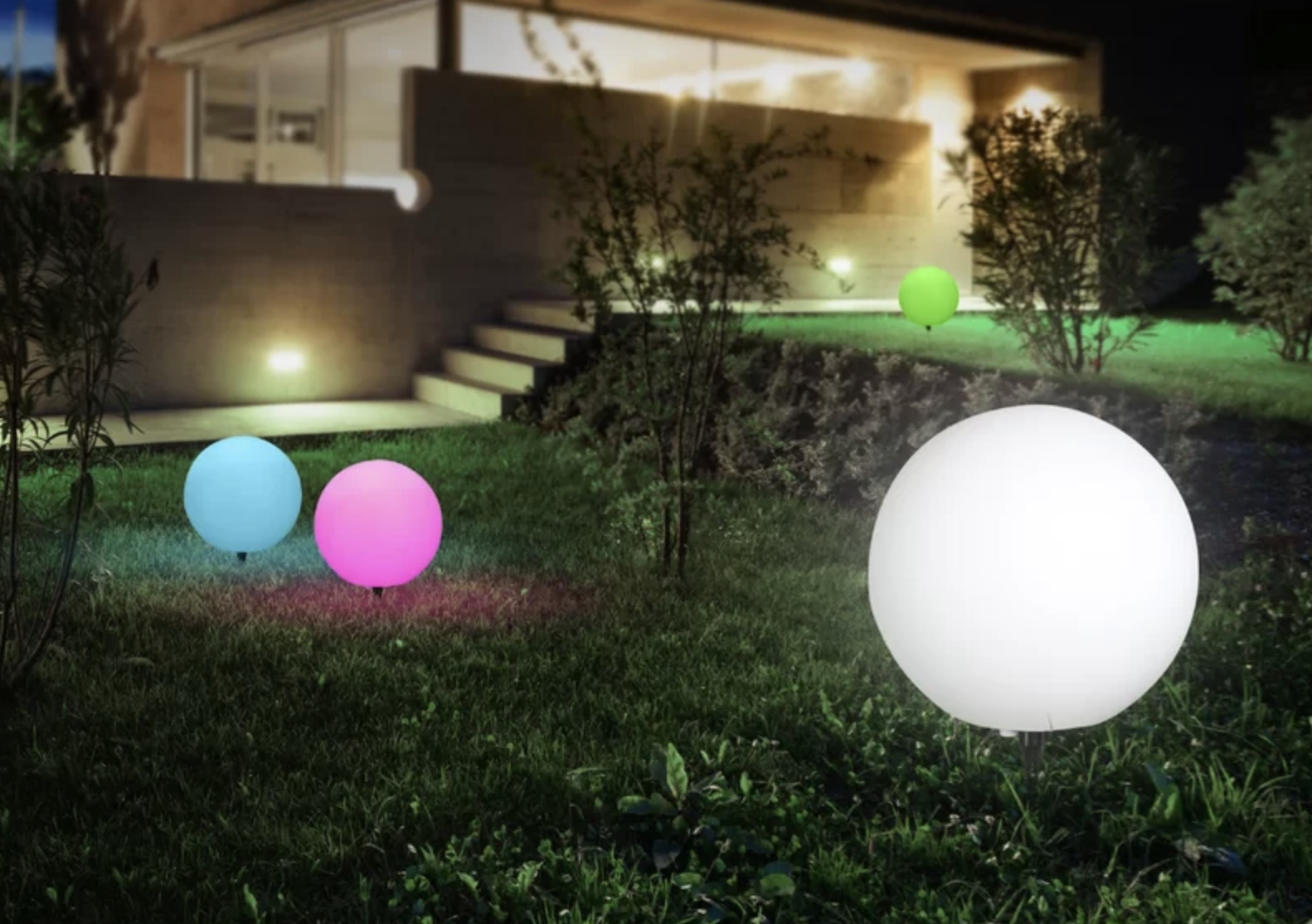 13. Wrap string lights around your favourite garden tree
It may seem like it's ages away, but autumn and winter are just round the corner, and soon enough there won't be any leaves left on your favourite garden tree. Create a joyful winter accent in your garden by wrapping fairy lights all around its trunk and thicker branches. This look is especially suited to front gardens. 
The Traditional Warm White LED string lights are from Lights4fun.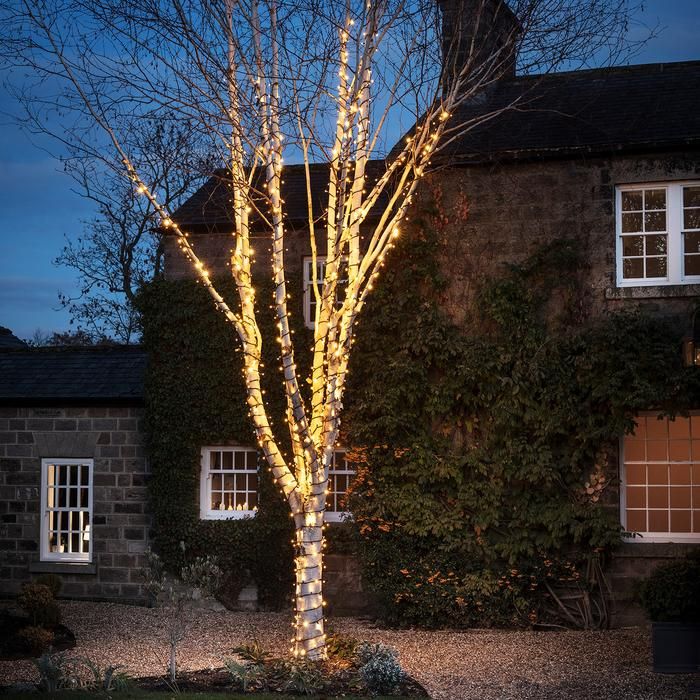 14. Liven up a garden fence with colourful festoon lights
Garden fences can be weak links in your garden design, especially if yours is plain. There's an easy way to give your fence a bit of oomph, though – by adding colourful festoon lights. 
The strong, primary colours of these festoon lights from Wayfair counterbalance the plain colour of the fence. This is also a great garden lighting idea for small balconies.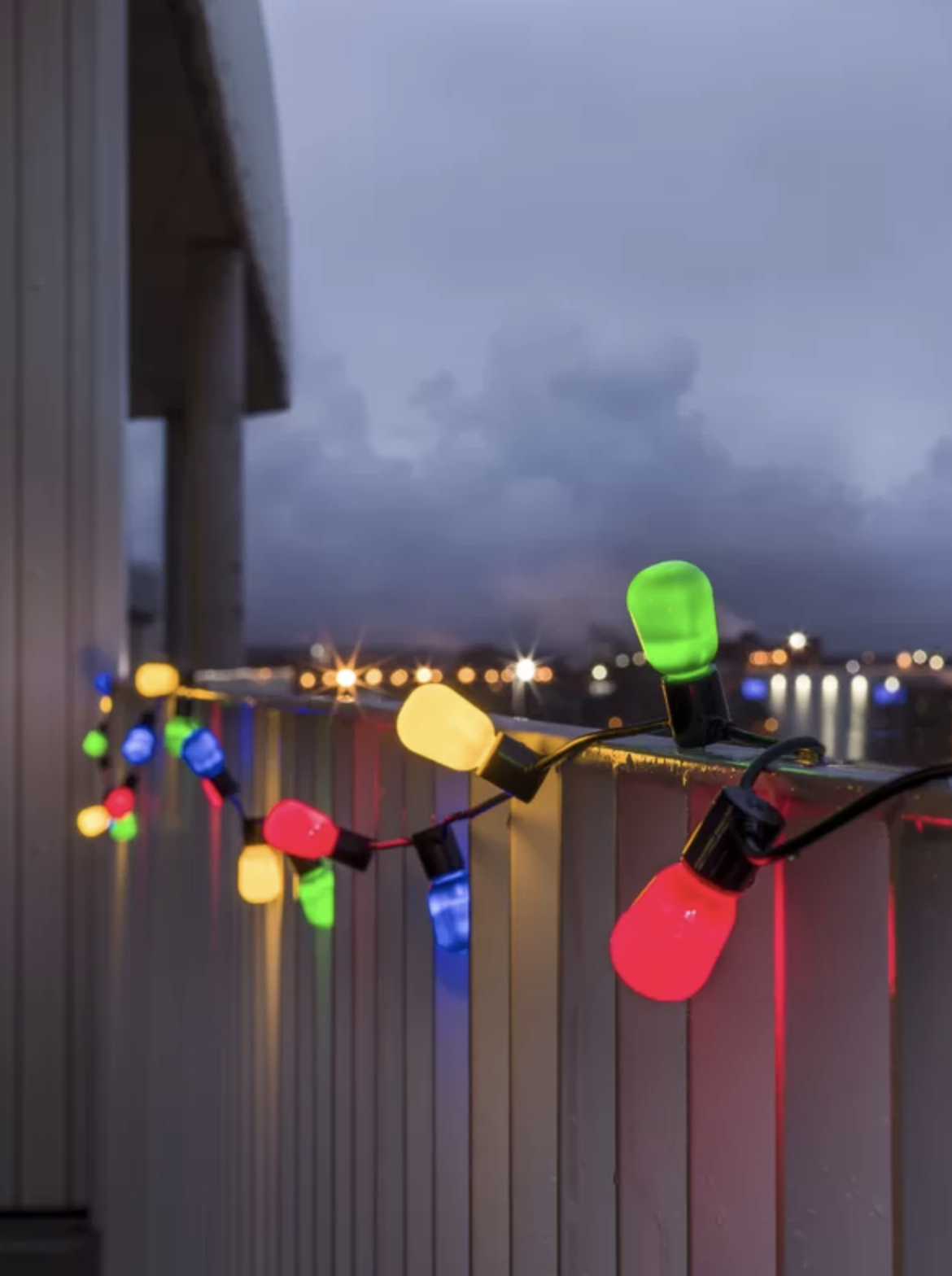 15. Illuminate beautiful foliage 
Got a beautiful tree with interesting foliage? Make the most of your tree or maple with a colourful web of festoon or fairy lights. These bright festoon lights are from Seasonal Aisle. 
16. Add fairytale magic with nature-inspired path lights
Take inspiration from nature and choose garden lights that have organic shapes and a gentle glow. From bees to pineapples, there are lots of flora- and fauna-inspired designs that'll help you create an organic look. 
This garden border has been decorated with Mini Mushroom Solar Stake Lights from Lights4fun. Great as a garden lighting idea for kids to enjoy.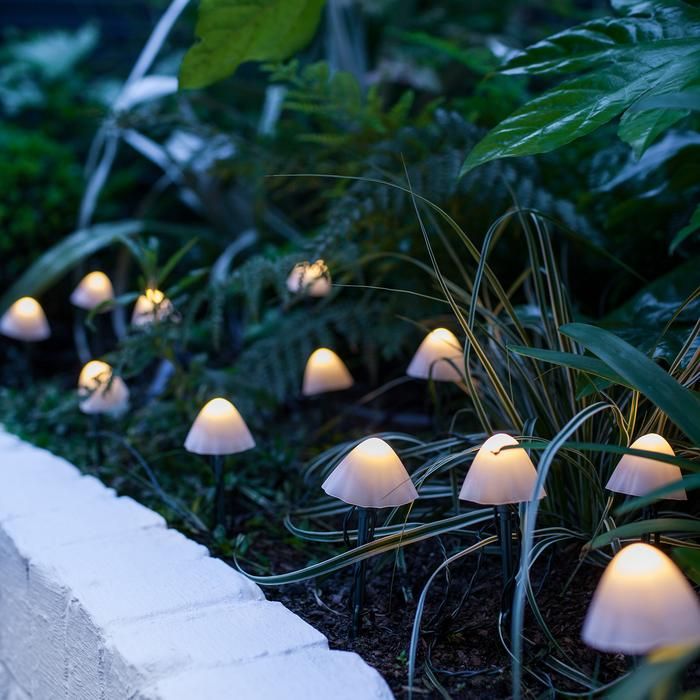 More reading about lighting: