These garden lighting ideas will have you dreaming of long evenings spent in your outdoor space, whether you've acres of land, a small backyard, or even a balcony area in need of brightening up. From creating a cozy nook on your patio to lighting up your outdoor living or dining space, we have the most stylish, effective, budget-friendly looks to copy below.
Whether you like a bohemian, relaxed vibe with lots of fairy lights (classic), an ultra-modern lighting scheme, or a completely eco-friendly, solar light-fuelled display, we have a look for you. Simply pair one of these backyard lighting ideas with your best outdoor furniture, and you're good to go for summer and winter evenings.
Jonny Brierley, CEO, Moda Furnishings, says: 'Lighting is absolutely essential for setting the scene and creating a cozy ambiance outdoors. Whether it's warm hanging lights or a glowing table lamp, the use of soft lighting is crucial for creating a warming atmosphere, especially during the cold winter months. Alongside softer-use upholstery and accessories such as warming throws and cushions, people are now bringing the inside out to create the most comfortable atmosphere for family and friends.'
1. Create ambience with eco-friendly festoon lighting
Festoon lighting is undeniably the hottest garden lighting trend this summer. Thanks to their versatility, style, durability, energy efficiency, long lifespan, and easy installation, LED festoon party lights are the perfect backyard idea.
Matthew Shaw, Head of Sales, at UltraLEDs, says: 'Festoon garden lights are the perfect lighting option for summer 2022. These lights are trendy, versatile, durable, and long-lasting, and come in a wide variety of colors, shapes, and styles.'
'LED festoon party lights have many benefits, including energy efficiency, durability and safety. In fact, one LED bulb is so energy-efficient that it can last up to 50,000 hours, benefitting both your wallet and the environment!'
'Solar-powered festoon lights are also rising in popularity. They gain their power from the sun during the day and come on when it gets dark, which means there's no complicated wiring involved. This low-maintenance lighting option is particularly appealing to those who want to quickly install or store their outdoor lighting or for those who want to watch their carbon footprint. Making solar-powered festoon lights a huge trend to watch in 2022 and beyond.'
Nadia McCowan Hill, resident style advisor, Wayfair, says: 'Versatile festoon lights can be strung along a fence, draped over a canopy or wrapped around foliage to bring just the right amount of light into your outdoor area. Pair these with table lanterns and a warming fire pit to provide some low atmosphere lighting and create the perfect intimate environment - an oasis of serenity in your outdoor space.'
2. Flock and gather around a firepit
The magic of the outdoors can be enjoyed year-round with a fire pit idea to gather around, warm throws to snuggle up under, and beautiful outdoor lighting.
Reilly Gray, founder, SUNS Lifestyle, says: 'An outdoor fire or fire pit table (where the fire pit is built into the tabletop) creates a focal point that's not only beautiful to look at but like outdoor heaters, will also bring warmth for those cooler evenings. Don't forget to place planters and pots filled with beautiful greenery, flowers, and plants around the dining area to add that all-important finishing flourish to your outdoor oasis.'
Shop our round-up of the best fire pits and enjoy toasty evenings in the yard all year round.
3. Set the scene (and table) for alfresco dining
Illuminate your twilight table whilst outdoor dining, and give it an extra special sense of occasion with striking lighting designs that frame the main event.
McCowan Hill says: 'Transforming your garden lighting can be easily done with just a few simple steps. Stylish caged pendant lights hung whimsically over your outdoor table will create an elegant indoor/outdoor feel on a warm and dusky evening.'
Lucy Kirk, creative and photography manager, Lights4Fun, says: 'Create a sparkling canopy overhead by cleverly stringing festoon lights between trees, walls, or garden structures.'
'Warm white lights with clear, traditional-style bulbs will bring a classic feel to any scene and will look particularly charming when draped above an outdoor dining table. Pair with weatherproof LED candles below to complete the look.'
4. Transform a pergola into an enchanting illuminated focal point
With Google searches for 'Pergola lighting' increasing by 190% since last year, it is clear that setting the scene and creating a cozy atmosphere has become a priority for many of us when designing our outdoor spaces with the best yard-enhancing additions.
We adore these enchanting hanging orb lights from Oliver Bonas - the twinkliest addition to transform pergola ideas.
5. Add a playful touch to your outdoor setting
Take pattern pops from indoors to outdoors with an eye-catching design that adds color and character to your alfresco tabletop. And of course, serve up heaps of style and functionality with the best outdoor dining chairs 2022.
Joanna Spindler, PR and marketing manager, Graham & Green, says: 'With gardens and outside areas you can enjoy going a little wilder with your lighting and embrace an element of fun and whimsy. Enjoy!'
Phileas, Pooky's first ever rechargeable cordless lamp, designed in collaboration with Matthew Williamson has been named after the eponymous Mr. P Fogg as it can travel anywhere. With a full charge that lasts for 10 hours, producing a wonderful soft light, the Phileas is perfect for use outdoors as the evenings close in, on dining tables as an alternative to candles (it's perfectly sized to ensure you can see over while dining), in bathrooms for a soft glow, prettily perched on your mantle or moving room to room while you work from home.
6. Hang lanterns on trees for a magical setting
McCowan Hill says: 'For soft and fuss-free lighting, try hanging lanterns on trees or on low-level foliage to create a flickering glow and dynamic shadows that can be admired from all viewpoints.'
7. Experiment with layered lighting at different levels
Incorporate a variety of lighting designs and types into your garden design, to create interest at all levels, and play with dynamics, as demonstrated in this enticing outdoor dining set-up, complete with Monte Vari firepit with Nappa bar collection from Sun Lifestyle.
Kirk says: 'Elevate any outdoor space or deck idea by playing around with lighting at different levels: classic floor lanterns on a patio, weatherproof LED candles on side tables and poufs, fairy lights wound around shrubbery and tree branches, and pretty fabric lanterns hanging overhead. Opt for fabrics in this summer's key colors, like whimsical purples, or cheery, sunshine yellows.'
Spindler says: 'When planning your outdoor lighting consider height, layering a variety of light sources at different heights and levels. Solar lights can be staked into the ground to create an illuminated pathway, with festoon lights woven overhead for an inviting zone to gather together. The light of tapered candles and tealights will cast soft pools of light across a tablescape or seating area while the flames of a fire pit add that cozy campfire feeling.'
8. Consider the function of your backyard lighting scheme
Oberon Copeland, founder and CEO, Very Informed, says: 'Garden lighting can be functional, providing illumination for garden path ideas and steps, or it can be purely decorative, used to highlight certain features or create an atmospheric setting. There are many different garden lighting ideas to choose from, and the best approach will depend on the size and layout of your garden as well as your personal preferences.'
'Whichever type of backyard lighting idea you choose, make sure to position the lights carefully in order to avoid creating glare or shadows. With a little careful planning, you can transform your garden into a beautiful and inviting space that can be enjoyed day and night.'
9. Light your garden from the ground up
Megan Moore, photographer and founder, photography-lighting.com, says: 'Floor lights are having a huge resurgence because they can make a garden look huge, just from a couple of cleverly placed spotlights - a great budget backyard idea.
Something that will always look amazing is placing spotlights in areas of shrubbery, so they would be hidden behind small bushes and branches. This is even more effective if the shrubs are against a fence, as the light will reflect off the tall surface and create an illusion of space.'
'For this, I would recommend a warm shade of LED uplight. Something like this Elipta LED Spotlight from lightforgardens.com would look amazing!'
10. Light-up your 'garden lounge' with an outdoor floor lamp
Alina Enache, architect and head design consultant, Scotlight Direct, says: 'Architects and designers often try to add a touch of biophilia in their designs and bring nature and outdoors inside their houses, however bringing the comfort of your interior in outdoor living areas can have an equal impact on your wellbeing.'
'Living spaces in the outdoor setting are an essential part of your garden but lighting these areas with wall lights or recessed ground lights can sometimes be complicated and involve high costs if no existing wiring is available. Using a simple but elegant outdoor floor lamp that plugs into a socket can resolve this issue and provide a great source of light to social areas within your garden.'
Enache recommends the Konstsmide Lodi Outdoor Matt Black Floor Lamp - a chic one light matt black outdoor floor lamp with clear glass and ground spike.
11. Harness the sun with solar powered lighting
Make sunshine sizzles work through the night with on-trend and planet-friendly solar-powered designs, like the stunning Antique Brass Moroccan Solar Lantern as shown, from Rockett St George.
Jane Rockett, co-founder, Rockett St George, says: 'Harnessing the light of the sun throughout the day and turning on automatically at dusk to create a gorgeous glow in the garden, solar-powered lights are both a stylish and eco-conscious choice for your outside space. With no power source needed, solar lights are ideal for anywhere from sun-soaked balcony ideas to beautiful flower beds.'
'This year, we're loving designs that take inspiration from the beauty of the natural world and blend in against your planting scheme to create a harmonious look that comes to life after dark. From dandelion designs to lights that recreate climbing ivy, garden lighting inspired by nature introduces whimsy and wonder to the garden through biophilic design.'
'With solar-powered lighting becoming more popular than ever, can now find solar fairy lights and a gorgeous selection of lanterns that can be placed that sees the sun. A couple of our favorite styling spots include solar lanterns styled on your garden table and fairy lights draped in the trees.'
12. Use uplighters to draw attention to specific areas
At night, clever lighting is the key to providing a wow factor to your front yard landscaping design.
Robin Antill, director, Leisure Buildings, says: 'Use uplighters to highlight vegetation, walls, and swinging pendants in enclosed spaces to create coziness, and don't be afraid to change and match styles. Its use of uplighters lifts the attention upward, giving a garden landscape more depth. This can assist in clearly defining each garden zone, from the vegetable allotment to an eating area.'
13. Go linear with wall lights
Wall lights are essential for layering light throughout any modern outdoor environment.
Antill says: 'A simple method to add visual balance in your yard is to place linear or rectangles wall lights along one wall or boundary. If you would like to make it more intimate, add a few candles.'
Check out our round-up of best outdoor lighting designs to magic up your space long after the sun goes down.
14. Keep going and glowing with rechargeable lamps
Niki Wright, Founder of lights&lamps, says: 'From a lighting aspect, we are working on solutions that mean task lighting doesn't have to be so utilitarian. A light or lamp that can adapt or reposition from practical use to a more home-focused and considered design item. Wireless/portable lamps are also part of this.'
New to lights&lamps, the Roma Collection comprises a portable and rechargeable lamp designed in two contemporary colorways: light brass and matt black. The cordless design offers a new versatility allowing you to illuminate your bedside table, outdoor dining table, or desk.
15. Use pendant lights to add volume to a dining area
To instantly update a garden dining area, or to turn your pergola into a chic al fresco dining spot, add pendant lights. They'll add an elegant, romantic touch to your outdoor space – ideal if you're planning plenty of dinners with your loved ones over the summer. The hand-blown Acid Drop pendants by Curiosa & Curiosa add both color and a chic Art Deco vibe to this outdoor dining idea.
16. Let lighting complement your fire pit
Garden lighting and elegant fire pit ideas go hand in hand. Choose candles and fairy lights to create a similar vibe to the above, and watch the light bounce about and create heaps of atmosphere.
17. Create bohemian charm with candles and lanterns
Lighting a garden with temporary lights such as lanterns and candles couldn't be easier. Wrap twinkly string lights around arches and trellis ideas, or drape them through trees or even pots and baskets. A warning, however: although some party lights can be left outside all the time, others need to be brought in when it starts raining. Try and buy outdoor safe lights where possible.
Improvised lights can also look far better than you might think, and what's more, they cost mere pennies and are very environmentally friendly. Tealights in old cans or jars look great when used en masse.
You can even paint the outside of jars with special glass paints for a stained-glass effect if you wish, and DIY stores usually stock bags of 100 tealights for less than $10/£10, making them an easy and affordable way to enjoy your outdoor space throughout the winter months. For a smart look that doesn't look too formal, mix and match lanterns in a variety of shapes and materials. This contemporary garden gets a bohemian update courtesy of The White Company. You can use large storage jars to create a similar candlelit look.
18. Make your space a little rustic
All the copper tones in this courtyard make for a really stylish and elegant yet rustic-looking space. The wall light is simple but effective, and that along with the table lantern is just enough to bring this small garden idea to life by night.
19. Weave garden lighting into the landscape
Could this setup be any more dreamy? Blending soft, warm lighting into hedging or other soft/hard landscaping you have in your garden will create ambiance and make for a chilled and chic outdoor living space like no other.
20. Suspend festoon lights above your dinner table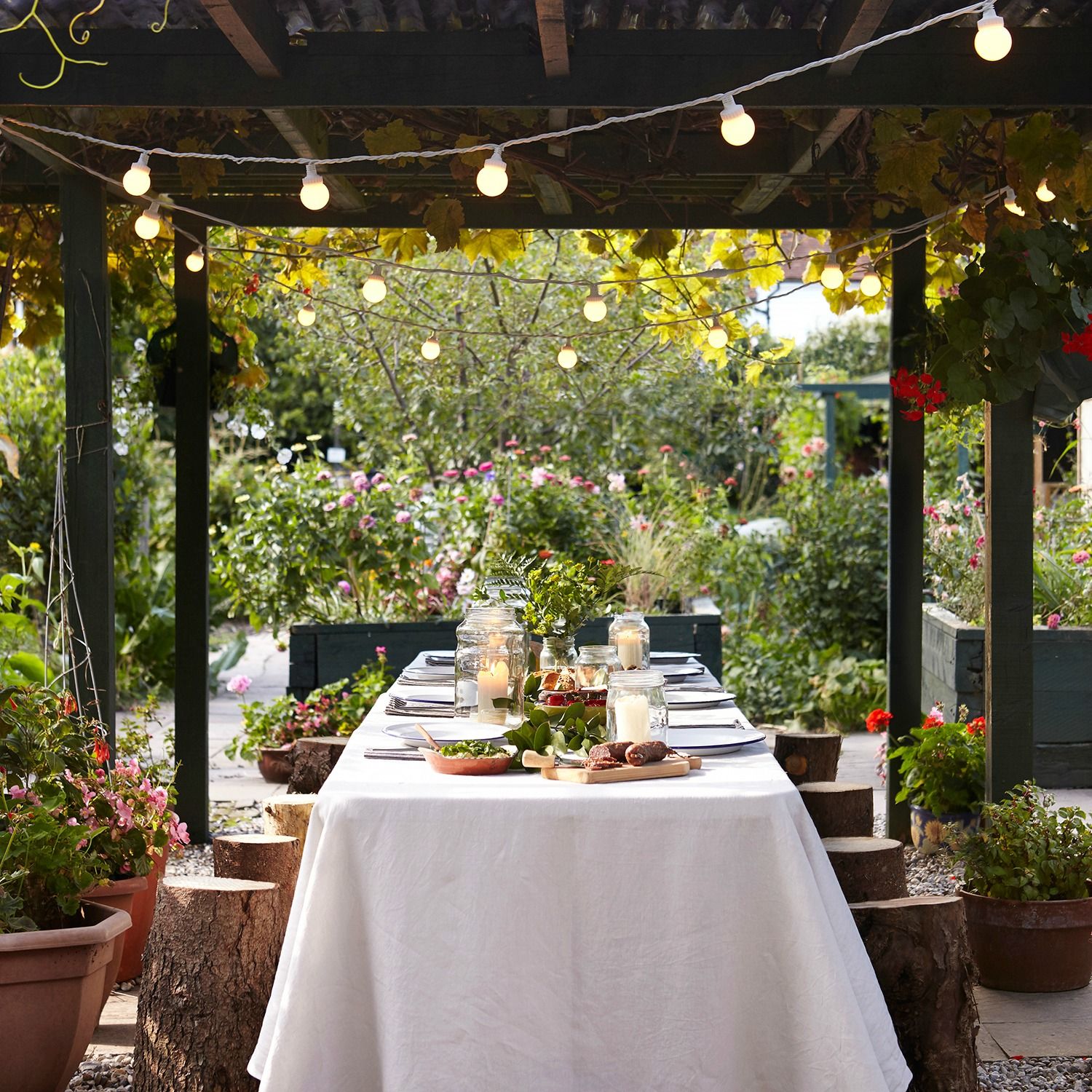 Festoon lights are a timeless classic for a reason: there's not an outdoor space out there you can't instantly transform into a romantic nook with this garden lighting idea. Our all-time favorite look is strings of festoon lights suspended above a dining area.
21. Create a cozy spot on the lawn
String lights are so versatile and we love the idea of using them in a low hedge or hanging tree to create a small secluded and well-lit spot on a lawn – for wine and reading of course.
Wondering where the best outdoor furniture stores to shop for an affordable backyard update? We've sussed out where to buy the best patio furniture on a budget, from stylish patio chairs and dining sets to the best value outdoor sectionals.
22. Add interest to a container garden with LED sticks
If you want to draw more attention to planting in a container garden after it gets dark, but are bored of spotlights/floodlights, try this fun garden lighting idea: sticking LED path lights into your containers. They'll add a subtle glow and won't look too shabby during the day, either.
23. Create a contrast with monochrome lighting
Monochrome never goes out of fashion for gardens. Lighting a garden with shades of white and cream is the failsafe option for creating an opulent contemporary design scheme – they look amazing as a decking idea, too. To break up the neutral space, add some graphic black lanterns and pendants.
24. Create a garden lighting scheme with paper lanterns
If you're looking for cheap garden ideas but want a big-impact garden lighting scheme, go for paper lanterns. Cheap and cheerful, they look great when clustered together, both during the day and at night. These paper lampshades are from Ikea.
25. Emphasize height with a cascade of string lights
Blessed with a large garden and a tall canopy? Make the most of your garden's spaciousness by hanging not just one string of lights, but lots of them, for a shimmering, cascading effect, using Connectable fairy lights from Lights4Fun.
26. Experiment with unusual path lights
Newsflash: Garden path ideas don't have to be non-descript and boring. To add more character to your garden path, choose novelty lighting designs that'll draw attention to your borders. The Halbert Solar Powered Ice Cube lights add warmth and texture to this garden path. This garden lighting idea could also illuminate your deck if you want.
Bowles notes how 'Path or step lights make dim or steep walkways easier to use, while box wall lights or exterior bracket lights by the front door create a welcoming first impression. You can even increase the perception of living space by making your garden visible at night – enabling you to enjoy the garden year-round, whatever the weather.'
27. Add garden lighting to a water feature
Proud owner of a garden pond? Few things in the garden are as enchanting as beautifully lit garden water features. Some will come with their own lighting, but if you have a natural pond, you can get water-safe lights designed especially for them. We really like the soft, otherworldly effect created by the LED decorative frogs by Hokku Designs. The lights come attached to the artificial lily pads.
28. Moroccan garden lanterns add an exotic vibe
There are so many different looks you can achieve with lanterns, depending on what style they are. Nautical lanterns are a classic choice, but for a warmer look, choose Moroccan-inspired ones, with intricate patterns on the outside. They'll cast beautiful shadows on your patio or deck, creating a really intimate atmosphere.
29. Create a twinkling garden screen
For a little privacy that's bright and beautiful too, consider an LED light curtain and attach it to a pergola or even between a couple of trees. This garden lighting idea is sure to up both the level of loveliness and light in your space.
Find more garden screening ideas in our edit.
30. Add ultra-modern globe path lights for a contemporary look
Path lights are probably the easiest way to update your garden lighting. You just stick them in, and they run off either batteries or solar energy. For contemporary gardens, matt globe path lights are a great way to create accents on a lawn; in a sloped garden, they'll emphasize the different levels. Plus, of all the garden lighting ideas, they look almost like an art installation.
31. Adorn your favorite garden tree with string lights
Prepare your outdoor space and trees for Fall and winter, and create a joyful accent in your garden by wrapping fairy lights all around one of your tree's trunks and thicker branches. This look is especially suited to front gardens, though it can work well in backyards too.
32. Liven up a garden fence with colorful festoon lights
Garden fence ideas can be weak links in your garden design, especially if yours is plain. There's an easy way to give your fence a bit of oomph, though – by adding colorful festoon lights. The strong, primary colors of these festoon lights from Wayfair counterbalance the plain color of the fence.
33. Illuminate beautiful foliage
Got a beautiful outdoor tree with interesting foliage? Make the most of your tree or maple with a colorful web of festoon or fairy lights, which will really highlight the look of your greenery. These bright festoon lights are from Seasonal Aisle.
34. Add fairytale magic with nature-inspired path lights
Take inspiration from nature and choose garden lights that have organic shapes and a gentle glow. From bees to pineapples, there are lots of flora- and fauna-inspired outdoor lighting designs that'll help you create an organic look.
This garden border has been decorated with Mini Mushroom Solar Stake Lights from Lights4fun. Great as a garden lighting idea for kids to enjoy – and we've more garden ideas for kids where that came from too.
35. Add stone-effect path lights in traditional gardens
Traditional, cottage gardens or country gardens need garden lighting that's sympathetic to their style and materials. The more natural-looking the material and light color, the better it will fit in with your overall garden design scheme. These stone-effect globe path lights are actually made from polyethylene, but it's impossible to tell they're not real stone.
36. Uplight mature trees for dramatic landscaping
To upgrade your garden landscaping ideas, try uplighting trees, especially those with interesting bark, like the Tibetan cherry and silver birch. To create maximum impact, position a 50-watt spotlight close to the base of the trunk so the beam creates a play of shifting light and shadow up through the branches of the tree.
37. Use LED outdoor lights for longer-lasting spot lighting
LEDs (light-emitting diodes) are popular as they are particularly useful for long cable runs, and can be used almost anywhere: in step lights, as recessed spots in paving and decking, and even under water spouts and fountains.
Some LEDs come in different colors and there are others where you can program the color to suit the mood. You will pay more for LED lights than standard fittings, but the bulbs last a lot longer and the fittings are more discreet.
Permanently colored lights are best used in moderation, and specifically in areas where a distinct focus or style is required.
38. Invest in solar-powered garden lighting for an eco-conscious garden setting
Solar-powered lights are good for the planet and they won't require any electrical skills to install – perfect if you want to create an eco-friendly garden. Solar lighting offers great versatility and cost-effective illumination. In terms of performance, they used to lose out to more powerful, traditional options, but this is quickly changing.
Chris Beardshaw, a UK-based garden designer says: 'LED and solar-powered lights are creating a revolution in garden lighting as both are increasingly becoming available in hugely diverse styles, economically and with low maintenance requirements. Of course, both are also efficient in light production, with solar lights now offering up to six hours of illumination.'
See our extensive guide to the best solar-powered lights for your garden.
39. Pick lights that are as good as your garden furniture
In a contemporary garden or patio, it's worth considering investing in well-designed lights that are portable but will give permanent lighting fixtures a run for their money.
The LED lanterns used in this contemporary garden setting create a wonderfully formal look that's still easy to reconfigure. They're not cheap though – find more affordable alternative LED lanterns at Lights4fun.
40. Integrate stylish security lighting into your garden
Outdoor security lights, offer a high-intensity floodlight effect that is unflattering for a garden and those using or viewing it.
However, careful positioning of security lighting combined with the use of more ornamental lights throughout the garden creates not only a more aesthetically rewarding effect but also aids security by illuminating the whole garden in a variety of ways.
41. Use soft zoned lighting in a roof garden
Lighting a garden that's on top of a roof presents lots of opportunities for clever outdoor lighting design. Think of a rooftop garden as a stage of sorts: the more different types of garden lighting ideas it uses, the prettier it will look.
This rooftop garden by John Cullen Lighting has an outdoor lighting scheme that uses spotlights, deck lights, tabletop lanterns, and an outdoor fireplace to create multiple sources of light.
For advice on designing a rooftop garden, see our in-depth guide.
42. Make the most of pendants on a small balcony
If your garden is, in fact, a small balcony or terrace, you'll want to make the most use of vertical lighting opportunities.
Fairy lights suspended along the top of the perimeter are an obvious choice, but you can also try decorating a tree with lanterns. We've heaps of balcony ideas in our edit too if this isn't your sort of thing.
43. Choose pendant lights with soft shades
The indoor-outdoor living spaces trend is hot right now, and that includes garden lighting design.
If you're choosing garden pendant lights, for example, think of softer shades that wouldn't be out of place in your living room; they also work really well in outdoor kitchens or dining areas. The stunning Tribu Monsieur Tricot garden lamps are from Go Modern Furniture.
44. Light up a garden wall for year round interest
To keep your garden lighting scheme functional in all seasons – even when the nights draw in and there are fewer plants in the garden – you may choose to create a bit more interest by spotlighting a textured brick wall or even a nice garden fence. We really like the way in which deck lights are used to uplight a wall in this patio idea.
45. Concentrate your garden lights around your seating area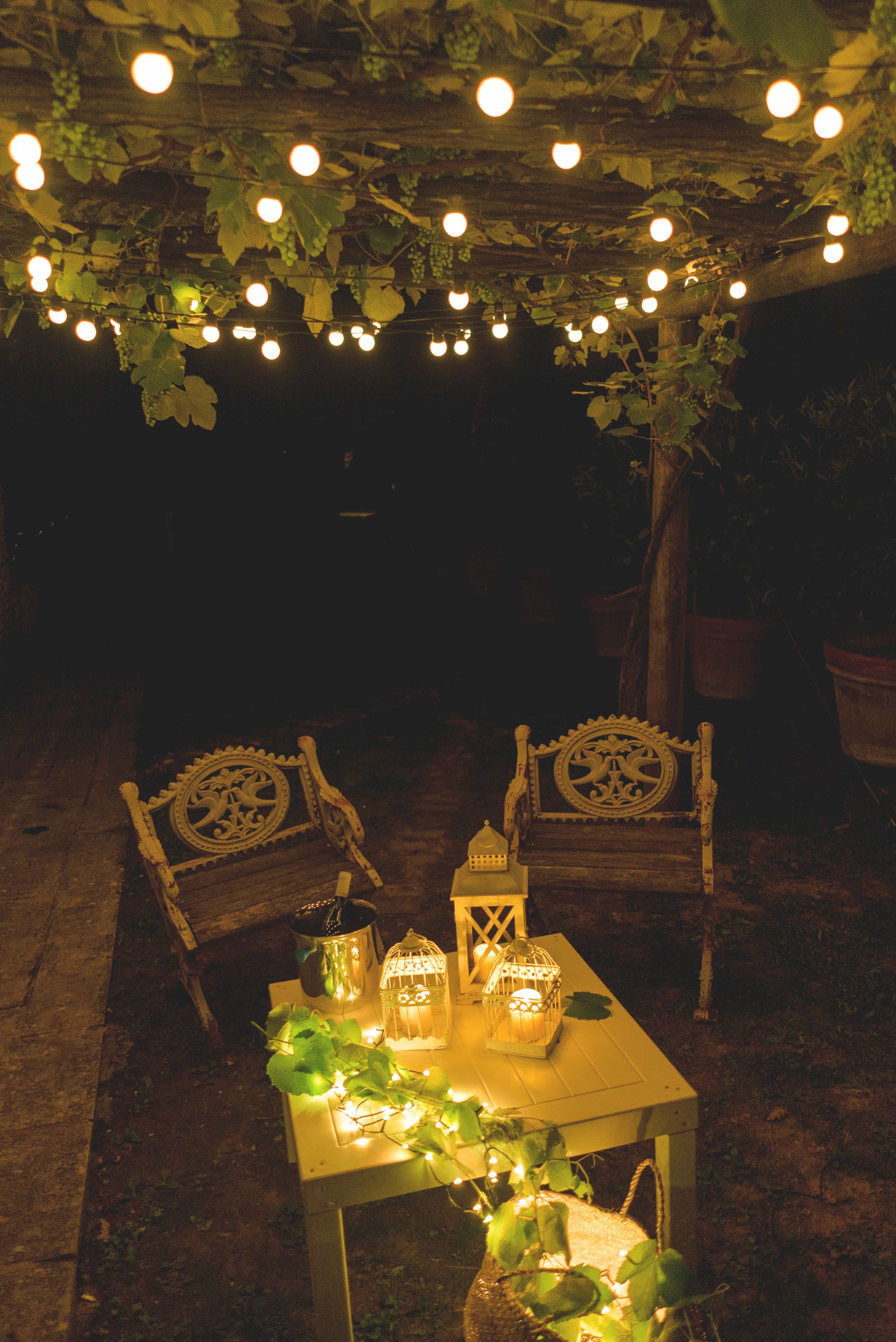 Once the night gets seriously dark, it is wiser to concentrate more garden lights around a small area (usually your dining or patio bistro set) rather than trying to illuminate the whole garden (unless you have a much smaller space). Pair festoon lights with lanterns for a luminous effect.
Bowles says how 'it is worth investing in good quality lighting that can withstand the elements. Consider form, as well as function - natural materials with interesting patinas such as weathered bronze, copper, and brass, are the best choices as their low maintenance, age well, and weather beautifully.'
46. Go for spooky vibes all year round
Reds, deep oranges, and blacks are not just reserved for fall decorating ideas. So incorporate these colors into your outdoor space to have it looking great all year – and most especially prepped when Halloween and pumpkin times galore come around... We also like deep shades of purple and magenta for a stylish finish.
Lights4fun has used its pumpkin decorations and lights in this marvelously haunting garden scene. Obviously, this isn't specifically one of those garden lighting ideas for a year-round display! But it provides some interesting inspiration.
47. Decorate the perimeter of your outdoor kitchen with festoon lights
Want to be able to use your outdoor kitchen after dark? Decorate the perimeter of the cooking area with fairy or festoon lights – it'll become instantly much more inviting. This outdoor kitchen uses a Led lighting chain with 12 lights from Ikea.
48. Let tasteful Christmas lighting stick around all year
While we all love the pre-lit Christmas reindeer in our front gardens, choosing outdoor Christmas lighting ideas that are a bit different – a bit like these ducks – means that you may not actually need to rush to shove them in the shed after the festive period is over. These battery-powered pre-lit acrylic Christmas ducks from Lights4fun are too cute and will look gorgeous in all garden settings, especially ones with ponds.
49. Build a garden arbor decorated with garden lights
This gorgeous outdoor lighting idea is part Hobbit house, part natural sculpture – we adore it. While building something like this would be quite labor-intensive, you can always decorate a shop-bought arbor or pergola with twinkly lights too for a very cozy enclosure to retreat to. Or, learn how to build a pergola yourself instead.
How to plan your garden lighting design
When thinking about where to start with garden lighting, remember that you can use lighting to better focus attention on choosing plants and sculptures, or help mellow out unsightly garden sheds or the family trampoline (that you may only just manage to ignore during the day). The secret is not to overdo it – only illuminate your garden's best bits, as a little light goes a long way in the dark. Consider the following when lighting a garden:
Zone your garden
Garden designer and TV presenter Chris Beardshaw advises, 'Consider the many different forms of light at your disposal and break the garden down into areas. For instance, access paths, major routes, secluded areas, and decorative features and statement plants all require the most illumination, but will need different treatment for the best results.'
Experiment with a torch
Garden design expert Matt James recommends: 'To work out which areas of your garden will look best lit up, take a torch out at night and experiment by shining it on different features, such as trelliswork, statues, pots, and plants with an architectural form. All of these will look different when lit from various angles.'
Use spotlights to highlight features
'For another novel lighting idea, try positioning a spotlight at the base of an old brick or stone wall and see how the light grazes the wall above and throws the texture into sharp relief.' Try a similar trick with wall lights at shoulder height (above) to highlight a contemporary space and provide practical illumination from one part of the garden to another at night.
Create drama with a projector
'A plain wall at the back of a border can be transformed into an outdoor projector screen by positioning a spotlight in front of big architectural plants like New Zealand flax or tall ornamental grasses, such as Miscanthus Flamingo. When the wind makes their silhouettes shimmy against the wall, you'll have your own black-and-white movie.'
For a relaxed ambiance: fiber-optic outdoor lights will create a soft glow
Fiber-optic lights for gardens are fairly new and cast a soft ambient glow, making them perfect for highlighting steps or decking. DIY kits are relatively cheap, though if you opt for a professional to fit them, it will cost more compared to installing LEDs or conventional fluorescent lights.
Fluorescent outdoor lights: for floodlighting and security
Fluorescent lights are the most common lights for lighting a garden. Most designs have 12-volt halogen reflector lamps that use less energy and are therefore more environmentally friendly. For flood lighting and security, choose large halogen beam spreads, but go for one with a PIR (passive infrared) sensor that can be turned off manually so that it doesn't waste energy or ruin garden get-togethers.
How to install garden lighting
Garden lights either work directly from the mains or through a transformer that provides a 12 or 24 low-voltage current.
Both will need a qualified electrician to install them, but it is possible to fit some of the smaller low-voltage sets yourself once the power supply, usually a waterproof socket with an RCD (residual current device), has been fixed outside by a professional. Of the two, low-voltage lighting is best: it's far safer, there are more fittings to choose from, it's easier to install, and you can move the fittings around more readily.
Working out the size of the transformer you'll need to install is easy. Simply multiply the wattage and number of individual lights (bulbs) you want to use in your new lighting scheme.
For example, four 30-watt lamps will require a 120-watt transformer. However, it's always a good idea to go for a transformer that is larger than you think you'll need, so in the future, you can add more lights or up the brightness of the bulbs without the hassle of upgrading the transformer.
How do you illuminate a garden?
We spoke with Chaplins about the best ways to light up an outdoor space and why it's key in all seasons: 'We're fervent believers in using outdoor lighting to open up new possibilities for your garden space. We know there's nothing better than a summer soirée with family and friends, which is why we encourage you not to let the sunset on yours.'
It's all about taking your garden lighting from day to night – Chaplins recommends that this is best done with lanterns and eco-friendly but stunning lighting options also, like solar-charging options.
Charlie Bowles, Director of Davey Lighting, adds: 'The best outdoor lighting can transform your home and should be considered carefully to maximize your outdoor space's features and function. A well-thought-out mixture of task and ambient lighting will make your garden, porch, or patio an attractive, inviting space – and safer for people arriving at the property at night.'