A garden shed is the ultimate garden storage, with a huge selection of shapes and sizes out there for every need, from simple tool sheds to huge garden sheds that can easily be used as garden offices. From classic apex designs to futuristic pods, the best garden sheds in our guide offer the very best in garden storage with flair.
Find out how to choose a garden shed in our guide at the bottom of the page. Check out our buyer's guide to the best small sheds for your garden too.
Best garden sheds
Why you can trust Real Homes Our expert reviewers spend hours testing and comparing products and services so you can choose the best for you. Find out more about how we test.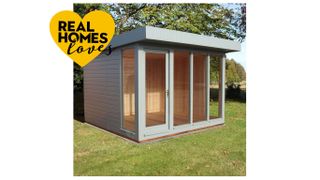 This gorgeous garden shed cum garden room takes the cake when it comes to creating functional space outside the home. With double glazing throughout and fully insulated walls, floor and ceiling, it's every inch the indoors, outdoors, meaning you can admire the garden from the floor-to-ceiling windows and door without sacrificing comfort. Reviewers loved the gorgeous Scandi-style cladding and contemporary shades, and commended the value – and for this combo of affordability, functionality and design, it's our best.
Buy the Crane 3 x 3m Garden Studio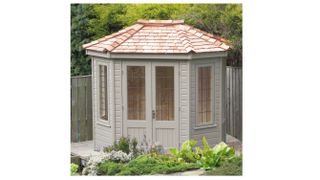 Liked the look of our first Crane pick but can't justify (or squeeze in) a full garden room? This petite summerhouse has the same great build you'd expect from the brand, lovingly built from FSC-certified Scandinavian redwood, but with dimensions befitting of a smaller garden. It has a more traditional vibe than our first pick – we particularly love the multi-faceted roof and leaded windows – but still has a light and airy feel thanks to the front and size windows and pale matte woodwork, and reviewers gave its sturdy build a big thumbs up.
Buy the Crane Small Summerhouse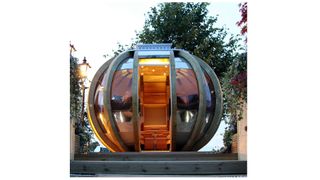 A name as pastoral as Farmer's Cottage might not seem terribly fitting for this positively space-age garden pod, but then it's full of surprises. While it's a bit of a given, for the slightly wince-inducing price, that it's smarter than your average shed, it's worth outlining what makes it worthy of its spot on the lawn. Architecturally, it's a stunner, an unusual glass and wood-beamed sphere that reflects its surroundings to blend in better than you might think. Inside, it's fully sealed, equipped to support 240v of power, and totally waterproof, meaning you can sit out even when it's chucking it down. Perfection, if a bit pricey!
Buy the Farmer's Cottage Deluxe Rotating Summer House Garden Pod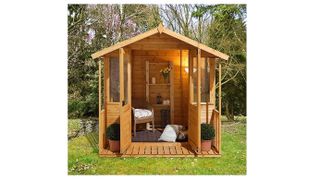 When you're thinking "shed", this one from Forest Garden might be more in line with what you imagine, but it still has a few twists on the classic that make it far more than just a place to put your bike. Just the right size for a couple of chairs, a lamp, a table, and a big pile of books to work through, this is a great affordable shed-meets-summerhouse for shutting out the world on gloomy days, or welcoming the sun as you kick back with guests in the warmer months, and we particularly like the sweet integrated veranda.
Buy the Forest Garden Maplehurst Summerhouse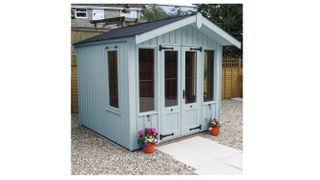 Leave it to the National Trust and Crane to make a solid, stylish garden shed. The vertical cladding, elegant elongated windows and angled roof give this one a Cape Cod feel, perfect for adding that finishing touch to a traditional garden as well as giving you another way to enjoy the garden. Reviewers commended its beautiful finishing, and especially loved the way the doors could be hooked back to let light and air in on warmer days, and draw the outdoors in (or would that be the indoors, out?)
Buy the National Trust by Crane Ickworth Summerhouse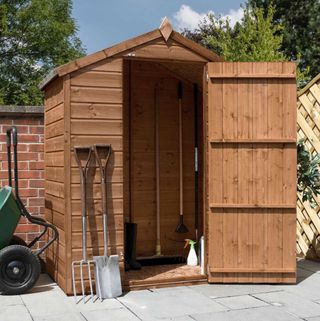 If you need something robust and durable for storage only in a smaller garden, the Mercia Shiplap Shed is for you. The walls are made from 12mm thick tongue and groove cladding, making this shed very robust and completely weatherproof. It's the perfect size for storing garden furniture or tools during winter. This is a windowless design, which maximises on the shed's ability to keep moisture and cold out.
Buy the Mercia Shiplap Shed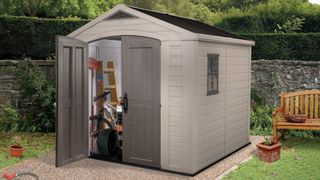 This plastic shed is great for those looking for a practical, value-for-money solution that will not rot or lose its looks too quickly. Constructed from strong and durable polypropylene and and boasting a 10-year warranty, we can confirm that it's a tough customer. This garden shed also comes in a variety of sizes, making it easy to choose one that fits best in your garden. There is a window a skylight, and ventilation grills to ensure the shed doesn't get too hot. Oh, and it looks like wood, so no one will know it's plastic.
Buy the Keter Factor Plastic Shed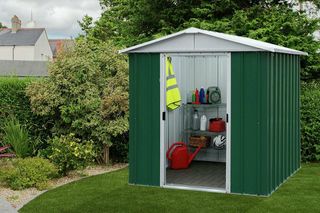 The Yardmaster metal apex sheds are perfect for those who like garden shed to be functional and simple, and would rather not use wood or plastic. Like our plastic shed choice, this is one we'd want to hide away behind planting rather than put on show (we'll leave that to the more picturesque, summerhouse style sheds). That said, the green finish does mitigate this sheds hard lines somewhat. The downsides? Some people report that it's a bit tricky to assemble, but totally worth it the little bit of extra effort.
Buy the Yardmaster metal garden storage shed
What is the best garden shed?
For top quality of build and material, you can't beat the Crane 3 x 3m Garden Studio. It doesn't come cheap, though, so if you want a budget alternative, go for the Forest Garden Maplehurst Summerhouse.
How to buy the best garden shed
Best places to buy a garden shed
There are tool sheds, potting sheds, and even swanky sheds with room to sit; studios, summerhouses and outdoor offices that push the boundaries of what we imagine a garden shed to be (you can thank George Clarke's Amazing Spaces for that, we suspect!) There are about as many types of shed out there now as there are types of gardener, and some – most notably our standout 'Garden Pod' from John Lewis – frankly don't look very much like a shed at all.
What type of garden shed do I need?
Traditional shed: if you mainly will be using yours to store tools and garden pots;
Garden room/summerhouse: these are more advanced, and garden rooms are insulated, so you can use them as home offices
Garden pods: if you want something more contemporary – and waterproof – and don't mind the cost.
Designed to be an extension of your home without the expense and fuss of planning permission and tripping over builders all day, garden rooms and studios are a wonderful middle ground that allows you to work or play outdoors whatever the weather, and while they will be pricier than your average spider-friendly shed, the potential for electricity and insulation makes them worth consideration for home workers and serious hobbyists.
Somewhere between these and traditional sheds are summerhouses, usually more fortified and with added design kudos – these can boast everything from double glazing to integrated verandas, without necessarily costing the earth. Then, there are shed sheds, rustic wooden structures for potting, pottering and storage that always look at home, no matter your style of garden. No matter what kind of outdoor haven you're looking for, we think you'll find something for consideration on our list, so keep reading for our round-up of the best sheds in the shops.
Can I use a shed as a home office?
Can you use your shed to work from home (well, from your garden)? The answer is – absolutely, but you'll need to think about what kind of a shed you'll need to buy if you're planning to use it in this way (see 'how to buy the best shed', above, for guidance). It's not just about size – you will need adequate ventilation and light (i.e. a window) and a proper base, especially if you're planning on using your shed for working year-round. If you'll be using electrics in your shed, you'll need to think about damp proofing and wiring – unless you're happy to just bring in your laptop between charges. We don't recommend plastic or metal sheds for home working, as both will get hot and stuffy. A wooden, apex shed with a window or a garden room is your best bet as a garden office.
Where to place your shed
Choose your site carefully and work out what size shed you can fit into your space. Avoid areas that flood, don't put it under trees where leaves and branches may fall on the roof, and don't choose the garden's only sunny spot for it. Think about whether you want to show it off or screen it – if the latter, you'll need space to plant screening hedges, too. Leave room all around your shed so that you can maintain it when necessary. Garden sheds in very exposed positions may need to be anchored to the ground.
Think about convenience. Don't automatically put the shed at the bottom of the garden. If you want electricity, installing it at a distance from the home adds cost.
Planning permission for sheds
Consider whether you need planning permission; make a call to your council's planning department to be on the safe side. Listed properties, homes in conservation areas or within an area of natural beauty, or where the shed will be near a boundary may require consent first. Check before you place your order.
What kind of base will your shed need?
The base must be level and secure. Install a concrete base, lay paving slabs or use the Hawklok system that creates a strong, but transferable system if required. It is completely possible to pour a concrete slab yourself, and all you need is a level and well packed surface to start on. Then you can lay flagstones on top, before constructing your new shed.
Make the base the same size as your shed or you will get splash back when it rains, or add guttering to collect the rainwater for use around the garden.
Shed maintenance: do I need to stain/paint my shed?
The answer very much depends on what condition your shed comes in when you buy it. If it says 'ready to be painted', this almost certainly means that the wood is untreated and will need some kind of a protective coat. If you don't want to paint your shed, you can used a wood stain instead. Pressure-treated sheds are generally fine, because the wood has already been processed to make it weather resistant.
Browse the best exterior wood paint in our buyer's guide.
Read more:
For more garden ideas, go to our dedicated page.
Inspired by our first pick studio space? Why not create a garden room?
Part of a bigger garden design plan? Check out our advice page.