These budget backyard ideas will help you create an outdoor space that's stunning and inviting – without breaking the bank. While a complete backyard makeover can seem daunting and stressful (not least for your wallet), there are tons of ways of updating your outdoor space that are cheap and easy.
Most of the garden ideas here are comfortably under $100 – and some are even free. All you need is a bit of imagination and dedication. From getting creative with pallets to swapping out your usual flower beds, these affordable solutions will save you cash while making your outdoor space somewhere you really want to be.
1. Consider a temporary above ground pool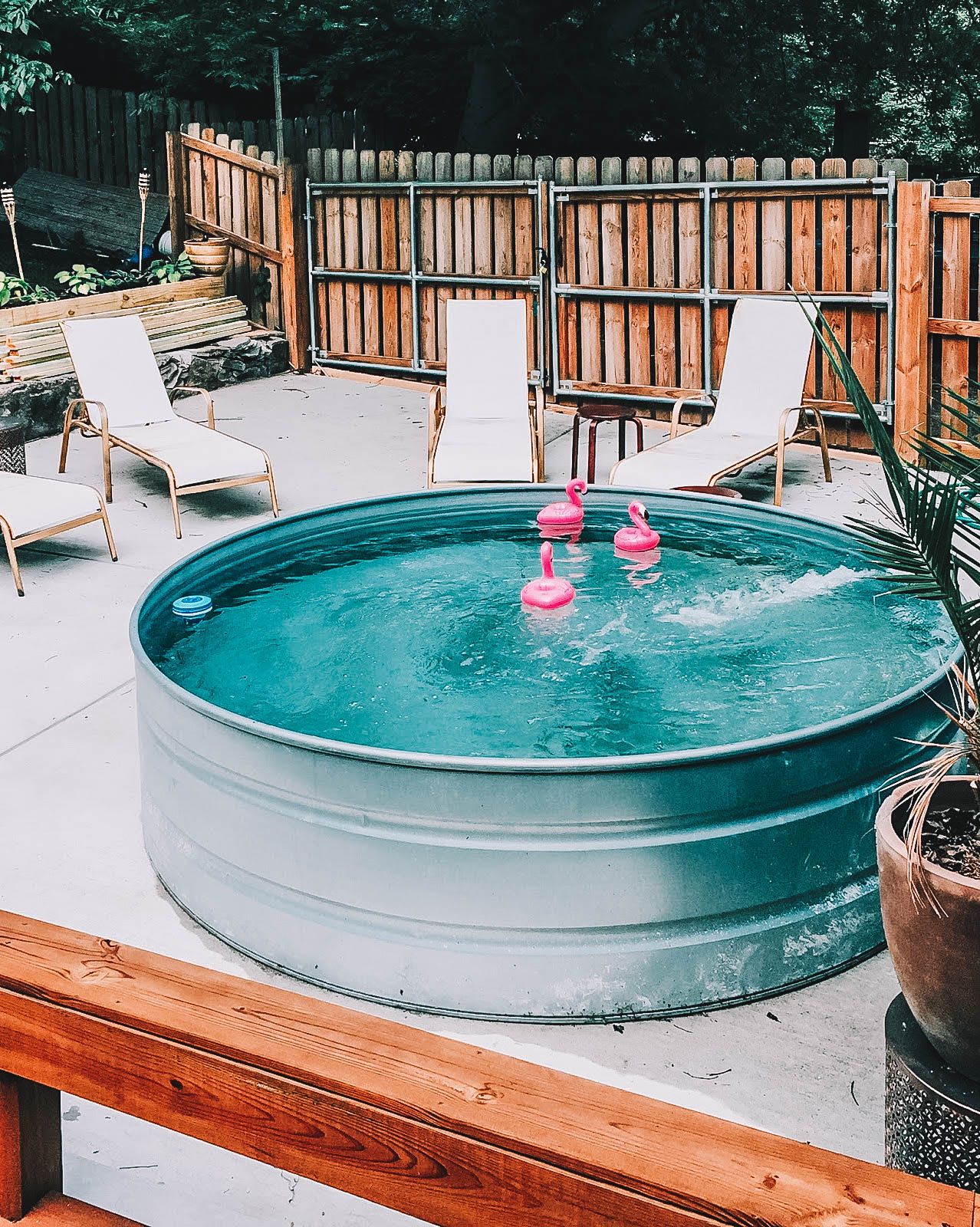 A temporary above ground pool, like a stock tank pool, is a great way to add some life to your backyard without investing a ton of capital (or backyard space). This allows you to skip the extra landscaping and maintenance and get right to cooling off and chilling out at home.
2. Make pallet patio furniture
Learning how to make pallet furniture is a great option if you're hoping to add seating to your backyard or patio without shelling out a ton of cash. It's super easy to build and structure and actually looks really stylish with the right cushions and outdoor pillows. The best part? It's basically free if you're patient enough to scroll through your local online marketplace.
3. Add curtains to a deck to create an outdoor room
Adding in a layer of privacy is an ideal solution for city patios or decks that get hit with intense afternoon sun. Not only does it look great from the patio, it actually feels like you've gained an extra room. Proof that you don't need to spend a fortune to create an outdoor room in your backyard.
4. Use an outdoor rug to cover up a dated patio
Dealing with an older rental patio? Sometimes that means dated concrete or other material that might not be in the best condition (or the most aesthetically pleasing). Here's an easy fix for that: cover it up with an outdoor rug (opens in new tab)! You don't have to worry about getting custom dimensions or a larger, more expensive rug, either—just pick up a few small ones and layer them to create an interesting pattern.
5. Use string lights to create a moody atmosphere for less
Glaringly bright outdoor patio light fixtures can be hard on the eyes, or worse, attract mosquitoes and moths come nighttime. Instead of sitting in the dark or dealing with harsh built-in lighting, consider opting for a couple of strands of string lights or Edison bulbs. Not only are they inexpensive, but they're also soft enough to set the right mood (without attracting any bugs). There are so many garden lighting ideas with string lights that you won't even need anything more expensive.
6. Replace grass with mulch or gravel to minimize lawn maintenance (and water usage)
Having healthy grass is great when you have little ones playing in the backyard—but it's a lot of maintenance if you only really use your backyard for the fire pit or barbecue. Instead of having to worry about lawn maintenance or unnecessary water usage, consider replacing your grass with mulch or gravel for a more zen, sophisticated, and budget-friendly alternative.
7. Make DIY planters
A small patio or deck can just as easily become a tropical oasis—especially if you're willing to get creative with pots and planters. If you're hoping to grow your own veggies or plant flowers on your porch, start saving your tin cans, candle pots, and coffee containers—these all make surprisingly aesthetically pleasing planters that can easily withstand the outdoors.
8. Add a hammock
Craving a zen space to kick back and relax? A simple, no-frills hammock from Amazon (opens in new tab) is a really underestimated item to consider adding to your deck or patio. It doesn't take up much space, is easy to set up or remove, and it offers the perfect spot to kick back and enjoy some sun (or shade).
9. Build your own trellis
Trellis ideas lend themselves really well to DIY projects. A trellis is an easy and relatively budget-friendly way to add some visual interest to a backyard or garden. Consider picking up a pre-made trellis or flex your DIY skills by building your own with a couple of 4x4s and some lattice.
10. Consider adding a water feature
Whether you're longing to lounge by a pool or you're hoping to add some visual interest to your patio, a small water feature is an easy and affordable way to add some zest to your outdoor living space. You can pick up a small fountain or hummingbird watering hole for under $50—or you can get creative and attempt to design your own using items like tin buckets, watering cans, or even recycled wine bottles.
11. Set up a backyard theater
A backyard movie theatre might not seem like the most budget-friendly option but you'd be surprised by how economical it can be. All you really need is a white sheet or plain vertical space, a few outdoor cushions, and a projector. Happily, these days, even some of the best outdoor projectors are quite affordable and will run you less than $100.
12. Style your shed like a summer house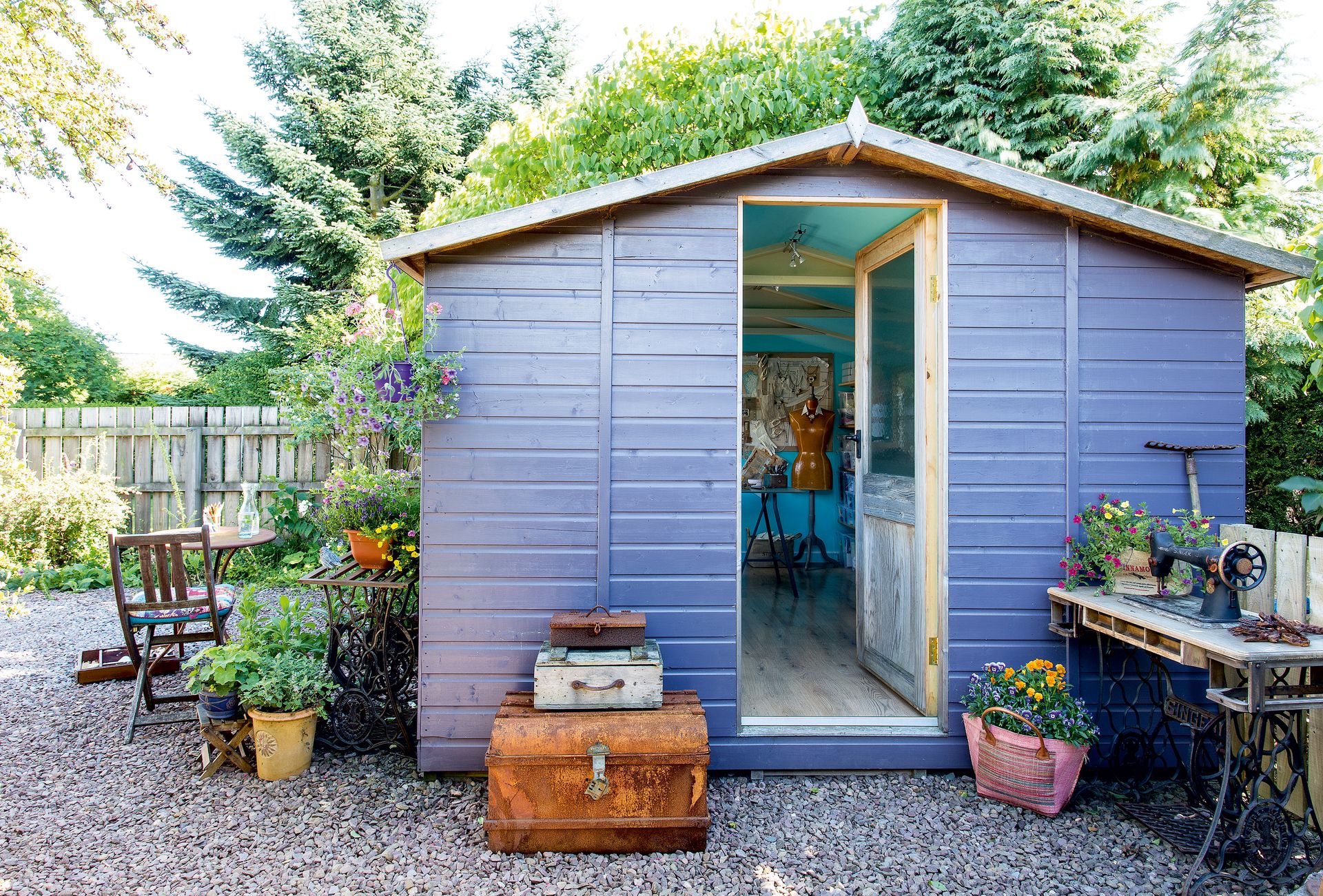 Want a summerhouse but can only afford a shed? There's no reason not to buy the best shed your money can buy with windows and paint it inside and out to style it up like a summerhouse.
13. DIY your outdoor kitchen
Outdoor kitchens might be all the rage, but you can easily create your own without going to town – a table top barbecue atop a sturdy garden table gets you half way there.
14. Get creative to turn ugly features into pretty ones
How nice are the garden floor tiles in this small yard? The good news is they're not expensive or designer: in fact, they're ugly concrete tiles that have been painted with specialist exterior floor paint to give them an on-trend terrazzo look. Cost? Barely $100.
15. Save on clearance costs by repurposing old landscaping
Demolition and site clearance can cost a lot, especially if access is tricky and work needs to be done by hand. A small yard that needs a lot of clearance, and that has poor access, might cost thousands. So, wherever possible, DIY, reuse or recycle is key – an old concrete pad for a shed you've pulled down could be reused or used as a base for a deck. Garden designer Christine Barve (opens in new tab) explains, 'If you have old bits of slab and bricks, upcycle them into a simple path or small area for a bistro table and chairs. Bed them firmly into soil, checking their level with each other and you're ready to go.'
Or, if it's thick and the surface is sound, it could be the perfect sub-base for attractive (but inexpensive) exterior tiles, as long as adding them won't raise the height so much that the damp-proof course of an adjoining house is compromised.
16. Plan in advance and look for bargains
Remember, a large overall sum for a redesign doesn't need to be spent all at once. Implementing a design proposal can be phased as and when money is available. So, in year one, construct the hard landscape, for example, such as the patio, walls and paths. Build ponds, pergolas and water features (unless they're built-in) in year two and plant in year three.
You have plenty of time to learn how to build a pergola yourself – and even paint it, if you wish.
17. Select a decorative but pocket-friendly centrepiece
When it comes to adding special features to your yard, don't automatically assume that they're out of your budget. Vic MacBournie, a garden blogger from Ferns & Feathers (opens in new tab), recommends looking for household objects that can be re-used in your backyard as a feature. 'An old shoe or even a broken birdbath can be used as a container for, say, succulents to add a little whimsy to the backyard. Add an inexpensive hummingbird feeder and you may even be able to attract them to the miniature succulent garden.'
18. Start a rock garden
Rock garden ideas are a very cost-effective way to give your backyard a cool, Zen look. It's so easy to build a rock garden without spending hardly anything. If you live close to a mountainous area, just go there and pick up some nice rocks of varying sizes and shapes – you're halfway there already. A few well-chosen plants like mosses and succulents, and your DIY rockery is ready.
19. Cover your patio on a budget
If your patio gets a lot of sun, you will want to explore covered patio ideas. Not all of them will be budget-friendly: pergolas, for example, can easily cost you into the thousands. However, some patio covers, notably shade sails from Amazon (opens in new tab), are cheap, coming in at under $30. If you don't have anything to attach yours to, a patio umbrella (opens in new tab) is another good inexpensive option.
20. Up your soft furnishings game
Cushions, blankets, and even sheepskins can all be added to your backyard ensemble to add texture, warmth, and color. Outdoor pillows can be bought from Amazon (opens in new tab) for as little as around $20 for four.
What is the cheapest way to update a backyard?
Joe Raboine, outdoor living expert and Director of Residential Hardscapes at Belgard (opens in new tab), recommends focusing on 'lighting, technology such as televisions and/or speakers, and water features (which can add an element of beauty and also mask outside noises such as traffic). They often don't cost that much to install but can make a significant difference in making your space feel complete.'
What can I use for a cheap patio?
If you want the cheapest option that also still looks good, go for a gravel patio. Gravel is inexpensive, easy to install, and low maintenance. Choosing gravel is all about the final look you want to create – and what furniture you'll be using. Take a look at Kyle Hagerty's DIY gravel patio with a firepit in the video above – easy and cheap.