It's always a little sad saying goodbye to summer, but the upside is that you can embrace all of the cozier decor going. There's no denying that the change in seasons is pretty beautiful, with leaves turning brown and the weather a little more crisp.
It's the perfect time to add more warming colors, alongside your favorite fall decor buys, comforting textures and more for your home to make every space more inviting. Thankfully, it's easy to bring the best of fall into your surroundings too, without spending a fortune. With some simple additions to your hallway, living room and even bedroom, you'll be able to feel all the pumpkin spice latte, cozy evening and Halloween vibes at home.
'Pumpkins tend to take centre stage in fall decor, however this year there are a variety of trending seasonal accents that you can add to your home,' says Ash Reed, interiors expert and founder of Living Cozy. 'From festive wreaths to fall tablescaping, golden-toned lights and dried botanicals, you can create a warm and cozy oasis in every room.'
Reed adds that creating your own decorations is completely possible too: 'You could also have a go at some fall DIYs by preserving colorful fallen leaves, old branches and dry flowers to create a natural wreath, adding some serious seasonal flair to your front door.'
How can I give my house a fall makeover?
It's all about incorporating the best fall colors and textures from the outside with more contemporary interior design trends and looks. Think neutrals with burnt orange or a splash of something bright and cozy throws with modern sleek shapes. And, it wouldn't be fall if a little DIY and craft weren't involved, so don't be afraid to let loose with the kids to create cute and unique trinkets that will surely impress house guests.
Fall is a beautiful time of year, so it's only natural that we want to bring all of those earthy colors into our homes with gorgeous fall decor that doesn't just look wonderful but is easy on the wallet too. Pumpkins and all types of gourds do take center stage for the most part of course, but it's the perfect time to get creative with different takes on fall wreaths, garlands, tablescapes and even fall bedding sets to add coziness and personality to your home.
1. Add inky blue to the fall mix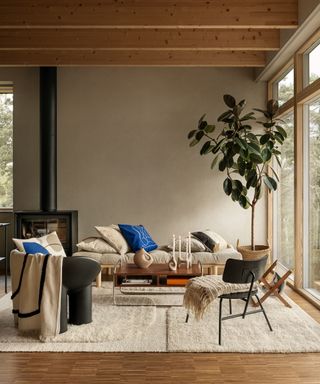 The addition of one eclectic color to contrast a minimal decor scheme can bring your space up to date in fall.
'People are spending more time at home than ever before, so we want to help them get more out of their living space by encouraging them to use all senses when decorating. The trend in focus is artful, sculptural, bold, and cozy. We see a lot of textures and inspiration from contemporary craft, tactility, and graphic neutrals, with shades of neutral colors and a new beautiful color that stands out for the season – Klein blue,' says Evelina Kravaev Söderberg, head of design & creative at H&M Home.
2. Layer your lighting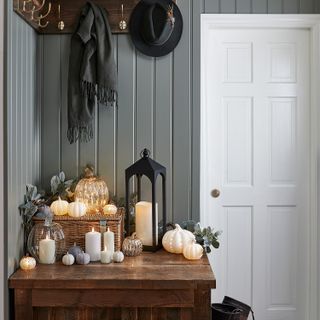 What better way is there to make your home feel cozy in fall than with soft warm lighting to welcome you home. Layer classic candles with LEDs and even your best fairy lights for a more interesting display which will feel super seasonal.
'Ceramic crafted pumpkins, illuminated by warm white LEDs radiate a soft shine to sideboard tops and entrance halls. Black metal lanterns and wooden lanterns are popular choices for the season, featuring neutral LED candles within them to add a calming glow in doorways and homes. Faux or real foliage is a great way to complete your display and can be intertwined between elements of the arrangement or you can hang a sprig or two as a feature on a wall or door inside your home on those chilly fall evenings,' says Lucy Kirk, creative & photography manager at Lights4Fun.
Sure to elevate all types of hallway ideas for a mini makeover.
3. Get crafty with pumpkins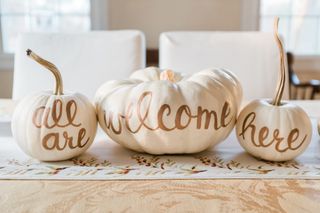 Pumpkins don't just need to be ghoulish. Try your hand at some no-carve pumpkin ideas and paint yours (spray paint works really well) then add some inviting lettering to help brighten up your hallway or living room space all throughout fall.
4. Decorate with plenty of natural textures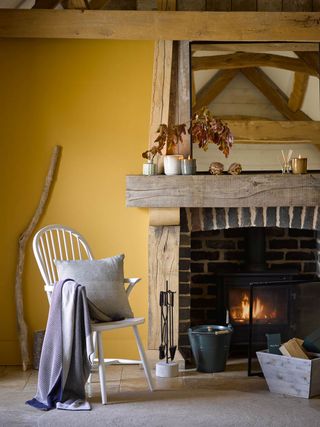 Cozy is fall's buzzword after all and the fireplace is where it's at. Surround yours with fall stems picked from the backyard and more lovely natural textures – think textured blankets, scented candles and woody accents to create an inviting space.
5. Create a cozy nod to Cottagecore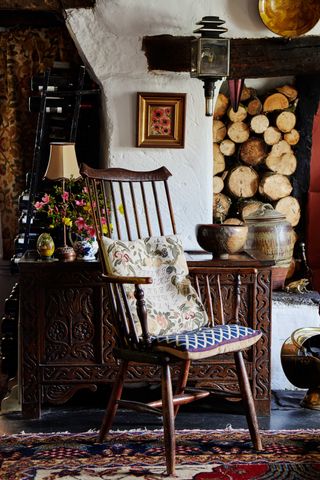 If you lead a Cottagecore lifestyle, i.e. a very wholesome, pastoral and rural-loving cottage life, then you should definitely embrace that even more in fall. An inexpensive way to bring more of the cute prints, vintage one-off pieces and mismatched trinkets into your home is to scour eBay and Etsy for unique bargain buys. The quirkier, the better.
6. Bring in felt textures for a tactile feel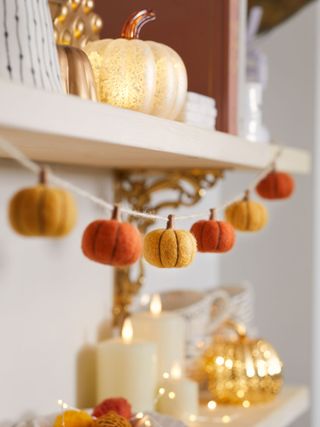 Crafting some DIY fall decorations is a great way to make your space seasonal and unique.
Tiny gourds are where it's at and this miniature orange and yellow garland gives these pumpkins a pretty chic update. The felt makes for a textured addition that is sure to warm up even minimalist spaces and, you could make these as last-minute Halloween crafts too. Combine with bigger gilded pumpkins to pack a punch in style.
7. Layer up with faux fur throws and pillows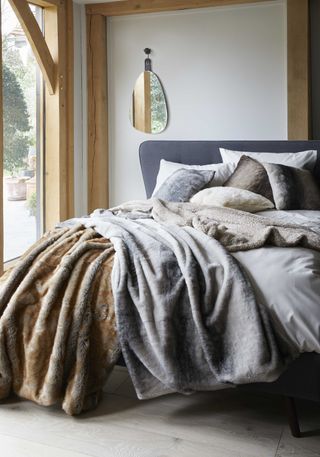 Now this is a bed that's perfect for fall! Layering up a duvet with throws and bed pillows is a really easy and budget-friendly way to bring your bedroom space into season. Faux fur is so affordable and super cosy of course. Choose a couple of different colorways to add depth.
8. Incorporate jewel-like color palettes for extra warmth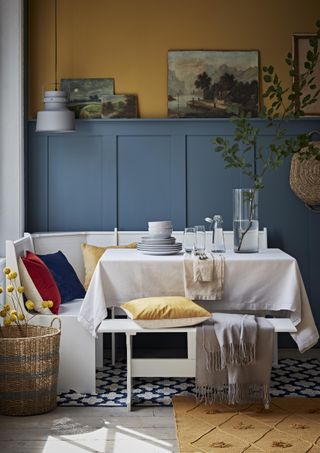 If you love the classics, choose a warmer color palette for fall. Think deep yellows, oranges and we even love this grayish blue too. Gray is a good neutral that goes with pretty much any color, so use it as a base for your seasonal changes. Source original artwork from flea markets for an illustrative element and keep dining room lighting low and subdued.
9. Bring the outside in with dried flowers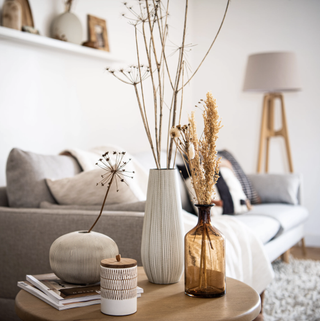 Dried flowers are here to stay and they are a great way to bring some natural, delicate textures into your home this fall.
You can dry flowers yourself just by tying them together and hanging them up for a couple of weeks but we have our eye on all the gorgeous affordable buys over on Maisons du Monde.
10. Incorporate moody, fall florals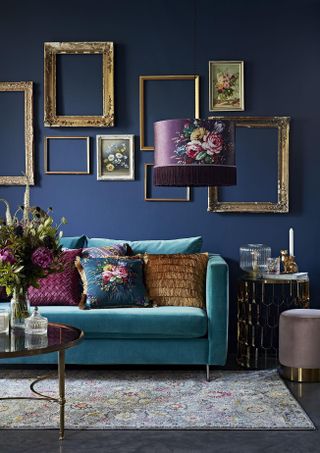 Invest in shades of blue, burnt orange, magenta and forest greens and source some blousy blooms and you will have this fall decor trend nailed. It's bold and beautiful, eccentric and opulent. We are also madly in love with the floral cushions on the couch. Try scouring garage sales and flea markets for vintage frames that you can spray gold, you might even find some old floral paintings too.
11. Go for country heritage with a touch of glamour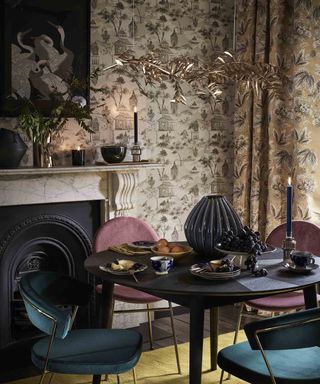 An eclectic look will work so well to warm up your home when the evenings start to draw in. We love the pattern clashing, the rich colors and the authenticity of this John Lewis look. To achieve this in your home, use jewel-toned shades, choose illustrative wallpaper ideas and curtains then pick accessories that are inspired by other eras like the '20s and '70s – glitzy and glam.
12. Add a touch of bouclé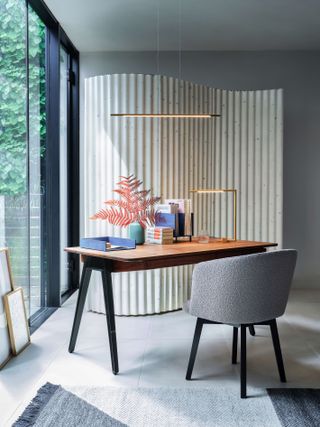 Bouclé – yes, that slightly slubby to the touch, tactile fabric – is also a yarn (just to confuse us all). Back in the late 1940s, Florence Knoll asked for a chair she could curl up in, the result was the Saarinen's Womb Chair in Knoll's Classic Bouclé. It's now everywhere, in both interiors and fashion, so get on top of the trend and bag your bouclé buys.
13. Embrace natural wood grain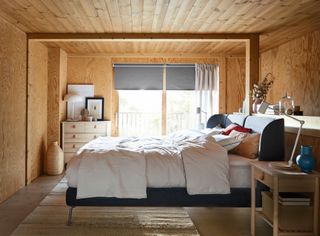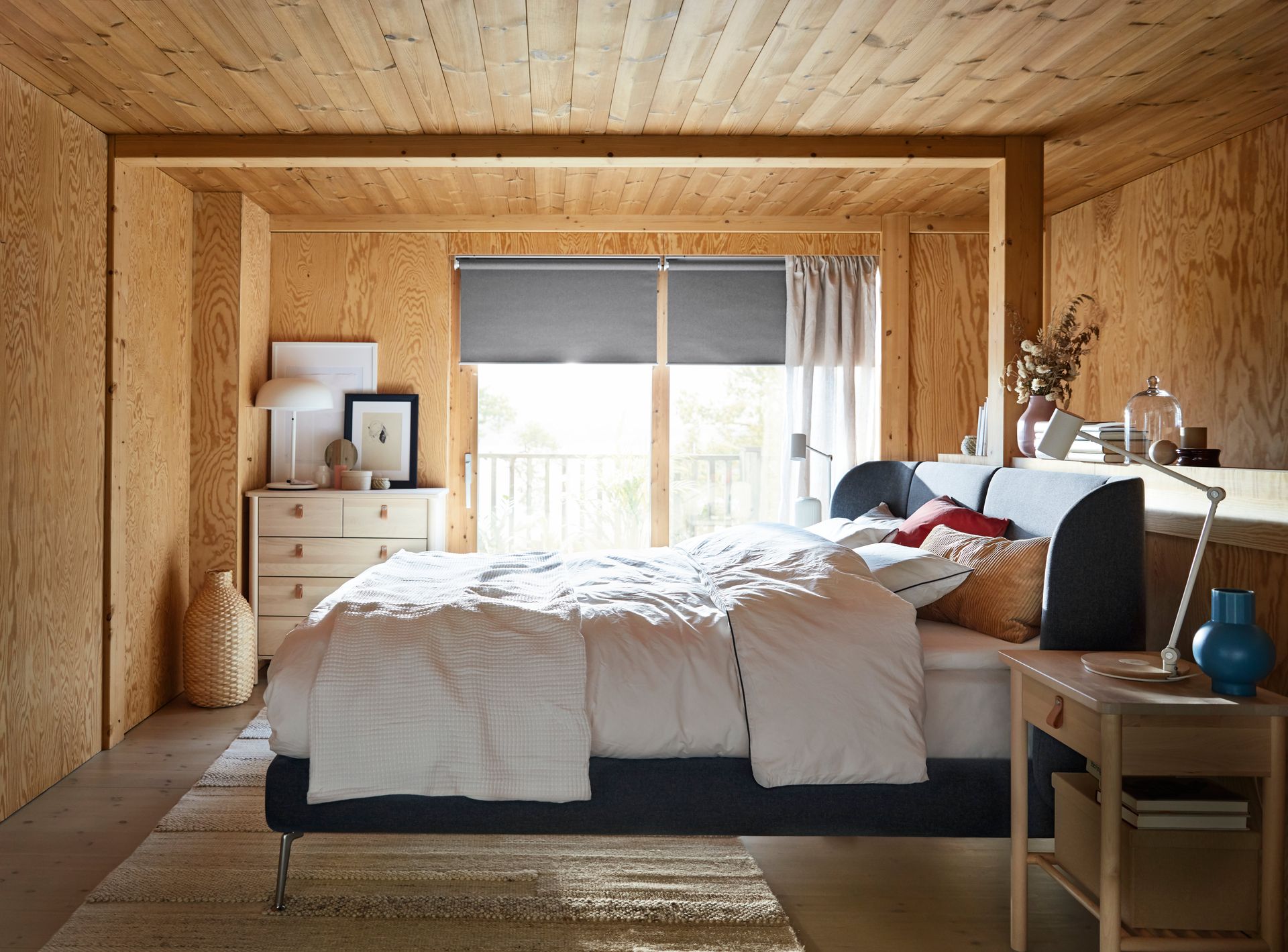 The natural grain of plywood adds texture and character to a plain space and is ideal to bring a fall feel to your surroundings – if it's your favorite season then embrace it all year round. Team it with lighter window treatments, cotton bedding and wool throws for a light and uplifting finish.
14. Update your walls with earthy tones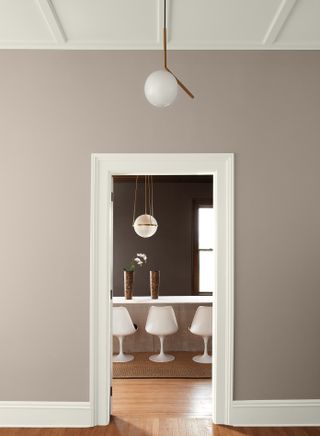 'Picking the right color to decorate with is key; if you prefer a subtle and elegant aesthetic, consider a tonal scheme between trims and walls, and even room by room; of if you love color and want to make an impactful, individual statement, choose a wall or room and drench it in one of your favourite hues. It's all about personal choice. And there's no right or wrong time to start decorating for fall. It all depends on how big a project it is,' says Helen Shaw, UK Director at Benjamin Moore.
15. Use fall colors for impact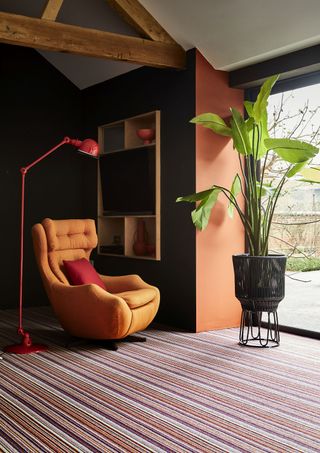 If you're on a budget and want to add some fall colors to your living room then consider painting one end of a wall in a fall shade – it adds a bright color to a dark scheme and creates a modern design feature. Or, if you want to splash out then a new chair in a bright orange will certainly give your space a fresh appeal.
16. Make a feature of your logs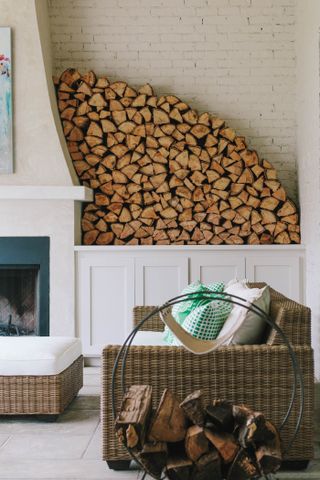 Sounds simple, but a pile of logs piled up in an alcove really do symbolize the beginning of fall. They instantly add texture and character to a room too. Invest in a basket for ease of carrying and enjoy that evocative sound of crackling logs!
17. Create a fall table display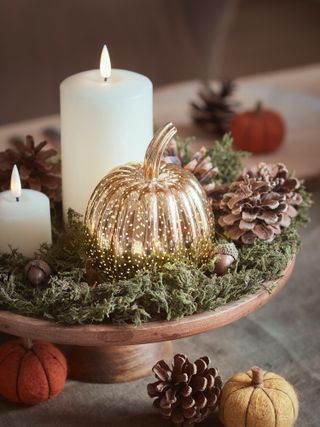 Have some fun creating your own table center with some moss, candles and pumpkins. You can use real ones of course, or, treat your table to these gold mercury glass decorations from Lights4Fun. Source some pine cones while you're out walking to add to the mix too.
18. Create a fall feel with natural materials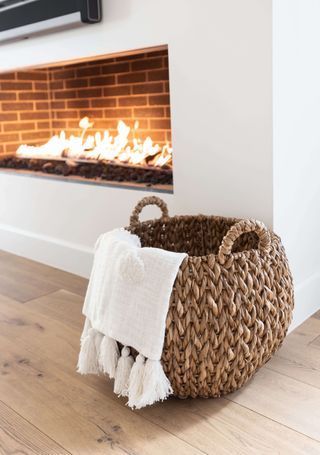 Getting cozy is key during the fall months. The temperature drops as do the leaves and it's time to light the fire and bring out the blankets. Keep them to hand in a rustic basket – textures are key for this season, rustic and natural materials add to that fall feel.
19. Dress your table with a vase full of fall blooms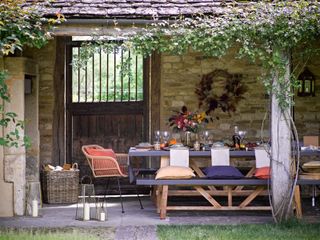 The final touch to a fall table is the flowers – this large vase is full of stems that epitomize the season. You can buy some at a supermarket (think: pink roses and berries), then add to that with a stem or three of beech and fir tree. The darker tones will add depth while the classic fall colors will give a vibrancy to your table. Add in some lilac tableware and mini pumpkins to finish this look. Remember the same ideas used here will work inside too.
20. Bring out the fall accessories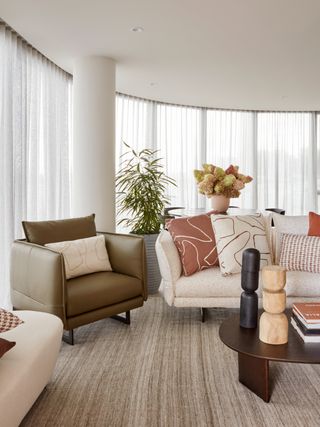 Once the leaves start to fall and those rich earthy tones appear in nature, it's time to change the accessories in your home. Choose couch pillows in ochre and mushroom for a grounding look and pop the summer tones away until spring.
21. Add some print and pattern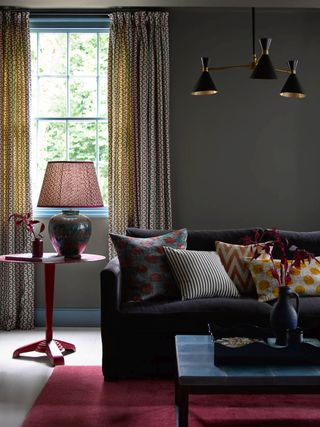 We tend to think of plain colors and textures with the fall season, but you can go all out with prints and patterns too. Just choose fall shades and remember that pink and red are good options as well. Look to the colors in nature for inspiration; it's not all about orange and yellow. Stripes and simple patterns are really effective in those colors and can take you through to spring.
22. Give your bedroom the fall touch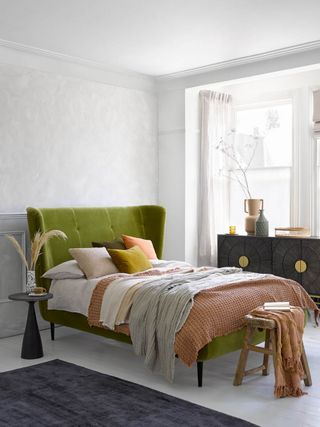 Sumptuous textures like velvet and linen will give a luxurious feel as the temperature drops and coziness becomes a necessity! Layer your blankets and add extra bed pillows. A single stem of a dried flower will add a decorative aspect and don't forget a candle or two for a nice fall fragrance wafting around your room.
23. Don't forget your lighting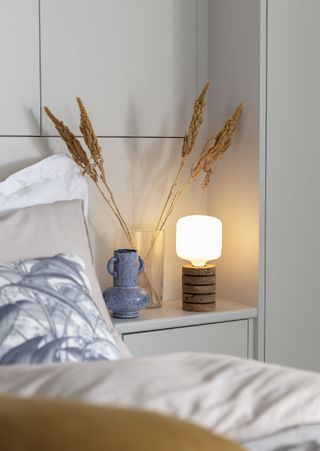 With less daylight hours it's key to have the right lighting in your bedroom. Subtle designs are best as you want more of a glow than a bright light. Team it with a vase of dried flowers for a touch of texture against a plain white wall.
24. Choose berry and turmeric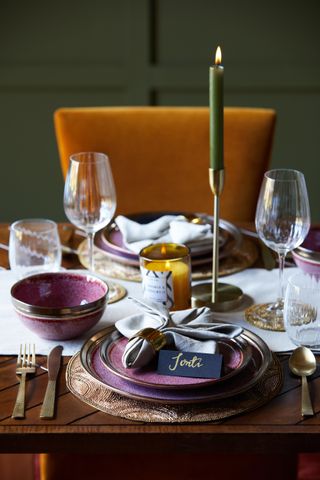 Rich colors are what fall is all about and berry shades combined with turmeric is a great combo to choose. Pop in a hint of sage green and you have a winning color palette that epitomizes this cozy season.
25. Utilize backyard pickings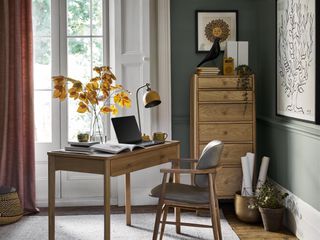 Use what you have outside – a couple of branches of aubergine-colored copper beech or the beautiful orange glow you get from stems shown here will bring that fall feel right into your home. Give them a little water and they'll last longer, or dry them and have them on your desk for the whole season.
26. Woodland fall mantel display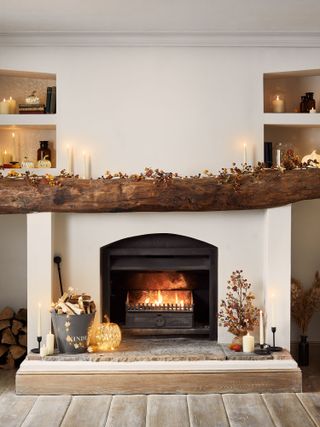 Mix faux LED lit pumpkins and natural textures with groupings of candles around your fireplace to create a fall display that is modern and cozy. Choose golden hues with black accents to keep this spot cute but sophisticated.
27. Use classic colors for a warm welcome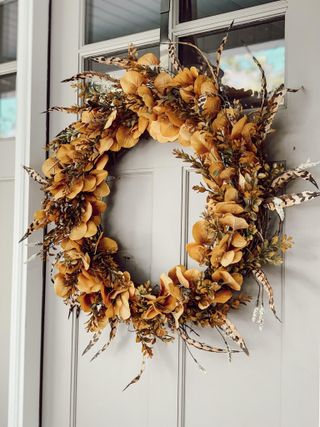 A classic wreath is a must for all fall front porches. Keep yours looking full with a variety of dried foliage in warm ambers, taupe and other seasonal colors as home and gardens blogger Joanna of @southernsurroundings has done here.
28. Opt for white pumpkins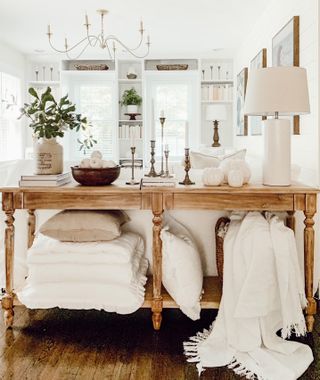 White pumpkins are a modern take on fall decor which Heidi of @eleanorrosehomecaptures so well on her console table. Layer it up with cozy throws, trinkets, candles and a little greenery to make an understated statement that isn't part of a typical fall color palette.
29. Place a row of pumpkins along your table runner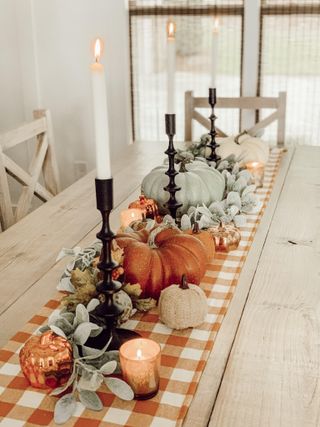 Fall and tablescaping go hand in hand. 'Tis the season of Thanksgiving and many more food-filled events after all. Pull out your favorite dining room ideas and make a statement at the table by piling on pumpkins of all shapes and sizes – mixing and matching faux and the real deal. Classic candle sticks, foliage and an orange plaid runner make this the perfect setting for a spiced pumpkin latte or two.
30. Turn a cake stand into a display piece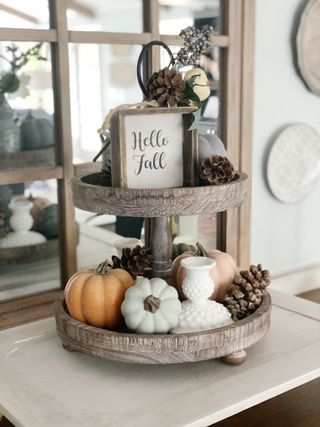 A tiered display provides a fun way to add seasonal decor to your home. They look great on entryway tables, buffets or kitchen countertops. This tray was styled with fall staples like pinecones, faux mini pumpkins and floral stems. A cute fall wood sign completes the look.
31. DIY your table displays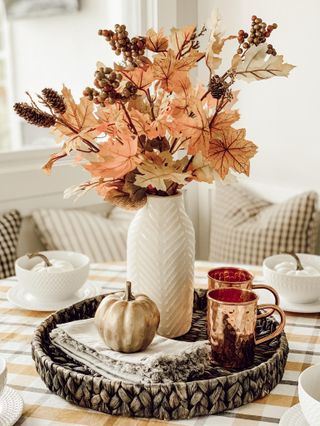 Adorn your serving platter or tray surrounds with a homemade dried floral arrangement straight from your yard. Arrange them in a simple ceramic vase for a clean finish that'll create the perfect backdrop for copper mugs.
32. Incorporate artistic autumnal touches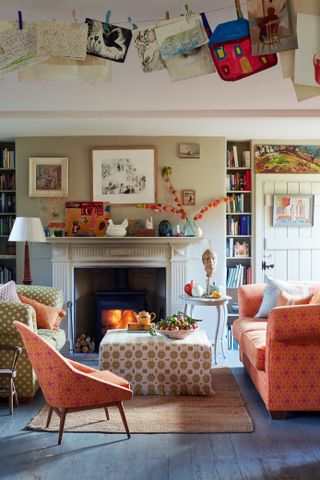 We love this living room – it's so cozy thanks to the color scheme. The artwork on display is doing lots of hard work to create a welcoming feel, too. The good news? You don't have to buy it all from scratch – look through old books and magazines for beautiful images in autumnal colors that you can display artfully solo or in a frame. The foliage detail on the mantelpiece works a treat, too.
How can I decorate my room in fall?
To bring all the beauty of fall into your bedroom, choose throws and cushion covers in warm color palettes including burnt orange, red and brown. For a modern finish, add in some pattern like a houndstooth print or go more Cottagecore with ditsy florals.
Lighting is another easy way to bring your space into season. Some simple fairy lights or wall sconces may be all you need for a warm glow.
Lucy Kirk advises: 'Add wreaths to interior doors or walls to fill blank spaces effortlessly whilst maintaining a minimal look. LED candles and ceramic pumpkins are a match made in heaven when it comes to fall decor and our pumpkin lights are the ideal choice.
For a slightly larger display, why not use an area of the room such as a side table or work surface which you don't really use. Sit an assortment of LED candles at differing heights next to your pumpkin lights, positioning a large pumpkin within the middle as a focal point of your seasonal set-up.'
How do you decorate for fall on a budget?
You don't need to go overboard and that's the key to keeping your fall decor ideas budget-friendly too! Think about crafting with the kids, picking up what nature has to offer and giving it a little seasonal sparkle using spray paint and the likes. Be sure to shop around too on eBay and Facebook market place where you'll be able to pick up wicker items galore and more home goods that are full of texture.
How do you decorate an apartment in fall?
'Bring in the warmth! Add warm burnt oranges, deep reds, golds and browns on accent pillows, throw blankets, rugs and accessories. Don't forget the scent! Grab a great fall candle or room spray to really bring it all together,' says Jessica Davis, founder and principal designer of JL Design.
When should I start decorating for fall?
We start putting fall decor out as early as the end of August. It's hard to contain the fun of the season. Generally speaking it can be best to introduce fall-inspired decorations, inside and outside of the house too like on your front porch, when the seasons change. So from September onwards into October. Plus, once the leaves turn brown and those pinecones start to drop, you've got more decorations for free...
While if you're planting out fall container flowers or hanging baskets, you might want to get a head start to ensure they are in full bloom when fall is in full swing.
'It's never too early to start decorating for the fall season, much like drinking a pumpkin spice latte! Even though the weather might still be a bit warmer, adding fall vibes to your home helps you to embrace the coming season,' says Lauren Lerner, founder and principal designer of Living with Lolo.
How do I make my house cozy for fall?
'Fall is such a wonderful time of the year with the cooler weather and rich colors. I love giving my home a cozy fall feel by adding fluffy throw pillows in colors like mustard, burgundy and sage.' Says Dori Turner of 'This Full Life'.
'A comfy blanket draped over the sofa invites you to sit and relax. Lighting a scented candle with notes of cinnamon and pumpkin adds to the inviting atmosphere. Changing out faux spring florals with fall stems in vases and hanging a wreath on the door completes the cozy look for a home that's ready for fall!'