These cottage garden ideas symbolise idyllic village life – but you don't have to live in a quaint cottage adorned in scented roses and climbers for a cottage garden style. You can just draw on elements of the flower-filled cottage style in a border or area of the garden. The appeal is popular for both country and town dwellers of varying size plots, and cottage gardens are probably the most insect friendly suburban gardens you will find.
What the cottage garden lacks in scale, it makes up for in charm - a relaxed medley of untamed flowers, homegrown produce and medicinal herbs. A cottage garden is a true celebration of colour and fragrance.
From luscious borders to outdoor rooms dotted with flea market finds, be inspired by these cottage garden ideas.
Then, browse our garden ideas page for even more stunning and practical tips on how to create a cottage garden.
Starting from scratch? Take a look at our garden design guide for all the information you need.
1. Cottage garden layout: round shapes and curved borders
Cottage gardens' sinuous lines and curvaceous borders have a relaxed feel, suited to smaller gardens and old houses which are anything but uniform.
Allow the paths to meander and soften them with billowing plants that spill over, for example Alchemilla mollis or erigeron are ideal. Avoid straight lines or defined patterns.
2. Break up the lawn with a natural planting scheme
If you are opting for a lawn as part of your cottage garden, it's best to break it up with natural-looking borders or islands of plants, to maintain the free-flowing cottage look.
3. Create an illusion of haphazard planting
Cottage gardens originally began as neat and productive kitchen gardens, but later developed to include sumptuous arrays of flowers in different shapes and sizes as the trend for floristry blossomed throughout the 19th century. Choose a mix of colours, shapes and heights to create a rich tapestry. The idea is for it to be relaxed, free-flowering, joyous and fun.
Learn more about choosing plants for traditional gardens.
4. Cottage garden planting: layer and create structure
Although cottage gardens give the illusion of effortless charm, careful consideration must be taken when creating your planting scheme. Create height and structure at the backs of borders with busty shrubs like philadelphus, and the elegant spires of delphiniums, lupins, foxgloves and hollyhocks. At the foreground, choose pretty and fragrant perennials such as rose bushes, lavender and wild geraniums mixed with the invigorating and vibrant green of lady's mantle.
Traditionally hollyhocks were planted against the cottage wall as before houses had damp courses they helped draw moisture out of the wall and keep the foundations dry. Today they immediately give the feel of a cottage garden, whether against the wall or towering out of a border.
5. Cottage garden plants: focus on perennials
Opting for perennial plants which flower year after year will save on maintenance. Of course no cottage garden should be without pretty spring bulbs such as tulips, daffodils and crocus; plant these in October and November for guaranteed spring colour. Go to our feature on how to create a cottage garden for the best cottage garden plants. And get comprehensive advice on how to choose plants for your garden in our guide.
Perennials planted in clumps are the backbone, popping up year after year, such as delphiniums, aquilegia, phlox and pinks.
6. Create interest with structural features
While formal gardens use architectural elements to create structure, simple wooden pergolas, arbours and picket fences are a perfect framework for supporting rambling plants such as rose and clematis and marking boundaries in a small cottage garden.
7. Relax in a secluded seating spot
Well-positioned seating is essential in a garden so that you can sit back and admire your work and really enjoy the beautiful and peaceful surroundings. Avoid anything cumbersome; instead opt for wrought iron garden furniture for a romantic and traditioanl look. We have the best metal garden furniture in our buyer's guide.
When it comes to adding the finishing touches, furniture should be comfy, well-used and traditional pieces that invite relaxation. They don't need to match, part of the charm is to be eclectic.
8. Enjoy well-structured garden paths
Walkways – simple herringbone paths and gravel paths snaking through flowerbeds – are a perfect way to be immersed in the colours and scents of the garden, but they are also practical, allowing easy access for tending to plants and garden maintenance. Use our advice on how to plan a garden path for more design advice.
Use materials in keeping with the look, such as weathered bricks, flagstone, wood chips, gravel or stepping-stones, for paths and paving.
9. Add a summerhouse to your cottage garden
Cottage gardens are all about capturing a wild, romantic, playful and whimsical atmosphere, so what could be a better addition than a secret summerhouse or garden room hideaway? The perfect place to pen a novel or paint a masterpiece.
For inspiration, see our gallery of traditional garden room design ideas. And learn more about adding a garden room in our expert guide.
10. Accessorise your cottage garden with antiques
Old crates and vintage ceramics collected from flea markets add decorative interest to a forgotten corner and help bind outdoor spaces with quirky interiors of the cottage it encompasses. Look for character and history.
Recycle and upcycle unexpected pieces, and add decorative items as focal points, such as containers, a birdbath or sundial.
11. Accessorise your cottage garden shed with traditional tools
Choose vintage garden ephemera and invest in garden equipment created using heritage techniques, such as old iron watering cans and classic handmade Sussex trugs. Not only do they guarantee quality, they also make for pretty displays, and distract from the structure of the shed.
Then organise your beautiful tools with the helo of our garden shed storage ideas.
12. Cottage garden classic: climbing roses
You can't beat traditional climbing roses to inject a touch of English charm into a garden. The perfect foil to weathered brickwork and masonry, roses are essential for completing the chocolate box look.
Find out how to grow your own rose garden.
13. Cottage garden furniture: pick a dainty bistro set
There's no better way to really make the most of your lovingly tended garden than dining al fresco on a balmy summer's evening. Vintage, ornate wrought iron bistro sets and curvaceous mellowed wood designs will best complement the romantic ambience.
Take a look of our pick of the best bistro sets.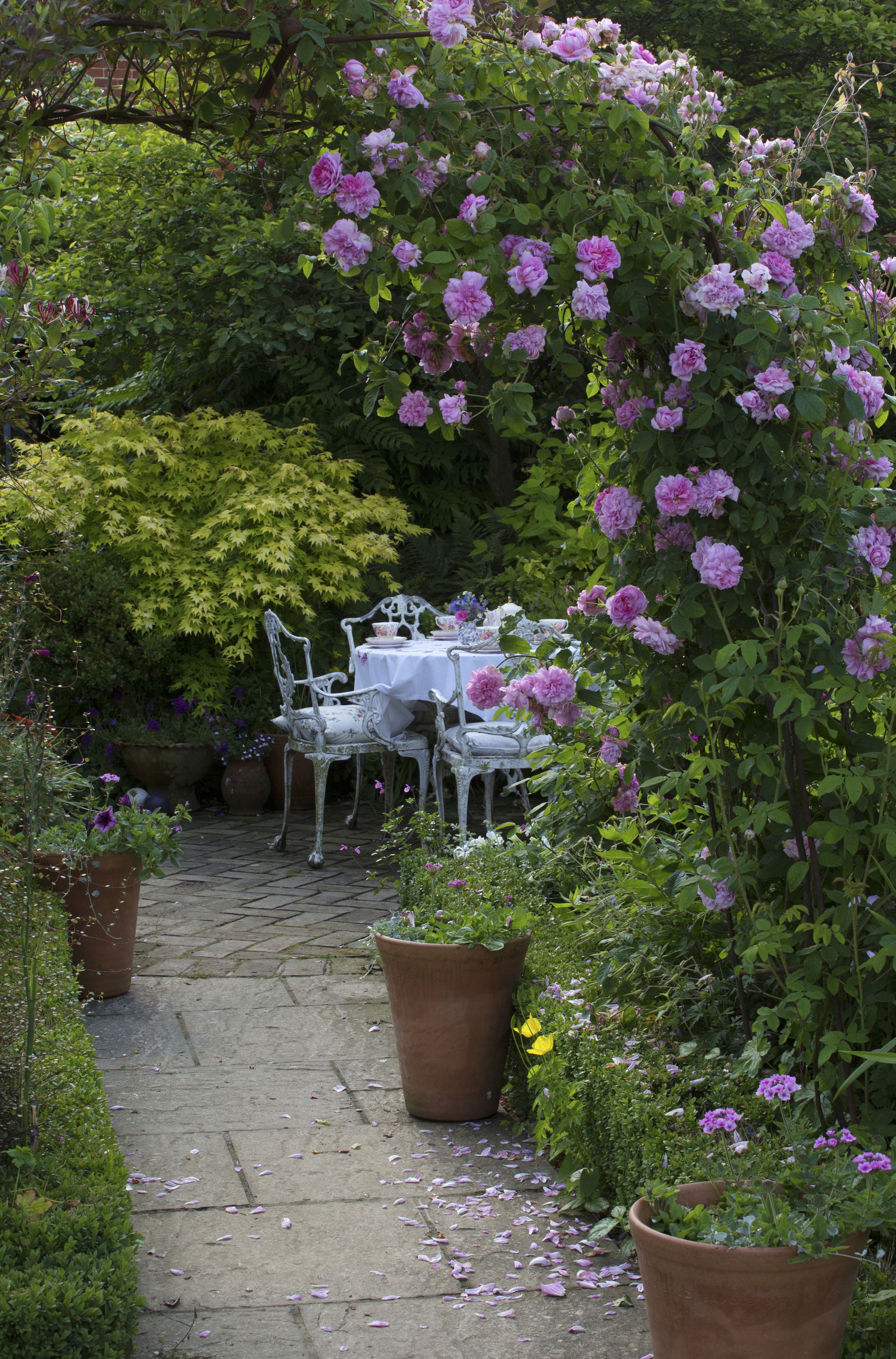 14. Cottage garden planting: fill in any gaps
It's all about the plants, so fill your beds and borders and make sure some tumble over the edges. Sow easy to grow long-lasting annuals, including calendula, cornflowers, nigella and biennial foxgloves, to fill any gaps.
Over time self-seeding plants will pop up randomly in unexpected spots, giving an interwoven lightness and artlessness to the design as if nature is in control. Include some evergreens amongst the herbaceous for interest through winter.
15. Cottage garden shed
You'll need somewhere to store your tools and gardening essentials in your cottage garden, but make any garden shed as individual and characterful as possible. Add some vintage or rustic elements to the exterior, and consider painting it in a complementary colour to soften its impact.
Painting the shed in a pale, pastel hue will help it blend in with the surrounding frothy planting, whereas a darker tone will act as a backdrop to the bright, cottage garden flowers.
16. Cottage garden propagation
Many of the plants you need for a cottage garden design are easily propagated from seed, cuttings or division, so you can fill your garden very cheaply. By late summer into autumn, seedheads will be ready for you to start gathering. Many shrubby perennials, such as salvias, fuchsias and pelargoniums, and most shrubs can be grown from cuttings. It will take time, but cut costs and replicate the specific plant.
For more advice and step-by-step guides to propagation from seeds and cuttings see our feature on how to garden on a budget.
17. Cottage garden fencing
You may like to enclose a small cottage garden with traditional fencing, such as shabby chic painted timber pickets, woven willow or recycled timbers to set off the effect and give order to the visual effervescence.
For more ideas and inspiration on how to enclose a cottage garden see our feature on garden fence ideas.