Pergola ideas are everywhere, and with good reason too. Whether you DIY your own structure or make a small investment with a kit, a pergola is a simple addition that will turn a standard bit of your backyard, into a divine outdoor living space, complete with shade if you wish.
Achieving your desired look is all in the decoration. If you love to get creative, putting up a pergola on your patio or decking area will make the perfect weekend project, and it's the ideal spot to house things like your best outdoor furniture, or your best grill. Best of all, pergolas don't usually need planning permission if it meets certain criteria.
Experts at Made.com comment on the wonderful benefits of adding a pergola to your outdoor space: 'Wooden pergolas provide a stylish, permanent alternative to collapsible gazebos and parasols in the summer. They are perfect at creating an area that lets in a refreshing summer breeze while also providing protection from the harsh direct sunlight.
'A pergola, which would be at home in Japanese and Mediterranean-inspired gardens especially, can also be used as the support for climbing plants and flowers, offering additional shade and elevating the appearance of the structure.' And if you're ready to go in for the full outdoors living idyll, combine a pergola with a dreamy outdoor kitchen idea for the ultimate indoor-outdoor space.
31 pergola ideas
1. Add an extension at a fraction of the cost
Patrick Bridge, chief operations officer at Harbour Lifestyle comments: 'If you've always wanted to expand your home, a pergola may be the solution you are looking for. Less expensive than a glass extension or a conservatory, pergolas can be mounted to the side of your home to create a continuation of your living space. Plus, nine times out of ten, you won't actually need to attain planning permission to extend your space using a pergola.'
'You can flawlessly extend your interior into your garden using a pergola by continuing your interior style, outdoors. If your abode boasts a gorgeous industrial design style, continue this underneath your pergola with furniture and accessories featuring raw materials, bold lines, and dark, neutral color schemes.'
Take an look through the best outdoor furniture stores for an affordable backyard update for your pergola ideas.
2. 'Glow' your pergolas romantic side
Keep the spark alive, cozy up with your favorite person (or four-legged friend), and gaze up at twinkling stars amongst glowing lanterns, and the best outdoor lighting with your pergola.
Bridge comments: 'To keep your outdoor space in use even on drizzly days, you should consider creating a sheltered seating area. Pergolas effortlessly extend your living space and offer protection from the elements, so you can cozy up and enjoy the fresh air without succumbing to the unpredictable weather. For a romantic, bohemian vibe, add lanterns, twinkly lights, and blankets – elevating your evening plans without actually leaving your home!'
'Sources of heat, such as the best fire pits, the best patio heaters, and tabletop fires allow you to enjoy your garden comfortably when the temperature outside is less than appealing. Plus, installing these impressive displays enhances the aesthetic of your garden, and also provides lighting for those evenings when you just don't want to go back inside yet.'
3. Zone a multifunctional outdoor space
Optimize the functionality of your outdoor space, and use a pergola to divide the room into multiple activity zones – spaces dedicated to various activities from relaxing and dining to areas for play, work, and sanctuary.
Experts at Trex, say: 'A pergola is ideal for instantly framing and defining a space. A relatively easy addition to any deck or yard, pergolas create the look and feel of an outdoor room while adding a distinct architectural element. Of course, its main purpose is to provide shade – essential for enhancing the visibility of laptop screens and devices when working or learning from home, as well as offering cool relief on hot days. Another way to integrate dimension into an outdoor space is with lattice. These stylish and versatile panels not only act as dividers for activity zones but also minimize unsightly views.'
4. Prevent your patio from becoming a 'heat sink' with a pergola
Protect paws and tootsies from the 'walking on fire' effects of the summer glare with a sturdy pergola (or patio umbrella) that can provide property protection, plant support, and beauty to your patio.
Master gardener, Kate Russell, of The Daily Garden, and author of Stop Wasting Your Yard!, says: 'Well-made pergolas do more than simply look nice. They protect us and our patio furnishings and patio dining sets from the sun's summer glare, provide climbing materials for grapevines and many other plants, and reduce the heat sink effect.'
'Most patios are made from concrete. Concrete absorbs and then releases significant levels of heat into the surrounding environment, damaging plant roots, home exteriors, and the bottoms of yours and your pet's feet. Also known as the Urban Heat Island Effect, heat sinks can reach temperatures as high as 140°F. This burns pet paws, kills valuable soil microorganisms, and increases air conditioning costs.'
But installing a properly thought out pergola can stop this from happening – just one more reason to implement these brilliant pergola ideas.
5. Grow shade-bearing plants on your pergola
Incorporate a bit of nature into your pergola with fragranced climbing plants and trellis ideas that transform it into a living outdoor feature.
Jeremy Yamaguchi, CEO of Lawn Love, says: 'A pergola over a nice garden path creates a great opportunity for growing shade-bearing plants. Honeysuckle is a favorite in the south when it comes to growing on a pergola. Grapevines grow well, as do passionflowers. Anything that grows along a vine, or is classified as a clinging plant, will grow well. You just have to make sure the pergola itself is in an area that gets enough sunlight and rain according to what your plant of choice demands.'
6. Install ceiling panels to protect from fallen debris
Come spring, a cherry blossom shower is rather lovely, but if you want to avoid a confetti of constant twig and leaf debris from raining on your parade, consider adding a 'ceiling' to your pergola, to keep nature out (to an extent!)
Grace Baena, interiors curator, Kaiyo, says: 'If you love the openness of a pergola but you don't want to have to worry about tree debris and weather damage, try installing glass panels on the top of the pergola. This will protect your seating area underneath while still allowing you a full view of the sky above.'
7. Try a striking awning instead
Refresh your outdoor living space with a stylish sunshade that adds a dimension of texture. This is one of the most sensible pergola ideas if one of your main aims is to provide sun protection.
Samantha Steur, product manager at SunSetter says: 'Awnings are a stylish and simple solution for homeowners who want to expand or enhance their pergola to create an oasis outdoors for relaxation, gathering and entertaining and of course, for their own health and wellbeing. They offer many advantages and benefits including greater outdoor enjoyment, weather and UV protection (rain or shine), shade, energy savings, and custom-built features.'
8. Float on air with a DIY pergola swing
Swing away your stresses with a happy-go-lucky, DIY 'chair in the air' that turns your pergola into a multifunctional design for rest and play (just make sure that the roof structure is weight-bearing). Or if DIY isn't your trump card, choose the best hanging chair instead.
Robert Johnson, founder, Sawinery, says: 'A pergola swing is an incredible structure. Add some shelves on the sides to make it more appealing. The shelving can be used as a table or a planting station. The swing is then attached to the top of your structure, and you have a nice shaded area for you and your family.'
9. Stay toasty after the sun goes down with an outdoor heater
Mitchell Elworthy, founder and director, The Lighting Outlet, says: 'To keep yourself pleasantly warm on cooler nights under your pergola, why not install a high-intensity electric, infra-red radiant heater that is ideal for tough outdoor heating applications.'
'These heaters are specifically designed with a unique low-glow, shatterproof heating element, perfect even for fully exposed locations. These can be installed in outdoor alfresco areas, balconies, pergolas, patios, verandas, courtyards, garages, and sheds. Look for heating strips with a "low glow" Incoloy element so you don't have an invasive blinding light. You will also significantly save on your running costs compared to bottled gas heaters, which is a bonus.' This is one of the best pergola ideas if you live in an area that tends to get more chilly weather than warm.
10. Increase the overall value of your home with a pergola
If you're thinking about moving to pastures new, sprucing up your outside space is a must to add to the value of your home, and ensure a maxed-out sale price. And an on-trend pergola is a simple garden idea you can't go wrong with.
In findings taken from Roofing Megastore's Garden Trends Report where more than 2,000 prospective purchasers were asked about the garden trends they now value the most, pergolas came out in the top 20.
11. Create an outdoor oasis with trending jewel-tones
A clear, emerging garden trend for 2022 is jewel-toned gardening with a whopping 17,965 pins. This trend emerged after jewel-toned magenta pink was reported by WGSN, the world's leading trend forecasters, as its color of the year for 2022 – which promotes a sense of 'positivity and escapism' – making it the perfect choice for an outdoor oasis.
Shroopa Patel, category manager, OnBuy Garden Furniture Sets, comments: 'With Google Trends showing a 190% increase in search volumes for "jewel tones" in spring last year, it is clear that this is the color of the year for spring gardens. For a bold statement this season and to bring the beauty of rare gemstones into your garden, bright tones of exterior paint in lustrous cobalt blues and uplifting Fuschia pinks can liven up uninspired furniture. Paint everything from table legs and pergolas to sheds and fence ideas. These striking colors are a stylish choice for anyone looking to draw attention to focal points within your garden.'
'To combine the most in-demand spring gardening trends this season, experts from OnBuy Garden Furniture Sets recommend planting jewel-toned wildflowers, such as pyramidal and green-winged orchids, in your outdoor space.'
12. Try a low-budget revamp with a DIY pergola
We're all on the hunt for quick, simple, and cost-effective ways to revamp, refresh, and update our gardens - ready to relax and entertain in throughout the summer months. And that includes pergola ideas – meaning it's now or never that we learn how to build a pergola!
Household brand, WD-40 revealed that you can make a budget version for yourself. They said, 'If you're in the game of saving every penny you can, @_ohabode is the TikTok account you need to visit. Covering everything from DIY pergolas to fitting your own decking, you could save thousands by cutting out the middleman, learning a new skill, and DIYing your own outdoor space. Who needs to shop for bargains when you can simply do it yourself? Inspired? Why not visit WD-40's blog to discover a bunch (pardon the pun) of garden how-to's to get you started?'
13. Bubbles up with a hot tub!
Bridge says: 'If your garden is lucky enough to host a hot tub, why not create a weatherproof set up with a pergola? Place your hot tub underneath your pergola, sheltering it from everything the elements have to throw at it.'
'If you're a lover of the outdoors, and want to immerse yourself into it as much as possible, why not train vines and creepers up your pergola frame? Reconnect with nature by surrounding your hot tub with beautiful flora and fauna, utilizing hanging baskets, potted plants, and trellis wire to create a botanical experience so beautiful you will never want to leave!'
14. Create an outdoor dining area under a pergola
A pergola can be a great focal point in a garden and the perfect place to focus all your socializing too. Add a dining table idea underneath yours, complete with outdoor dining chairs, and string up the fairy lights, for ambient feasting and entertaining all season long and beyond...
15. Take yours from day to night
Pergola ideas needn't be costly. What a dreamy setting, which will work just as well by day as by night. Lanterns add a fun decorative touch to this backyard pergola, and choosing solar-powered lights means that they'll naturally illuminate this spot exactly when you need it – without costing you too much either.
16. Use brights to decorate a pergola
If you've gone for a super basic DIY pergola design as a more budget-friendly option, that's not to say that your pergola can't be the place to be for gorgeous garden party ideas! Brighten it up with bold outdoor cushions, and run pops of color from top to bottom using bunting, colored fairy lights, and more.
17. Paint it blue and beautiful
If blue skies are your thing, then why not make that part of your pergola? A splash of paint will have your entire outdoor space feeling fresh, and this is a great trick in gardens big and small to form a little cohesion with what's beyond your four outdoor walls.
18. Keep it cozy with cover
@layered.home created a really cozy set up under a pergola with a gathered covering. Perfect to soften the look plus, that burnt orange is making us dream of sunsets for days. One of the most fun pergola ideas!
19. Opt for a fixed, solid structure
Go deluxe with your pergola and invest in a design that has metal roofing that you can open when it's bright, and close when it's drizzly. A solid structure is ideal to divide your outdoor space too, creating an area for dining and better defining the rest of your yard.
20. Stretch out your deck
For a stylish deck idea that feels like a natural extension of your home, you'll want to invest in a big ol' solid pergola, likely custom-made, that stretches the length of your entire decked area. Mirror the construction with your furniture and you'll have one really sophisticated and functional backyard space in no time.
21. Copy your fence
Chances are whether you buy a fully formed pergola or a DIY pergola kit, it will arrive as unfinished bare wood. And of course, you can leave it as is and it will still look lovely, but you could paint it to suit your fence and other hard landscaping for a refined and cohesive finish. We love how @nest_number_9 has painted her pergola black to make it more of a feature in her garden.
22. Square the top frame for interest
We're all about mixing up our pergola styles and we love the look of a square top frame. The modern structure and chic white finish bring the look of this outdoor space together really nicely. From the outdoor fireplace idea to the stunning furniture and other decorative accents, it's a simple but effective addition.
23. Create an outdoor lounging space under a pergola
We love the boho feel of this outdoor setup; the layers of texture and neutral color palette look so cool. Max out your outdoor living room furthermore with trendy outdoor lounge chairs, rugs, cushions, throws, and soft lighting, which are all key to really getting the look.
24. Blend into the landscape with natural materials
For a pergola idea that really blends into the garden opt for a roof made from natural materials. You can pick up reed screens from DIY stores and just secure them in between the beams of your pergola structure.
25. Grow impact plants up and around your pergola
One of our favorite pergola ideas. Another way to make your pergola feel more like part of your garden is to get plants growing up and around the structure. Plant garden borders to disguise the base of the pergola, and mix in some climbers too that will grow up and over the beams. Not only will this look lovely but will provide a natural shade too.
26. Add plenty of lighting to your pergola
Lighting is key to creating a pergola space that feels cozy and inviting, even on chilly evenings. Combine a variety of garden lighting ideas, and string up fairy lights, dot about some lanterns, or even hang pendant lights from the beams – it's all about layering. Choose solar-powered lights that are super budget-friendly, yet sure to look gorgeous as they glow amongst the foliage.
27. Nod to rustic pergola vibes
We love how simple and rustic this pergola is with the light-colored decking and neutral colors of the exterior walls. It seems like an extension of the house too, adding an extra dining space attached to the kitchen.
28. Build yours against a brick wall
For more wind protection with a covered pergola and to create a really solid outdoor living space, build yours up against an external wall. One of the easiest pergola ideas, the characterful brick wall combined with the quality finish of the pergola design nods to the industrial look in this outdoor space. And, we'd like to sit there too.
29. Add cover with natural landscaping materials
Benefitting from a garden screening idea such as a covered pergola doesn't need to cost the earth. Work with mother nature instead, and opt for natural reed or even bamboo – and not only will they bring beachy vibes along, but they will also add a little more privacy to your space too.
30. Let the inside do the talking
For a modern look, keep your pergola bold and simple. A plain black structure makes the perfect frame for an energetic space inside full of color, lighting and accessories. Such a setup is sure to make those summer days extra special.
31. Squeeze a pergola into a side return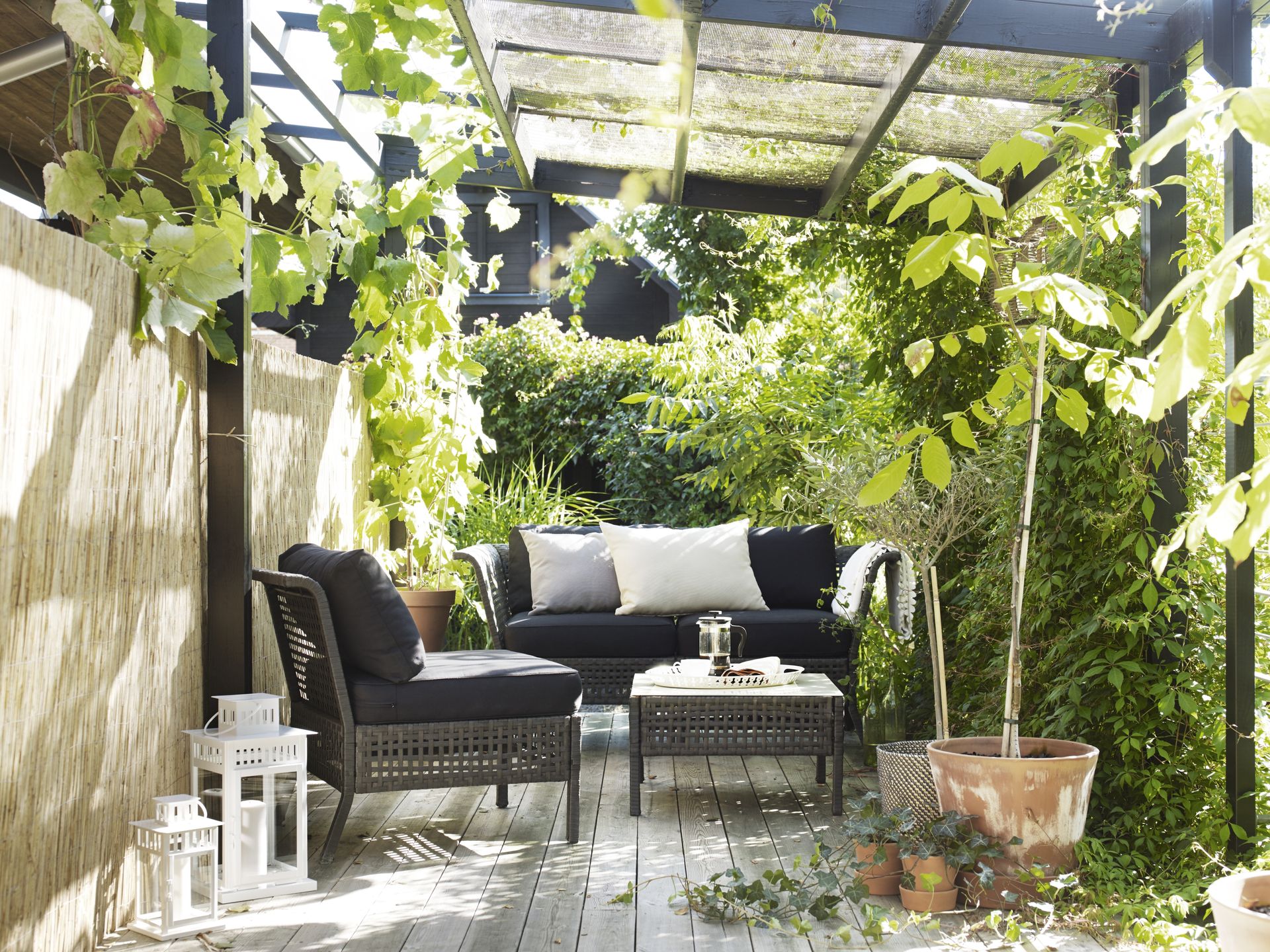 You don't need loads of outdoor space to add a pergola, so for a small backyard idea, why not squeeze one into an unused side return, making it a natural extension of your home? This setting also proves how pergolas and vertical gardening go hand in hand. Decorate yours simply using climbers and let them do their thing.
What's the best height for a pergola?
Garden experts at Pergola say: 'The dimensions of your pergola will depend on your personal requirements and preference, but generally the roof of a garden structure should be high enough to allow even your tallest friends to walk under it comfortably – think up to 2.5 meters.
'When it comes to width and length, as long as the structure is supported, you can go as wide as you like. Before you measure up, take a step back and see if there is any way to make more room. Are there any furniture or flowerbeds that can be rearranged? A bit of garden feng shui is always a great idea before you make your decision.'
What style of pergola should I choose?
Garden experts at Pergola say: 'The varieties of pergolas are extensive but they generally fall into two main styles: traditional and modern.
'Unlike other aspects of choosing a pergola, the style comes mostly down to taste. If you have a country garden you may prefer a traditional style, or if you live in a more urban area then a sleek design might be more up your street. The choice, of course, is entirely up to you!'
Where should I place my backyard pergola?
According to Pergola Kits USA, popular areas to install a pergola include:
Over a driveway to protect your car
Over decking or patios
Outdoor kitchens, barbeques, and/or outdoor dining areas
Above a hot tub
Beside a pool
Over a garden path to frame it
Once again though, the choice is yours! There are so many pergola ideas to choose from that it can feel difficult to make a decision – but the most important things to focus on are sun protection, and relaxing or socializing outside. Plan your pergola around these ideas and you can't go far wrong.