As the days get shorter and the nights longer, it can often feel like we don't have as much time to enjoy our gardens as we did only weeks before, but with some attractive and cleverly placed garden lighting, you can keep admiring your favourite spaces even when it's decidedly dark and chilly, and solar-powered lights are our pick of the bunch – they are energy efficient, cost-saving, and eco-friendly.
What to consider when buying solar-powered lights
Solar-powered lighting scores you lots of green points with minimal effort, and you're not restricted to finding a mains point to plug them into, meaning no unsightly trailing cables from the kitchen window at your next outdoor get-together. Instead, solar garden lights usually connect on their own wire to an external panel, which you can place in the best spot for catching sun. Some streamlined designs, however, incorporate their own individual solar panel, for the sleekest look.
The design you go for will depend on your taste, of course, but also what you tend to use your garden for after dark. For creating a homey-looking landscape that looks divine from the inside on chilly nights, the best solar lights use warm white bulbs for a cosy glow. If you are looking to brighten your garden up for Christmas or a party, string solar powered lights look delightful festooned around a structure or tree, or draped around a doorframe; plus, if you opt for clear cable lights you won't have any unsightly strings to contend with in the daytime.
If you have a feature in your garden or outdoor space that you want to highlight, lights with a more focused glow look fantastic when directed towards a water feature or statue, particularly lights that you can articulate and focus to uplight a feature.
Remember, solar powered lights are not always used for design purposes,; sometimes you simply need outdoor lights for security or safety in the dark, in which case some of the best solar powered lights for security feature a cool white or blueish light that let off a bright hue.
From lights that make your garden glow to lamps that light up your ponds; here's our pick of the best solar powered lights for outdoor spaces.
And when you've finished reading about solar lights, why not have a look at more lighting buyer's guides: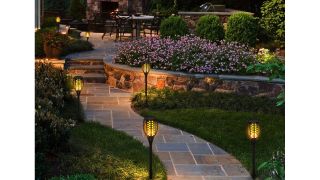 These slender solar stake lights are just the thing for adding a touch of the tropics to your garden, even if it's decidedly chilly out. The cosy dancing flame effect given off by the warm white LEDs is a nice change from the occasionally cold-looking light of many garden solar lights, and each torch has its own discreet top-mounted solar panel — no wiring needed, and no bulky external panels to hide away. They look beautiful lighting the way along a winding path, or along the edge of decking to give a festive effect to your next gathering.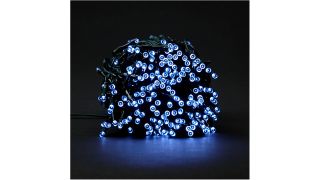 These solar string lights are wonderful for an unfussy look at Christmas time, but why stop there? They look lovely year round festooning your favourite tree or lighting up a trellis or pergola — with an extra-long 32-metres of lights to play with, there's a lot you can do, and their ability to be charged by USB means you can bring them inside to add ambient lighting to your cold-weather parties, too!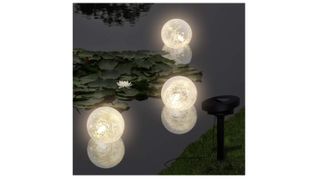 These little well lights add a magical glow to any pond or water feature, floating on the surface for a carefree look. Their elegant crackle-effect globes will suit most garden schemes, and are tougher than they look. UV-resistant, impact-resistant, completely waterproof and even submersible, they look delicate but can withstand a bit of maltreatment, making them perfectly suited to living outside in the unpredictable British weather.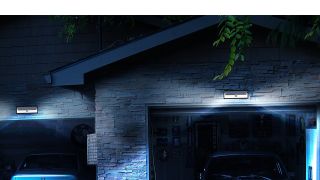 This solar security light won't win any prizes for its looks, but it's second to none for providing peace of mind and ease of use. If you're working outside in the winter months and don't have a hand for a torch, if you can't see to get the key in the door late at night, or if you want to keep ne'er-do-wells at bay, it's an excellent buy. Its wide-sensor picks up on movement from up to 26 feet, and it's packed full of extra-bright LED bulbs to illuminate your way or scare off any lurkers.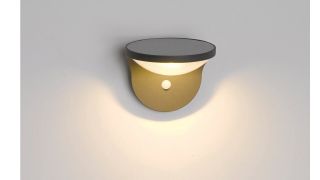 If your garden is sleek and modern, you'll probably want a light that matches the design, and that's where the Philips MyGarden Wall Lights comes in. Neat and petite, they give off a soft warm white glow that would look especially fantastic illuminating a sunken garden, with no cables or extra panels to clutter up their minimal look. For extra peace of mind, you can also choose a motion-sensor model. This is a top pick for anyone looking for a small solar powered light that doesn't shine too brightly.
Read more:
Why you can trust Real Homes Our expert reviewers spend hours testing and comparing products and services so you can choose the best for you. Find out more about how we test.